WWE Night of Champions: Full Card Simulation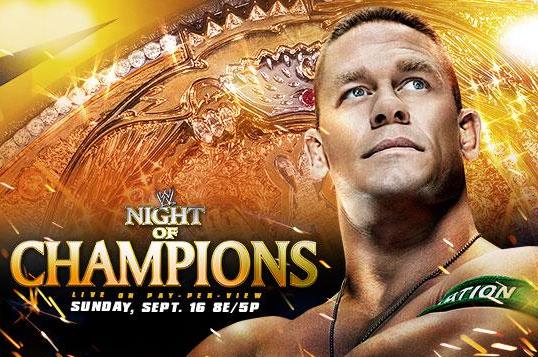 SummerSlam came and went and it's time to focus on September's pay-per-view, Night of Champions.
The event will take place on September 16 at the TD Garden in Boston. This is the only event of the year where every WWE title will be on the line.
Here are the confirmed matches:
Sheamus (c) vs. Alberto Del Rio for the World Heavyweight Championship
CM Punk (c) vs. John Cena for the WWE Championship
Randy Orton vs. Dolph Ziggler
R-Truth and Kofi Kingston (c) vs. Kane and Daniel Bryan for the WWE Tag Team Championship
Antonio Cesaro (c) vs. ??? for the United States Championship
The Miz (c) vs. Rey Mysterio vs. Cody Rhodes vs. Sin Cara for the Intercontinental Championship
Layla (c) vs. Kaitlyn for the WWE Divas Championship
A battle royal will take place during the pre-show to determine who will face Cesaro later in the night.
As usual, I will simulate all the matches on the card using WWE 12. I won't control any of the superstars to give a fair outcome. I will not simulate the Divas match because I don't have Kaitlyn in my game; nor do I want to.
Begin Slideshow

»
It has yet to be determined who will take part in the battle royal, but one would assume Santino Marella is a heavy favorite.
WWE '12 simulation: Since the competitors haven't been announced, I chose six superstars who could potentially take part in the match. The six men I chose are Santino Marella, Damien Sandow, Alex Riley, Jack Swagger, Zack Ryder and Drew McIntyre.
McIntyre was the first eliminated as Swagger tossed him over the top rope. Riley then eliminated Sandow. Swagger and Santino fought in the middle of the ring. Ryder had Santino by the ropes. He flipped Santino over, but he held on. Ryder then kicked Santino off the apron to eliminate him.
Riley, Ryder and Swagger were the last three. Swagger scored his second elimination by tossed Ryder over the top rope. RIley quickly went on the offensive with a couple of dropkicks and right hands. He tried to eliminate Swagger, but he was too strong. After a second attempt, Riley was able to take out Swagger and win the match. Winner: Alex Riley
My prediction: Again, this match is up in the air. We have no idea who will be competing and how many people will take part. With that being said, I feel that Santino will win the battle royal in some sort of quirky fashion to face Cesaro later in the night.
We saw WWE hinting at this match over the past couple of weeks with Rey and Sin Cara teaming up. On the go-home Raw, Cody and Rey had a match. Miz ran out and interfered to help Cody score the win. After the match, Cody hit Cross Rhodes on Miz and raised the Intercontinental Title over his head.
Prowrestling.net reported that Miz will defend the title against the other three men in a 4-way match. The announcement will come on Friday Night Smackdown.
WWE '12 simulation: The bell rang as Rey went right after Sin Cara. That didn't last long as Cody attacked Rey. A few minutes later, Cody landed a float-over DDT on Sin Cara which apparently busted him open. Miz hit Sin Cara with a huge big boot. He then hit the Skull Crushing Finale.
Sin Cara got right up and caught Miz in a roll-up pin. Cody hit Miz with Cross Rhodes. He almost got the win but Miz kicked out. Cody continued his assault on Rey with the Silver Spoon DDT. Cody went for a springboard splash, but he missed. Sin Cara kicked the back of Miz and got the three count. Winner: Sin Cara
My prediction: I see this match coming down ultimately coming down to Miz or Rhodes walking out with the title. In the end, Miz will retain to continue his build back to the main event. There are rumors that Rey will turn heel and face Sin Cara in the near future, so it's possible the seed for that will be planted tonight.
Cesaro has the ability to be a top player in the future for WWE. He's got size and talent. The only thing he needs is a long run with the U.S. Title and that can continue with a win at Night of Champions.
I hope that Santino doesn't win the battle royal, but it will be hard to assume Cesaro will win if I don't know his opponent.
WWE '12 simulation: With the battle taking place earlier, Alex Riley will get a shot against Cesaro. Riley quickly went on the offensive with a huge dropkick. Cesaro landed a back breaker, but Riley got right back up.
That didn't matter as Cesaro continued with his high-powered offense. He hit Riley with a clothesline from behind and then a bicycle kick. He then picked Riley up and connected with the Neutralizer. Riley wouldn't stay down. Cesaro landed a huge back suplex and a knee to the side of the skull to retain his title. Winner: Antonio Cesaro
My prediction: As I said earlier, I believe Santino will win the battle royal. However, Cesaro will retain the title on Sunday. He should then move on to a meaningful feud to end the year as champion.
It's been a while since WWE put a focus on their tag division. There's been a glimmer of hope in the past couple of months with teams like the Usos, Prime Time Players and Primo and Epico. Many thought the recent release of Abraham Washington would stall the PTPs push, but that doesn't seem to be the case.
Titus Young and Darren O'Neil defeated the Usos and Epico and Primo to become the number one contenders. However, The Prime Time Players faced Kane and Daniel Bryan on the go-home edition of Raw. Kane and Bryan won the match and are the new contenders.
WWE '12 simulation: R-Truth and Kane started the match. Truth was getting manhandled by the "Big Red Machine." Kofi eventually got in the match, but he quickly received a side slam from Kane. Kane then went for a chokeslam, but Kofi reversed it.
A couple of minutes later, Truth was back in the ring and hit Kane with a Lie Detector. Kane tagged in Bryan, but he didn't stay in long. Kane lifted Kofi over his head and slammed him on his back. After a DDT, Kane locked Kofi in a rear naked choke and forced him to tap. Winners: Kane and Bryan
My prediction: Although I don't see this ending in a submission, I do see Kane and Bryan winning the tag belts to continue their strange bedfellows feud they have. Kofi and Truth haven't been seen on TV very often so the belts are better off on a team that gets some air time.
WWE has been building towards this match for the past couple of weeks. Orton went over Ziggler on Smackdown. Dolph paid him back with a win on the September 3 edition of Raw. Orton gained another win over Ziggler in a supposed tag match on this past Raw.
Ziggler is the current Money in the Bank holder for a world title shot, but this match will keep Ziggler busy until the time is right for him to cash it in.
WWE '12 simulation: The match began with both men throwing punches. Ziggler blocked one and hit a crucifix. He then tossed Orton over his head with a German suplex. Ziggler continued with a huge powerslam.
Orton got up and never looked back. He landed a neck breaker and then drove his knee across the throat of Dolph. Orton picked Ziggler up and connected with an RKO and got the three count. The match only last three minutes and 44 seconds. Winner: Randy Orton
My prediction: I believe that ultimately Ziggler will win on Sunday. Orton will put over Dolph as part of his punishment for being suspended. Ziggler does need this win if the WWE Universe has to take him as a serious World Heavyweight Champion. This should be a good match, then again, Ziggler only knows how to have good matches.
This is the third pay-per-view in a row that these two will face each other. Sheamus has been champion since WrestleMania, but it's felt much longer. Del Rio's act is getting old and he is need of a gimmick change or an update.
However, Sheamus and Del Rio have put on good matches in the past two pay-per-views. Smackdown is in need of another heel contender. Hopefully it'll be Wade Barrett, now that he has finally returned.
WWE '12 simulation: The match started out in favor of the World Champion. Sheamus was on top of his game and didn't let Del Rio get in much offense. Del Rio threw Sheamus into the corner and hit a dropkick, but Sheamus quickly countered with a back breaker.
The two men left the ring and began fighting on the outside. Del Rio was able to lock in the cross armbreaker, but the hold was broken. Sheamus gained the advantage again and, after a suplex, landed the High Cross and the three count to retain his title. Winner: Sheamus
My prediction: I feel that this feud needs to end. Del Rio hasn't really been clicking with the crowd as a heel and Sheamus' performance as champ hasn't been all that great either. With that being said, Dolph could cash in his briefcase here. That would be exciting, but I think he'll wait another month.
We've seen this match plenty of times over the past year, but these two can put on one hell of a match. Hopefully it will be close to what they had last year.
Punk began his championship run last year as the anti-hero; the one who is anti-establishment. Now, he heads into Night of Champions as a heel. Punk hasn't been a heel since his time with the New Nexus.
With Big Show being the only other contender, this one-on-one match is a good choice for the main event. We saw the triple threat at SummerSlam and it was very formulaic. I just hope Show doesn't interfere in the match in order for Punk to win.
WWE '12 simulation: The match was back and forth during the opening minutes. Punk built his momentum early and began his offense. He hit Cena with a dropkick and a suplex. Cena made his comeback with the shoulder tackle and Five Knuckle Shuffle.
He then went for the Attitude Adjustment, but Punk reversed it and locked Cena in the Anaconda Vice. Cena broke out and landed the spin-out powerbomb. He then hit the Throwback face buster. After a two count, Punk went for the GTS, but Cena reversed it and connected with an Attitude Adjustment to win the WWE Title. Winner: John Cena
My prediction: This match will be the main event on the card. It will be one hell of a match, but Punk will walk out WWE Champion. I don't know who his next opponent will be, but he will still be champion at the end of the year. Punk needs to remain champion to shut Cena up and make the title relevant.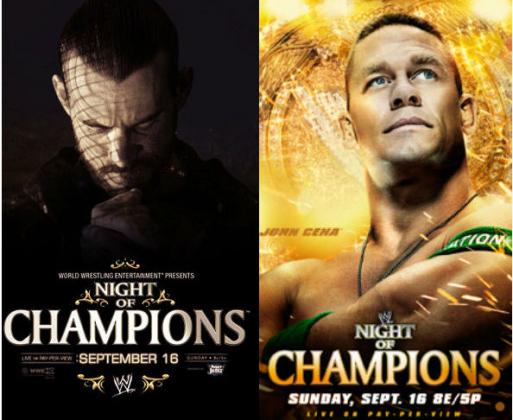 Here is what WWE 12 predicted the outcomes will be: Alex Riley, Sin Cara, Antonio Cesaro, Daniel Bryan and Kane, Orton, Sheamus, and Cena.
My predictions are Santino Marella, The Miz, Antonio Cesaro, Kane and D-Bryan, Ziggler, Sheamus and CM Punk.
Even thought we've seen most of these matches on previous pay-per-views, this event has the opportunity to be a great pay-per-view. I'm assuming we'll get a Ryback match thrown in there somewhere as well.
Let me know down below what your predictions are for Sunday's event.