Wisconsin Football: 10 Important Story Lines to Watch Develop Throughout 2012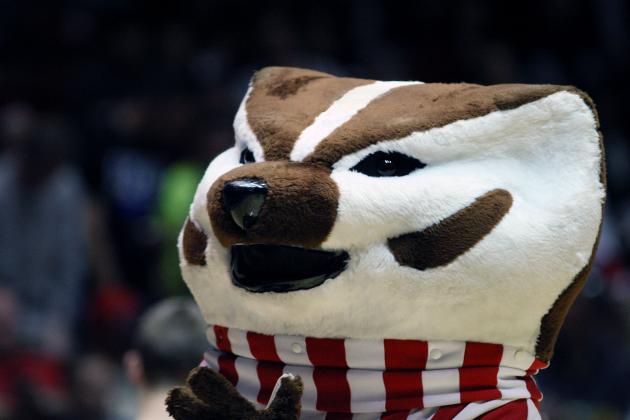 Ronald Martinez/Getty Images

The Wisconsin Badgers should enter this season feeling pretty good about themselves. The Badgers are coming off two straight Big Ten conference championships, start the season off as the 12th-best team in the land (according to the AP poll), and will compete in a neutered conference due to the sanctions imposed on Ohio State and Penn State.
It would not be unreasonable to label Wisconsin the best team in the Big Ten or to classify them as a dark horse BCS Championship contender. With the rise of Michigan State, the reemergence of Michigan and the player, as well as the personnel turnover, in Madison it would also not be shocking to see the Badgers knocked off their pedestal.

As Wisconsin enters a season that could just as easily end with them reaching the apex of college football as it could with heartache and despair, here are 10 important story lines to watch throughout their 2012 campaign.
Begin Slideshow

»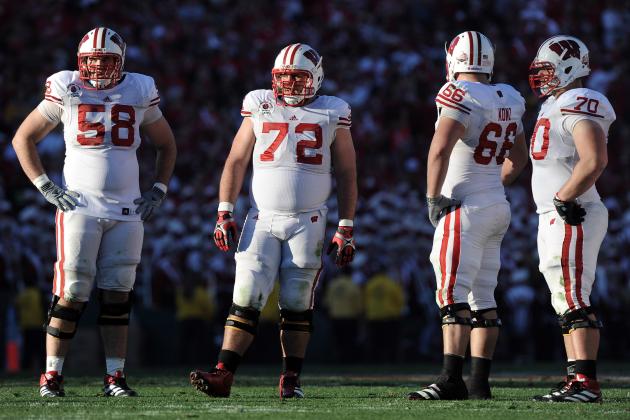 Harry How/Getty Images

The Badgers are always led by talented and massive offensive linemen. In the past few seasons, the Badgers have boasted lines that included current NFL players Kevin Zeitler, Kraig Urbik, Bill Naggy, John Moffitt, Peter Konz, Gabe Carimi and Joe Thomas.
This season, however, the right side of the line seems mired in uncertainty. Bret Bielema likes to rotate his OL in and out of games so expect Rob Havenstein, Robert Burge, Kyle Costigan and Dan Voltz to all see playing time.

The question remains though: Who will grab the starting job? While all will see game reps, it will be interesting to see in the closing minutes of a close game whom the staff picks to open holes for Montee Ball.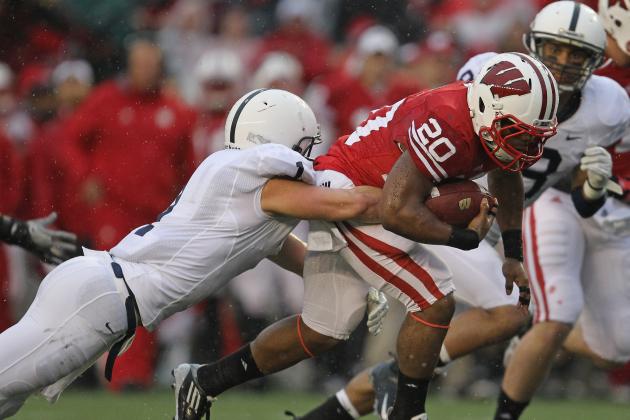 Jonathan Daniel/Getty Images

With Melvin Gordon, James White and Montee Ball, the Badgers have three exceptional tailbacks. Entering last season, White and Ball were expected to split carries. With Ball's emergence as the best back in college football, the season ended with White clearly playing second fiddle.

Ball will clearly get the majority of the carries, but how big the disparity between Ball and the rest of the backs will be is still up in the air. Will Bielema try to recreate the three-headed monster he had with John Clay, James White and Montee Ball, or feed defenses nothing but a steady dose of Ball?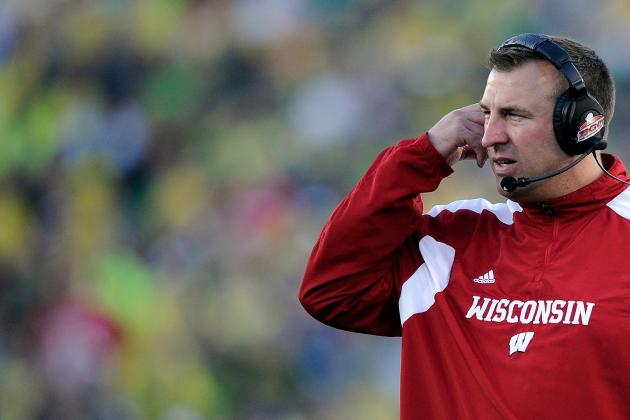 Kevork Djansezian/Getty Images

The past two years Wisconsin has been dominant. Both years they have had a game or two against bottom-feeding Big Ten teams in which they have obliterated their opponent. Bielema likes to win and win big.

In the past, his penchant for massive point totals in games that are not competitive have led to his sportsmanship being called into question. In 2010 the Badgers hung 83 points on Indiana and followed it up with 70 points against Northwestern two weeks later. Last year the Badgers put up 62 against Purdue in a game that was never really close.

Bielema (and most Wisconsin fans) believe, in this era of rankings, it is imperative to destroy opponents in order to gain national respect. Opposing coaches (and their fans) seemingly disagree, believing in a gentleman's agreement against humiliating the opposition.
With a bunch of weak opponents on the schedule, expect the issue of unnecessarily monstrous point totals to come up at least once.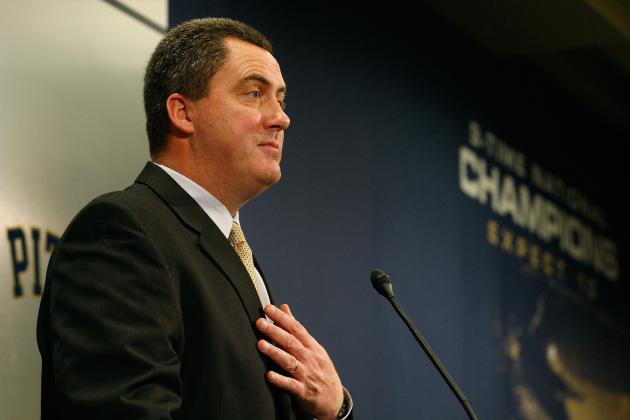 Jared Wickerham/Getty Images

The architect of the dominant Wisconsin offenses, Paul Chryst, has moved on. In his place is former Northern Illinois offensive coordinator Matt Canada.
Chryst ran a pretty gimmick-free, run-heavy, pro offense. Canada has been a little more innovative during his stint at Northern Illinois.
With the greater talent Wisconsin offers, Canada could adopt a more frills-free approach and follow the successful blueprint that Chryst has laid out. It is also possible that Canada was brought in specifically because he could add a few more wrinkles to what has traditionally been a predictable and boring Badger offense.
It will be interesting to see the evolution of the Wisconsin offense under their new coordinator. Canada could find himself under great scrutiny if his meddling is perceived as slowing the team's juggernaut offense.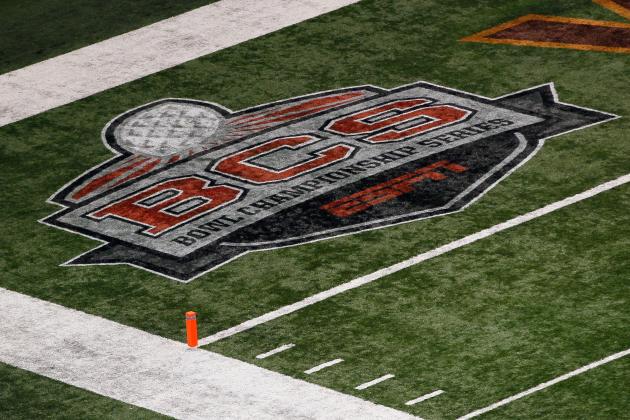 Kevin C. Cox/Getty Images

Wisconsin starts the season outside of the top 10 in the AP poll. The ranking seems unfairly low to the Badger faithful as Wisconsin has won back-to-back conference championships. Yet one good season by conference rival Michigan left the Wolverines at number eight in the rankings.
More importantly, with the Pac-12 boasting two top-five teams, the perception that the Big 12 is a superior conference to the Big Ten and the SEC once again dominating the rankings, it's possible that a one-loss or even undefeated Badger squad could be left out of the BCS championship game.

If the Badgers run the table, yet cannot overtake a one-loss team from another conference, expect to hear (even more) grumbling about the college football polls.
Last season Wisconsin was a great team with a special teams problem. Their coverage was especially atrocious.
If Wisconsin is going to reach its maximum potential, it needs to improve the special teams unit. A true championship contender can not surrender two special teams touchdowns to Minnesota.
The play of this unit could make or break the Badgers' season.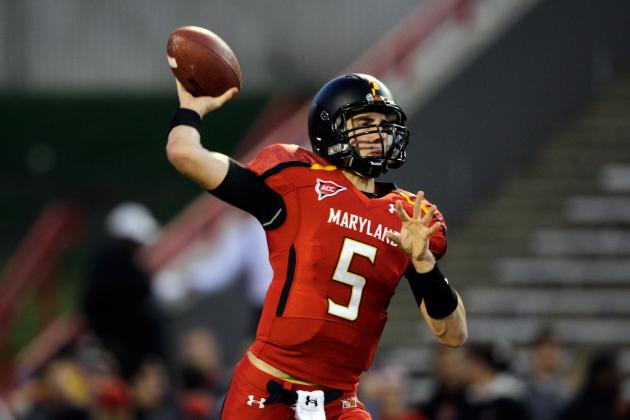 Rob Carr/Getty Images

For the second straight year, Wisconsin is plugging its glaring quarterback hole with an ACC transfer. O'Brien had an outstanding freshman year at Maryland before seeing some serious regression his sophomore year.

Wisconsin's season could very well hinge on if O'Brien's freshman success was merely an anomaly or if his sophomore slump was due to the coaching transition at University of Maryland.
O'Brien will not have to be as successful as his immediate predecessor, Russell Wilson, for Wisconsin to be dominate this season. He will have to show that he is capable of handling the more traditional Wisconsin quarterback duties of game manager (a la Scott Tolzien)
Yes, it is true perennial powers Ohio State and Penn State will not be able to unseat Wisconsin this year.
The Badgers, however, will need to travel to Lincoln to face a Nebraska team looking for revenge after the thumping they received in Madison last year. Michigan State will come to Camp Randall feeling like the Badgers robbed them of a Rose Bowl berth in 2011. Michigan is experiencing a renaissance under Brady Hoke, and a showdown with the Badgers could very well be the 2012 Big Ten Championship game.

It is also not unheard of for middling Big Ten teams to arise out of nowhere and lay waste to the conference. Northwestern, under Pat Fitzgerald, is capable of being that team. Iowa also has a penchant for having its best seasons when no one is expecting it.

The Badgers, as reigning champions, will face the best shot each Big Ten team has to offer. They will need to prove they are up to the task. Only the start of the season will reveal if anyone will be able to knock Wisconsin off its perch, but the Badgers will keenly follow any team they view capable of dethroning the champs.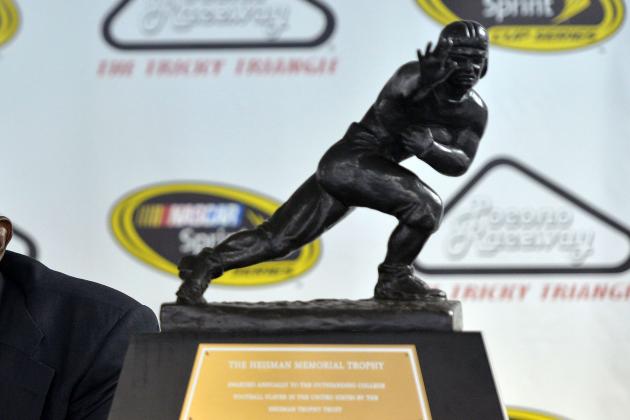 Drew Hallowell/Getty Images

Montee Ball put up obscene numbers last year, and was rewarded with a fourth-place Heisman finish. With the departure of Russell Wilson and Nick Toon, expect Ball to be an even bigger part of the Wisconsin offense.

While he may not be able to recreate the absurd stat line he had last year, he will have the advantage of starting the season as a co-favorite for the trophy along with USC quarterback Matt Barkley.

Every awe-inspiring carry or lackluster performance that Ball has during the season will be scrutinized vis-a-vis Ball's worthiness for college football's greatest honor. Much of the buzz in Madison this year will surround Ball's ability to follow in Ron Dayne's footsteps and bring home this much coveted honor.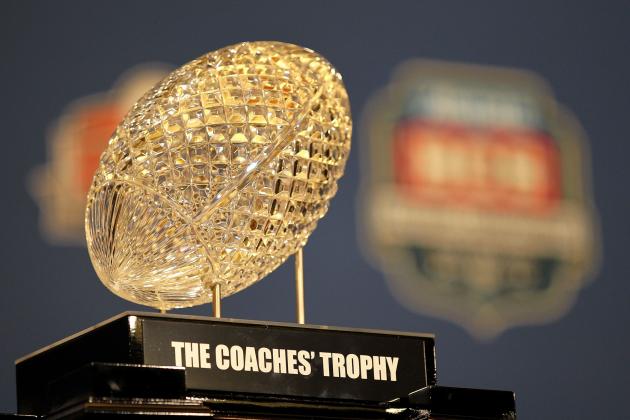 Andy Lyons/Getty Images

The only blemish on Bret Bielema's record is his inability to win BCS bowls. With two back-to-back Rose Bowl losses, murmurs about Bielema not being able to win when it counts are starting to be heard.

Will a third BCS trip be the charm, like it was for Oregon, or will bowl futility continue to plague Wisconsin? Madison will not be content with another loss in Pasadena. With wonder-coach Urban Meyers at Ohio State, perennial power Nebraska now a fixture in the Big Ten, the rise of Michigan State and the Wolverines hoarding top level talent, Wisconsin's window for a victory in Pasadena may be closing.
Expect questions of Wisconsin's ability to win a BCS game to follow the team all year.