Last Monday night, Marouane Fellaini showed why he's one of the best midfielders in the English Premier League with a dominant performance against Manchester United.
I honestly can't remember the last time I saw a player dominate against Manchester United like that.
Fellaini won almost everything in the air, his use of the ball was excellent and he terrorised the Manchester United defenders like nobody else has for years.
His performance deserved a goal, and it was fitting that he scored the winner with a header from a corner.
Fellaini's been in England since 2008, and he's improved year on year.
It's easy to forget that Everton signed him as a 20-year-old and he's now just approaching the prime of his career.
I think that a lot of times, the performances of Everton players kind of go unnoticed because they're not a "fashionable" club, but David Moyes has some excellent footballers on his books and Fellaini is just one of them.
Fellaini is a powerful box-to-box midfielder who can play anywhere across the middle of the park.
He's equally at home playing as a holding midfielder as he is playing in the hole behind the striker.
His height provides a threat from set pieces, and for a tall man he's very skilful with the ball at his feet.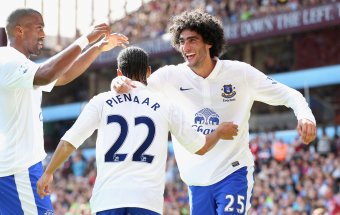 Mark Thompson/Getty Images
When you watch Fellaini, it's as if he just glides around the pitch.
He makes playing football look deceptively easy and I think that Fellaini is one of the best players in the world.
Some of you might think that statement is a stretching things a bit, but think about it.
If he were playing for someone like Manchester United, Barcelona, Real Madrid or Bayern Munich, people would be raving about him every week.
It does a massive disservice to Everton and Fellaini to dismiss his talents because he's not at a "top-four" club.
Fellaini is a cult hero at Goodison park because of his dynamic midfield performances, but it's not just about him.
He's surrounded by other talented midfielders like Steven Pienaar, Leon Osman and Phil Neville (yes, Phil Neville) and they all complement each others' strengths.
I'm going to put this statement out there.
Marouane Fellaini is on the way to becoming one of football's superstar players, and he's started this season with a bang.
He's scored in both of Everton's games so far against Manchester United and Aston Villa.
If he can keep performing the way he's begun the season, it's only a matter of time before some of the world's so-called "bigger" clubs come calling for Fellaini, and Everton will do well to hang on to their superstar.