20 Predictions as We Head Toward Transfer Deadline Day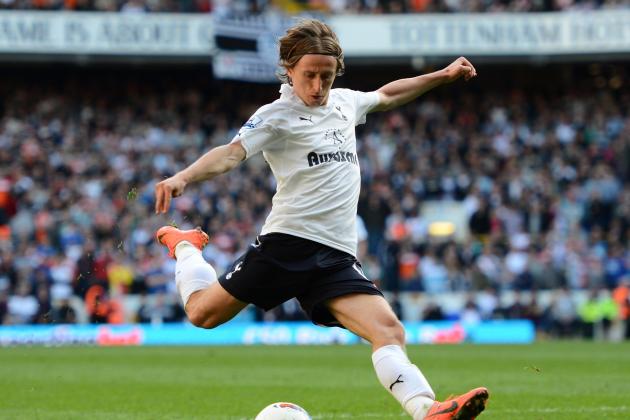 Mike Hewitt/Getty Images

Clubs across Europe are preparing for the end of the summer transfer window this Friday night.
We've already seen some blockbuster transfers like Robin van Persie to Manchester United, Eden Hazard to Chelsea, Luka Modric (above) to Real Madrid and Alex Song to Barcelona.
A lot of clubs are probably just waiting to finalise deals ahead of Friday now that they know what their options are.
I'm going to predict 20 things that I think will happen on or before transfer deadline day.
Before we get started, as always, these predictions are my opinion.
I've not forgotten anything or missed anything out.
These next 20 slides will describe what I think will happen.
Begin Slideshow

»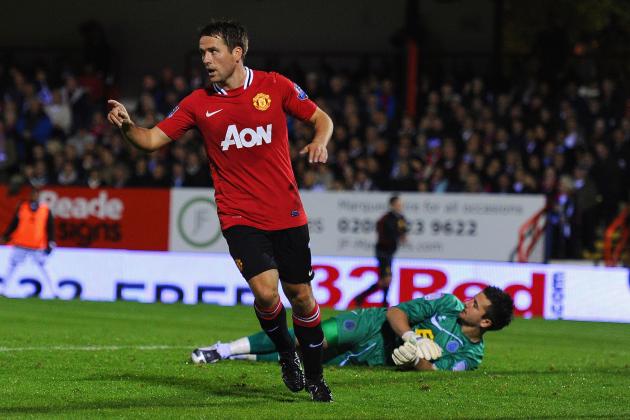 Michael Regan/Getty Images

Since being released by Manchester United at the end of last season, it's pretty much been a guessing game trying to decide where Michael Owen will be playing his football next season.
For my money, he'll end up at Stoke City.
Whether he wants to admit it or not, Owen won't be courted by some of the so-called "bigger teams," and if he wants to stay in the Premier League, he may have to sign somewhere like Stoke.
I'm not running Stoke down by any stretch of the imagination.
If they could secure Owen's services for a season, and he stays fit, his goals (and potential partnership with Peter Crouch) could fire Stoke back into Europe.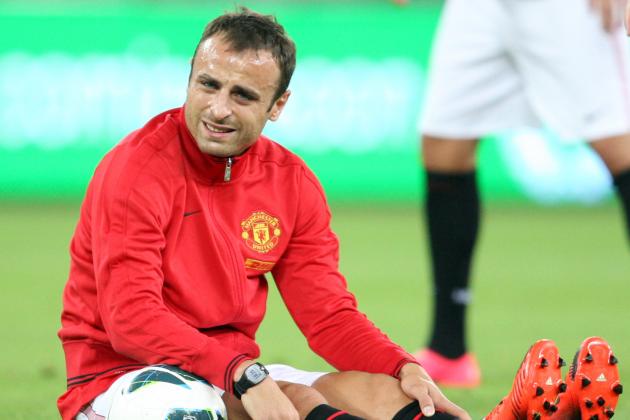 Gallo Images/Getty Images

In my opinion, Dimitar Berbatov won't be at Manchester United for too much longer.
After the arrival of Robin van Persie, Berbatov now has four top strikers ahead of him that are all younger and in the prime of their careers.
I've got absolutely no idea where he'll end up, though. It won't be at another top-four club, and I doubt that the others in and around there, like Everton, Tottenham and Liverpool, would be able to afford his wages.
It's possible that Berbatov could end up back in Germany, or perhaps France, but either way, it's unlikely he'll be at Old Trafford this time next week.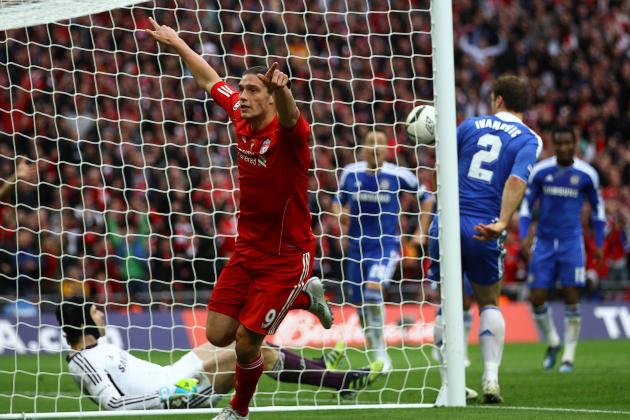 Clive Brunskill/Getty Images

Just when Andy Carroll seemed to be hitting his stride at Liverpool at the end of last season, a change in manager has left his future shrouded in uncertainty.
After a loan bid from Newcastle late last week, Andy Hunter of The Guardian newspaper reported that Brendan Rodgers accused Newcastle of taking liberties with their offer.
Simply put, if Rodgers feels that Carroll won't fit in with his style of play, then it's probably best for all concerned that the player moves on.
However, if Liverpool think they're going to recoup even half of the £35 million they paid for him last January, they've got another thing coming.
Whether it's on loan or not, I wouldn't bet against Carroll signing for Newcastle again.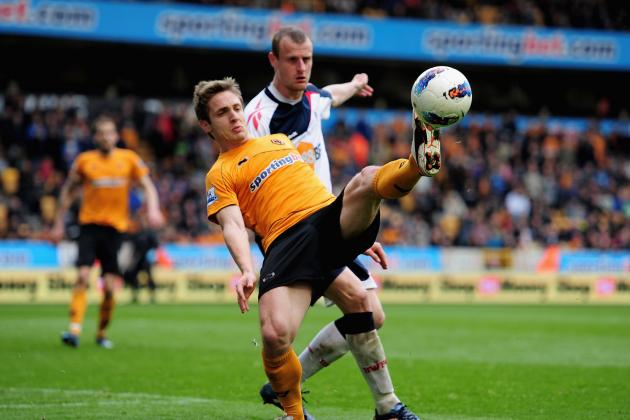 Jamie McDonald/Getty Images

Kevin Doyle is without a doubt one of the hardest working strikers in English football.
He runs the channels, hassles defenders and provides a goal threat with the proper service from wide areas.
He seems like the perfect player for Everton.
David Moyes' team doesn't get the credit they deserve sometimes.
He's a man-manager that gets the best out of his charges, and Doyle would fit in well at Goodison.
It wasn't a surprise when I read a report at mirror.co.uk linking him with a move to the Toffees earlier today.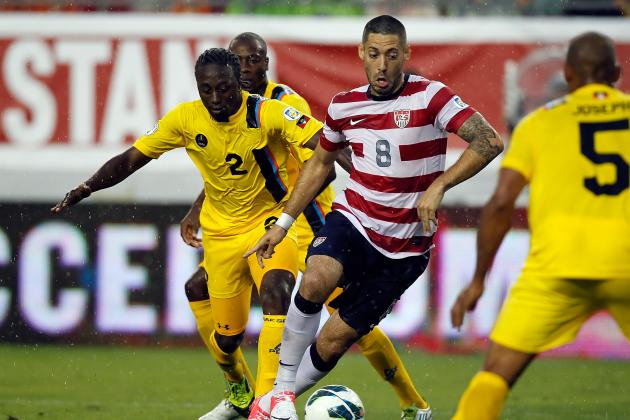 J. Meric/Getty Images

One of the longest running transfer sagas could end this Friday, and I think that, despite speculation, Clint Dempsey will stay at Fulham.
Dempsey's desire to move on is well-publicised, but with the absence of any concrete offers for him, he might have to bite the bullet and stay at Fulham.
Michael Wade of Talksport.co.uk reported this past Saturday that the relationship between Dempsey and his manager, Martin Jol, has reached breaking point.
In the same interview, Jol is quoted as saying:
Nothing has changed. I asked him to come in my office and he doesn't want to talk so it is a very awkward situation. The only thing is we kept everything behind the curtains so nobody knew but this situation is as it is for the last five weeks.
With his refusal to play, Dempsey might have done himself more harm than good, and it remains to be seen whether or not his unprofessional attitude will cost him the move he wants.
For those of you saying he couldn't play for Fulham again, just look at the Carlos Tevez situation at Manchester City last year.
Nobody thought he'd play for them again, but now, all has been forgotten.
It could be the same for Dempsey and Fulham, but that's up to one man: Clint Dempsey.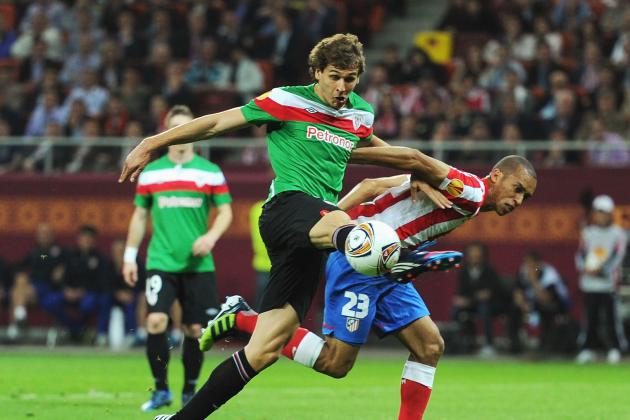 Michael Regan/Getty Images

If I had to use one word to describe Fernando Llorente, it would be powerhouse.
He's a big, strong, powerful striker that can score all kinds of goals.
Although Spurs signed Adebayor on a permanent deal from Manchester City last week, they're still short up front and they could do with adding at least one more striker.
Llorente fits the bill perfectly, and the great thing about it is that they probably wouldn't be priced out of moving for him because he's out of contract at the end of the season.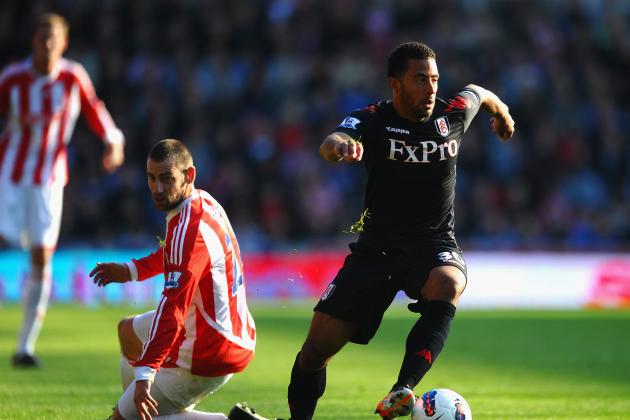 Laurence Griffiths/Getty Images

While all the speculation and furore surrounds Clint Dempsey at Fulham, there's another attacking midfielder that's quietly going about his business and becoming one of the best prospects in the country.
Even before his outstanding performance at Old Trafford on Saturday, Moussa Dembele was already interesting the likes of Manchester United and Tottenham.
Last Thursday, Warren Houghton of talksport.co.uk reported that United have already had a "very low bid" for Dembele rejected.
He's out of contract next summer, so faced with losing him for nothing then or cashing in now, Fulham will do well to hang on to their Belgian superstar.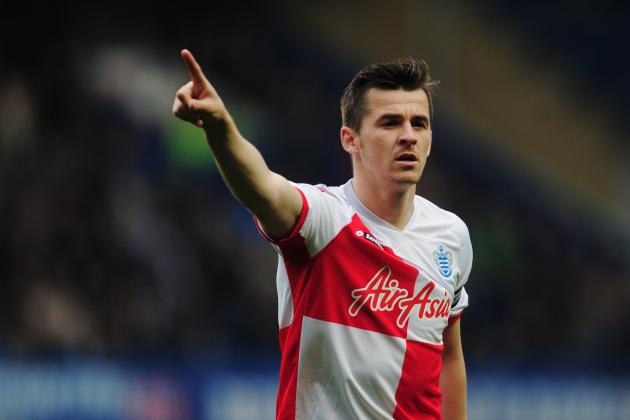 Jamie McDonald/Getty Images

After last season ended in disgrace for Joey Barton, it might be best for him to move away from England and get a fresh start somewhere else.
For me, Barton's a talented player, and when he's good, he's good, but it seems like there's just too much baggage with him and he might be best served moving on.
Whilst it's doubtful he'll stay in England because of his 12-game suspension, a move to France seems to be on the cards.
Bbc.co.uk/sport reported yesterday that Barton himself is desperate for a move away from Loftus Road, so if Joey wants to leave and QPR don't want him, surely they can come up with an agreement for Barton to make a fresh start somewhere else.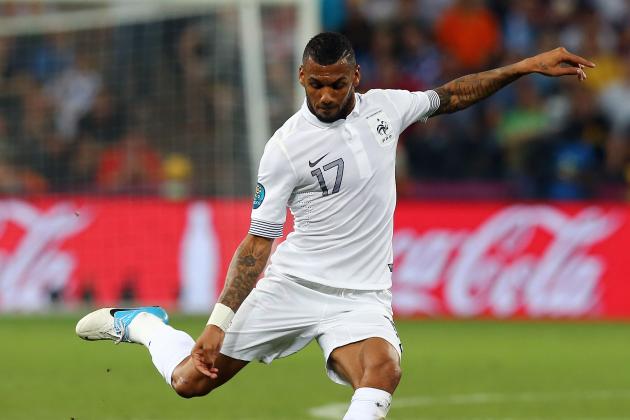 Martin Rose/Getty Images

Earlier today, BBC's David Ornstein reported that Spurs have tabled a £12.7million offer for Yann M'Vila.
It looks as if Spurs are looking to overhaul their squad with the departure of Luka Modric to Real Madrid and uncertainty over the futures of others like van der Vaart, Dawson and Huddlestone.
M'Vila would be an excellent signing for Spurs if a fee can be agreed, although they may have to move quickly to snap up the highly-rated Frenchman.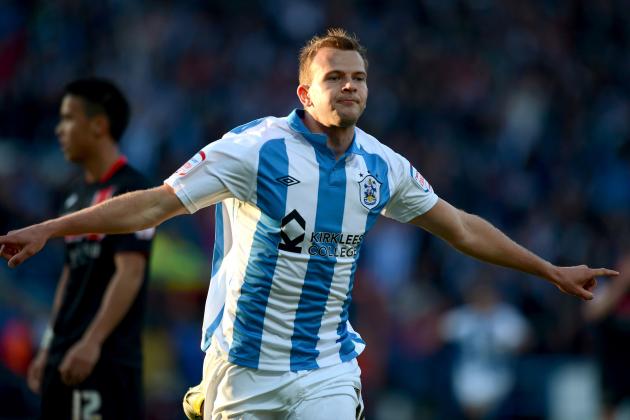 Gareth Copley/Getty Images

You'd be hard-pushed to find a more natural goalscorer than Huddersfield's star striker, Jordan Rhodes.
Since joining Huddersfield in 2009, Rhodes' goal-scoring record is a goal every other game.
I don't care what level you're playing at; that's impressive.
It's only a matter of time before Rhodes moves on, but where will he end up?
I'm not sure if he's good enough for a top-four club just yet, but clubs like Sunderland, Stoke and Everton could do a lot worse than checking out the Scotland international.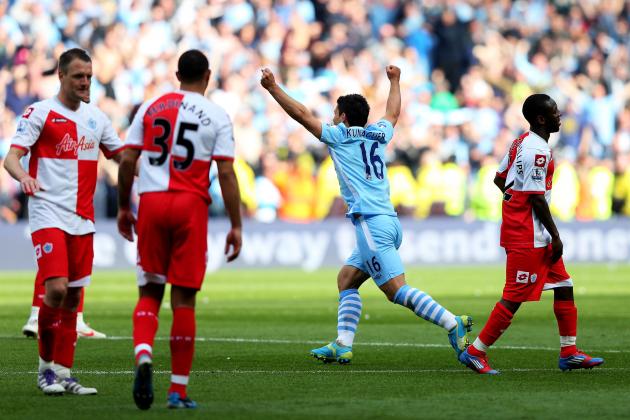 Alex Livesey/Getty Images

In the last few years, Manchester City have always made a blockbuster signing.
Whether it's been Robinho, Carlos Tevez or this man, Sergio Aguero, there's always been a signing to excite the fans.
Without being disrespectful, I don't think that Jack Rodwell or Scott Sinclair are the kind of players who can make the same impact.
To be honest, I don't think that City will be able to bring in that "star" name without offloading another five or six players, and there might not be enough time to do that before the end of the transfer window.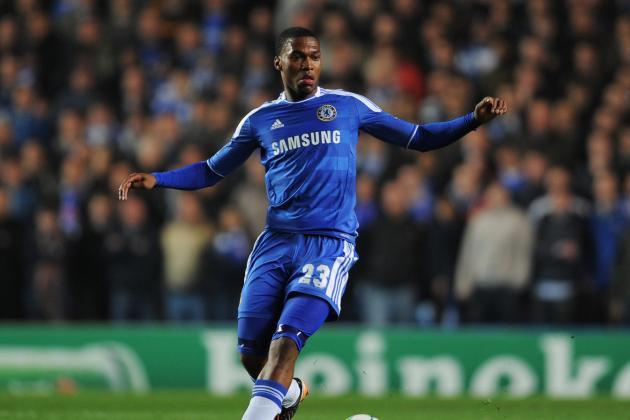 Michael Regan/Getty Images

I think that Daniel Sturridge is on a hiding to nothing at Chelsea.
In the summer window, Chelsea have brought in Eden Hazard, Oscar, Marko Marin, Victor Moses and Kevin de Bruyne, although de Bruyne has gone out on loan.
Add those players to the likes of Ramires and Juan Mata who are already there, and Chelsea are pretty much covered as far as attackers are concerned.
Although Sturridge is, in my opinion, better as a striker, he's been playing out wide for Chelsea over the last couple of years, so if he wants regular first-team football, he might be better moving on.
I'd think that clubs like Arsenal and Spurs would be interested in the pacy striker, regardless of his Chelsea links.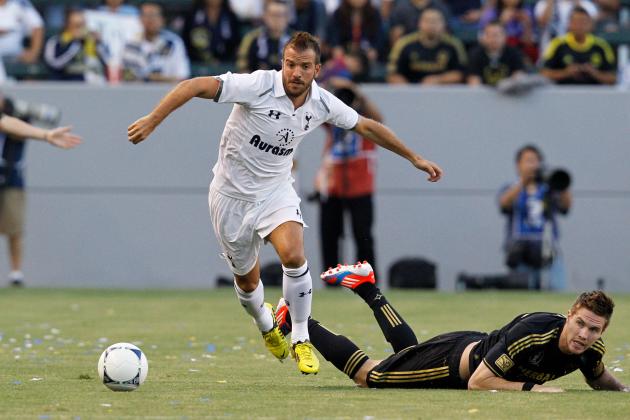 Ric Tapia/Getty Images

Last week, Jeremy Wilson of the Daily Telegraph reported that Rafael van der Vaart would welcome a move to Hamburg.
The Dutchman spent three successful years there between 2005 and 2008, and although he'd be a loss to Tottenham, I think that they signed Gylfi Sigurdsson to offset the potential loss of van der Vaart.
I've always been a fan of van der Vaart, but if someone as experienced as Harry Redknapp couldn't get consistency from him, I don't see how Andre Villas-Boas can, so I wouldn't be surprised to see van der Vaart move on before the window closes.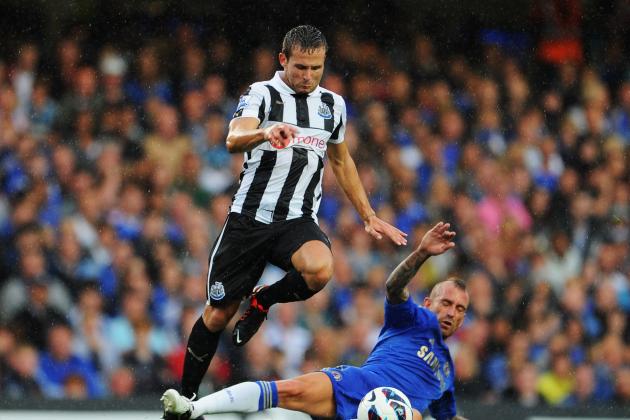 Michael Regan/Getty Images

Yohan Cabaye is one of the best midfielders in the country, and he joined Newcastle for a bargain fee last season.
Arsenal need to replace Alex Song, who just signed for Barcelona, and they could do a lot worse than look at signing Cabaye.
Every player has his price, and although Newcastle would be reluctant to sell, an offer in the region of £15 million might just be enough to persuade the Geordies to cash in on their French midfielder.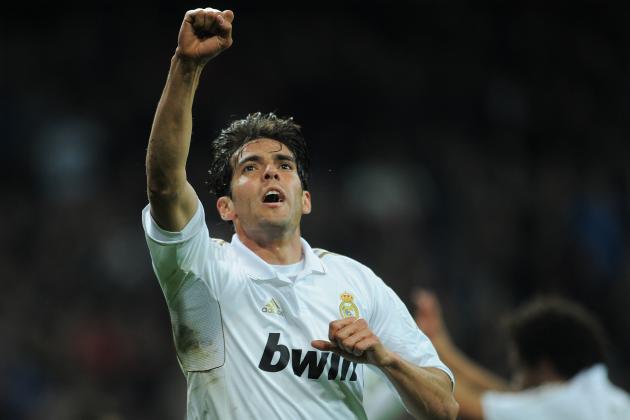 Jasper Juinen/Getty Images

Now that the signing of Luka Modric has been confirmed, Real Madrid have an excess of attacking players, and one man to pay the price will be Brazilian legend Kaka.
Despite the fact that he's been one of the best players in the world over the last decade, Kaka's influence hasn't been as great at Madrid as it was in Milan.
In my opinion, he needs to leave the Bernabeu to revitalise his career.
He's already proved himself in Italy, so I wouldn't think he'd go back there.
There are only three English clubs who could realistically afford him: Manchester City, Manchester United and Chelsea, but they're all well covered for attacking midfield players.
I genuinely see Kaka moving to France to play for PSG.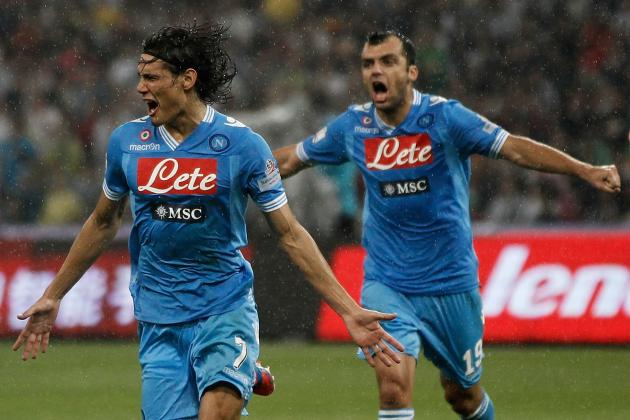 Lintao Zhang/Getty Images

As things stand right now, Chelsea have one recognised top-class striker, Fernando Torres.
They're almost overloaded with attacking midfielders, but when it comes to strikers, they're well short.
If Chelsea are to have a serious chance of overhauling either of the Manchester clubs, they need to have competition for strikers, and if Fernando Torres isn't on top form, they could struggle.
There are a whole lot of strikers across Europe that Chelsea can afford to sign.
To be honest, Roman Abramovich would be well-placed to bid for someone like Napoli's Edinson Cavani or Porto's Brazilian striker Hulk.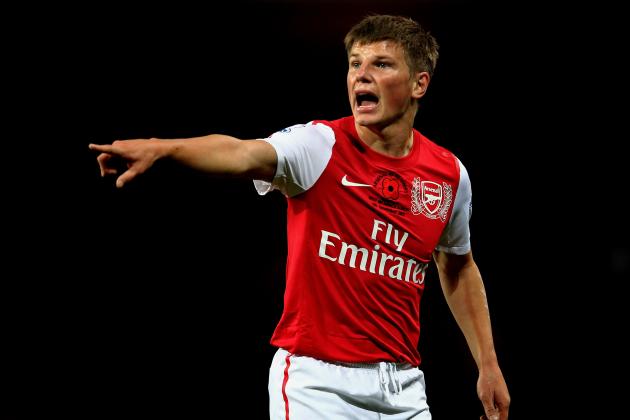 Julian Finney/Getty Images

Andrei Arshavin is one of the most frustrating players I've ever seen in my life.
He has all the skill and talent in the world, but sometimes, he doesn't seem to have the right attitude.
It's as if he goes missing during games and doesn't want to get involved.
I'm being honest, and not disrespectful, when I say that I honestly can't remember the last time Arshavin had a great game for Arsenal.
With players like Cazorla, Oxlade-Chamberlain, Walcott, Gervinho and Arteta, as well as Jack Wilshere when he's fit, ahead of him, it looks like his time at the Emirates is up.
At the age of 31, Arshavin probably has one move left, and I'd be very surprised if he didn't end up back at Zenit St Petersburg.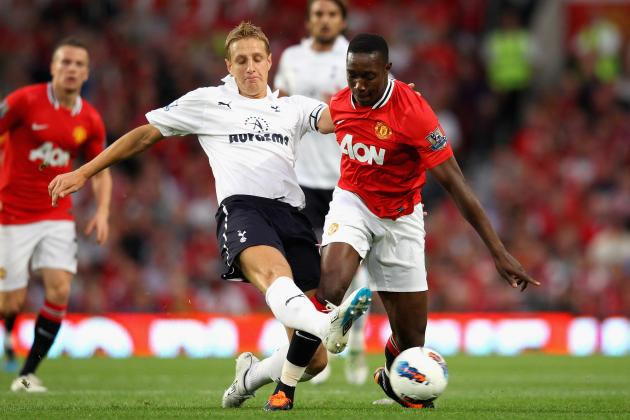 Alex Livesey/Getty Images

When the story broke last week about Michael Dawson being allowed to leave Spurs, I was completely baffled by it.
When he's fit, he's one of the best defenders in the country, and to be honest, there's only really Younes Kaboul that's better than Dawson at Tottenham right now.
Darren Lewis and John Cross of The Daily Mirror reported that Spurs sanctioned the sale of Dawson to QPR for £9 million.
Although that deal hasn't been done yet, it'd be a huge surprise to me if Dawson was still at Spurs on Saturday morning.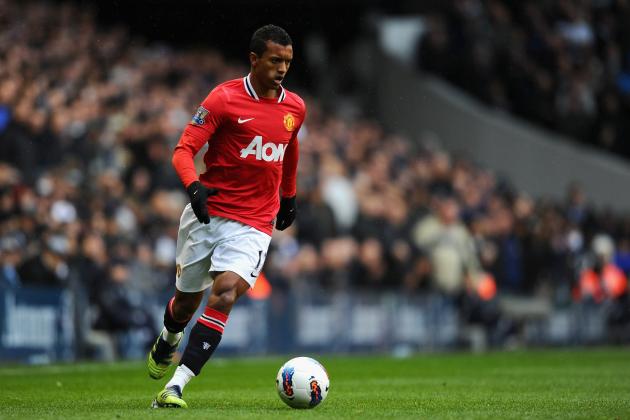 Mike Hewitt/Getty Images

When he's on form, Nani is almost unplayable.
He's a nightmare for defenders.
Full of pace, skill and goals, he could be world-class.
The problem is that he's far too inconsistent, and with the squad that Man United have, he could find himself out of the team more than he'll play.
Sir Alex Ferguson now has to find a way of fitting Ashley Young, Antonio Valencia, Shinji Kagawa, Wayne Rooney, Javier Hernandez and Robin van Persie into his side at one time or another.
To be honest, Nani will probably have to make way for a few of those players more often than not.
However, Neil Custis of The Sun newspaper reports that Manchester United won't sell for less than £25million.
They'll be lucky to get that, but their willingness to listen to offers indicates that his time at United is over.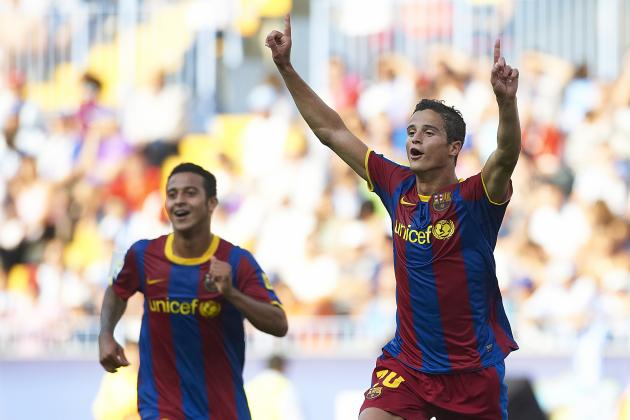 Manuel Queimadelos Alonso/Getty Images

Talksport.co.uk reported earlier today that Barcelona are willing to sanction a loan move for Ibrahim Afellay.
Since he moved to Barcelona last year, Afellay's had a rough time with injuries and a loss of form.
A move to England, whether it's temporary or permanent, might give him the chance to show why a whole host of Premier League clubs were coveting him before his move to Barcelona.
The same report credits London rivals Arsenal and Tottenham with interest in signing the Dutchman, so the chances of him ending up in England by the end of the week are increasing by the day.