Are Zeller, Watford, and Oladipo the Big Ten's Best 'Big Three'?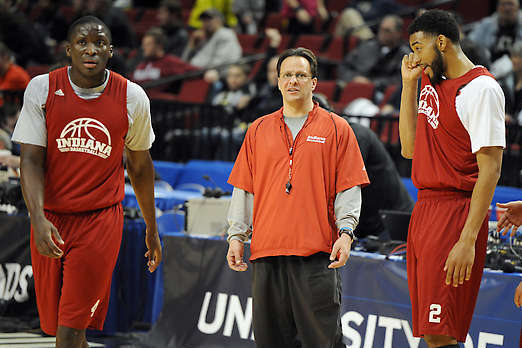 LeBron James, Dwyane Wade and Chris Bosh. Tim Duncan, Tony Parker and Manu Ginobili. While none of the 12 "Big Three" combinations listed here match up with those elite NBA players, I think you get the idea of where this article is going.
While role players can often times be the difference between two evenly matched teams, I am a firm believer that teams need three legitimate and consistent scoring threats to compete at the highest possible level.
Some of these trios are already established, while a few are more like shots in the dark. Only two freshmen and one transfer made the list, although by season's end teams may be counting on these new players more than I can give them credit for now.
This list is not (emphasis on not) my preseason ranking for the Big Ten by any means. Teams with more depth outside their "Big Three" will be more successful than those without such depth. Let's take a look at each squad's trifecta of star players.
Begin Slideshow

»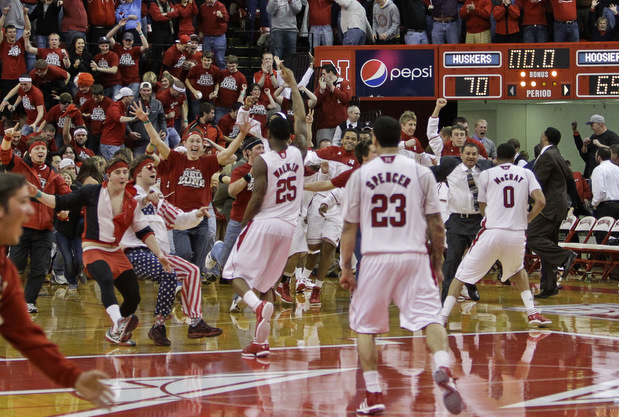 Dylan Talley, Brandon Ubel, Andre Almeida
Talley averaged 8.9 points, 3.3 rebounds and 1.9 assists in 23.8 minutes of playing time during his first season in Lincoln. Talley came off the bench, but was usually found on the court in the closing moments of games. He has the ability to score both off the dribble and on set shots.
Ubel averaged 6.7 points and 5.3 rebounds in 28.2 minutes as a junior. With Almeida and Jorge Brian Diaz out last season, Ubel was slotted as the team's center. With Almeida's return this season, the 6'10" Ubel will be a tougher matchup at the power forward position.
Almeida sat out last season, but averaged 5.2 points and 3.3 rebounds in 14.9 minutes in 2010-11. Almeida is a massive 6'11", 310 pounds and will provide the Cornhuskers with legitimate size in their frontcourt.
Almeida and Ubel should anchor the front line, while Talley will be the go-to guy offensively from the wing. The point guard and other wing spot are still up for grabs and could go to incoming freshmen. Talley, Ubel and Almeida were selected because of their prior playing experience at Nebraska.
Other Options: Deverell Biggs and Shavon Shields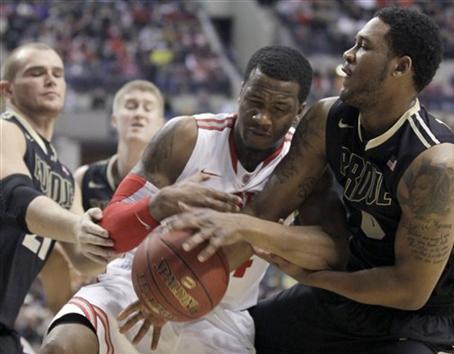 DJ Byrd, Terone Johnson, Ronnie Johnson
In 2011-12, Byrd averaged 8.9 points and 2.3 rebounds, while playing 19.5 minutes off the Boilermaker bench. After a slow start, Byrd played exceptionally the second half of the season, and can also serve as a defensive stopper for the team.
The older of the Johnson brothers, Terone, averaged 9.2 points and 3.4 rebounds as a sophomore. While Johnson is more of a slasher than a shooter, he needs to improve upon his 44-percent free-throw and 31-percent three-point numbers.
Ronnie, an incoming freshman, is the younger brother of Terone. Upon Lewis Jackson's graduation, Johnson became the apparent heir to the point guard position. The left-handed guard will need to run the Boilermaker offense that currently lacks a go-to guy.
Purdue sorely needs some scoring from big men, but I don't see that happening this year. Byrd plays bigger than his 6'5" frame, but scores most of his points behind the arc. Hopefully for Matt Painter's sake, the Johnson brothers can form a nice guard duo.
Other Options: Anthony Johnson and AJ Hammons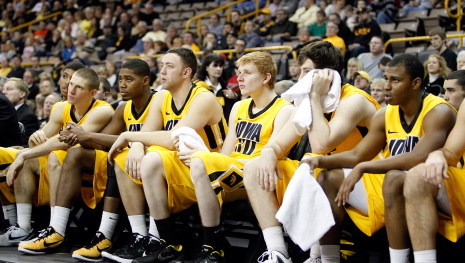 Roy Devyn Marble, Aaron White, Melsahn Basabe
Marble was one of the more improved players in the league last season, averaging 11.5 points, 3.8 rebounds and 3.6 assists. Marble is 6'6" and a versatile player at that. He is a natural wing player, but can handle the ball if needed as well.
White was part of last year's Big Ten All-Freshmen Team after averaging 11.1 points and 5.7 rebounds. White stands 6'8" and can play either the small or power forward positions. Additionally, White shot over 50-percent a year ago.
The biggest enigma in the Big Ten last season was Basabe. After averaging 11.0 points as a freshman, he only scored 8.2 as a sophomore and found his role reduced to coming off the bench. While Iowa has added bulk to their frontcourt, Basabe's athleticism could be enough if he stays consistent.
The Hawkeyes could stack up as one of the taller teams in the league next year and having no major seniors this season should excite Iowa fans. While Marble, White and Basabe are the top returners, look for some young guys to step up as well.
Other Options: Mike Gesell and Adam Woodbury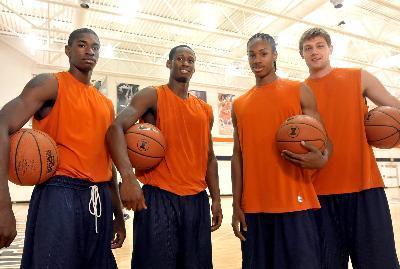 Brandon Paul, DJ Richardson, Joseph Bertrand
Paul averaged 14.7 points, 4.7 rebounds and 2.9 assists as a junior and will be forever remembered for his 43-point performance against Ohio State. Paul needs to cut down on his 3.4 turnover average for the Illini to improve.
Richardson has remained steady, but not shown any signs of improvement during his three years in Champaign. His three-point percentage dropped to below 35-percent as a junior, although he is a great on ball defender.
While Bertrand may likely find himself coming off the Fighting Illini bench as a redshirt junior, his role should remain the same as a year ago. Although he only averaged 6.5 points and 2.7 rebounds, Bertrand's lanky 6'5" frame causes problems when he plays the forward positions.
Richardson, Bertrand and Paul, who are numbers 1, 2 and 3 on their Fighting Illini jerseys, respectively, came into Champaign along with Tyler Griffey (all pictured above). This senior class has only been to one NCAA tournament in their first three years, and a second trip doesn't seem likely this year.
Other Options: Tracy Abrams and Sam McLaurin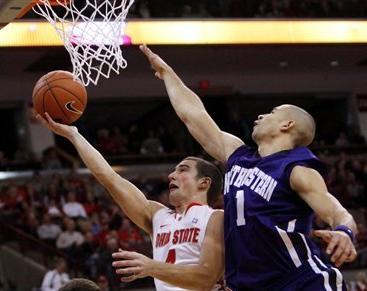 Drew Crawford, JerShon Cobb, Dave Sobolewski
Crawford has averaged double figures in scoring in each of his first three seasons as a Wildcat, including 16.1 points as a junior. He also added 4.7 rebounds and 2.1 assists and will take his duty as the go-to guy head on this season.
Cobb had an injury-plagued sophomore season after a promising freshman campaign. Cobb finished the season with a bang and ended with 7.1 points per game. Cobb also mans the top of Northwestern's 1-3-1 zone defense, placing pressure on opposing guards.
Sobolewski's freshman year statistics finished at 8.3 points, 3.7 assists and 2.6 rebounds in over 35 minutes of playing time. Sobolewski ran the Princeton Offense to a tee, although he did struggle late in the season.
The Wildcats have added depth and size to this year's roster, but the backcourt should be their strength. Staying healthy will be vital to the team's hopes of reaching the NCAA tournament for the first time in school history.
Other Options: Jared Swopshire and Reggie Hearn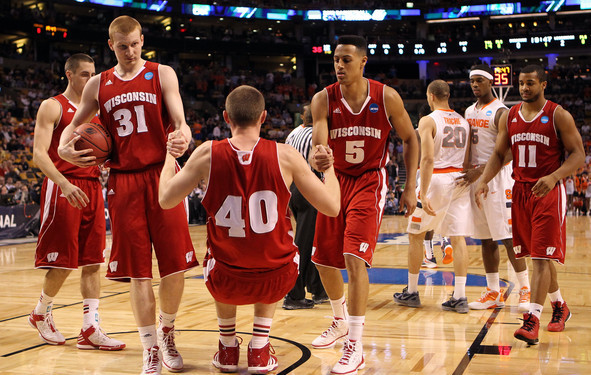 Jared Berggren, Ryan Evans, Josh Gasser
Berggren averaged 10.5 points, 4.9 rebounds and 1.7 blocks as a redshirt junior after hardly seeing the floor in his first three seasons in Madison. Berggren is tough on the inside on both sides of the court, but also feels free stepping behind the arc and launching threes.
Evans, who will also be a redshirt senior, showed similar improvement last season. He averaged 11.0 points and 6.8 rebounds and has a deadly mid-range jump shot. Evans plays an old school game, as his 80s flattop may suggest.
Gasser's 7.6 point, 4.2 rebound and 1.9 assist averages don't seem like much, although Gasser's value to the Badgers is tremendous. The soon to be junior was selected to the Big Ten's All-Defensive Team and can also handle the ball on offense if necessary.
Jordan Taylor's departure from Wisconsin should be noted, although Bo Ryan coached teams have always overachieved no matter who they lost from the previous year. Berggren, Evans and Gasser are all different players, but they all have bought into the Swing Offense and slow pace of play.
Other Options: Sam Dekker and George Marshall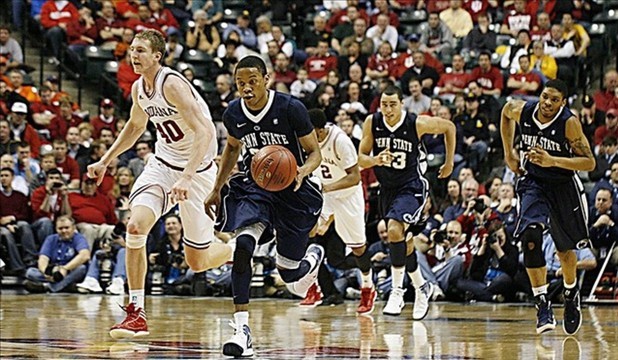 Tim Frazier, Jermaine Marshall, DJ Newbill
Frazier was one of the Big Ten's best as a junior and may not have gotten the credit he deserved because of Penn State's poor conference record. Frazier averaged an incredible 18.8 points, 4.7 rebounds, 6.2 assists and 2.4 steals in 37.1 minutes.
Marshall averaged 10.8 points and 4.1 rebounds in and up and down season a year ago. Marshall is 6'4", but can play a variety of positions. He needs to improve on his 39-percent shooting from the field last year.
Newbill, a transfer from Southern Miss, averaged 9.2 points and 6.2 rebounds during his freshman season there. He played over 30 minutes per game and shot nearly 43-percent from behind the arc. He will be a welcomed addition in Happy Valley.
Frazier, Marshall and Newbill make up a strong Nittany Lion core, but they may lack support from the rest of the roster. This trio also makes up an outstanding group of rebounders, especially since they are all guards.
Other Options: Ross Travis and Jonathan Graham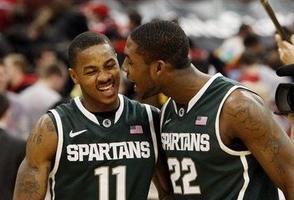 Keith Appling, Branden Dawson, Adreian Payne
Appling, who can play out of control at times, averaged 11.4 points, 3.9 assists and 2.9 rebounds as a sophomore. This was his first season playing point guard, so he should be more accustomed to that role this year. He does need to improve on his 25-percent shooting from deep as a sophomore.
Dawson, who went down with a torn ACL in March, had an impressive freshman season where he averaged 8.4 points and 4.5 rebounds. Assuming Dawson comes back from his injury on time, he has the potential to become a star in this league right now.
Payne averaged 7.0 points, 4.2 rebounds and 1.1 blocks as a sophomore in his split role at center with Derrick Nix. Payne is more versatile now than when he arrived in East Lansing, and he even has a nice mid-range jumper. Expect to see him play more power forward this year.
Appling, Dawson, and Payne are just a few of the many talented players on the MSU roster. How they will all react to Draymond Green's MSU career ending, though, remains to be seen. While this team has Final Four potential for 2013-14, expect good but not great things this season.
Other Options: Gary Harris and Derrick Nix
Trey Burke, Tim Hardaway Jr., Mitch McGary
Burke was one of the best kept secrets coming out of high school, and it showed last season. As a freshman, Burke averaged 14.8 points, 4.6 assists and 3.5 rebounds in 36.1 minutes of play. He shared the conference's Freshman of the Year award with Indiana's Cody Zeller.
Hardaway Jr. averaged 14.6 points, 3.8 rebounds and 2.1 assists as a sophomore, but was streaky at times. His three-point percentage dropped to 28-percent, leading me to believe he should attack the basket more often.
McGary comes to Ann Arbor with the nickname White Thunder, as McGary has broken rims with his powerful dunks. He gives the Wolverines a scoring option on the inside, something that they lacked a year ago.
Burke and Hardaway Jr. were a solid duo in 2011-12, but the additions of McGary and Glenn Robinson III should give the Wolverines more threats offensively. Michigan may not have to rely on the three-point as much as in the past.
Other Options: Glenn Robinson III and Jordan Morgan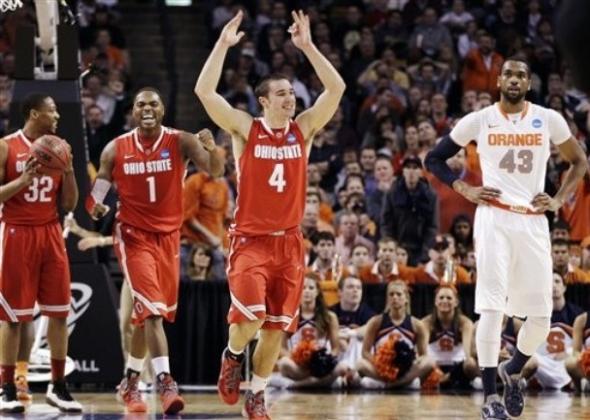 Deshaun Thomas, Aaron Craft, Lenzelle Smith Jr.
Thomas may be the Big Ten's best natural scorer, averaging 15.9 points as a sophomore. He also added 5.4 rebounds a night, but needs to improve his defense. The 6'7" lefty plays power forward, but can step out and shoot from the outside.
Craft averaged 8.8 points, 4.6 assists, 3.2 rebounds and 2.5 steals as a sophomore and has established himself as one of the best defenders in the nation. He also provides leadership for the Buckeyes and is the type of player any coach would love to have.
Smith Jr., who will be a junior like Thomas and Craft, averaged 6.8 points and 4.6 rebounds last year. Smith Jr. is a strong guard that shined in the NCAA tournament, helping lead Ohio State to the Final Four.
Thomas, Craft and Smith Jr. are clearly the top returning players on the Buckeye roster, although others will be sure to contribute as well. Thomas and Craft could both find themselves within the conference's top players by year's end.
Other Options: Amir Williams and LaQuinton Ross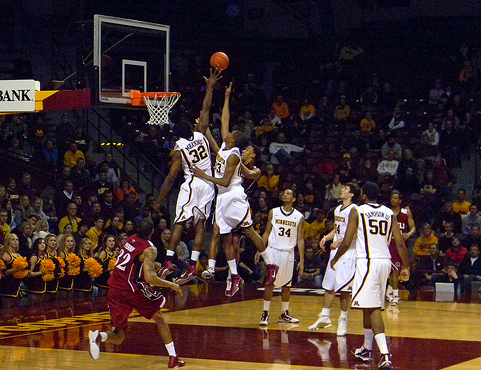 Trevor Mbakwe, Rodney Williams, Andre Hollins
Mbakwe sat out most of the 2011-12 season with an injury, but decided to return for his sixth collegiate season. In his other season as a Golden Gopher, Mbakwe was a double-double machine as he averaged 13.9 points and 10.5 rebounds for the year.
Williams was able to take huge strides as a junior, partially due to Mbakwe's absence. Williams finished his junior season with averages of 12.2 points, 5.6 rebounds, 1.7 assists, 1.4 blocks and 1.3 steals. He is the league's best leaper and will adjust to being moved back to small forward this year.
Hollins' freshman year averages of 8.7 points, 2.1 rebounds and 1.8 assists are not overly impressive, although he only played 21.1 minutes. He had his coming out party in the NIT though, when he finally served as the team's starting point guard, and is one of the more under the radar players in the league.
Mbakwe and Williams could form a huge shot blocking duo around the basket, the same area where both players will be scoring most of their points. Hollins must build off the momentum he ended his freshman season with.
Other Options: Austin Hollins and Julian Welch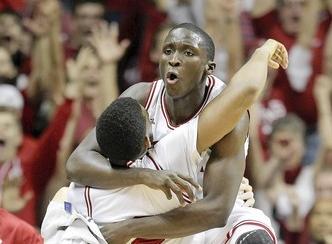 Cody Zeller, Christian Watford, Victor Oladipo
Zeller averaged 15.6 points and 6.6 rebounds as a freshman and is one of the top returning players in the entire nation, after deciding to let the NBA wait for awhile. Zeller's 62.3 percent shooting from the floor may be his most impressive statistic.
Watford's buzzer-beating three-pointer over Kentucky last season will always be what he is remembered for, despite averaging at least 12.0 points in all three seasons so far. Watford's offense will come, but he needs to improve on the other end of the court.
Oladipo averaged 10.8 points, 5.3 rebounds, and 1.4 steals as a sophomore, while also becoming a top notch defender. Oladipo's outside shooting needs improvement, as does his finishing around the basket, but he is one of the quicker players in the conference.
Expectations are incredibly high in Bloomington and these three players are a big part of the reason why. The Hoosiers depth will be an asset that they need to use, which includes four freshmen and multiple returning players.
Other Options: Jordan Hulls and Yogi Ferrell