Panthers vs. Jets: New York's Biggest Winners and Losers from Preseason Week 3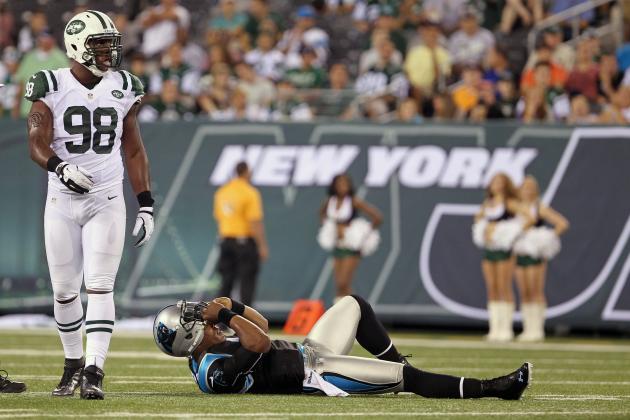 Ed Mulholland-US PRESSWIRE

The Jets have dropped their third straight preseason game in a nearly identical fashion: Offense struggles, defense shines and the Jets have yet to hit pay dirt.
New York headlines will bash the Jets offense, as they never did get to score that ever-so-elusive touchdown, but there were still some positives to take from this game.
Here are the biggest winners and losers from Sunday's game.
Begin Slideshow

»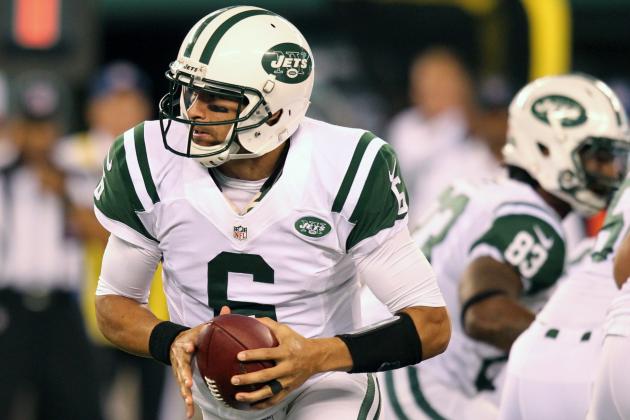 Anthony Gruppuso-US PRESSWIRE

Yes, the spotlight in Monday's headlines will be on the Jets' inability to punch it in for six, but Sanchez did his job.
He was accurate, efficient, and if not for a dropped pass by Stephen Hill (on a perfectly thrown ball), Sanchez would have been turnover-free as well.
Mark looks comfortable in Sparano's offense, especially when they pushed the tempo to get back to the line quickly after the play was called. He spread the ball to Holmes and got Hill involved as well. For the most part, the offense was able to move the ball between the 20's.
What also favored Sanchez was how Tebow looked considerably worse as a passer when he took over in the third quarter. Tebowmaniacs got a cold dose of reality when it became apparent as to how much more talented of a passer Sanchez is.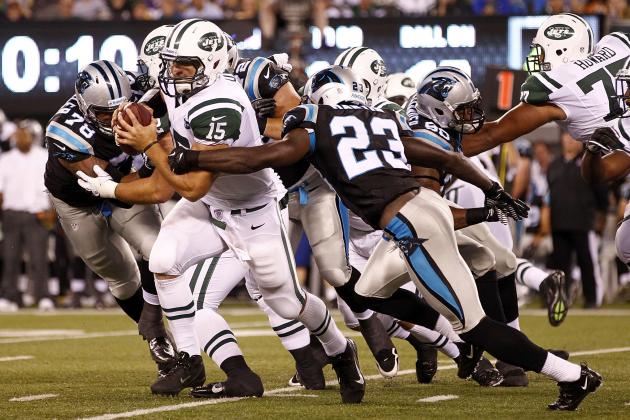 Jeff Zelevansky/Getty Images

If it was not already glaringly obvious as to how inferior of a passer Tim Tebow is compared to the likes of Mark Sanchez, Sunday's game only highlighted Tebow's shortcomings as a pocket passer.
He was indecisive and held the ball for far too long. While he was able to break out on a few runs, he made a handful of horrific throws that ultimately led to an ugly interception.
Sanchez's offense was not exactly explosive, but Tebow's group was stagnant, at least until the last two minutes of the game when the Panthers were playing in a contain-style defense.
Still, this is nothing that should surprise anyone about Tebow; there is no doubt that he has some ability as a runner and can make a few throws here and there, but this man is just not an NFL quarterback at this point.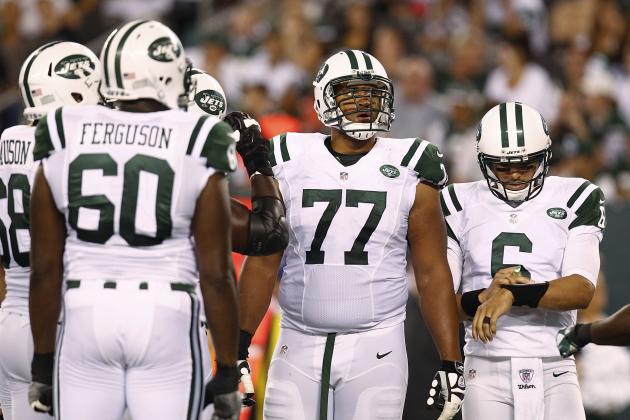 Jeff Zelevansky/Getty Images

It was certainly far from perfect, but compared to last Saturday's debacle against the Giants, the Jets were able to move the ball relatively well on Sunday, gaining big chunks of yards in the process.
Much of that newfound success can be attributed to the play of new right tackle Austin Howard, who was filling in for the benched Wayne Hunter.
Howard went up against a talented player in Charles Johnson, but he was able to hold his ground and not allow a sack all night. As a result, Sanchez was able to find Dustin Keller and Stephen Hill for two explosive plays downfield.
There is still a long way to go, but the Jets can breathe a sign of relief knowing that they have a player that, while he may not necessarily dominant and push guys around, he is not going to embarrass himself either.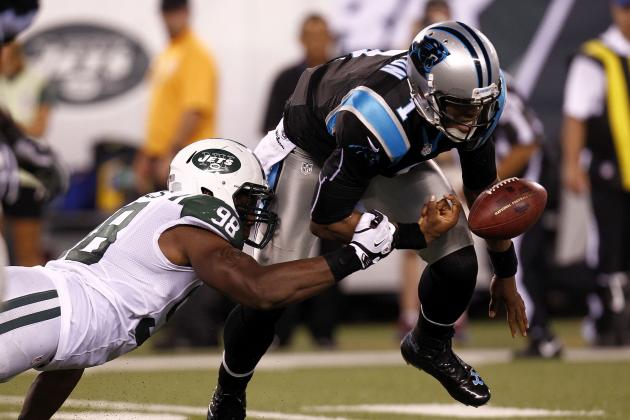 Jeff Zelevansky/Getty Images

Based on his on-field performance, Coples deserves to be in the "winner" column. Playing with the starters in place of the injured Mike DeVito, Coples was outstanding, applying pressure on Cam Newton and being a force in the run game.
What made it more impressive is how he was able to perform well against a rock-solid Carolina offensive line, which is something he has not been able to show this summer.
So, what did Coples do to wind up in the "losers" column?
According to Rich Cimini of ESPN, Coples copped an attitude with Rex Ryan after he found out he was going to get work with the second team as well. Ryan was mad enough at Quinton to call him out in his press conference:
He kind of had a woe-is-me when we took out the starters...hey look, you're still a rookie. You have to play the whole game and then some. They ran the ball on us with our second group in there and I never like to see that.
Coming out of UNC, Coples was accused of being lazy and difficult to motivate during the draft process. If he is ever going to lose that reputation, he simply cannot act like he already has the privileges of a seasoned veteran.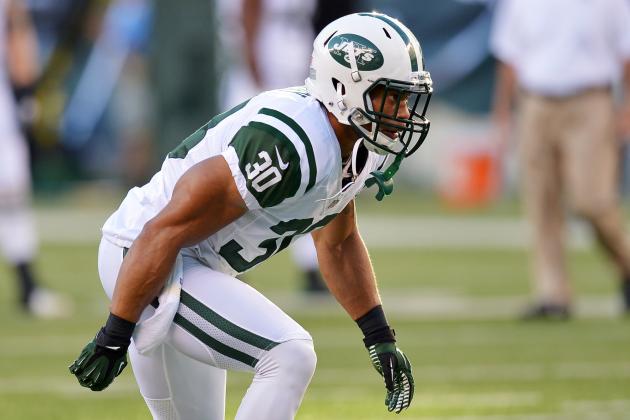 Drew Hallowell/Getty Images

The Jets have found the physical presence in the secondary that they have been looking for.
Landry was all over the field tonight, making big hits in the secondary to separate receivers form the ball and coming up in the run game to make plays. He was also able to reel in an interception before it all was said-and-done.
Clearly, the talent and physicality is still there; the questions about Landry lie with his health. If the Jets manage him well and keep him like a well-oiled machine for the rest of the season, Landry will give them Pro Bowl-level production from a position that desperately needed it.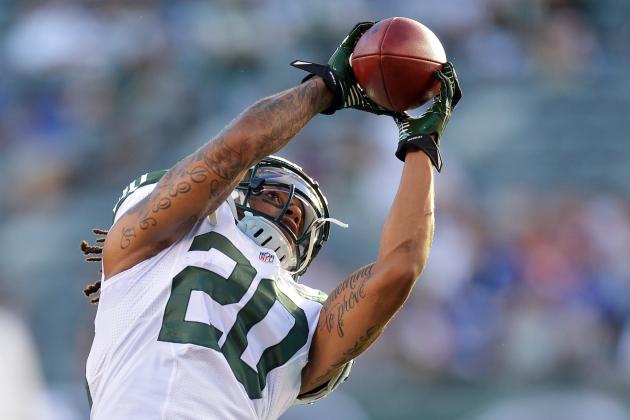 Drew Hallowell/Getty Images

That's it: This whole idea that Kyle Wilson is improving and is a solid nickel corner needs to stop.
He simply gives up far too many completions for a slot cornerback who was picked in the first round. He clearly is not suited for the position and needs to work with a sideline in order to be an effective player.
On seemingly every third-down conversion the Panthers made, Wilson was in coverage with a significant amount of space between him and his receiver.
If Wilson does not improve, the Jets should look into giving Ellis Lankster some reps with the first team, even if it would be an admission that the Jets may have made a mistake in the first round of the 2010 draft.
Ed Mulholland-US PRESSWIRE

The Jets' defensive line depth was able to flex its muscles on Sunday. Despite playing without two of the three starters in Sione Po'uha and Mike DeVito, the Jets' line dominated the Panthers in all phases all night long.
Among them was second-year player Kenrick Ellis, who had no trouble dealing with the likes of stud center Ryan Kalil. He was able to force a fumble and was a rock in the run game. The front three had no problem getting pressure on Cam Newton without any help from blitzes.
Give Mike Tannenbaum all of the flak you want for neglecting parts of the offense, but there is no question that he has stacked this once-dry positional group with tons of young talent.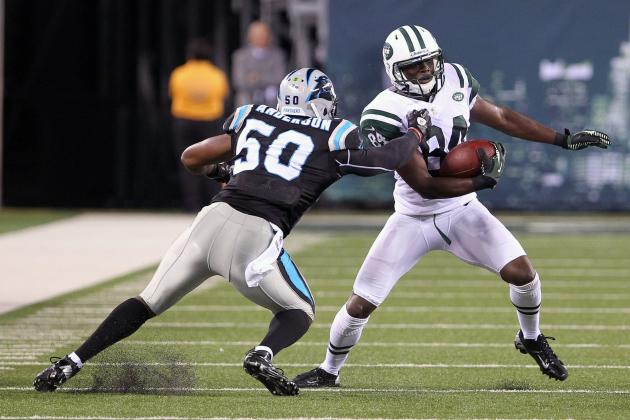 Ed Mulholland-US PRESSWIRE

On the stat sheet, Hill had a very good night. He led the Jets in receiving with five catches for 68 yards, including a 32-yard play to get the Jets into the red zone.
However, it appears as if Hill can be officially diagnosed with a severe case of the dropsies. He mistimed a jump in the end zone to drop a would-be touchdown and later dropped a routine catch that deflected to a Carolina defender for an interception.
In the preseason, the drops obviously do not have an effect on the games that count. The drop can, however, stop Sanchez from trusting Hill and cause him to second-guess throwing him the ball.
Whatever it is that is causing Hill to drop so many easy catches, he needs to fix it quickly if the Jets are ever going to use his big-play ability to its potential.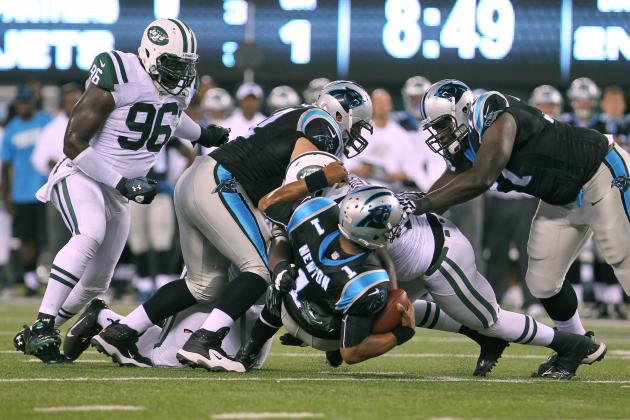 Ed Mulholland-US PRESSWIRE

One player who has had a fantastic camp whom no one is talking about is veteran defensive end Jay Richardson.
A former Raider and Seahawk, Richardson was on his way to having a promising career until he developed chronic knee problems. Now that the Jets have given him another chance, it appears as if he has figured out how to overcome his knee issues.
Richardson was perceived as a bubble player who would have to get an injury break to make the team. Well, with Sione Po'uha and Mike DeVito out, Richardson was thrust into the starting lineup and thrived.
He recorded a sack on Cam Newton (thanks to some help from Kenrick Ellis alongside him) and got consistent pressure all night.
The fact that he was working with the first-team defense is an excellent sign that Richardson is one bubble player the Jets plan on keeping around.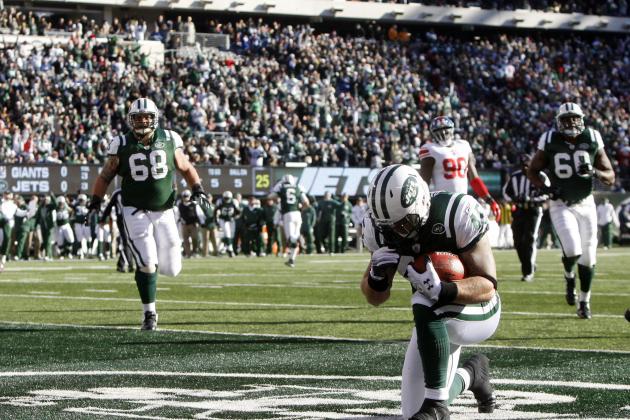 Rich Schultz/Getty Images

One of the few reliable blocking tight end/fullbacks on the team, Baker suffered a gruesome knee injury when attempting to make a catch in the end zone.
As of this writing, there is no word as to the severity of the damage to Baker's leg/knee, but based on how it looked on the field, this could easily be a season-ending injury for Baker.
While this certainly hurts the Jets' depth at tight end as well as on special teams, this could be a crushing blow to a young man's career just as he was starting to find his niche in the NFL.