New York Jets: 5 Quick Thoughts After Sunday's Game Versus Carolina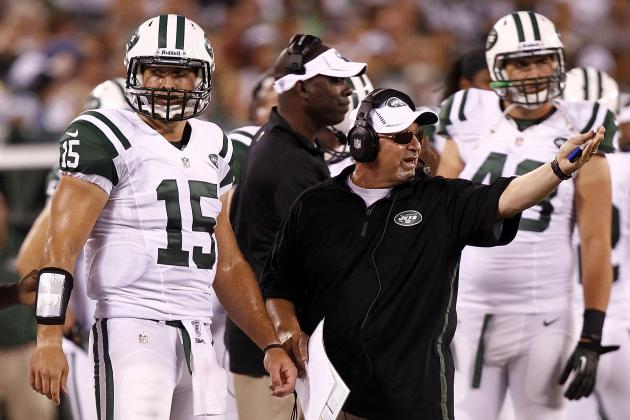 Jeff Zelevansky/Getty Images

It would have been nice to finally see a preseason touchdown, but the result doesn't matter. In the dress rehearsal before the regular season, the New York Jets played very well against the Carolina Panthers.
On the offensive and defensive side of the ball, the Jets were successful. You could argue about the fact that the offense didn't score a touchdown and the defense allowed two, but I don't think that's valid, as there is always less urgency in the preseason.
So what did I think about the game? Here are my five quick thoughts after Sunday's strong showing.
Begin Slideshow

»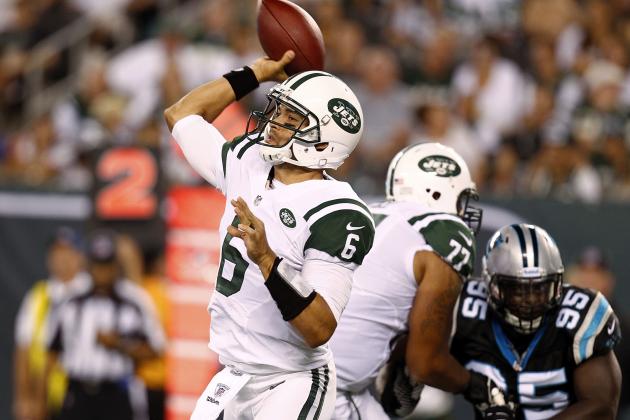 Jeff Zelevansky/Getty Images

Mark Sanchez deserves a lot of credit for his performance in Week 3. He was throwing multiple throws above 20 yards, accurately too. His interception wasn't his fault—a good pass tipped. The near interception was not his fault; there was holding on the play.
He looked good on the ball, and with time to do it and all his receivers in, there was no trouble. However, Dustin Keller's injury really could hinder his success over time. Sanchez needs Keller as a safety blanket.
The way he has played the last two games is a major improvement over last season, and with these performances, Shonn Greene may be given more holes to plow through.
I personally see a year of about 3,500 all purpose yards, 28 TDs and only 15 turnovers. Bold? Yes, but definitely possible.
So what about Tim Tebow? He ran phenomenally, but he didn't throw well at all until the last drive. That interception was a complete embarrassment, and he had trouble getting the ball off quickly; completely evident in the statistic Cris Collinsworth showed regarding release times.
He rushed the ball extremely well, extending plays and getting right past defenders. That 3rd-and-16 makes me excited to see the Wildcat in the regular season. But is there a quarterback controversy? I don't think so.
It looks like Sanchez is still rapidly developing as a thrower, and Tebow just isn't learning fast enough. Tebow could pull 1,500 all-purpose yards out of the Wildcat, but he's not going to do much when the ball is in his left hand and he looks for an open receiver. And the Jets should see that now.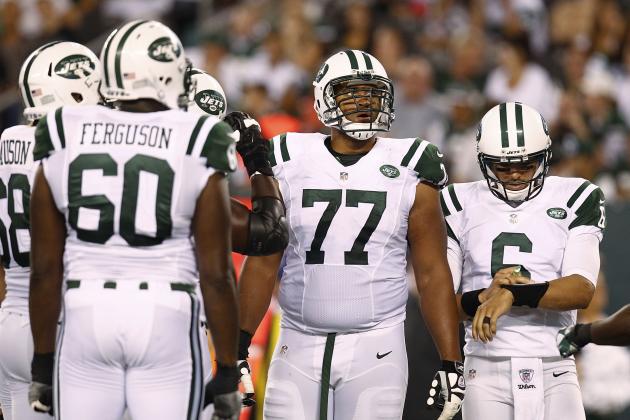 Jeff Zelevansky/Getty Images
He played well tonight.
Months ago, I was seriously interested in who would be one day unseating Wayne Hunter at RT. I knew that the Jets did not sign any stars at right tackle, but I knew that they brought in Austin Howard. After reading multiple scouting profiles, I saw that he had amazing potential but just needed more seasoning.
In his only start, he was given tons of trouble from DeMarcus Ware, but can he be faulted? Ware is the best pass-rusher around, and for a rookie to have to block him is absurd.
He played well in Week 1 against Cincinnati, not allowing a sack and doing okay with his matchup. Week 2, he played okay; a few people crossed him, but that's normal. He's not going to set the world on fire with his performance, but he could be as good as Matt Slauson is at LG.
In Week 3, he played very strongly. He just needed a chance. Even Cris Collinsworth commended him on his strong play.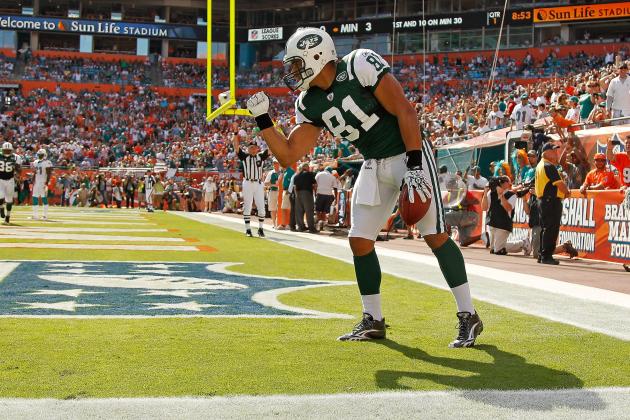 Mike Ehrmann/Getty Images

I don't know if it's the fault of the strength and conditioning crew, the Jets coaches for improperly guiding their players in terms of injury recovery and prevention, or the fault of the players for just moving awkwardly, but these injuries have got to stop.
Mark Sanchez's shoulder was supposedly hurting during the game. Santonio Holmes, Stephen Hill, Jeremy Kerley and Chaz Schilens have all had hamstring issues since OTAs. Jeff Cumberland has a concussion. Dustin Keller hurt his ankle. David Harris and Eric Smith are injured. This could become really disastrous, especially if any carry over into the regular season.
They could easily lose tons of games because of injury issues. They have recently taken risks on injury-plagued superstars (LaRon Landry, Chaz Schilens, giving David Harris a long-term deal), meaning that their roster could become more depleted if the coaches don't fix what they are doing.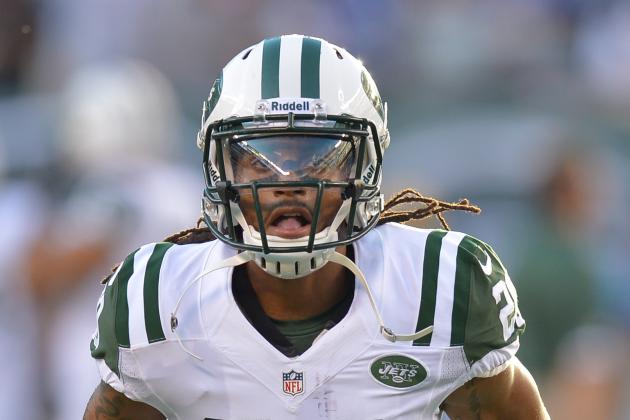 Drew Hallowell/Getty Images
I was really hoping that he'd make some strides.
I never agreed with the Kyle Wilson drafting at first. It would've been pretty smart for the Jets to just move up in a top-heavy, but weak-middle draft. But they're trying to make the best with what they have.
Kyle Wilson, however, still has been blowing coverages every game. He just doesn't know what's going on, or so it seems. He's not slow per se, but he lets receivers pass him as he is blown in coverage. He then catches up and makes an okay tackle.
So what options do the Jets have? Some people say you can never have too many cornerbacks, and the Jets do have some good ones, but they can't invest a first-round pick on a CB. A third-round pick would've been an interesting asset to use on one, but not a first.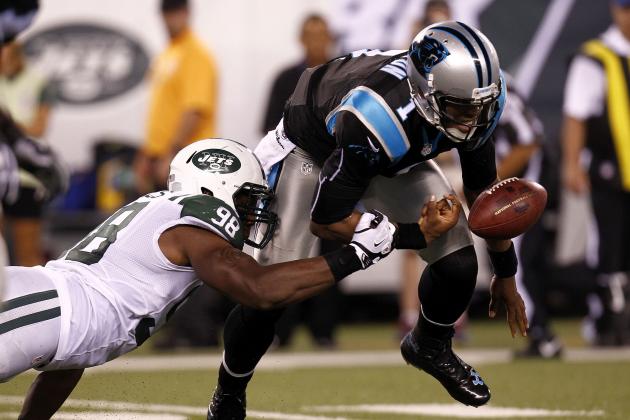 Jeff Zelevansky/Getty Images
Great forced fumble by Coples.
I'm not going to lie, I didn't see the Quinton Coples pick coming, and I didn't like it. I thought it screamed Vernon Gholston-style bust, thinking that he wouldn't last with a lack of motivation. Boy, have I been proved wrong.
Quinton Coples is actually all over the place every game. He actually makes me excited to watch that D-line as they terrorize the offensive lines, even good ones like the Giants' and the Panthers' tackles.
Don't be surprised to see double-digit sacks for Quinton Coples as soon as his rookie season. Just like the pick, it was so crazy it just might work.
So what do you think about the game? Leave a comment so I can see what you thought about the Jets' third consecutive loss in preseason.