WWE: 5 Things That Cannot Happen at Night of Champions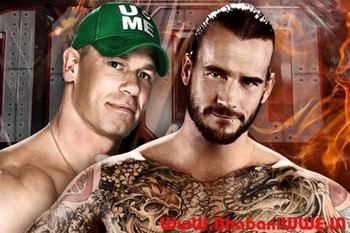 bhabaniwwe.in
Now that we have all recovered from a very mediocre SummerSlam, we as fans and the WWE have turned their attention to Night of Champions, which is less than a month away (three weeks to be exact).
There are so many things that were "off" last Sunday night in Los Angeles, I swear it was probably worse than many of us thought it could be.
And this after we celebrated the WWE and Raw last month.
Well, at least Charlie Sheen was not on the card. That may have sunk the WWE to new levels and may be worse than seeing someone like David Arquette or Jay Leno in the ring.
With the first five matches revealed by 411mania.com for the upcoming card September 16, there are some possibilities for some great performances, and there are chances we will see more of the same thing possibly from SummerSlam.
That can only dropkick our hopes of the card being superior to SummerSlam, which it really needs to be.
Here are a few things we cannot see happen next month and expect the WWE to have a strong showing heading into the final PPV events of the year.
Another Title for Santino Marella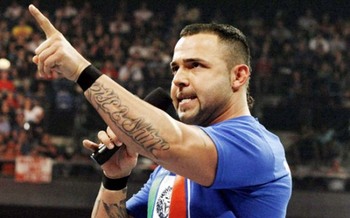 wrestlingsuperstars.org
It is hard to believe we could see Santino Marella in a title match and not see someone like Kane, Daniel Bryan or Randy Orton out of the PPV.
Marella lost his United States Title to Antonio Cesaro, which was the right thing to do.
But as well all know, there is a rematch clause for every title match and it just so happens Marella and "The Cobra" will face Cesaro again in another PPV event.
There is really no need for this. Cesaro needs real competition (Tyson Kidd). Marella is not the answer.
This match could be a joke if Marella wins it.
More from Alberto Del Rio and Sheamus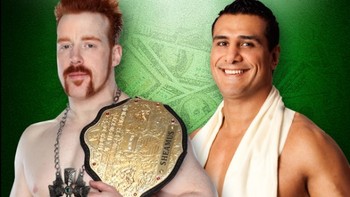 telly-tv.com
This is as exciting as stale bread.
Sheamus/Randy Orton or Sheamus/Wade Barrett is more appealing.
I love the way Sheamus works, but Del Rio is no good unless he has a title around his waist.
The storyline right now is awful and needs some tweaking.
Interference in the CM Punk/John Cena Match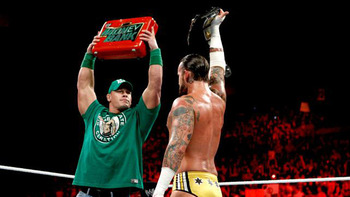 bellybillboard.com
Haven't we seen this before? Didn't we see an awful SummerSlam WWE Title match?
I am tired of three-way matches and the likes of Big Show or someone else getting involved in a title match that is not really theirs.
Now granted, Big Show was great in the first five minutes of his SummerSlam WWE Title match, but seeing Cena and Punk has more value than most of the matches this year.
And since the two need to look back to the days of 2011 (it was so long ago, wasn't it?) and deliver a match worthy of title contention, we will all wait hopelessly until that happens,
A Paul Heyman Sighting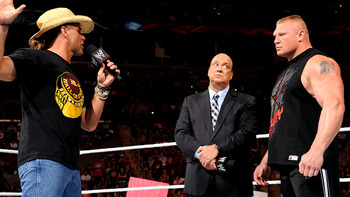 wwe.com
Unless he is there scouting talents and looking for another man to be a mouthpiece for, could we go through this PPV without the antics of Heyman?
Even if Lesnar is faking "retirement" we all know we should see him again, maybe even at WrestleMania 29. Personally, I think Rock/Lesnar is a better matchup than a match with Undertaker.
But Heyman is the roach that will not go away, and unless Lesnar is willing to make his presence known and challenge someone to a match for a title (Punk), then they both need to absent from the PPV.
The Loss of Momentum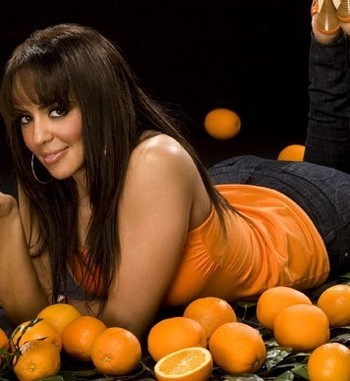 fanpop.com
We see this all too many times, like with SummerSlam.
The PPV events don't get the build they need or the firepower they've been looking for.
SummerSlam fell flat and NOC has to fill in with some real firepower.
We must have a lot of stock in the John Cena/CM Punk match to think this kind of PPV can help stoke the fires for the next two PPV events.
Keep Reading