7 Reasons WWE Fans Should Care About Heath Slater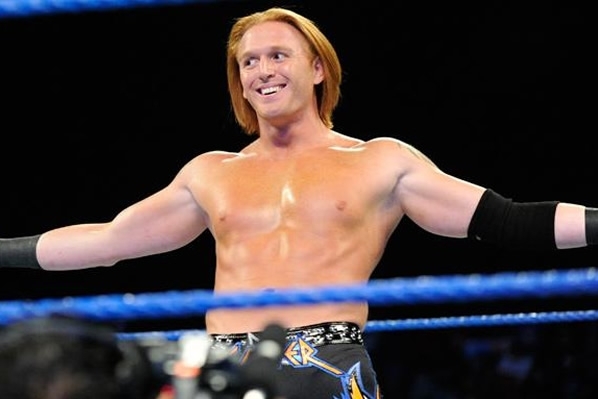 Photo courtesy of WWE.com
You probably don't think much of Heath Slater.
Chances are, you know him only as the redheaded lower-card worker who calls himself the "One Man Band" and has spent most of his time in recent months getting beat up by legends.
However, you might very well be underestimating the former WWE tag champion.
Is he a future world champion? Doubtful. Heck, he may not even be a future midcard champion.
Having said that, there's something about Slater that makes him stand out from the WWE's lower card that all blends together.
You may be rather indifferent toward the "One Man Band" now, but perhaps one day, you won't be.
Here are seven reasons why you should care about Heath Slater.
Begin Slideshow

»
Sometimes, a WWE superstar goes on a lengthy losing streak (or simply finds himself losing almost every match) because he's got backstage heat and is being punished.
However, if that's not the case, there is usually a storyline reason as to why that particular star is seemingly being buried.
In other words, that losing streak is leading to something bigger.
I think that could be what's happening with Slater.
In the recent past, we've seen a guy like MVP go on a ridiculously long losing streak, only for that to result in a baby face turn. We also saw The Miz lose just about every match in which he participated in early 2012, only for him to get the victory for Team Johnny at WrestleMania 28 and become Intercontinental champion just a few months later
There's no way to tell exactly what's going on with Slater, but for the most part, a superstar doesn't lose just to lose.
Likewise, Slater might not be losing just because. This storyline might actually be going somewhere.
After all, he did just win a match on last week's SmackDown
A lot of wrestling fans dismiss Heath Slater as someone who hasn't done much in the wrestling business.
Well, aside from the fact that he even made it to the WWE (how many wrestlers out there would kill just to do that?), he's actually accomplished quite a bit so far.
He was a member of one of the biggest stables in recent memory (The Nexus), and he's also a three-time WWE tag champion. Slater was also ranked No. 66 on the PWI 500 in 2011 and No. 108 on that list this year.
Plus, he had that lengthy storyline with the legends that I'm sure wrestlers all over the world would have loved to participate in.
Call Slater a scrub if you want, but I think you'd be wrong in that assessment.
He's only been in the WWE for a little more than two years now, and he's already put together a pretty impressive resume.
Oh yeah, he's only 29 years old, too, so the future looks pretty bright for Heath Slater.
Gimmicks have become an afterthought in the WWE.
Generally speaking, the company sticks to cookie cutter superstars who are all cut from the same mold, especially on the baby face side. That's not always the case, but distinguishable gimmicks are pretty rare these days.
Heath Slater actually has a gimmick.
It may not be the best gimmick out there, and it's definitely leaning more toward a comedic character than a serious one. Having said that, the "One Man Band" is able to stand out from the rest of the WWE roster.
His "I'm the One Man Band, baby!" catchphrase, his bad singing and his consistent losses give him a character that is unlike any other WWE star and certainly any other on the lower card.
I'm a wrestling fan who loves gimmicks, so as you might imagine, I'm a big fan of Slater.
The guy's got an easily identifiable gimmick in a WWE that severely lacks them.
Every superstar in the WWE should want to be at the top of the company, and if that isn't your goal, then you're in the wrong business.
I'm sure Heath Slater would love to be wrestling CM Punk for the WWE title, winning the Royal Rumble or competing in a major match at WrestleMania.
None of those have happened or will happen anytime soon, but as far as we know, Slater hasn't moaned, whined or complained about his stance in the company.
He was put in a situation to look like an absolute moron and a loser, yet he's undoubtedly made the most of it.
Slater generated a lot of interest in WWE programming with his weekly legends angles, and he's had the Internet abuzz with his performances against those legends.
Slater was there primarily to job to guys who are twice as old as he is, which isn't exactly the ideal place an up-and-coming WWE star would want to be.
But look what he did with it. How can you not be impressed by that?
When is the last time that a jobber has had the type of impact that Heath Slater has had recently?
You might have to go way back to the days of The Brooklyn Brawler to find an enhancement talent that people genuinely care about.
That's a welcome change in today's WWE, where virtually every other wrestler on the lower card who jobs (whether it's to Ryback, Damien Sandow or someone else) doesn't get to show any personality whatsoever.
Slater, of course, does.
His gimmick and the way he carries himself may not be your cup of tea, but the bottom line is that he's a rare talent in that he's a jobber who gets substantial TV time and has thus helped make jobbers matter again.
In turn, that could help the superstars he's jobbing to matter more, too.
Heath Slater is over.
No, he's not getting major pops or getting booed out of the building. However, he's generating a genuine reaction that those on the lower card almost never get.
I mean, when's the last time the crowd popped big-time for Yoshi Tatsu? When the last's time JTG got drowned in boos? When's the last time that the fans booed Curt Hawkins mercilessly?
Exactly.
When all of those guys were getting squashed or working a random match, they generated hardly any reaction at all. It was crickets and nothing more.
Slater, on the other hand, actually gets the fans to boo him—when he screams his catchphrases, when he starts singing and even just when his entrance music hits.
That shouldn't happen for a jobber, who hasn't won a match that's mattered in what seems like forever. But it's happened to Slater consistently.
Kudos to him for being able to do that.
Heath Slater can wrestle.
Once viewed as one of the best prospects in the WWE's developmental territory, Slater hasn't been under WWE contract for as long as he has been because he can't wrestle.
On the contrary, my friends. He's actually very good in the ring.
It's hard to judge Slater much based on his recent squashes, but even going back to his stint on NXT and his runs with the WWE tag titles, I always thought he was better in the ring than people give him credit for.
I'm not saying he's a main event in-ring performer or even someone that should be a priority in the upper midcard.
However, this is professional wrestling, and Slater can wrestle.
He's a great bumper, a fantastic seller and underrated overall worker. He deserves a chance.
Drake Oz is a WWE Featured Columnist for Bleacher Report. Follow him on Twitter!