15 Best Uniforms in College Basketball History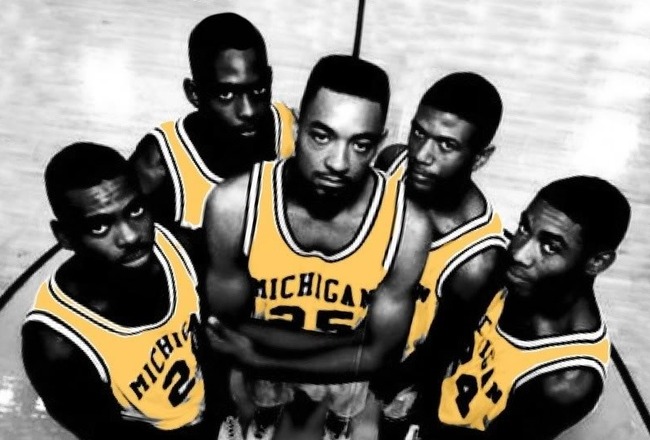 Courtesy of Analog Burners

Basketball has always been a game of style and intimidation. This applies to the style of play, the athletic ability of each player and most of all, the uniforms.
When wearing a sweet-looking jersey that features a classic or dominating look, the opponent can get a little psyched out while the jersey-rocking team gets a confidence boost from their appearance on the court.
Jerseys have come and gone through numerous eras that emphasized unique design elements respective to their time period. Some jerseys have tons of attention-grabbing design cues, while others feature basic and simple design that utilizes a great two-scheme color pattern.
All in all, there are more uniforms than any one list could account for, but I have attempted to pick out 15 of the coolest uniforms in NCAA basketball history. There are sure to be omissions so please mention your favorite college jerseys in the comments section.
With that said, advance forward to the first jersey on the list.
Syracuse "Orange" (2012)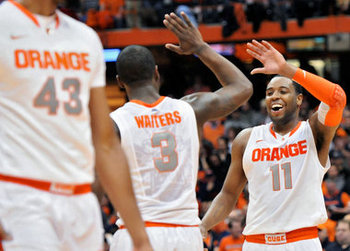 Courtesy of www.syracuse.com
No school rocks the color orange quite like Syracuse. The color is part of their school name and is what sets them apart from every other basketball program.
Using orange in a basketball jersey can be a tricky process, but Jim Boeheim's ball club always seems to nail it when it comes to sweet basketball jerseys.
Perhaps their best uniform of all was last season's "Orange" jerseys. First of all, whoever came up with the idea of using the color as their school name was brilliant. It is a unique and very cool feature of the jersey and immediately lets the opponent know who they are facing.
What is also great about this uniform is the minimalist approach used. These home white jerseys actually feature very little orange in the jersey outside of the team name and number outline. This is great because it does not overuse the color, while also leaving plenty of room for players to wear orange accessories to compliment the jersey.
There are not many colors that compliment orange, but they gray numbers mix extremely well with the orange and white color scheme.
All in all, these are a great example of a minimalist design approach that has a cool team name and looks great.
Maryland "State Flag" (1997-2004)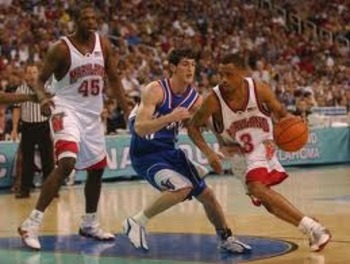 Maryland won the national championship in 2002 behind the play of Juan Dixon and Lonny Baxter. Head coach Gary Williams won his first and only championship that year, and he had the team outfitted with some great-looking uniforms that put to shame the new football jerseys that the school is rolling out.
These early 2000s kicks feature a simple color scheme of red, yellow and white. The trim features a yellow and black-striped border mixed with the school's red that was unique from any other school at the time.
The white and red jersey fronts were simple, which gave way to the busy trim and made for a nice contrast in style.
As for the shorts, they featured the school's official logo and included the design and color of the Maryland state flag. All in all, these jerseys are a mixture of state pride, effective color patterns and a neat trim pattern that made these some of the most memorable basketball uniforms around.
Kansas "Nike" (1999-2003)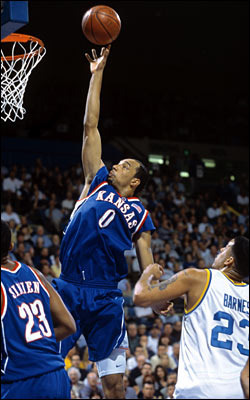 Courtesy of www.nba.com
Nike teamed up with Roy Williams' Kansas team to produce a great jersey for the program. It was a mixture of old-school fonts and modern design patterns that was a perfect mix of tradition and a new era of college basketball.
The standout feature is the classic lettering, which harkens back to the days of old Kansas basketball. However, Nike mixed the lettering with their traditional blue and red school colors with nice accents, such as the stripes along the arm exits and down the side of the uniform.
Also standing out prominently is the school's Jayhawk logo, which is on the left and right pant leg. All in all, this is one of the best jerseys when it comes to featuring an old-school traditional powerhouse and giving them a modern facelift.
Ohio State "Dress Grays" (2012)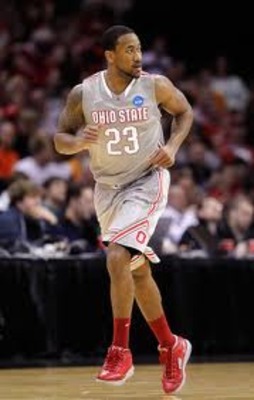 The latest craze in college basketball is the gray uniform look by Nike. They have taken schools that have never featured gray in their look and ended up making gray the overwhelming color of choice.
For most schools, it is pretty appalling and has resulted in some very strange design choices. However, they look great for the few schools that feature gray in their regular color scheme.
This applies to Ohio State better than any other school. They feature gray in their football uniforms and have finally used it in their basketball jerseys. The look is very classy and features nice red accents around the numbers and letters.
The pants have a simple "O" on the corners that brings a nice traditional touch to the uniform and the red stripe on the side reminds you which school you are playing against.
These are the best of the recent gray craze and actually complement the Buckeye players extremely well.
Arizona "Cats" (1998-2008)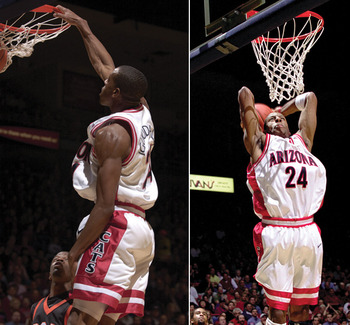 Courtesy of Eastbay
The Arizona Wildcats featured roughly the same basketball uniform for years. When they look this good, why change it?
There are so many good things going on with this jersey. First of all, red, black and white is just a great color combination. It is even better with Arizona's burnt red that they use, which adds a desert flavor to their kicks.
Who doesn't love the "Cats" running vertically on the shorts? That is a great design choice and simply looks really cool.
Also of note are the double red stripe on the bottom of the shorts, the waistline and the arm exits. These give a great retro look to the Wildcats' uniforms and help define these as an all-time classic uniform.
Duke "Nike Remix" (2005-2006)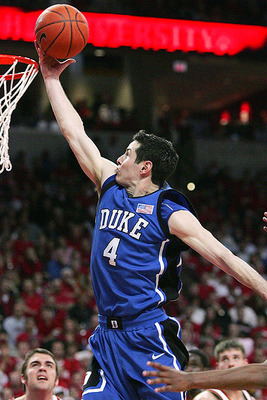 Courtesy of ESPN
Even the Duke haters have to give them props for these uniforms. Nike produced a remix on the traditional Blue Devil jersey during the J.J. Redick era and came up with a great-looking uniform that is a great combination of tradition and intimidation.
The most obvious design change was the addition of black trim around the arms and down the side of the jersey. This is a great color combination and really accents the blue and white trim of their uniform.
On top of that, black always looks great on a basketball jersey and that is no different here. These are simply the most attractive uniforms in Duke history and are yet another reason why Nike is the king of basketball jerseys.
Oklahoma State "Cursive Cowboy" (2000)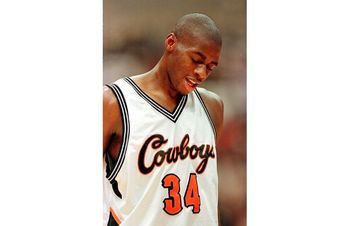 Courtesy of www.complex.com
These might be the most attractive uniforms on this list. Oklahoma State has always featured great-looking uniforms, most of which stems from their black, white and orange color scheme. Those colors simply fit well together and are unique from other schools.
With this uniform, the Cowboys laid out a picture-perfect jersey. Worn by Desmond Mason during his time on campus, the high-flyer rocked this sleek, beautiful and classic uniform that has been a cult hit ever since it debuted in 2000.
The most striking feature is the cursive "Cowboy" lettering, which brings to mind the old Chicago Bulls jerseys during Michael Jordan's early years. The cursive "Chicago" was simply a fantastic look and have proved to be timeless. That same concept applies to these here.
Also of note is the use of three black lines on the exit holes of the jersey. This applies to the arm exits, as well as the sleek triangle-shaped neck form that gives the uniform a distinct look. These black lines emphasize a common theme in the majority of this list: keep it simple. They are a great design choice that makes the whole outfit very classy and retro.
Kentucky "Denim" (1996)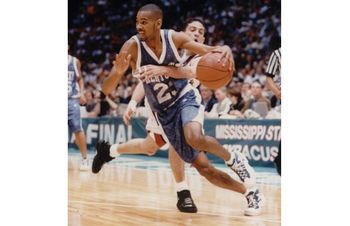 Courtesy of www.complex.com
These killer uniforms were worn by the 1996 Kentucky Wildcat squad that steamrolled their way to the national championship. They are widely regarded as one of the best teams in college basketball history, so it is fitting that they wore one of the most iconic jerseys in basketball as well.
The most unique feature is the denim used for this uniform. It may sound like an odd design choice now, but then, it was extremely cool and gave these jerseys a slick design feature.
Converse went beyond the jersey and also included shoes that featured denim as well. The entire uniform matched from head to foot and was simple yet had a classic and unique feel. These uniforms will go down as one of the coolest designs in NCAA history.
Michigan State "Reebok" (1999-2000)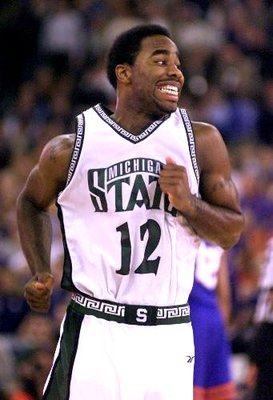 Courtesy of iSports Web
The Michigan State Spartans returned to national prominence by winning the 2000 NCAA title, which officially kicked off the Tom Izzo era. That team was memorable for many reasons, including its star duo of Mateen Cleaves and Morris Peterson and their sweet new Reebok uniforms.
These jerseys are unique in a few different ways. First of all, the school emphasized their Spartan roots by featuring a Greek design element along the trim areas of the jersey. It looks great and certainly gives this uniform a unique look from nearly any other one ever produced in college basketball history.
Also of note was the cool font scheme and the layout of the Michigan State name on the front of the jersey. It placed an emphasis on "State", which gives the uniforms a classic feel.
All in all, these uniforms were big hits when they came out and they still look good to this day. It is only fitting that they were worn by one of the more memorable teams in recent college basketball history.
Long Beach State "The Beach" (2012)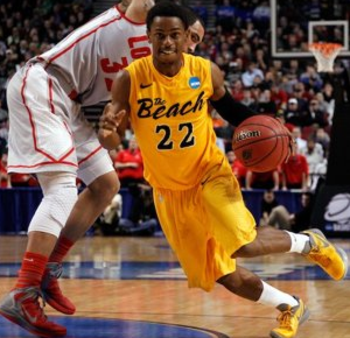 Courtesy of Sports Logos News
The Long Beach State 49ers changed their uniforms for the 2011-12 season and eventually advanced to the 2012 NCAA Tournament. There may not be a correlation between the two events, but their new jerseys have serious swagger that could have intimidated some of their opponents.
When opting for the team name on the uniform, they neglected going with their full school name and simply called themselves "The Beach." It is a simple, arrogant and extremely cool name choice that has sparked a lot of national interest in the program.
It is similar to the NBA's Golden State Warriors wearing their retro "The City" jerseys. It simply oozes style and appeals to any generation of basketball fans.
Beyond the team name, they also chose the right shade of yellow and they are similar to the "Fab Five" era Michigan uniforms in that respect. Black and yellow is always an effective color combination and that is proven in Long Beach State's bold new uniform.
North Carolina "Powder Blue" (1970s and 1980s)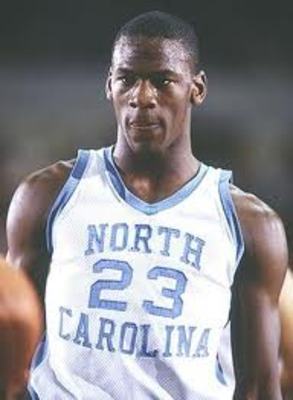 Courtesy of Getty Images
Michael Jordan wore this uniform during his years as a North Carolina Tar Heel.
That is all that needs to be said about why this uniform is a classic. Beyond the simple yet effective color scheme, these jerseys will forever be linked to the coolest and most marketable basketball player on the planet. For that reason alone, they justify their inclusion on this list.
Baylor "Adizero" (2012)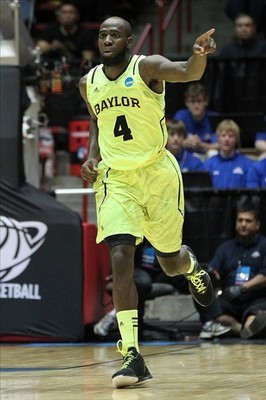 Courtesy of Larry Brown Sports
These uniforms were very controversial when they debuted during Baylor's NCAA tournament run this past season. The bright color and camo lettering appealed to some while baffling others.
Regardless of your personal opinion, these are certainly unique and feature great fabrics for the players to wear during the game. At the very least, these are a bold example of things to come down the road and should certainly be applauded for their innovation.
Georgetown "Hoyas" (1995-96)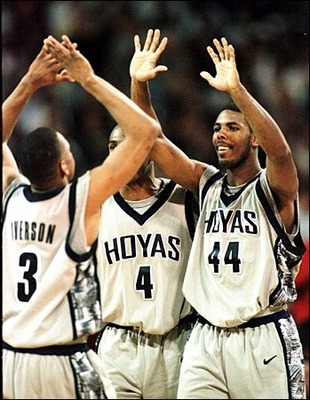 Courtesy of www.casualhoya.com
These uniforms were rocked by Allen Iverson during his college career at Georgetown and they are still popular to this day. The design only lasted for a few years, but they have formed the basis of every Georgetown uniform to come out since then.
The clean lines, intimidating color scheme and overall sleekness of the uniform are what make it such a classic.
Cincinnati "Block Panel" (1997-2000)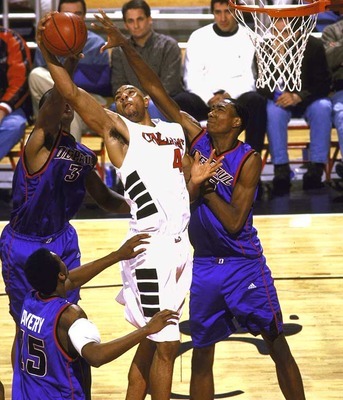 Courtesy of Bob Rosato
Michael Jordan's brand of basketball uniform debuted with the Cincinnati Jordan Brand launch in 1997. The Bearcats were chosen as the first team to wear them and they featured the best uniform of the entire product launch.
The most distinctive feature is the block paneling on the side and the cut-off sleeves. These jerseys inspired thousands of people to buy them and were mimicked across the country in all levels of basketball.
To this date, they are the best-looking jersey ever worn by a Cincinnati player.
Michigan "Fab Five" (1992-1994)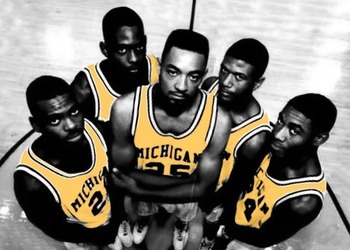 Courtesy of www.analogburners.com
These uniforms might not be appear to be trendsetting, but these are the ones that started it all for modern-day college basketball uniforms. Innovation runs rampant and incorporates many different aspects of the uniform.
The "Fab Five" group at Michigan revolutionized the game by wearing baggy shorts, loose uniforms and black socks. The look was intimidating, cool and ahead of its time. Because of that, they will live on as one of the most beloved uniforms in the sports' history.
Keep Reading