Oregon Football: Who Is Affected by the Mariota Decision?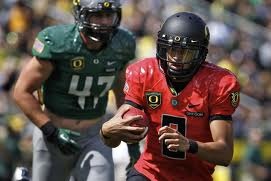 On Friday, the eight months of waiting and playing the guessing game finally game to an end.
Chip Kelly named his starting quarterback.
Redshirt freshmen Marcus Mariota was able to beat out Bryan Bennet, the backup to Darron Thomas the past two seasons, to become the first freshmen to start Week 1 for the Ducks since Danny O'Neil in 1994.
Many players on Oregon's offense are going to be affected by Kelly's decision to go with Mariota instead of Bennett; however, only time will tell if the effect will be good.
Begin Slideshow

»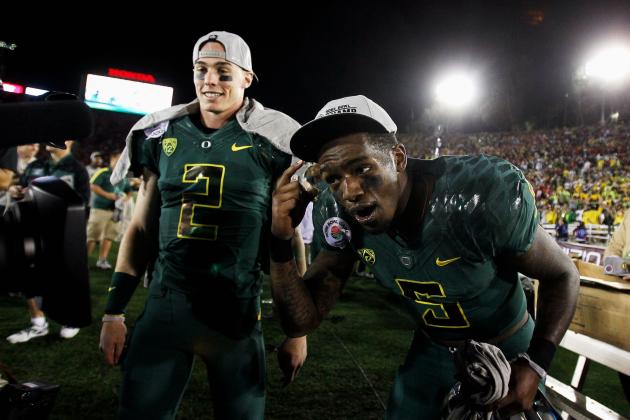 Jeff Gross/Getty Images

Shocking isn't it? The quarterback that lost the competition is affected. Who would have guessed?
With Mariota being younger than Bennett, there is no chance of him holding out until Mariota graduates, so he is in a very tender situation.
Bennett has said that he does not intend to transfer at this time.
This is not the end of the road for Bennett, however.
At the start of fall training camp, Kelly said that he was not opposed to a two-quarterback system if neither could create separation. Considering how close of a competition it was, there is a small chance Bennett could see the field in certain game plans.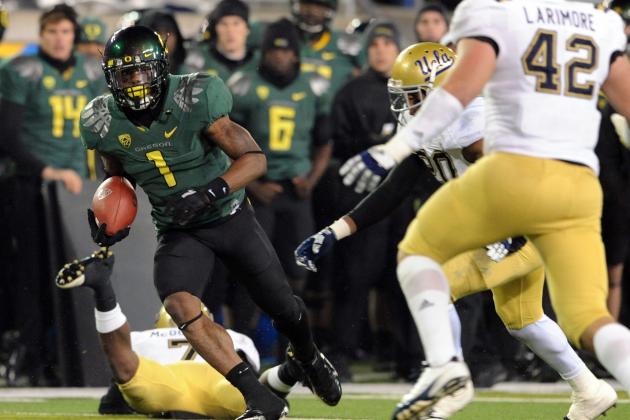 Steve Dykes/Getty Images

I firmly believe that with Mariota starting, the Oregon passing attack is going to be playing a more diminished role than it did the past two seasons with Darron Thomas at the helm.
And not because Mariota is a bad passer, but because he is such an outstanding runner.
Mariota has drawn several comparisons to former Duck quarterback Jeremiah Masoli, an outstanding runner himself.
Oregon is going to be utilizing the option much more than they did with Thomas because they now have an extremely mobile quarterback.
The receivers will still be utilized, but don't expect to see the Ducks pass for 3,000 yards again in 2012.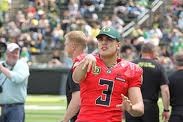 For those of you who don't know who this young man is, he is one of the best quarterback prospects to come to Oregon in recent memory.
Rodrigues attended Trent Dilfer's Elite 11 quarterback camp and was an ESPNU 150 prospect who enrolled early.
With redshirt freshman Mariota starting behind center, Rodrigues is going to have to wait a long time to get his opportunity with the Ducks unless Mariota leaves school early like Thomas did.
Rodrigues is expected to redshirt this season, which would only give him one year to start if Mariota plays for four seasons.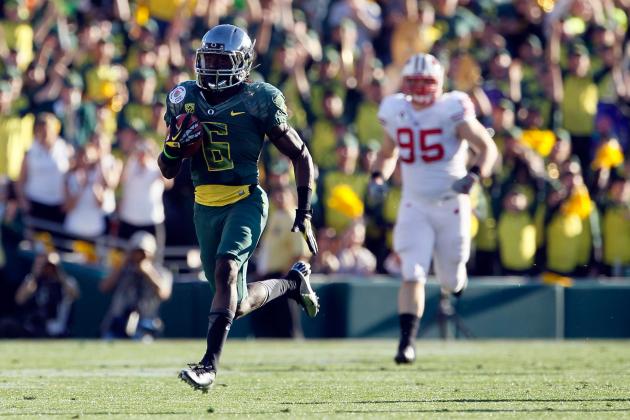 Jeff Gross/Getty Images

A lot of debate is going on right now about who is going to be receiving the majority of carries for the Ducks this season.
Barner is the dependable veteran while Thomas is the electrifying youngster who can score from anywhere on the field.
As I said in the wide receivers slide, I see the Ducks using the option a lot more this season with a mobile quarterback like Mariota.
As a result, Oregon is going to be able to spread the ball out to both of their running backs, giving both Barner and Thomas a significant amount of carries.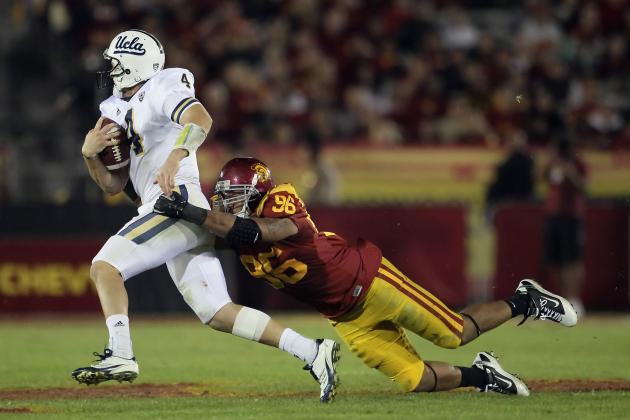 Jeff Gross/Getty Images

I guess I'm finally hopping on the bandwagon of Duck writers mentioning USC.
Flashback to that dark Halloween night three years ago where Jeremiah Masoli and LaMichael James ran all over the USC defense to give Pete Carroll his worst defeat as USC head coach (until Stanford topped that several weeks later).
Anyone remember the comparisons between Masoli and Mariota?
With USC having some extreme depth issues on the defensive line, Mariota should be able to help utilize the option once more to run all over the Trojans and remove TJ McDonald from the equation.