Washington Redskins: Why London Fletcher Is Team's Most Important Veteran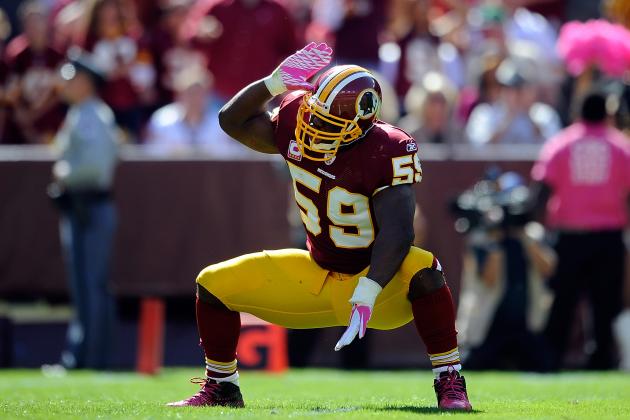 Patrick McDermott/Getty Images

The Washington Redskins are amidst one of the most vast and critical transitions in franchise history.
A multi-decade drought has caused groundbreaking change in a universal youth movement centered around quarterback Robert Griffin III. With so many fresh faces, a need for veteran leadership is essential.
And London Fletcher is the perfect man for the job.
The placement of RGIII's locker next to Fletcher's was no coincidence. In fact, I'd be surprised if there was any question at all as to who the organization wanted mentoring their new franchise centerpiece.
The 14-year veteran has been nothing less than a model of consistency throughout the entirety of his NFL career. As an undrafted free agent out of John Carroll University (Div. III), the undersized 5'10" linebacker has overcome many obstacles on his path to an unforeseen Hall of Fame career.
Perhaps more impressive than Fletcher's performance on the football field has been his demeanor off of it. The 37-year-old Cleveland native has been recognized multiple times for his charity work over the course of his career, and even his opponents will tell you there are few better personalities league-wide.
Countless high-profile veteran names have stopped through D.C. during his stint as a Redskin. But none have had the impact that Fletcher has had on both the team and the community.
His consistent production and unteachable leadership qualities are invaluable to a team amidst a rebuilding process. Yet those are only a couple of reasons London Fletcher is Washington's most important veteran.
Here are a few more.
Begin Slideshow

»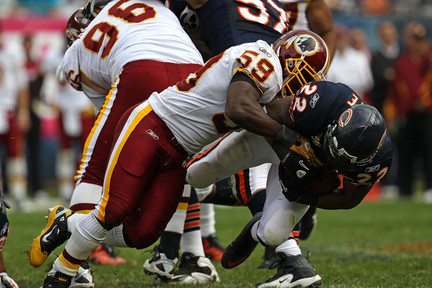 There aren't too many players across the entire National Football League who exemplify superior on-the-field performance like Washington's defensive captain.
Despite a surprising lack of accolades, London Fletcher has arguably been one of the greatest defenders in football for the past decade.
And his numbers will show it.
If I'm not mistaken, the primary objective for the defense is to tackle the ball carrier. And since the turn of the century in 2000, no single player in the NFL has done that more times than Fletcher.
His league-leading 166 tackles in 2011 came at the age of 37 and added to an already considerable lead the Redskins linebacker holds over first-ballot Hall of Famer Ray Lewis. Fletcher has made a combined 1,546 tackles over the last 11 seasons in the NFL—a number which thwarts the total by the 13-time Pro Bowler from Baltimore by 266.
Sexy statistics like interceptions and forced fumbles have likely helped Lewis earn unprecedented recognition, including two national defensive player of the year awards. However, Fletcher's unmatched consistency over the past decade puts him in the conversation for the game's best during that time.
He hasn't ranked outside of the top seven in tackles since 2003. But his innate ability to stay healthy may in fact be more impressive.
Fletcher broke into the league with the Rams as an undrafted free agent in 1998, and 14 years later, he has yet to miss a single game.
Playing perhaps the most physically tolling defensive position in one of the most brutal games in existence, Fletcher has suited up on 224 consecutive NFL Sundays. He trails only Ronde Barber in consecutive starts (179 to Barber's 199), but bear in mind that Tiki's twin plays a far less taxing position at DB.
Fletcher's avoidance from injury has been remarkable, his nose for the football undeniable.
And while guys like Ray Lewis have earned all of the accolades while playing for one of the century's most dominating defenses in Baltimore, the Redskins' inside linebacker deserves to end his career in the same location: Canton, Ohio.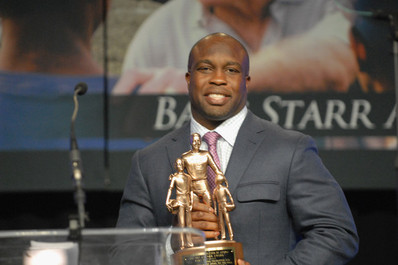 London Fletcher accepts the Bart Starr award for outstanding character and leadership in the home, on the field and in the community
Similar to his largely unnoticed production on the football field, one could make the argument that London Fletcher's work off the field is deserving of more recognition.
Plagued by the abnormalities that come with playing in a smaller market (St. Louis '98-'01 and Buffalo '02-'06), the linebacker's selfless actions went widely overlooked until he landed in Washington five years ago.
The three-time Walter Payton Man of the Year nominee was a finalist in 2009, but has yet to win the award honoring the NFL's best volunteer and charity work. And it wasn't until this past season that Fletcher won the Athletes in Action/Bart Starr Award for outstanding character and leadership on the field and in the community.
His 2009 BJ Blanchard Award recognized Fletcher as the Redskins player most helpful to the local media, and his very own foundation, London's Bridge, was established in 2003 to "builds standards of education, leadership, teamwork, health and fitness while instilling values of good citizenship and public service."
Unlike many in modern football, his celebrations following big plays don't exceed the unwritten boundaries. My money says you won't find Fletcher dancing downfield like a lunatic after deflecting a pass, nor will you have to worry about your team receiving a taunting penalty when he stops the opponent in the backfield.
Because London Fletcher just plays football.
The demeanor with which he carries himself is one to be studied and emulated by the youth of not just football, but America in general.
His intangibles match his talent, and a clean slate off the football field helps make Fletcher one of the most desirable players in the NFL and the Redskins' most important veteran.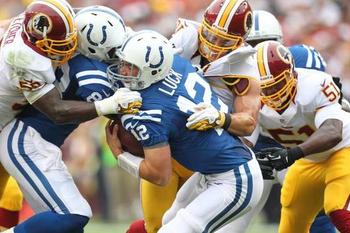 Once provided the statistics, it is difficult to argue against London Fletcher's consistency and productivity as a football player over the course of his career.
Standing as one of the truly undervalued players of his generation, the Redskins' linebacker has overcome countless obstacles to emerge as one of the game's most inspiring underdog stories in some time.
But Fletcher's perseverance and production alone don't solidify him as Washington's most important veteran.
The fact that he anchors the Redskins' most concrete current asset does.
Washington's defense has held the team together for much of the past decade. A city plagued by inconsistent quarterback play and subpar offensive production has been forced to rely almost exclusively on a stingy unit centered around the 14-year veteran from Ohio.
Fletcher and his teammates ranked fifth in the NFC last season in yards per game surrendered while allowing just two 300-yard passers all year. Though they slotted in the bottom third of the league in points allowed and takeaways, the Redskins D consistently kept their team in the game.
And with a rookie quarterback now running the unpredictable offense, London Fletcher and friends may have to be even better in 2012.
A strong linebacking corps featuring first round draft picks Ryan Kerrigan and Brian Orakpo figures to be a strong point for years to come in D.C. And while the two young studs continue to learn all the facets of NFL schematics, much of their development will hinge on the teachings of London Fletcher.
You might be hard-pressed to find a current linebacker in the league better suited to mentor a group of young, promising talent. It would certainly be tough to replace the game's leading tackler from a season ago.
He might end his career playing in more consecutive games than anyone to play the position. But any way that you look at it, London Fletcher is unquestionably the Washington Redskins' most important veteran.