Boston Bruins: Team Brass Floats the Idea of Trading Tim Thomas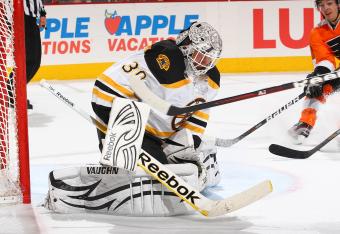 Al Bello/Getty Images
Tumultuous doesn't begin to describe the year Boston Bruins goaltender Tim Thomas had in 2012. It seemed like every time Thomas' name was in the news it didn't have to do with his play for the Bruins; rather, it had to do with his politics, his attitude or his desire to take a year off to spend time reconnecting "with the three F's. Friends, Family, and Faith."
Thomas' decision to stay away from the team's visit to the White House raised eyebrows, as he was the only player from the 2011 Stanley Cup-winning Bruins team to not attend the event hosted by President Obama. Reaction to that decision seemed split, with some supporting the decision on the grounds that Thomas shouldn't be forced to go against his personal beliefs. Others thought it was a bad move since it was a team function and not the proper time for one individual to remove the focus from the team.
The team, fans and media eventually moved past the incident, and Thomas played out the season for the team, but as the season neared its end, rumors began to circulate that Thomas was going to take the 2013 season off even though he was under contract with the Bruins for the year. Thomas confirmed those rumors when he posted this Facebook statement.
Whether you support the decision or not on a personal level, it left the Bruins in a very bad spot. You see, even though Thomas will not play for the team, his $5 million salary cap hit will still go against the club. This is a situation that is not ideal for the Bruins since the team has more than $68 million on the books heading into next season.
However, there is a solution—one that can benefit both the Bruins and one of the teams that will need a significant bump to hit the salary cap floor.
As suggested by Charlie Jacobs, Bruins principal and alternate governor on WEEI:
Timmy's going to do what he wants to do, and you know what? I bet we'll get something for him if he elects not to come back and there is in fact a floor for the salary cap this upcoming season, I can see teams trading for that $5 million cap to bring their team up to the floor.

So I think there will be a market for a player, as ironic as it sounds, there will be a market for a player who's not going to play next year.
Will the Bruins be able to trade Thomas?
A Thomas trade helps the Bruins get the $5 million in salary cap off their books and allows them to pick up players and/or draft picks in a trade. Meanwhile, it gives whoever their trading partner would be an extra $5 million to push them to the salary cap floor without actually adding a player to their roster.
The projected cap floor for next season is $54.2 million, putting the following teams a fair amount below that level, according to CapGeek.com: Phoenix Coyotes ($44.8 million), N.Y. Islanders ($49.2 million) and the Winnipeg Jets ($51.4 million).
Could one of these teams make a trade with the Bruins just to make the floor? Financially, it may make sense.
In short, it looks like the Tim Thomas saga is still not over.
This article is
What is the duplicate article?
Why is this article offensive?
Where is this article plagiarized from?
Why is this article poorly edited?

Boston Bruins: Like this team?