San Francisco 49ers vs. Denver Broncos: Preseason Week 3 Live Blog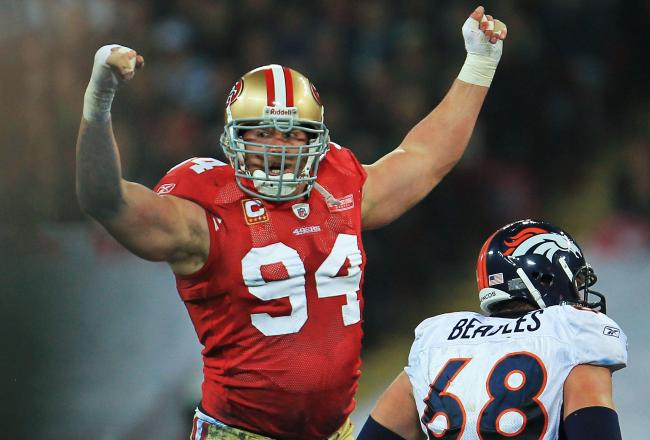 Chris McGrath/Getty Images
The San Francisco 49ers are set to take on the Denver Broncos on Sunday at 4:00 p.m. ET from Mile High Stadium. The game will be nationally broadcast on Fox—one of the two remaining Week 3 exhibition matchups.
The 'Niners will be without some expected regular season contributors, but they are looking to make a strong showing nonetheless:
Linebacker NaVorro Bowman going through warmups with his left knee bandaged. No Aldon Smith, Brandon Jacobs in Denver ...

— Matt Barrows (@mattbarrows) August 26, 2012
What to Watch For
What's great about Week 3 of the preseason is that the first-team offenses and defenses typically play the first half. With the star players routinely sitting out the final exhibition matchup, Week 3 allows for the starters to gel through consecutive series and quarters.
For that reason, it is good that the 49ers are facing the Peyton Manning-led Broncos on the road.
Denver brings a high-flying system on offense and an intense pass rush on defense, especially from its edge rushers.
If San Francisco has any questions at all entering this season, it's about the pass defense and pass protection.
This game nicely sets up the 49ers to have some questions answered. The team is trying to get a better look at the offensive line and secondary, with cut-down days on the horizon. By the time this one is over, the staff should be in a place to make some firm decisions.
This also makes for one of the more exciting games this week, because these are two teams that are looking to make a statement in 2012. San Francisco and Denver both feel they have an awful lot to prove, so this should be a battle of will as well.
There should an intense undertone to this matchup because of the competitive nature of both teams. Their teams have the makeup of successful organizations poised to make a run in the immediate future.
For that to happen, the Niners and Broncos would like to see some consistency. This preseason, Peyton Manning has yet to find the end zone, and the often talked-about 49ers receivers have been silent. I'm sure it wouldn't bother their respective staffs if Manning threw his first TD since his return or if one of the Niners' new offensive weapons scored.
There are a lot of implications that lead to this being one of the more engaging preseason matchups.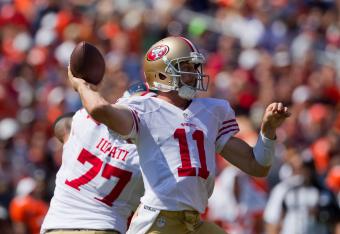 49ers WIN
Final Score: 29-24 SF
The San Francisco 49ers secure their second win of the preseason, winning on the road against the Denver Broncos at Mile High. There were a lot of positives and negatives to take away from this match-up, but decisions by the 49ers this week will clear the air on a lot of questionable issues.
San Francisco Looking to Close Out the Win
At the 2-minute warning, the 49ers received the ball back. With the 4th quarter winding down and the Broncos needing a touchdown to recapture the lead, it looks like the 49ers could secure their second win of the preseason.
Score Alert: Akers Extends 49ers Lead
With 3 minutes left in the game, David Akers kicked his 5th field goal of the day to make it 29-24 SF.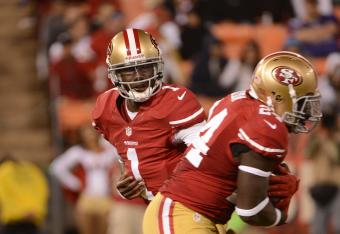 Quarterback Change
With 6 minutes left in the game, quarterback Josh Johnson takes over for Scott Tolzien. On his first pass, Johnson went deep to a wide open Garrett Celek but put a little too much air under it. Johsnon's probably has been with consistency, and those kinds of throws highlight that flaw.
Johnson is rumored to be behind Tolzien, and could be among the players released on Monday. For now, we'll see if Johnson can make a case for himself but time is literally running out for Johnson.
Colin Kaepernick Finishes Nice Day
The 49ers backup finished 4-for-4, for 80 yards, with no touchdowns or interceptions.
Colin Kaepernick, escapes rush, rolls left and throws a 15-yard dart to Konrad Reuland. Nice play.

— Matt Maiocco (@MaioccoCSN) August 26, 2012
Scoring Points
It seems David Akers remains the 49ers top-scorer -- hopefully this doesn't transition into the season. Thankfully, he's been as consistent as he has for San Francisco but the 49ers need to show improvement in the red zone.
In terms of the 49ers red zone offense, we won't know about them for sure until the season starts, but that moment in rapidly approaching.
Quarterback Change, Scoring Alert
Scott Tolzien has taken over for Colin Kaepernick in this game. Tolzien is battling Josh Johnson for the No. 3 job, and remains the favorite. He entered the game when the 49ers were down by 1-point in a 24-23 game.
Tolzien has looked good so far, and did enough to get the 49ers offense down the field and in scoring distance. After the drive stalled, a David Akers field goal made it 26-24 SF, giving San Francisco their first lead of the day.
49ers Injury Update
Ted Ginn Jr. injured his ankle earlier in the game. He limped off the field and to the locker room to have it x-rayed.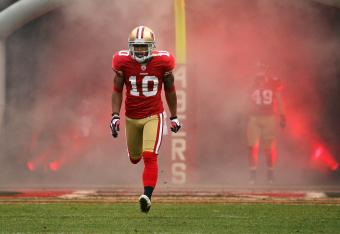 Kyle Williams Looks Solid
49ers wide receiver Kyle Williams has looked good for the 49ers today. Williams has been returning punts for the Niners this preseason, doing just fine. Against the Broncos, Williams caught an intermediate pass from Colin Kaepernick and took it for a 46-yard gain.
Williams has shown explosiveness and sure hands as a receiver. He appears focused and more seasoned; Williams could rebound in a big way in 2012.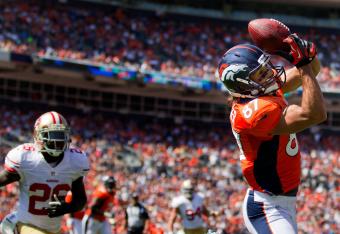 Decisions Regarding Secondary Depth
It seems that Tramaine Brock picked a bad day to have a sub-par performance. The NFL has two roster cut-down days next week and Brock has not shown enough to warrant a spot. The position groups in the secondary are highly competitive and versatile this year.
Brock could be in danger of losing his spot to a player like Michael Thomas or Darcel McBath. These two players provide flexibility in that they are run-and-cover defensive backs who can play corner and safety. With Brock not showing enough value, the 49ers could gamble on one of their new additions.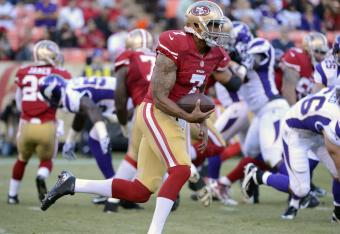 Colin Kaepernick-led 49ers
The 49ers No. 2 quarterback has looked good since taking over for Alex Smith. Kaepernick looks poised in the pocket; relaxed but decisive. He was able to display some skills that made him such a successful player at Nevada. Against the Broncos rush, Kaepernick has evaded pressure and thrown accurately across his body while mobile.
He helped engineer two scoring drives: (1) resulted in Dixon's touchdown (2) resulted in a David Akers field goal.
The 49ers have steadily come back in this game.
It is now 24-20 DEN
We'll see how Kaepernick continues throughout this game...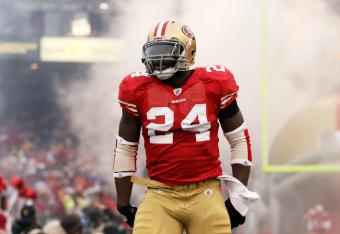 Score Alert: Anthony Dixon Breaks 26-Yard Touchdown
24-17 DEN
And just when he needed it, Dixon broke a 26-yarder up the middle to the end zone. The touchdown put the 49ers within seven points.
Analysis: While Dixon did find the end zone, it may be too little too late. The truth, many believe Dixon's roster spot was doomed before this game even kicked off. He has been a great locker room guy for the 49ers and I hope he continues to build on this day, but it's an uphill battle to say the least.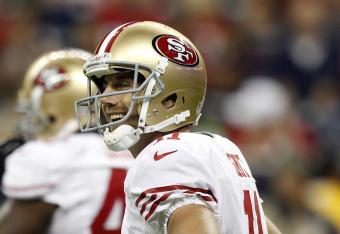 Alex Smith
Alex Smith didn't have as much of highlight-filled day as Peyton Manning, but it was another respectable game nevertheless. Smith went 5-for-7, for 69 yards, a touchdown and zero interceptions. It was a pretty clean performance by the quarterback and the preseason continues to characterize his game.
It's been a lot of low-risk passes, but no turnovers. Smith has also been able to step up and make the throws when asked to. His perfectly thrown fade ball to Brett Swain for a 4-yard touchdown against Minnesota, and today, his throw to Vernon Davis down the sideline.
He's accurate when protected. Smith just needs to pull the trigger a little more in 2012.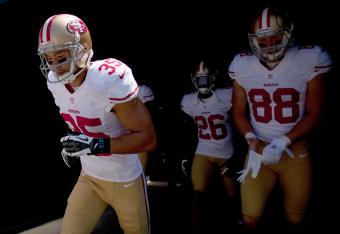 Halftime Dish
24-10 DEN
Overall, it was a poor performance by the 49ers in the first half of this game. In terms of the first-team offense and defense, it was clear that San Francisco did not play to their full potential. Peyton Manning went 10-for-12, for 122 yards, two touchdowns and zero interceptions. It was easily the best game by Manning since his return.
San Francisco's offense looked anemic, even turning the ball over foolishly at one point. The one flash from the offense happened in a single moment when Alex Smith hit Vernon Davis for a 30-plus yard touchdown down the left sideline.
We did not get a better idea of whether or not they will be more consistent on offense this year, but we received hints of what they're capable of.
Once again, it was great to see Randy Moss speeding 50 yards downfield with three defenders surrounding him. The Niners have a great deal of playmakers on offense aside from Moss, and he will be able to create opportunities for them with simply his field presence.
Will Tukuafu and Perrish Cox highlighted the 49ers second-team defense with their splash plays. Both players figure to contribute in 2012, coming up with a sack and interception on the day.
Score Alert: Caleb Hanie to Joel Dreesen for Six
24-10 DEN
A drive led by Caleb Hanie and Knowshown Moreno got Denver is the 49ers red zone. Directly after a near-touchdown to Eric Decker (which would have been his third), Hanie found Dreesen for the 5-yard score.
Side Note:
Cornerback Tramaine Brock has had a very rough first half, and has not looked good overall. He was the corner who almost allowed Decker's third TD of the day. Brock has been edged out by Chris Culliver and Perrish Cox, and is being challenged by players that bring versatility like Michael Thomas.
49ers and the Preseason
The conservative nature has continued for the Niners offense, when on a 1st and 20, and 2nd and 21, ran the ball back-to-back. On third down, Alex Smith wound up checking the ball down to Anthony Dixon.
The lack of urgency is not their for the 49ers. Obviously, you'd like to see more from the offense but they will not get aggressive with their play-calls. This is nothing new, and it's probably true that Harbaugh backs the mantra, "slow and steady wins the race."
He knows his team better than anyone, and his methods have proven to be successful. If he and Greg Roman don't feel the need to exercise the offense, there is probably good reason.
Randy Moss
The receiver is still respected.
On play-action, Smith attempted a 50-yarder downfield to Moss. When the ball arrived, the camera revealed a triple-covered Randy Moss -- simply surrounded by bright orange. So, already we're seeing that Moss still commands that sort of attention.
Further Thoughts on 49ers Defense
San Francisco now has all their back-ups in on defense. They have been inconsistent, but there are flashes from some players. After Cox's interception, Will Tukuafu had his first sack of the day, also forcing a fumble. Tukuafu is a second-year player who made the team as an undrafted free agent in 2011.
The players that have been predicted to contribute in 2012 -- players like Cox and Tukuafu -- have looked good in the preseason. The 49ers defense as a whole as suffered during this game because that talent isn't necessarily consistent throughout. It is encouraging that the players that have been determined ready by the staff have shown up on game day.
49ers Injury Update
San Francisco's backup linebacker Eric Bakhtiari suffered an injury on the play, getting shaken up after taking a knee to the head. He's currently on the bench taking oxygen while Ikaika Alama-Francis subs in at outside linebacker.
Eric Bakhtiari shaken up, took a knee to his helmet. Ikaika Alama-Francis in at LOLB right now.
— Matt Maiocco (@MaioccoCSN) August 26, 2012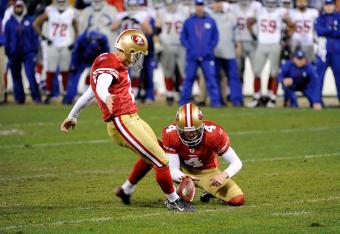 Score Alert: David Akers Hits FG
17-10 DEN
<blockquote class="twitter-tweet">
David Akers. Good. Again. #49ers
— Eric Branch (@Eric_Branch) August 26, 2012

49ers Big-Play Alert
49ers new addition Perrish Cox intercepted a poorly thrown pass from Caleb Hanie to Eric Decker. Cox read the ball and undercut the route for his second interception of the preseason. This is great news for San Francisco who was hoping their acquisition of Cox this offseason would pan out and give the team great depth.
Roster/Status Update
Anthony Dixon is in with the first-team, which could mean Harbaugh has seen more than enough from Gore and Hunter. Dixon is under the microscope tonight but the 49ers at least want to give him an opportunity to succeed. He will get a fair share of carries tonight, so Dixon is a player to watch.
Roster/Status Update
<blockquote class="twitter-tweet tw-align-center">
Peyton Manning now out of the game; 49ers second-team defenders in .... Bakhtiari/haralson at OLB; Cox, Brock at CB ....
— Matt Barrows (@mattbarrows) August 26, 2012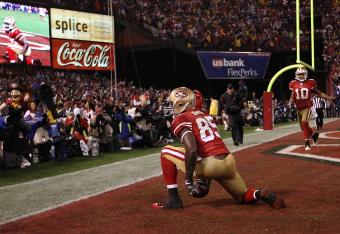 Score Alert: Alex Smith hits Vernon Davis for a TD
17-7 DEN
Jim Harbaugh apparently wanted everyone to know things were all right. San Francisco finally decided to take their shot and they hit it. Surprise, surprise, Vernon Davis on the infamous wheel-route resulted in San Francisco's first score of the day. Smith threw a beautiful ball down the sideline to Davis who had space -- and once they connected, it was a free lane to the end zone.
Once again, this show that when he has time, Smith can make all the throws.
Score Alert: Manning Throws Second TD to Eric Decker
17-0 DEN
After Denver recovered the botched exchange by the San Francisco offense, it didn't take Peyton Manning long to increase his team's lead by 7. In the red zone, Manning found Decker for a second time today to give the Broncos a sizable lead before the end of the first quarter.
More impressive, Alex Smith completes third-down pass or survives hit to ribs by helmet. Less impressive: Smith fumbling snap on next play.
— Cam Inman (@CamInman) August 26, 2012
This article is
What is the duplicate article?
Why is this article offensive?
Where is this article plagiarized from?
Why is this article poorly edited?

San Francisco 49ers: Like this team?