Tiger Woods at Barclays 2012 Tracker: Day 4 Highlights, Updates and More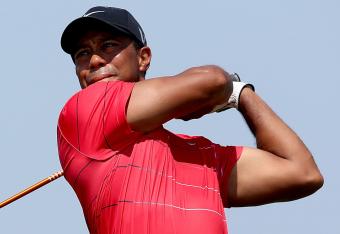 Ross Kinnaird/Getty Images
After a rough Saturday, Tiger Woods is still chasing the leaders in the final round of The Barclays.
Keep it here to see if Tiger can find some Sunday magic from Long Island.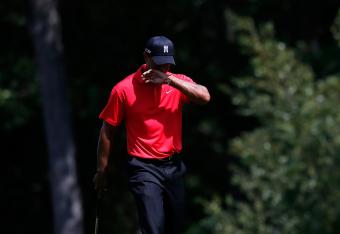 Six feet left for Tiger for par.
He pours it in and finishes with a five-over 76.
All of his problems are between his ears, he is beating himself.
TIGERBOARD

| | | | |
| --- | --- | --- | --- |
| POSITION | SCORE | HOLE | TODAY |
| T39 | +1 | 76 | +5 |
With an iron off the 18th tee, Tiger found the fairway on the left edge.
He just had a wedge left to the green, but he misreads the distance and finds the deep bunker short and left to the pin.
He has held his temper but he is steaming on the inside just looking at the ground as he walks up towards the last green.
He only had 150 left to the pin.
Not much green to work with, he hits a good pitch and has about 10 feet left for par.
Tiger putts it four feet past the hole and he will have that left for par.
Another misread, he has yet to read the line correctly on the back nine.
He makes a par though.
TIGERBOARD

| | | | |
| --- | --- | --- | --- |
| POSITION | SCORE | HOLE | TODAY |
| T39 | +1 | 17 | +5 |
Watney and Garcia drop shots at 11, but Watney's lead is still three.
Tiger blows his tee shot on the par-three 17th over the green and has about 25 feet left for birdie on the fringe.
Woods seven-iron really had no spin on it and it rolled all the way to the back.
With Watney leading by three, CBS is showing us an air show practice currently going on overhead between the villages of Bethpage and Farmington.
Tiger does not read the correct speed on his par putt and leaves it a couple feet short.
He makes his bogey and goes to one-over and five-over for the day.
TIGERBOARD

| | | | |
| --- | --- | --- | --- |
| POSITION | SCORE | HOLE | TODAY |
| T39 | +1 | 16 | +5 |
From 75 feet, Woods pops one on to the green but puts nothing on it.
Another lengthy par putt to come.
The 18th green literally cannot come fast enough for Tiger.
Tiger ended up with a pretty good lie and an angle to the pin but his iron shot rolls all the way through the green and settles in the deep stuff again a couple paces behind the green.
Another two-shot swing between Watney and Garcia.
Watney birdied the 10th while Sergio dropped one.
The lead for Nick is now three shots at 11-under.
Tiger's drive misses well left and into the native grasses.
He only has 146 left to the pin, but he has not executed a good shot in last hour.
The 490-yard par-four 16th is next.
Nothing really tricky off the tee, but the pin is cut right on the front wedged between sand short and long.
Tiger's birdie bid is well short.
Woods still has about 11 feet up the hill for par.
He makes that long putt, however, and makes a par.
TIGERBOARD

| | | | |
| --- | --- | --- | --- |
| POSITION | SCORE | HOLE | TODAY |
| T37 | E | 15 | +4 |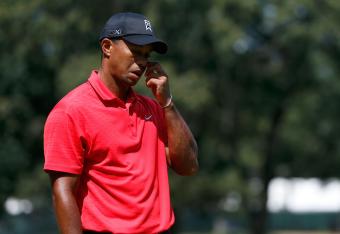 Tiger does find the green, but it hit the rough in the front first and bounced about a foot on.
He has about 80 feet left for birdie.
After a drive of 289 yards, Woods only has 170 from what looks like a good lie in the rough.
The 478-yard par-four 15th is next.
A hole that gently curves to the left, Woods hits his driver left into the rough.
Pin is cut also on the left, but anything on the green Tiger will take.
His confidence is just gone.
From 16 feet, Tiger again reads a break that is just not there.
It misses right and long and has four feet left for bogey.
He sinks it.
TIGERBOARD

| | | | |
| --- | --- | --- | --- |
| POSITION | SCORE | HOLE | TODAY |
| T36 | E | 14 | +4 |
Watney and Garcia get a two shot swing when Watney birdies the eighth and Garcia bogeys it.
Watney is one up at 10-under.
Tiger does his best impression of a Phil Mickelson flop shot, but it hits a downslope and his mid-range par putt will be coming up the hill.
We have seen the wheels fall off the wagon and he is just trying to finish.
Good target coming up at the 165-yard par-three 14th.
Pin is center-right and accessible.
Woods airmails an eight-iron 10 yards past the green as he hit a spectator on the fly.
A delicate downhill chip coming up to try and get a par.
Nick Watney birdies the seventh and is one back now of Sergio who made a par.
Tiger looked like he almost putted a wedge shot and it rolls past the hole a few feet.
With about eight feet left for par, Woods plays a break left that just was not there.
Bogey again.
TIGERBOARD

| | | | |
| --- | --- | --- | --- |
| POSITION | SCORE | HOLE | TODAY |
| T29 | -1 | 13 | +3 |
Sergio at -10, Watney one back and Snedeker two back.
Tiger had 158 to the pin with a pitching wedge and he comes up a club short.
Still not on the green with a chip short upcoming for his fourth.
Tiger's drive misses way left in some native stuff.
With no chance to get home in two, Woods lays up short but is on the fairway for his third.
Tiger actually missed his short bogey putt and makes a double.
At two-under now, he is tied for 23rd.
Last par-five of the week next for Tiger.
The 13th measures 608-yards, but has been reached this week.
The pin is cut front-left and is not an easy target.
Tiger has left himself 34 feet for par, in fact.
He never hit it hard enough and has a kick-in bogey putt short of the hole.
TIGERBOARD

| | | | |
| --- | --- | --- | --- |
| POSITION | SCORE | HOLE | TODAY |
| T20 | -3 | 12 | +1 |
Sergio drains a 40ish-footer for birdie on six.
At 10-under he leads by two.
Tiger just stubs one from his lie on the 11th.
He comes up well short and has a long par putt ahead.
Tiger's drive misses well right and long.
He had a pretty good lie with an opening to the green, but it bounces through the fairway and lands just short of the green down in the thick rough.
This article is
What is the duplicate article?
Why is this article offensive?
Where is this article plagiarized from?
Why is this article poorly edited?