WWE vs. TNA: Who's Been Better This Week? (Aug. 19-25, 2012)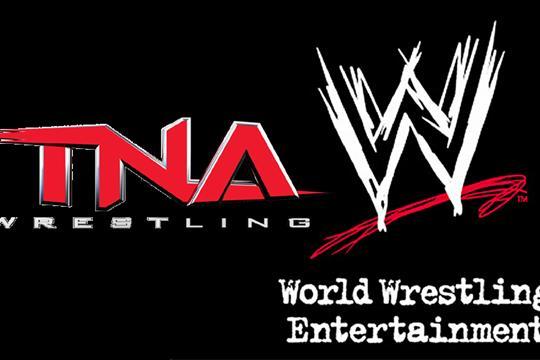 Image: wkyc.com
Hello and welcome again to the latest in my series analysing WWE's and TNA's output over the past week and judging which has been better.
With its SummerSlam pay-per-view, WWE's certainly had more on—but last week TNA promised big developments in its Aces and Eights storyline. Should be a close fight then? Well, let's find out.
Begin Slideshow

»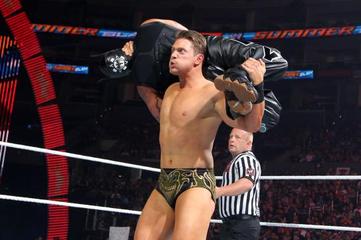 Image: wwe.com
The pre-show opened with Antonio Cesaro defeating Santino Marella fairly quickly, albeit with the requisite clowning around for a Santino match. At one point Cesaro kicked away Santino's cobra glove (later ripping it up), which the commentators seriously treated as a big problem for Santino.
My suspension of disbelief just won't extend that far, I'm afraid. The important thing is that a proper credible wrestler is now US Champion, which was a big step in the right direction before the PPV even started.
The show proper opened with what was easily my most anticipated match, Dolph Ziggler vs. Chris Jericho. I was a little disappointed by Jericho sporting taped ribs, which usually signals a justifiable loss—sure enough, he did act hurt throughout—but it did make the result a little more surprising. It may not have been the match of the year candidate I was hoping for, but it was a good opener.
Kane vs. Daniel Bryan was a good match. Every time I see Kane indicate he'll be going for a tombstone piledriver, I get briefly excited that it might actually happen. Kane tearing things apart at the back afterwards and throwing Josh Matthews about was a pleasant surprise; we haven't seen him really tear it up like that for a while, and I always get a kick out of it.
Rey Mysterio vs. The Miz featured Rey dressed up as Batman and a big inflatable "AWESOME". In spite of this though, the match itself was actually very good with great back and forth action that kept me guessing all the way. A rule of thumb I follow is that if you can't take your eyes off a match until it ends, it's a really good match.
Sheamus vs. Alberto Del Rio was the match with the most to prove for me. After a really poor outing at Money in the Bank, I could not believe that the WWE was going with this again. The feud has been one that I can't wait to see the back of. Who I wanted to win was conflicting; I prefer Del Rio over Sheamus, but had he won, I really couldn't take the build to Sheamus' obligatory rematch at the next PPV.
The match was better than their last, and to Sheamus' credit, he managed some great late kick outs. The ending was disappointing, not just because I'm an old-fashioned sort who likes to see the faces perform cleaner than the heels, but also because there's grounds here for them to face each other yet again.
R-Truth and Kofi Kingston retained the tag titles after a great match with the Prime Time Players. I do wonder what the point of the week-after-week build with the Prime Time Players was for them to fall short again, unless plans were to make changes following the firing of AW.
Truth and Kofi are undoubtedly the better wrestlers, but they have tag matches so rarely of late that the WWE can never have a proper tag team division so long as they only have matches every PPV or two and the only built up competition keeps coming up short.
We then discovered that if you thought John Cena being in the WWE title match would guarantee that it would be the last match of the night, you were wrong. A minor gripe perhaps, but having it take the real main event spot of a PPV (which hasn't happened since last December's TLC) would help the credibility of what is supposedly the company's top prize.
The lion's share of the match featured The Big Show dominating only to later be the one pinned, which has been something of a commonality for multi-competitor world title matches involving The Big Show stretching all the way back to WrestleMania 2000.
The match wasn't particularly good and was clearly just a vehicle to set up the next one between just CM Punk and Cena. So why couldn't we just have that match in the first place? Especially considering SummerSlam is one of the big 4 PPVs.
As with the repeat of Sheamus vs. Del Rio, it just feels like treading water.
What we then have to tolerate, I disapprove of a good deal more: a look across the celebrities in the audience (including Piers Morgan and a non-PG hand gesture from Fred Durst), an ad for another surefire classic from WWE Films and a live performance of the PPV's official song—the only redeeming feature of which was the brief cut to Michael Cole dancing.
Some jubilation follows, as this is the final time I will have to sit through a Brock Lesnar vs. Triple H promo package.
I only watch Raw and SmackDown—even so, I must have watched two dozen of these since this feud started—and to be honest, watching Steph slap Paul Heyman was barely interesting the first time. The match itself was pretty much a brawl.
I've never liked this kind of wrestling match for the reason that I watch wrestling to see people do things that are special. I'm certainly not saying that anyone could do it or that it's not skilled, but two men pretending to punch each other is nowhere near as impressive as big shows of strength and slams, high-flying flips or technical competition.
Nevertheless, if not especially interesting as a wrestling match, at least it did what it had to. As we watched the show carry on longer than usual to follow Triple H back up the ramp, I did wonder if Lesnar would show again to clock him with a chair, but he didn't.
So for the purposes of this series, the question is whether Summerslam was better than last week's TNA Hardcore Justice.
I would say yes, though not by a huge margin. The surprise standout match was The Miz vs. Rey Mysterio, though the whole undercard was pretty decent; if anything, the let down in terms of quality was the last two matches.
Overall, I'd say SummerSlam was the WWE's second or third best PPV of the year so far after Extreme Rules and maybe WrestleMania.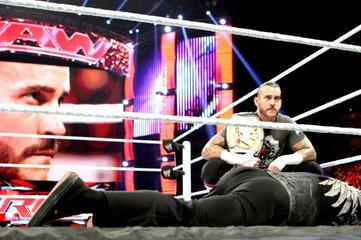 Image: wwe.com
The show opens with Brock Lesnar, which is a surprise. A good surprise. Paul Heyman calls out the referee Triple H told to ensure a fight, of all people. Immediately a change from last week, it's something different and I'm interested in what's going on.
And this unpredictability continues. A clean-shaven David Otunga (a fun character outside the ring, if near unwatchable in it) is told he'll be having a match with an opponent of AJ's choosing. I'd have felt pretty safe putting a tenner on Ryback or Brodus Clay. However, Ryback then comes out to the ring to face two jobbers, which would leave me out of pocket but happy to be wrong (Otunga later being squashed by The Big Show).
Ryback's schtick has really grown on me, especially the way he'll say "stupid". His array of more interesting moves than we're used to seeing is entertaining, though at this point I've had my fill of seeing him mess around with jobbers and Jinder Mahal and want to see how he works a proper match. Why not just give us Ryback vs Randy Orton, I think to myself.
And speaking of the Viper, Alberto Del Rio vs. Randy Orton is next with Sheamus on commentary. The match almost played second fiddle to the commentary (in which Sheamus actually did pretty well), but there was some great action. With ADR losing wrongfully here and well as in the previous night's world title match, he still comes off as pretty strong.
Brodus Clay vs. Damien Sandow follows. I guess it wasn't really worth saving for a pay-per-view. I was surprised to see Sandow go over. I can't remember whether Clay still had a winning streak going, but Sandow would have been one of my favourite candidates to end it if he did.
Keeping up the quality where I'd have thought it was about to grind to a halt, Shawn Michaels' promo to camera surpassed my expectations to actually be reasonably compelling.
The previously announced match of Kane and Zack Ryder vs. The Miz and Daniel Bryan drew my interest as it had actually been mentioned beforehand that these were teams with a history of not getting along with each other, rather than just ignoring the history between competitors as so often happens.
The match descending into anger from Kane (whom I love) then tombstoning Ryder (who I hate) was terrific. Kane works best in my view when he's unstable to the point you wouldn't dare risk being anywhere near him.
A necessity due to the gimmick of the next PPV is a Divas Battle Royal to determine the Number One Contender to Layla's Championship. I was impressed by Eve lifting Kaitlin, I didn't know she was that strong.
The Contract vs. Contract stipulation for the Dolph Ziggler vs. Chris Jericho rematch meant the outcome was all but certain. It's great and selfless of Jericho to go out putting Ziggler over like that. I can't think of another WWE legend with such a strong record on paper who'd do that.
I genuinely got chills down my spine during the CM Punk and John Cena segment. Last year's build up to Money in the Bank may be the best stuff the WWE has ever done and it's felt since that we were deprived of a real conclusion between them. Now we're getting the CM Punk of that time, the CM Punk we've not had since the Raw walkout. And as a bonus, Jerry Lawler got kicked in the back of the head.
Raw was fantastic. If not for AJ's skipping, it would have been near faultless. Not only is this easily the best of the 3 hours Raws, it's the best Raw I can remember. I enjoyed it throughout, and this is the kind of WWE I want to see.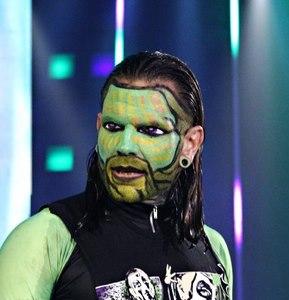 Image: impactwrestling.com
It's Open Fight Night, brother.
For the uninitiated, it means anyone can call out and challenge anyone else.
The show opens with significant roster members in the ring calling out Aces and Eights. Two of them come out and go to the ring, which is a silly thing to do; sure enough, they get immediately beaten up and unmasked. One of them says some possibly intriguing nonsense.
With this being the night we expect it to all go down, the Bound for Glory Series Triple Threat between AJ Styles, Rob Van Dam and Robbie E should be a sure candidate for interference. It didn't happen, however, and we got a pretty decent match—though more for its spots than its pacing—which Robbie E won.
Next, Jeff Hardy came to the ring looking very silly. Purple's OK as a colour scheme with all his face paint, but green looks terrible. He called out Robbie T. I can't remember the last time I saw Robbie T in a match. He's absolutely massive. I mean, he always looks big of course, but the effect's often diminished by a silly cardigan. Despite this, he goes down quite easily to Jeff.
Next comes the AJ Styles paternity test. He starts on the mic, including the line "I'm sorry to my fans who've had to put up with this cr*p". I'll forgive him and TNA if this is the last week of it.
And it is!
They've finally realised how poor it was and it's over. The conclusion we're given is that Clare Lynch was never pregnant and it was all a crazy convoluted scheme by Christopher Daniels because he doesn't like AJ.
Yeah, it's stupid, but at least it's over.
One of the most absurd things I can remember for a while follows. We're treated to a really odd backstage segment in which Hulk Hogan knocks out three Aces and Eighters at once with one swing of a baseball bat, then he starts making weird angry dog noises. It transcends good or bad; it's just absolutely baffling.
A TNA segment I'm not too keen on then makes a return: Gut Check. This week's guy is beaten by Gunner, and Taz talks rubbish on commentary about hesitation and signs of inexperience. At least there's no judges segment, which tries to be like The X Factor (or American Idol depending where you are) and only succeeds insofar as it's not any good.
Some brawling closes out the show and results in Austin Aries having his arm attacked. Bully Ray runs in, and apparently one man who's already wrestled and lost that night is too scary for 6 men and they scarper.
This was a pretty poor Impact this week. It's the inverse situation of Raw—the worst episode I can remember for some time. The Aces and Eights didn't actually deliver anything new, and it was pretty lacking in wrestling—no Aries in action, no Angle, no Daniels, no Storm and no Roode.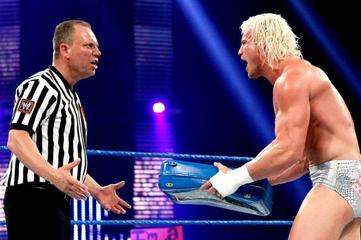 Even the ref doesn't believe it. (image: wwe.com)
SmackDown opens with Randy "My Name Is Randy Orton" Orton on the mic. He's a bit unintentionally funny to me when it comes to his mic work. He's ostensibly quite boring and robotic, but in a way I can't help but find amusing. When Sheamus runs out and talks about how he won fair and square at SummerSlam, I wonder if he's going to get a cheating gimmick.
We take about 10 minutes to get there, but Booker T makes a match between Alberto Del Rio and Orton to decide the Number One Contender.
We finally get the long unawaited Ryback vs Jinder Mahal match. Ryback wins; if not a match for the ages, at least it felt a little bit competitive.
Heath Slater defeated Sin Cara after Cody Rhodes flipped his mask around. It's basically just part of the ongoing feud, but I'm more excited about Heath Slater getting a win. I really like him, and think he could be a credible midcard title contender if given the chance.
There's yet another near cash-in after Dolph Ziggler gets disqualified in a match against Sheamus for clobbering him with the briefcase. Personally, I'd be keeping Ziggler quite separate from the title scene, thus retaining more of an element of surprise when he does go for it genuinely.
Some comedy from Santino Marella follows, to set up his rematch with Antonio Cesaro. Well, I call it comedy—I can only assume it's meant to be funny, though neither myself nor anyone I've ever met would think so.
The highlight of the show up to that point follows as Michael Cole does the "millions of dollars" dance with the Prime Time Players. They're on commentary for Kofi Kingston and R-Truth (who it seems never got a name for their tag team) vs. Primo and Epico. It's good to see the tag champs working a match together on TV, rather than their usual emergence just to defeat the Prime Time Players every couple of PPVs.
The champions win within 3 minutes, but it's still nice to see them in a match. What then follows backstage might be the biggest effort in years to make it look like there's a tag team division.
Del Rio vs. Orton had a number of notable occurrences. The first thing that stood out for me was a spot which may have passed me by had it not been replayed twice, in which Orton dropkicks Del Rio in the chest as he comes off the top rope. It sounds fine, but when replayed you see there's no move Del Rio could have been going for, so slight is the distance he jumps.
But the big shock—possibly the biggest in months—is Orton tapping out, losing clean in a TV match. The not-so-big shock is Dolph Ziggler having a go at another cash-in and failing.
A reasonably good SmackDown then.
I liked the different guest commentators for each match this week. You wouldn't want it every week, but it was an enjoyable change. That the WWE is going with Sheamus vs Del Rio again defies belief, but that's an ongoing criticism rather than of this episode. Two failed cash-ins by Ziggler brought the show down a bit though; he deserves better than to look silly like that.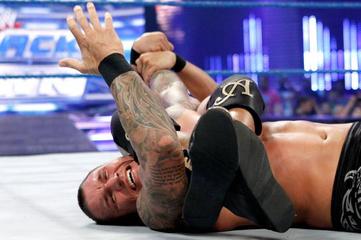 Image: wwe.com
Show of the week: WWE Raw
In a complete switch compared to the first two weeks of this series (and for probably quite a while before that), Raw was the best show and Impact the worst. Where Impact seemed to go wrong was where it's usually strong: there wasn't as much in the way of wrestling as usual, and the promised Aces and Eights development amounted to very little. But it wasn't all Impact going wrong—Raw's game was really stepped up this week, and reminded me how good it can be.
Match of the week: Alberto Del Rio vs. Randy Orton (SmackDown)
That's just including TV matches, of course. While the Raw one was better in terms of action, the result of the SmackDown match was such a shocker to me that it takes the top spot. Chris Jericho vs. Dolph Ziggler, the Impact Triple Threat and Mr Anderson vs. Bully Ray were all pretty good, but Randy Orton tapping out on TV feels like a once in a lifetime event. What I realised in hindsight is that no TV match from any of the shows really stood out that much for its wrestling. For Raw, it didn't affect the quality of the show noticeably, but for Impact it was quite damaging.
Thanks for reading and all comments are appreciated.