Dallas Cowboys vs. New York Giants: Game-Day Strategy for Both Teams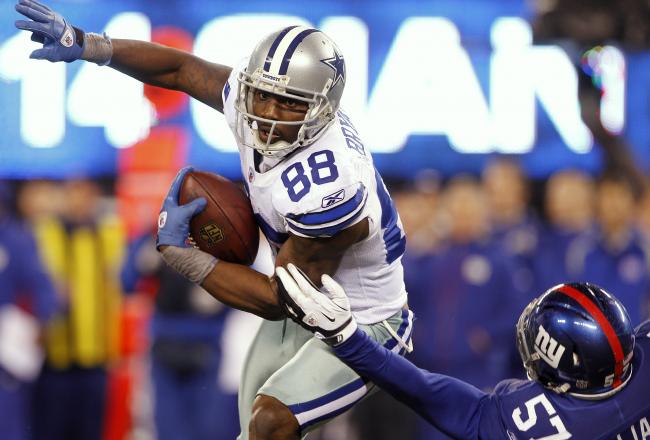 Rich Schultz/Getty Images
The Dallas Cowboys and the New York Giants have each sustained significant injuries this preseason which will inform the strategies and tactics that both teams employ on September 5.
So, if you will excuse me for not writing a puff piece about the anemic trash talk leading up to this game or the players who are "excited to finally get out there and play," let's get into some actual analysis of what strategies should be in play when this game kicks off.
When the Giants are on Defense
New York needs to get serious pressure on Romo to win this game. In the last meeting, New York pressured Romo constantly and shut down the offense until the game was pretty much out of reach.
With the relative weakness of the Giants' secondary, they will need a repeat performance from their line or Romo, Dez Bryant, Miles Austin and DeMarco Murray will take over this game.
New York will naturally want to test Costa and the new guards in the middle, but they will also be giving Doug Free and Tyron Smith all they can handle.
The Giants would like to bring pressure with a minimum of blitzing, given the vulnerability of their secondary and line backing corp. If Dallas is able to give Romo time against their front four, New York will have to bring extra men, because there is no way their secondary will be able to cover Austin and Bryant for very long.
When Dallas is on Offense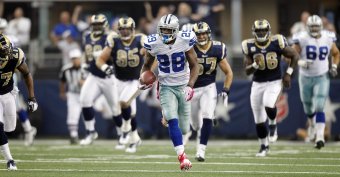 Layne Murdoch/Getty Images
Anticipating substantial pressure from New York, Dallas will no doubt use several three- and five-step drops with quick passes to backs and receivers in shallow routes like slants and crosses.
If that sounds like a West Coast style, there is good reason. Dallas brought in Bill Callahan as offensive coordinator/offensive line coach. He will be contributing to game planning this year. If Dallas can get the ball into their playmakers hands quickly, they have an excellent chance of moving the ball and scoring points.
Both Austin and Bryant are physical receivers who get plenty of yards after the catch. Murray will also catch a number of passes, and he is very dangerous in space as well.
It will be interesting to see if Dallas uses more three- and four-receiver sets than in years past. With Witten doubtful for the game and the Giants' secondary very thin due to injury, it would make sense to flood their defensive backfield with receivers.
When Dallas does go two-tight ends, the play of rookie James Hanna could be an important element. The Giants have spoken openly about wanting to get former Cowboys TE Martellus Bennett to go vertical.
But, the Cowboys have been mum on the topic of Hanna taking a seam route deep—something he did at Oklahoma. Hanna has sub-4.5 speed—crazy-fast for a tight end. Look for Dallas to try a deep pass to Hanna if the coverage is favorable. There could be a big play there.
Running the ball should be a priority for Dallas, but if the short passes to Murray are as productive as I am guessing they will be, consider those extended hand-offs. The more Dallas can throw into areas vacated by the Giants pass rush, the more they can slow down the likes of Jason Pierre Paul and Justin Tuck.
Look for plenty of back-shoulder throws and slants to wideouts as well. These are difficult to defend in the best of circumstances, but the Giants don't have the personnel to play press coverage, so Austin and Bryant should have little trouble stealing yards. Once the secondary begins to play tighter to the line, Romo should have little trouble burning them deep.
Another liability in coverage that Dallas will seek to exploit in Antrel Rolle. He was ranked 86th out of 87 safeties in 2011. This means that when coverage calls for the corner to pass a receiver off to the free safety, things haven't gone well in the past. Garrett is aware of this and has no doubt he game-planned accordingly.
When New York is on Offense
New York will attack Dallas in much the same way that Dallas is attacking them. New York has confidence that they can protect Manning long enough for him to get the ball to Cruz and Nicks.
Now that the Giants have upgraded their running game with first-round pick David Wilson, they will run the ball to slow down Dallas' pass rush and pass to their backs on checkdowns. In many ways, New York's attack will look similar to Dallas'.
Tom Pennington/Getty Images
It will be interesting to see if New York actually plans to try and make Bennett a significant contributor or if he will just be more of a decoy to draw coverage. If Dallas is overzealous about shutting down Bennett, so as not to look foolish for letting him go, New York will hurt the Cowboys elsewhere.
The Giants have always loved getting the ball to big, bruising guys, though, so if Bennett is effective, they will likely go to him often.
Mostly though, it's all about getting the ball as deep as possible to Cruz and Nicks. The Giants offense relies upon the big play. Their offensive line isn't substantial enough to hold up for many 10-play drives without giving up a sack. They thrive on getting to midfield and taking their shots.
Manning is very willing to throw the ball up and let his receivers make a play. He will have to be a bit more cautious in this game, now that Dallas actually has a secondary, but he won't stray too far from his tendencies. When in doubt, he will throw it.
When Dallas is on Defense
Dallas is looking to exploit a mismatch along the line that could prove critical to this game. The Giants are starting their new left tackle, Sean Locklear, previously with the Redskins, and before that, the Seahawks.
The last time Locklear lined up against DeMarcus Ware was in the Thanksgiving day game of 2008. Seattle was sacked seven times in that game and three of the sacks came from Ware. Suffice it to say, Locklear doesn't match up well against Ware.
On the other end, Anthony Spencer will be looking to take advantage of David Diehl playing right tackle. Diehl ranked 68th in pass protection according to Pro Football Focus last year for his time at left tackle. He also played quite a bit at left guard. He ranked 77th or 78 guards.
If Spencer isn't getting the best of this matchup, Ryan can bring in Victor Butler on passing downs.
Butler is listed as a backup right outside linebacker, but his pass-rush productivity numbers were actually higher when rushing from the left side last year. In fact, in 47 pass rushes Butler had from the left, he scored a 12.2 pass rush productivity number. Spencer scored a 9.2. DeMarcus Ware scored a 12.9 for his work from his usual spot.
Admittedly, 47 snaps is a very limited sample size, but if Butler brings that level of productivity against Diehl, one of the worst linemen in the league, Manning could be in for a long night.
Yet another mismatch opportunity is Hatcher versus left guard Kevin Boothe. Boothe was ranked 94th overall and 96th in pass blocking. Boothe is a big man, but his footwork isn't great. Hatcher has a tremendous speed and quickness advantage here. He ranked fourth among all 3-4 defensive ends in pass rush productivity.
Ryan will bring some interesting blitzes as well. Dallas had success in preseason blitzing Sean Lee off the edge and up the middle. They also like to bring safety Barry Church.
Another wrinkle to look for is Ryan's "dollar" package, consisting of three safeties. This would allow for some very heavy hitting in the secondary to jar the ball loose and let Nicks and Cruz know things have changed with the Dallas defense. It's not something that Ryan would stay with for long, but in certain situations, he is hoping to deploy this to tilt the field in his favor.
With everything that Ryan does Wednesday night, he must be cognizant that Morris Claiborne, despite being considered the best corner in the draft, is still a rookie. So Ryan needs to bring pressure without exposing his rookie too much.
The pressure on Brandon Carr is therefore tremendous. He will likely need to hold up with less help, given the need to protect Claiborne.
Final Thoughts
New York and Dallas have very similar goals. I doubt that either team's game plan will look radically different as the game unfolds. Both teams attack the quarterback on defense, both teams have receivers and backs that have big-play capability.
New York will likely continue with their deep passing attack, as long as the protection is there. Manning has always been very willing to put the ball up there and trust his receivers to go make a play. The difference this year could be that Dallas has corners who can fight for the ball.
On offense, Dallas may benefit from a new version of Dez Bryant, but that remains to be proven. If he is ready to play up to his talent level, the combination of his playmaking with that of Miles Austin and DeMarco Murray gives Dallas an excellent chance to win this game.
But of course, the great disclaimer is "if their offensive line holds up." But the same is true for the Giants. If their line holds up, they will be tough to outscore, especially with their defensive front.
So despite all of the tremendous talent on these two teams, the game will hinge on the play of two very suspect offensive lines. Whichever one holds up the best will win this game. Of course, play-calling that acknowledges the challenges these lines face will also play a huge role.
If Garrett has incorporated enough of Callahan's West Coast approaches, he will be able to lessen the impact of the Giant's blitz while still moving the chains. If you need further proof of this, look no further than the Saints-Giants game last year.
The Saints distributed the ball among seven receivers, three of whom were running backs. The backs caught a total of seven passes for 89 yards. No one receiver for the Saints had more than 84 yards, yet they passed for 372 yards and four TDs. No one back ran for over 80 yards, yet they rushed for a total of 197 yards and three TDs against the Giants.
The way to beat the Giants defense is to keep them on their heels with quick passes to multiple targets and effective running. When they can't get into a pass-rushing groove, their defense is lost.
Having learned my lesson last year, I will refrain from predicting outcomes and scores this year. The NFL is just far too unpredictable, and chance plays a far greater role than most want to admit. The real wild card in these first games will be the refs.
They are clearly not up to the standards that NFL fans have grown accustomed to, and one or two blown calls could easily lose the game for one of these teams. All in all, it should be a great game.
This article is
What is the duplicate article?
Why is this article offensive?
Where is this article plagiarized from?
Why is this article poorly edited?

Dallas Cowboys: Like this team?