Manchester United: Points to Ponder from Win vs. Fulham
Shaun Botterill/Getty Images
Manchester United won a closely fought encounter against Fulham—taking out the match 3-2 on the back of goals from Robin van Persie, Shinji Kagawa and Rafael to give them their first win of the 2012/13 English Premier League season.
The Red Devils will take plenty from the win—both positive and negative—with the match providing a plethora of talking points and thoughts about the season to come.
Read on to find the points to ponder from this one, and how it will affect the season ahead for Manchester United.
How Bad Is Wayne Rooney's Leg?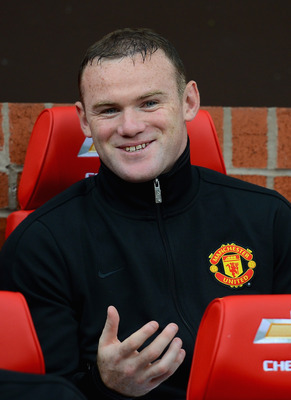 Shaun Botterill/Getty Images
Arguably, the biggest talking point to come out of United's win was the horrific leg gash that star striker Wayne Rooney suffered—one that will rule him out for around four weeks of competition, according to ESPN Soccernet.
Should he miss four weeks, that would leave the Red Devils without their star striker for their Premier League matches against Southampton, Wigan Athletic, Liverpool and Tottenham Hotspur.
What impact will it have on the squad?
What Impact Will It Have on United?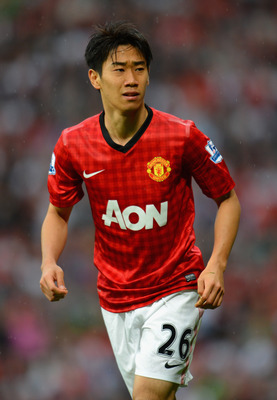 Shaun Botterill/Getty Images
You'd have to think that the injury isn't as big of an issue as it would seem. United have Robin van Persie, Shinji Kagawa, Danny Welbeck, Javier Hernandez and Dimitar Berbatov all in their side, thus the loss of a striker won't affect them that much.
Having said that, when you lose a star striker—especially one of Rooney's caliber—it will have some impact on the side.
Fortunately, United won't play against a Manchester City or Chelsea in the four-week period that the England international is missing—their toughest competitor is probably Tottenham—and thus they will cover the loss of Rooney reasonably well.
Bleacher Report's Ryan Davenport shares his thoughts here.
What Formation Is Most Effective for United?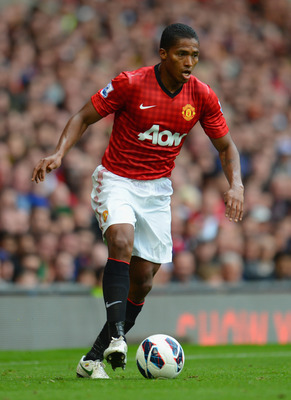 Shaun Botterill/Getty Images
With the arrivals of Van Persie and Kagawa, the formation that the Red Devils would adopt this season was bound to stray from the traditional 4-4-2 that they had employed previously.
Against Everton they went with a 4-2-3-1; against Fulham it was a 4-4-1-1. And now with Rooney out, the formation could change again for their next fixture against Southampton.
It will take time for United to adopt and find the formation that works most effectively for them this season—one that incorporates the attacking brilliance of Rooney and RVP, the midfield mastery of Kagawa and the strength down the wings of Valencia and Young.
The Red Devils have enough class to use a myriad of formations this season and still walk away with the three competition points, as seen against Fulham.
Does Nani Have a Future at Old Trafford?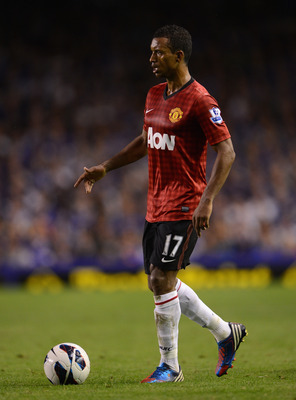 Michael Regan/Getty Images
The future of Nani at Manchester United is a contentious one; the midfielder has been rumored to be leaving the club for some time now, and according to the latest report in the Daily Mail, is looking to be sold by the Red Devils before the summer transfer deadline.
I still think he has a future at Old Trafford, but it is become more and more unlikely that that future is going to come to fruition. He was left out of the squad against Fulham—meaning he is likely to either be sold by Ferguson soon or simply wasn't good enough to make the roster.
Ashley Young and Antonio Valencia are both very strong and deserve their starting positions, but they may cost United the future of Nani as a by-product of their success.
I guess we'll have to wait and see on this one, but the prognosis doesn't look good.
What About Anderson?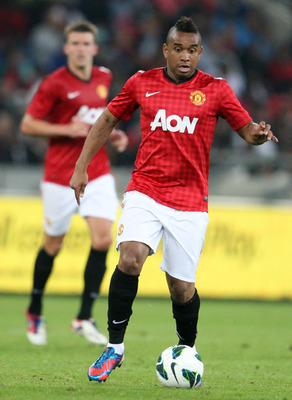 Gallo Images/Getty Images
Anderson, however, is looking the goods this year and could be a surprise inclusion in the Red Devils starting side for many EPL matches this season.
The midfielder has never really lived up to his potential at United, but the Brazilian was very good against Fulham in both attack and defense—the kind of midfielder that the Red Devils dearly missed last season.
If Anderson can continue to win starting spots and perform well when given those opportunities, there's no reason to suggest why the £20 million Porto transfer cannot have a future still at Manchester United.
What Can Robin Van Persie Do in the Next Month?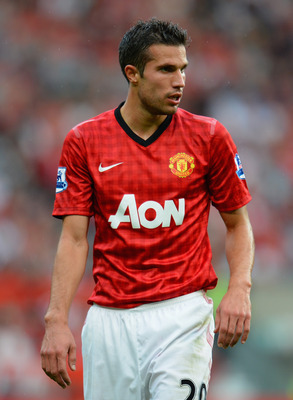 Shaun Botterill/Getty Images
Robin van Persie kicked off his Manchester United career with a goal in his first home match—a wonderful finish and a goal that signaled just how important the Dutchman will be for the Red Devils.
With Rooney out, that importance seemingly just doubled.
You'd have to think that RVP will become the go-to striker in attack for United, and that with that attention, he will score crucial goals for the Red Devils in the next month.
Just what he can do in the next four weeks still remains to be seen, but I'll go as far as to say that Van Persie will become the No. 1 striker at United for the rest of the season.
I'll flesh that idea out more during the week.
Can Old Trafford Become a Fortress for United?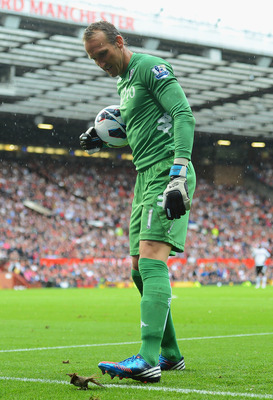 Shaun Botterill/Getty Images
Let's finish on a positive point to ponder, and that's surrounding Manchester United's home success. Old Trafford is a very daunting place to play given the history and prestige, but it's never really been considered a "fortress" as some stadiums are.
In fairness, a 6-1 defeat to Manchester City, a 3-2 loss to Blackburn and a 4-4 draw to Everton don't help the "fortress" tag, but I seriously think that Old Trafford can become one of the most formidable destinations in the Premier League this season.
United have now scored in their last 50 home matches—becoming the first EPL team do to so—and only suffered the two defeats at Old Trafford last year. It will be interesting to see whether it can become a true "fortress" this season—something that would no doubt give the Red Devils a huge advantage in their quest for Premier League success.
What did you take out of the match vs. Fulham?
Comment below or hit me up on Twitter: Follow @dantalintyre
All statistics courtesy of WhoScored.com.
Keep Reading

Manchester United: Like this team?