Florida State Seminoles Football: 2012 Season Preview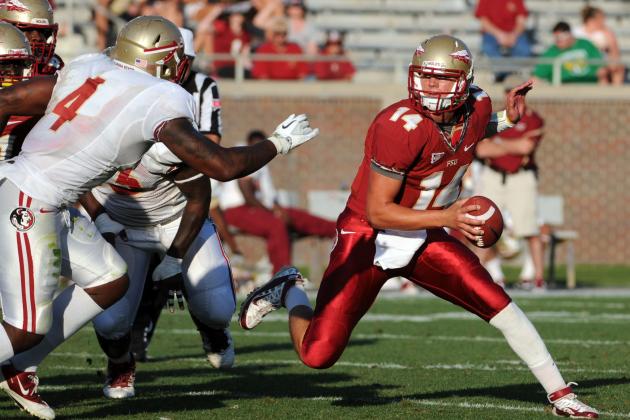 Melina Vastola-US PRESSWIRE
Welcome to Titletown, USA: Home of the 2012 national champions?
Outside of Doak Campbell Stadium, the flame of Chief Osceola's statue will once again be lit.
Yes, we are under a week away from Seminole football.
Jimbo Fisher and crew will get a scrimmage game against Murray State on September 1, giving 82,600 fans the answers they've pondered for eight months.
Will E.J. Manuel be able to cool his nerves and become FSU's third Heisman winner?
Can the offensive line allow for breakout players (such as running backs Devonta Freeman and Chris Thompson) to do their job?
And will the Seminoles get to the Promised Land?
If you are an FSU fan, you've been biting your nails and having nightmares. Why? Because you can't help racking your brain, trying to predict how the 2012 Seminoles will pan out. "Can they beat Clemson? Will they again lose to another underdog team?"
If you are an FSU fan, you've been watching game footage from the 1990s in your Seminole Snuggie this offseason.
If you are an FSU fan, you have memorized the height, weight, speed and player numbers from the Spring Game and fall practice.
If you are an FSU fan, you've been listening to Kirk Herbstreit and Phil Steele.
If you are an FSU fan, know this. Whether we win it all or not, one thing is certain:
The Seminoles are back.
Begin Slideshow

»
"I think we're pretty close to having eight or 10 guys we can put into the ballgame without worrying about—maybe more."
This Jimbo Fisher quote from ESPN highlights the feel of this FSU offseason. With the Spring Game far behind us, it is necessary to focus on the present facts—how has FSU been doing in August practices?
The loss of Greg Reid was a huge concern to many, but I personally feel LaMarcus Joyner will make up for Reid's absence in the return game. Also, with the recent changes in college football rules that move a touchback to the 25-yard line, returning on special teams will not be that much of an issue.
Well, there have been a few minor injuries. Quarterback E.J. Manuel had a mild ankle injury that he has solidly recovered from, while James Wilder, Jr. had his right arm in a sling last Friday—but even that issue seems to be going away.
While he is the projected number three running back (behind Chris Thompson and Devonta Freeman), he or Lonnie Pryor might be called into service if Thompson hurts his back again to lighten the load for the sophomore Freeman. Any way one slices it, it seems that the running back position is a variable this year after recent practices.
Bryan Stork—a center—and Menelik Watson—a right tackle out of Great Britain—were hurt earlier this week. Their backups, Jimbo Fisher said, took over for them for a couple days without a hitch, illustrating the depth that Fisher has acquired in his last two recruiting classes.
Stork and Watson have both recovered, though, producing a competition between Watson and recent junior college transfer Daniel Glauser.
That is great news, considering the lack of experience and bevy of injuries to last year's O-line. With a second consecutive second-ranked recruiting class, perhaps these small injuries are (on the whole) helping the team by fostering competition.
The only downside is Mario Pender, one of the studs in FSU's 2012 recruiting class. He will miss the season due to a groin injury. In this case, I can say it will hurt him more than it will hurt us. Get well, Mario!
Stat of this Slide: FSU returns eight starters on the offense.
This year, you should be jovial about the offensive line. Hopefully fewer injuries and a lighter schedule will allow the offensive line to shine, and competitions at positions (such as right tackle) will keep the Seminoles focused to move in front of the line of scrimmage.
As a result, E.J. Manuel should blossom into at least an All-ACC second team quarterback. Given the depth of the position all over the conference, that's saying something. I do not expect him to be a Heisman finalist this year, but he should be in the discussion throughout the season.
Returning leading reception leader Rashad Greene and Manuel will keep last year's chemistry to improve E.J.'s completion percentage, and—most importantly—cut down on last year's nasty interceptions.
Devonta Freeman, the freshman all-star from last year's team, should do nothing but improve. Both he and Chris Thompson can share reps over the year given the strength of this year's offensive unit.
Personally, Freeman has always reminded me a bit of South Carolina's Marcus Lattimore or Oregon's LaMichael James—he has an it-factor. Don't be surprised to see him at the Heisman Trophy Ceremony two years from now.
Florida State defense has been a staple of the program, even during the Lost Decade.
Mark Stoops has taken the torch from Mickey Andrews and followed the legendary defensive coordinator's legacy. Florida State had the second-best run defense in the country last season and finished fourth in points against.
The Seminoles' pass rush was fantastic, led by the dynamic duo of Bjoern Werner and Brandon Jenkins. The secondary, unfortunately, lost Greg Reid recently, but Xavier Rhodes' talent and the incoming freshman starter Ronald Darby can easily shoulder the burden. In addition, sophomores Nick Waisome and Tyler Hunter can go for the open position.
If all falls apart, one can rely on strong safety LaMarcus Joyner. Joyner had 54 tackles and four picks last year.
Everyone chill—these seniors know what to do.
Dustin Hopkins, FSU's beloved senior kicker, is truly wonderful to watch.
Unfortunately, he is not a pressure kicker. Yes, there is the amazing 55-yard kick he made against Clemson as time expired in 2010, but Hopkins had a couple of factors go his way. First of all, he was playing at home. In addition, the kick was perfectly placed between the hash marks.
But what about the missed field goal versus North Carolina at the 2010 homecoming game the week before? Hopkins had nothing to lose, and so did FSU since the score was tied. This was not a complete crucible. If he missed, Florida State would have still had a chance to win the game in overtime—but he missed when they trailed UNC and missed a last-second kick against Virginia at last year's homecoming.
Hear this—Florida State will lose a game because Hopkins will miss a last-second kick. Or he'll prove me wrong and make it, which is the preferable alternative. Best of luck, Dustin. I am rooting for you.
Greg Reid's dismissal will be overcome with the new rule moving a touchback to the 25 yard line. LaMarcus Joyner will do well. On to the next slide!
Though last year was a disappointment, Jimbo Fisher is a legend in the making. This year, he will have the opportunity to prove himself. Win the ACC Championship. Get back to the BCS. Win a national championship?
Fisher's own coaching pedigree leaves nothing to be desired. Working at Auburn for Terry Bowden, tutoring No. 1 draft pick JaMarcus Russell at LSU (where he won a national championship) and being the offensive coordinator at Florida State has groomed him for victory.
Jimbo's head is also in the right place. HIs son was diagnosed with a rare disease last offseason, giving Fisher a solid grip on what matters in life. He won't let the job overwhelm him.
Sure, Urban Meyer killed himself and won two national championships at UF, but then left the program in complete disarray. Fisher is ready for the long haul. Heck, he even says YOLO.
More concretely, Offensive Coordinator James Coley says the offense is now making great plays by accident. You know that's a winning combination.
Florida State's schedule leads me to believe this is the year they come back.
Last year, back-to-back games against Oklahoma and Clemson were tricky with novice players.
Jimbo's first year was a transition year, and Bobby Bowden was just too old to coach in the 2000s (having his son Jeff didn't help, either).
What I'm trying to say is for the first time since 2000 (with the exception of 2008), Florida State is coming back—for good.
The schedule, which features only Clemson and Virginia Tech as real competition this season, can be seen here.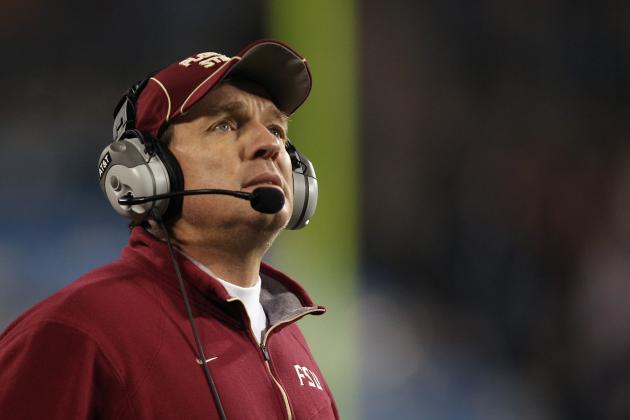 Streeter Lecka/Getty Images
Jimbo won't be this concerned come September 8th. Mark your calendars!
At first it seemed like the Murray State game would be a piece of cake. I'm still convinced it is, but Florida State's replacement for West Virginia is just plain terrible.
Savannah State went 1-10 last year in the FCS. On the other hand, Murray State went 7-4. Savannah State won only one game, and that was by a field goal. In addition, the team is 2-20 since 2010. Lastly, they will likely have been obliterated by Oklahoma State the week before.
If FSU is going to score over 50 points in a game, this is their best shot.
Virginia Tech used to be Seminole roadkill.
But since 2008, the Hokies are 2-1 versus Florida State. Playing in Blacksburg will be difficult, but Virginia Tech has still struggled against ranked teams during Frank Beamer's otherwise spotless tenure.
The game also takes place on a Thursday, over a week and a half from the Seminoles' last game. It will be November 8th, and since the game starts at 7:30, expect it to be a cold one.
Personally, I think the revenge factor from the 2010 ACC Championship Game loss will propel the Seminoles over Logan Thomas and Tech, but if any team will bring down the Seminoles it will be a defense-minded team like this one.
I have a feeling the Seminoles won't make it through the regular season unscathed, and a large part of me doubts they'll go 11-1. This will likely be their first loss—if they don't go undefeated.
34-0. That explains the humiliation N.C. State felt at the hands of FSU in 2011.
Along with a talented quarterback in Mike Glennon, the Wolfpack enter 2012 with a three-game winning streak (including a victory over then Top 10 Clemson).
The Wolfpack will play at home, and Florida State will probably have sealed the ACC Atlantic. With Florida up ahead, Tom O'Brien's team has the perfect trap ready for the Seminoles. Combine that with a 5-5 record versus this North Carolina school over the past ten meetings, and this might be the game where Hopkins misses his last-second field goal.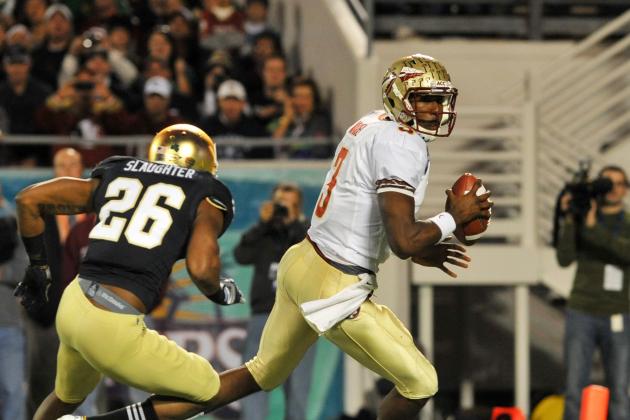 Al Messerschmidt/Getty Images
E.J. wants it all in his last go-around.
While I was tempted to put O-lineman Cameron Irving as the MVP, he is not Florida State's veteran quarterback. Thus, E.J. Manuel is obviously the x-factor.
Rashad Greene returns on the offense, and Manuel knows this is his best—and last—chance to lead the Seminoles to glory. Expect a marked improvement in his passing skills. In turn, this will make it easier for him to become the dual-threat quarterback he has always been touted.
He won't win the Heisman, but Manuel might just be ACC Player of the Year.
Brandon Jenkins will be a first-round NFL Draft pick.
I thought about explaining what he means to Florida State's future, but Andy Staples might have an even better surmising for his ACC Defensive MVP.
We'll miss this legend.
This wide receiver has it all.
Coming out of Glades High School, he impressed in the spring and should provide headaches for Clemson and Virginia Tech's defense all year long.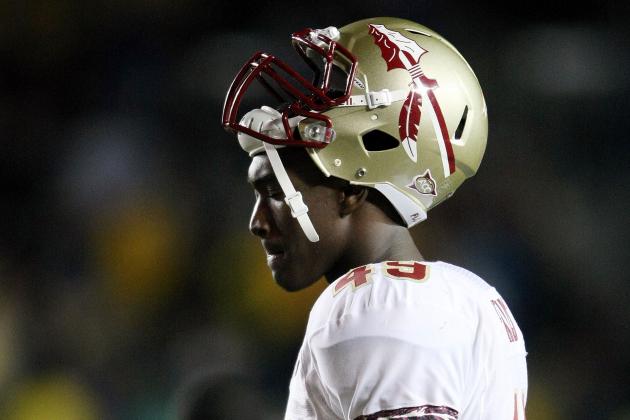 Elsa/Getty Images
Which NFL team will need Brandon Jenkins at the end of the season? The Colts, the Rams? What do you think?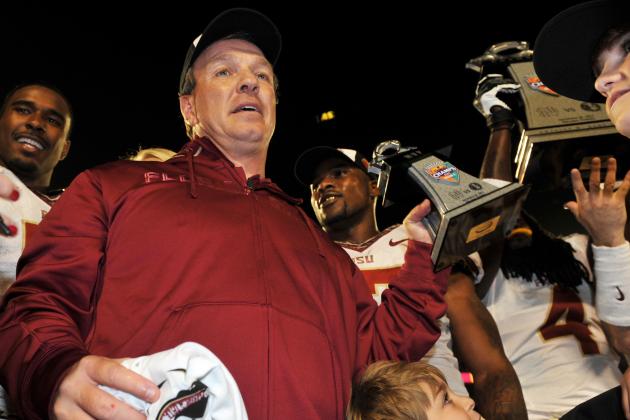 Al Messerschmidt/Getty Images
What will we Tweet of next?
FSU doesn't Tweet, says Jimbo Fisher. And his word is law.
Here's the latest from USA Today:
"An on-again, off again Twitter policy with FSU players is back on the 'banned wagon'. This time, FSU's Jimbo Fisher said it will run through the season and possibly through 2013.
The matter came into an ugly priority for Fisher when learning sophomore cornerback Tyler Hunter, upset at being stopped for a traffic offense, sent out a Twitter message quoting lyrics from rapper Lil Boosie, who references killing police officers. That was picked up by many sports blogs and immediately Fisher reacted and banned his entire team from using Twitter or having a Twitter account.
"I'm not against it," Fisher said. "But it's a power that you must understand the implications of when you use it. And we'll continue to educate. It's not indicative of who (players) are, and they're not understanding the true ramifications of it."
FSU players were on Twitter last season until coaches learned players were sending out tweets in some cases right before games. The policy relaxed in the winter and spring, but it's not going to be off limits."
FSU doesn't let Twitter do the talking. Let's keep it on the field.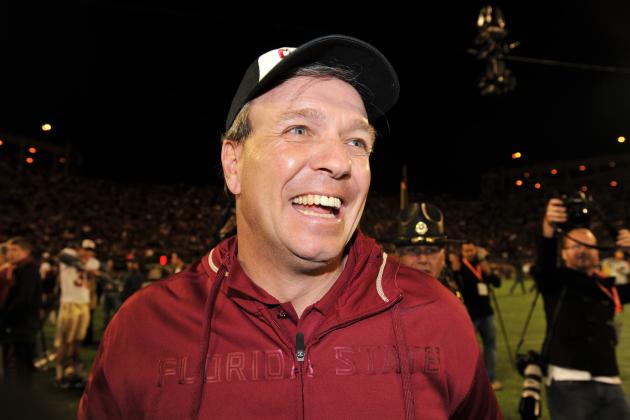 Al Messerschmidt/Getty Images
Jimbo is smiling because he might just win it all, according to Vegas.
Florida State is going 11-1, say the gamblers. A loss at Virginia Tech should be their only loss on the way to the ACC Championship.
If this is true, expect a whole lot of payback in the championship game.
I think the team will go 10-2 in the regular season, winning their third state championship, but losing in the regular season to VT and N.C. State. Either way, they should finish in Charlotte.
FSU will crash the BCS by beating Virginia Tech.
Florida State, with their one loss (two if they fall in the regular season to Virginia Tech), will end up out of the BCS Championship. Either way, the Seminoles will hit 11 wins for the first time since 2000.
As a result, the Seminoles will end up in the Orange Bowl. But will they win?
Kevin C. Cox/Getty Images
Get used to the cold, Jimbo! FSU is gonna win again!
FSU will trump Louisville to go 12-2. In the process, they will redeem the ACC (somewhat) in BCS bowl games. The team will tie for most wins in a season with the 1993 and 1999 National Champions.
Jimbo will be the ACC Coach of the Year. E.J. Manuel will go out in style, and people will be optimistic towards a 2013 national championship campaign.
And it all begins September 1st.