Projecting Tom Brady and the New England Patriots' 53-Man Roster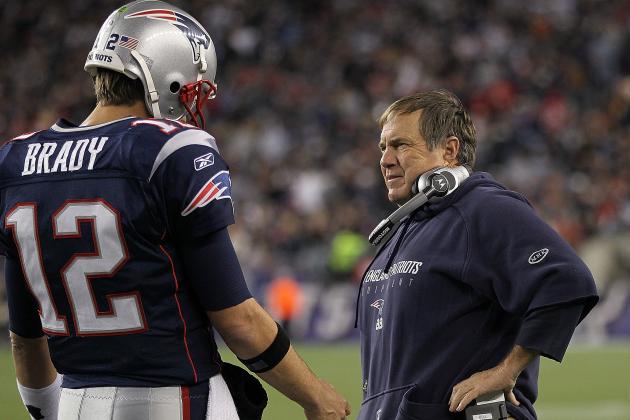 Jim Rogash/Getty Images

With the preseason wrapping up, the time for final roster cuts is almost here.
This has certainly been one of the more interesting offseasons for New England, as several key signings have raised expectations for the season.
With the sting of a second Super Bowl loss still lingering, Bill Belichick and Nick Caserio aggressively added more talent to an already talented roster.
Unfortunately, only a limited amount of roster spots are available, and here's how I see the New England Patriots filling out their 53-man roster.
Begin Slideshow

»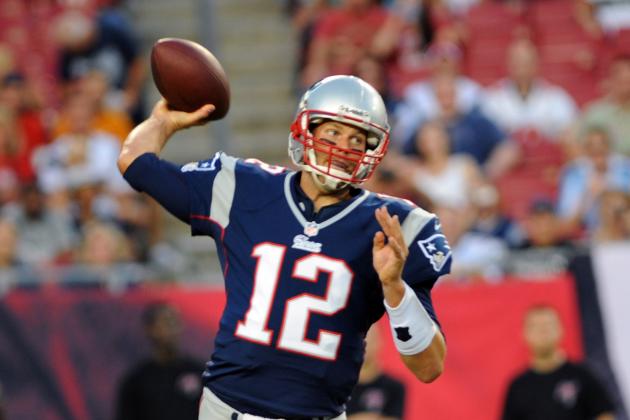 Al Messerschmidt/Getty Images

1) Tom Brady: 2011—5,235 yards; 39-to-12 TD-INT ratio.
2) Brian Hoyer: 2011—22 yards; 0-to-0 TD-INT ratio.
3) Ryan Mallett: 2011—N/A.
As arguably the greatest quarterback of all time, Tom Brady will be expected to start from day one.
Despite a somewhat shaky preseason, partly due to offensive line issues, Brady remains at the top of his game as he looks to build on last season's performance, where he threw for more than 5,000 yards for the first time.
Falling to Eli Manning and the Giants for the second time will only add more fuel to Brady's quest for that elusive fourth ring, which would equal his childhood idol Joe Montana..
Behind Brady, the Patriots have two of the best backup QBs in the league in third-year veteran Brian Hoyer and last year's third-round pick Ryan Mallett. While neither has yet played any meaningful snaps, both have shown flashes of good play in exhibition games as well as in garbage time.
Mallett in particular has impressed in the last two preseason games, and his development is encouraging in case something were to happen to Brady.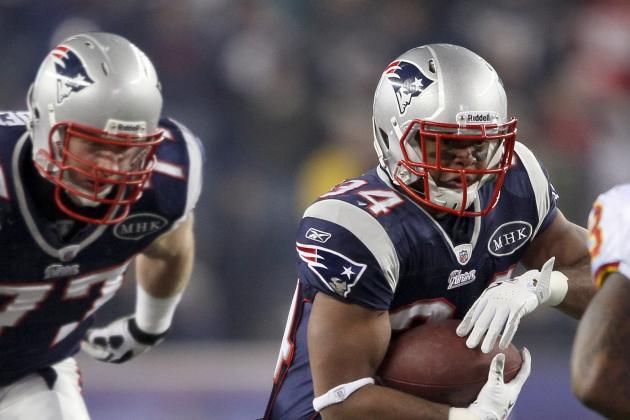 Elsa/Getty Images

1) Stevan Ridley: 2011—441 yards, 5.1 avg, 1 TD.
2) Shane Vereen: 2011—57 yards, 3.8 avg, 1 TD.
3) Danny Woodhead: 2011—351 yards, 4.6 avg, 1 TD.
4) Jeff Demps: 2011—N/A
While the Patriots' backfield only has five years of experience between all of them, they make up for it with explosive ability and versatility.
With BenJarvus Green-Ellis now in Cincinnati, the starting job was wide open at the start of training camp, but it certainly seems like Stevan Ridley has taken control of that post.
Shane Vereen has the potential to be a starter one day, but his inability to remain healthy is costing him severely with the Patriots. After impressing in the preseason games, Vereen hobbled of with a leg injury against Tampa Bay. For his sake, hopefully it's a minor injury.
Danny Woodhead and rookie Jeff Demps round out the backfield. Both are terrific change-of-pace backs who should excel in Josh McDaniels' screen game.
Demps, a former Olympic sprinter, has true breakaway speed and could be a great home run hitter out of the backfield.
Stew Milne-US PRESSWIRE

Spencer Larsen: 2011—44 yards, 3.1 avg, 0 TD
The Patriots did not carry a full back for the majority of last season as they shifted completely to a pass-based offense.
With Josh McDaniels back as offensive coordinator, expect a much more balanced offense this season out of New England.
The Patriots have already hinted that the fullback will be heavily featured in the run game this year, with the use of a several dual-back formations and I-formations.
An offseason acquisition, Larsen missed most of camp, but now healthy, he should be a great addition to the Patriots' offense.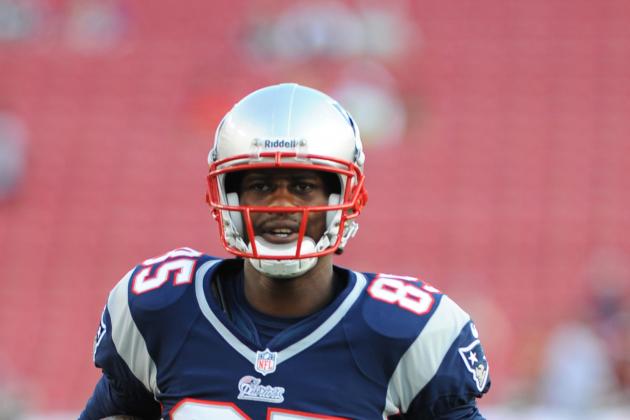 Al Messerschmidt/Getty Images

1) Wes Welker: 2011—122 catches, 1,569 yards, 9 TDs.
2) Brandon Lloyd: 2011—70 catches, 966 yards, 5 TDs.
3) Jabar Gaffney: 2011—68 catches, 947 yards, 5 TDs.
4) Deion Branch: 2011—51 catches, 702 yards, 5 TDs.
5) Julian Edelman: 2011—4 catches, 34 yards, 0 TDs.
6) Matthew Slater: 2011—1 catch, 46 yards, 0 TDs.
Arguably the position with the most competition, the battle for wide receiver spots will go down to the wire.
Leading the way will be Wes Welker, who brings along his guaranteed 100-plus catches. Welker was the best receiver in football last year not named Calvin Johnson and figures to be Brady's go-to guy again next season.
Perhaps the Patriots' biggest signing since stealing Randy Moss from Oakland in '07, Brandon Lloyd brings exactly what the Patriots offense missed last season—a play-making receiver down the field.
A Josh McDaniels favorite, Lloyd already knows the offense, and his penchant for the spectacular catch should make him a fan favorite. Double-digit touchdowns is not out of the question for Lloyd.
Special teams captain Matthew Slater will most likely make the team as a wide receiver, but his real contributions will come on special teams.
With his special-teams prowess, Edelman figures to take one spot. As the most logical backup to Welker, Edelman is also the Patriots' primary punt returner. After failing to show up much in the Patriots' passing attack last season, Edelman has impressed throughout the preseason, often the only Patriots receiver who has been able to gain separation.
Filling out the other two spots will be Brady favorites Branch and Gaffney. Despite an average year by his standards, Branch was as dependable as ever, and his chemistry with Brady should ensure a spot on the roster.
Gaffney, who followed McDaniels to Denver in '08, returns after being cut by the Redskins. However, the 10-year vet is coming off arguably his best year, recording career highs in yards, catches and touchdowns.
A leg injury suffered a week earlier may hurt his chances at making the roster, but should he receive a clean bill of health, Gaffney will make the roster.
Chris Trotman/Getty Images

1) Rob Gronkowski: 2011—90 catches, 1,327 yards, 17 TDs.
2) Aaron Hernandez: 2011—79 catches, 910 yards, 7 TDs.
3) Daniel Fells: 2011—19 catches, 256 yards, 3 TDs.
Last year's record-breaking duo of Rob Gronkowski and Aaron Hernandez headline the Patriots' strongest position.
The two young tight ends enter their third year in the NFL coming off a season in which they combined for 169 catches, 2,237 yards and 24 receiving touchdowns. With an outside threat in Brandon Lloyd drawing additional coverage, the two could combine to have an even greater season than last year.
Despite coming of a severe ankle injury which slowed him during the Super Bowl, Gronkowski remains the premier tight ends in the NFL. He had an NFL record 1,327 yards receiving yards and 17 TDs last season.
Hernandez, who will again line up everywhere from tight end to slot receiver to running back, will likely have his first 1,000-yard season if he stays healthy. Hernandez has been the best offensive player on the Patriots' roster throughout the offseason, and it seems like he will truly breakout this season.
Rounding out the tight end group is four-year veteran Daniel Fells, a combo tight end who is a capable blocker. Fells just returned to practice after spending much of training camp on the PUP list, almost guaranteeing that he will make the roster.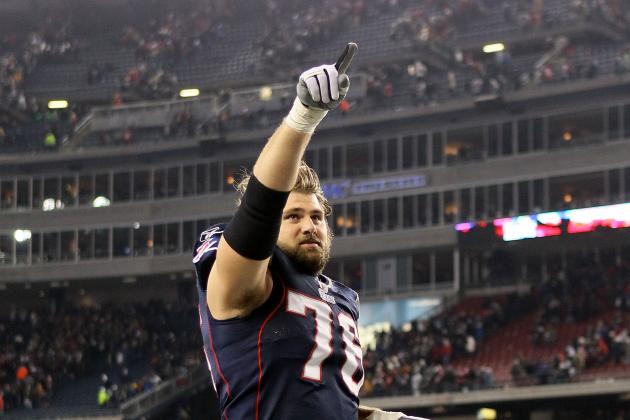 Elsa/Getty Images

1) Nate Solder
2) Sebastian Vollmer
3) Marcus Cannon
With 11-year veteran Matt Light retiring, the all-important job of protecting Tom Brady's blind side was given to second-year player Nate Solder. Unfortunately for Solder, Brady and the Patriots, he has not lived up to the potential he flashed last season.
Along with Marcus Cannon, Solder has started all the preseason games, and both have failed to perform well. The sight of Brady on his backside has been an all-too-common sight in the preseason, and it has usually been a result of poor lineman play.
Cannon in particular has been poor, and the Patriots should strongly consider a move for a free-agent offensive tackle and move Cannon into guard.
The return of former All-Pro Sebastian Vollmer will go a long way in stabilising the offensive line play. If he can return to his 2010-11 form, the Patriots' offensive line can improve dramatically.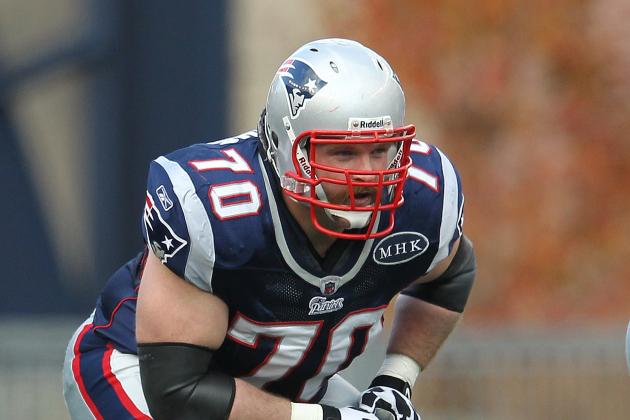 Jim Rogash/Getty Images

1) Logan Mankins
2) Dan Connolly
3) Nick McDonald
4) Ryan Wendell
5) Donald Thomas
Just like the offensive tackle, there are question marks galore over the interior offensive line.
All-Pro left guard Logan Mankins is coming of ACL surgery, and provided he is healthy, he should be starting on opening day. While he may not be completely healthy, Mankins remains one of the elite guards in the NFL and brings a much-needed nastiness to the line.
The battle for starting center figures to go down to the wire. Dan Connolly should get the job as he started all but the first game at center and did enough to warrant a three-year contract extension. Dan Koppen still has an outside shot at making the roster, as he is a favorite of Tom Brady, but his recent play has been sub-par.
Brian Waters remains at large, and it seems unlikely that he will come back to Foxborough.
Without him, the Pats are going to have to figure out which of Nick McDonald or Ryan Wendell starts. Both can play both guard positions as well as center, with McDonald also able to play tackle.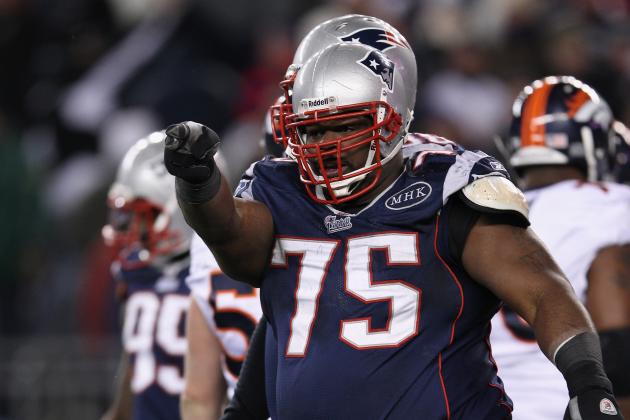 Elsa/Getty Images

1) Vince Wilfork: 2011—52 tackles, 3.5 sacks, 2 INTs.
2) Kyle Love: 2011—40 tackles, 4 sacks.
3) Ron Brace: 2011—4 tackles
4) Brandon Deaderick: 2011—17 tackles, 2 sacks.
While the Patriots' defensive line remains a shadow of what it was during the Richard Seymour, Vince Wilfork and Ty Warren years, this year's crop figures to be the best since Seymour was traded to Oakland.
With Vince Wilfork, who had a career year last season, back to lead the line, expect to see a much more stout D-line this season.
Kyle Love, a surprise starter last season, has been a star throughout the offseason routinely disrupting the opposing offense. Love recently earned a contract extension, as Belichick and Co. have recognised his terrific growth.
Big free-agent signing Jonathan Fanene was a surprise cut last week, and in his absence, Ron Brace and Brandon Deaderick should step up.
Brace, who has turned in his best preseason since being drafted by New England four years ago, has also been exceptionally disruptive in the middle of the defense.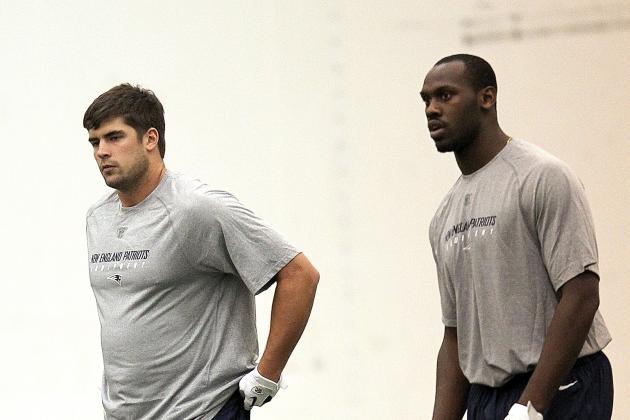 Jim Rogash/Getty Images

1) Chandler Jones: 2011—N/A.
2) Rob Ninkovich: 2011—74 tackles, 6.5 sacks, 2 INTs.
3) Jake Bequette: 2011—N/A.
4) Jermaine Cunningham: 2011—1 tackle.
5) Trevor Scott: 2011—7 tackles.
After years of watching the Patriots refuse to sign a big-time free-agent pass-rusher, Bill Belichick finally appeased fans when he traded up and drafted Syracuse DE/OLB Chandler Jones.
Jones entered camp with huge expectations, and he has more than lived up to them, dominating opposing offensive lineman whether it be Nate Solder or Jermon Bushrod.
Starting opposite Jones will be the ever-reliable Rob Ninkovich. A Belichick favorite, Ninkovich has worked himself up from special teams player to part-time pass-rusher and is now a fixture in the front seven. The Jones-Ninkovich outside combination gives the Patriots great scheme versatility, as both can play in the 3-4 as well as the 4-3.
Another great story out of the preseason has been the form of Jermaine Cunningham. A second-round pick in 2010, this year was considered a make-or-break year for Cunningham, and he certainly has made the most of things so far.
Providing depth will be third-round pick Jake Bequette and former Oakland star Jake Scott.
Rookie free agent Justin Francis has an outside chance at making the roster, but most likely he will be cut and hopefully makes it to the practice squad.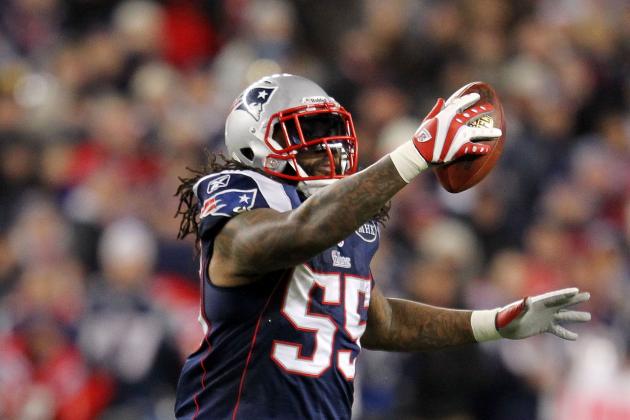 Jim Rogash/Getty Images

1) Jerod Mayo: 2011—95 tackles, 1 sack, 2 INTs.
2) Brandon Spikes: 2011—47 tackles.
3) Dont'a Hightower: 2011—N/A.
4) Bobby Carpenter: 2011—29 tackles, 1 INT
5) Niko Koutouvides: 2011—37 tackles.
6) Jeff Tarpinian: 2011—7 tackles.
Led by defensive captain and All-Pro Jerod Mayo, the 2012 Patriots' linebacking corps is loaded with youth and talent and should develop into an elite unit this season.
Despite his standing as a Pro Bowl MLB, Mayo has yet to fully develop into a true play-making linebacker in the mold of a Patrick Willis or Ray Lewis. This year, that changes.
After showing flashes last year with several sacks in the preseason and two game-ending interceptions, I expect Mayo to be around the ball a lot more often this year.
Brandon Spikes truly had his coming-out party in the postseason last year, with huge games against the Broncos and Ravens. Whether it was sacking Tim Tebow or intercepting Joe Flacco, Spikes finally became the player we all thought he would be coming out of Florida.
Perhaps the most emotional and passionate player on defense, Spikes' growth into an elite linebacker may mirror the growth of the Pats' entire defense.
Joining Mayo and Spikes as starters is former Alabama star Dont'a Hightower. Belichick again surprised Pats fans in the draft when he traded up to get the ferocious Alabama captain. With underrated athleticism and great football intelligence, Hightower should combine with Spikes to bring back the intimidation of the old Patriots.
Bobby Carpenter should get the majority of reps as the backup linebacker. A former first-round pick of the Cowboys, Carpenter has had a fairly disappointing NFL career, but he has had a solid offseason so far.
Rounding out the depth chart will be Niko Koutouvides and Jeff Tarpinian. Both should factor heavily in the special teams aspect of the game but will receive limited defensive snaps.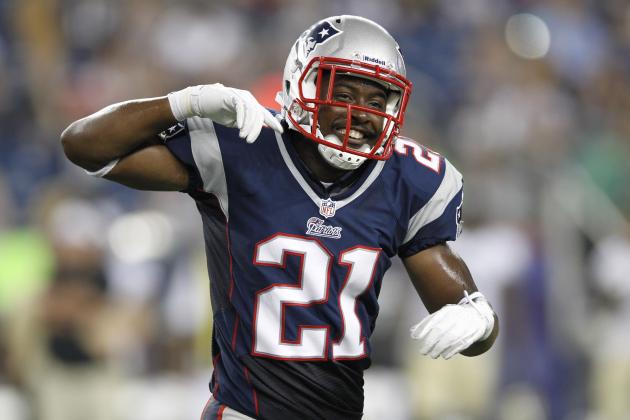 Greg M. Cooper-US PRESSWIRE

1) Devin McCourty: 2011—87 tackles, 13 passes defended, 2 INTs.
2) Ras-I Dowling: 2011—3 tackles.
3) Kyle Arrington: 2011—88 tackles, 15 passes defended, 7 INTs.
4) Alfonzo Dennard: 2011—N/A.
5) Marquice Cole: 2011—11 tackles.
Calling Devin McCourty's season last year a disappointment would be an understatement as he went from one of the best corners in the league to one of the worst.
New England needs a big bounce-back year from McCourty as he is the key to improving a weak secondary.
Starting alongside McCourty should be Kyle Arrington. I originally had Ras-I Dowling starting, but Arrington has been the Patriots best defensive back since the start of last season.
A second-round pick last year, Dowling lasted until Game 2 before he was knocked out for the season with a hip injury. He is expected to be fully healthy for the start of training camp.
Dowling provides rare size at the corner position. With receivers getting bigger and bigger, Dowling figures to play a major role this season.
Filling out the depth chart are Alfonzo Dennard and Marquice Cole. Dennard, who just returned to practice, is a tremendously talented corner who tumbled down draft boards due to legal issues. If healthy, Dennard can be a star.
Finally, I have Marquice Cole beating out Sterling Moore for the final spot. Cole has been impressive throughout the preseason while Moore has struggled. Cole also has great special teams value.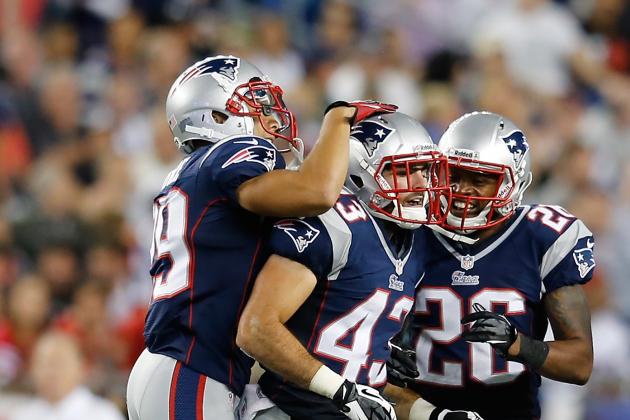 Jim Rogash/Getty Images

1) Patrick Chung: 2011— 62 tackles, 1 sack, 4 passes defended, 1 INT.
2) Steve Gregory: 2011— 67 tackles, 3 passes defended, 1 INT.
3) Tavon Wilson: 2011—N/A.
4) Nate Ebner: 2011—N/A.
5) James Ihedigbo: 2011 - 69 tackles
Safety was the Patriots' weakest position last season and Bill Belichick addressed the safety problem through the draft and free agency.
The signing of veteran Steve Gregory looks like a terrific move, as he has shown great chemistry with Patrick Chung as well as some good playmaking ability.
A pair of rookies in Tavon Wilson and Nate Ebner should fill the backup positions. Both Wilson and Ebner are versatile, with Wilson able to play all over the secondary and Ebner with his special teams value.
The final spot should go down to the wire with both James Ihedigbo and Will Allen fighting for it. If Ihedigbo is healthy, he should retain his spot on the roster.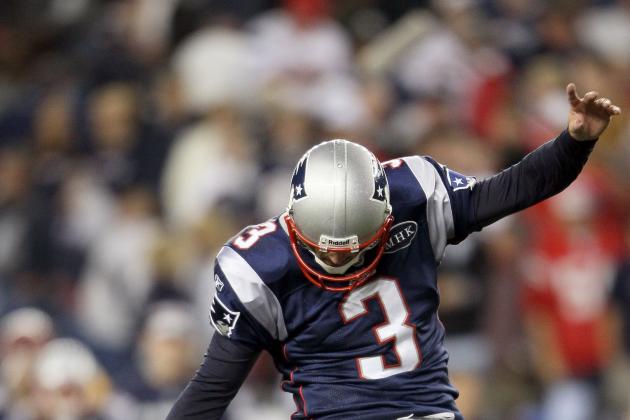 Elsa/Getty Images

Punter, Zoltan Mesko: 2011— 57 punts, 46.5 yard average, 41.5 net average.
Kicker, Stephen Gostkowski: 2011—28/33 FG.
Long Snapper, Danny Aiken
All three entered camp as the favorites to retain their positions, and there isn't anything to suggest otherwise.
Belichick recently complimented the trio for their impressive form so far.