Lions vs. Raiders: Detroit's Biggest Winners and Losers from Preseason Week 3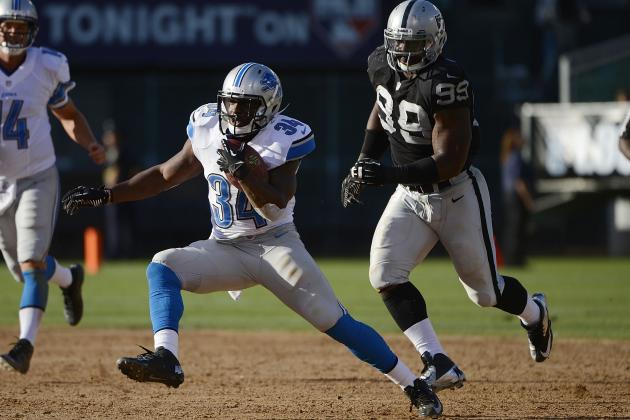 Thearon W. Henderson/Getty Images

After Terrelle Pryor went all Matt Flynn on the Detriot Lions secondary in the second half of this preseason contest, it may seem like there are absolutely no positives for the Lions to take from this.
And it's true that the Lions didn't exactly play a particularly sharp game in any facet, which is concerning for one billed as a "dress rehearsal."
But preseason is still preseason. The most concerning thing is getting through them healthy and...oh, that's right. A whole bunch of players went down with injuries as well.
So it wasn't a fun Saturday afternoon for the Lions, who came in likely expecting to play a reasonably sharp half of football, have a nice chat at halftime and spend the rest of the game leisurely watching the kids play ball in the second half.
No, it was a loss by 11 points, a systematic mutilation of the secondary (especially in the second half) and total carnage on the injury front.
And yet I still plan on leading with the good news, so get happy. It's still preseason.
Begin Slideshow

»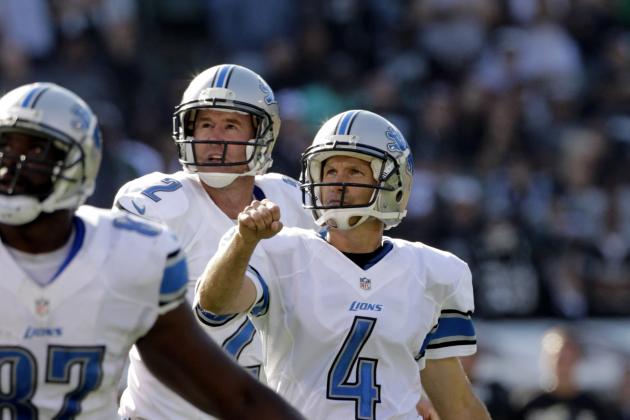 Cary Emondson-US PRESSWIRE

A week ago, it looked like the Lions were a little more impediment to kick returners than a poorly-planned obstacle course.
This week? Four kickoff returns with an average of 14 yards each (including a stop inside the Raiders' 10-yard line), and three punt returns with an average of four yards each.
Whatever the Lions did to their special teams in one week, it worked.
Even the return game was improved, with veteran Justin Miller returning a kickoff 80 yards before being brought down in the red zone.
That's probably bad news for the injured Stefan Logan, whose primary claim to the roster was "what happens to special teams if I go?" If this is the answer, Logan might not make the first cut, much less the second.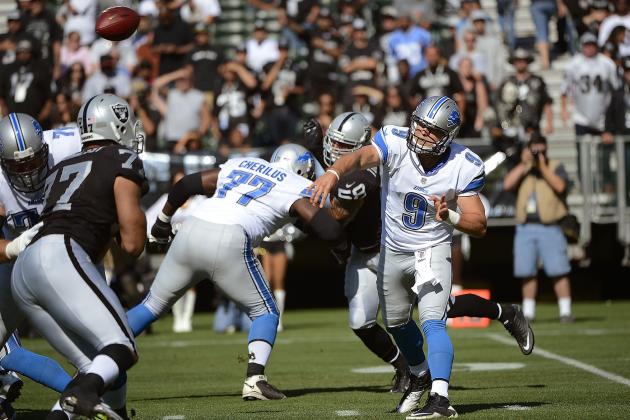 Thearon W. Henderson/Getty Images

What two things do Matthew Stafford, Mikel Leshoure, Kevin Smith, Chris Houston and Bill Bentley have in common?
1.) They are all projected starters (or at least major contributors) for the Lions this season.
2.) Each of them left the game against the Raiders with some kind of injury.
Now, it's not panic time yet. X-rays reportedly came back negative on Stafford and Smith.
Kevin Smith said xrays are negative and it's not a high ankle sprain

— Dave Birkett (@davebirkett) August 26, 2012
X-rays were negative on Stafford's left hand

— Tim Twentyman (@ttwentyman) August 26, 2012
Generally speaking, any starter that gets injured in a preseason game will get yanked as a precaution. It may not be that bad, but why risk aggravating it in a meaningless game?
Still, there were more than a few bumps and bruises in this one, and they all seemed to come in the areas where the Lions have the least depth. Not exactly an ideal way to start wrapping up the preseason.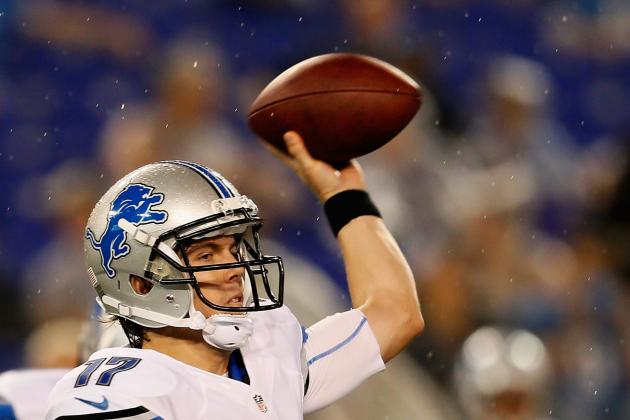 Rob Carr/Getty Images

Have I jumped onto the Kellen Moore bandwagon, on which I proclaim that Moore will not only make the 53-man roster, but the Pro Bowl and Hall of Fame?
Absolutely not. Moore still has a long way to go even to reach the level of serviceable backup, much less starter.
However, there are two things I know. One is that Moore has shown considerable improvement in just three preseason games, with today's performance punctuated by a 69-yard touchdown drive out of a very efficient no-huddle offense.
The other is that Matthew Stafford left this game with an injury, and that should give pause to anyone contemplating the wisdom of taking three quarterbacks on the roster.
Moore still has work to do. For as well as he ran his touchdown drive, there were a number of throws that sailed on him, and he had issues with passes being batted down all day.
However, the fact that he has shown progression in such a short time is a testament to his oft-discussed football IQ, and it might show just enough upside for the Lions to keep him around.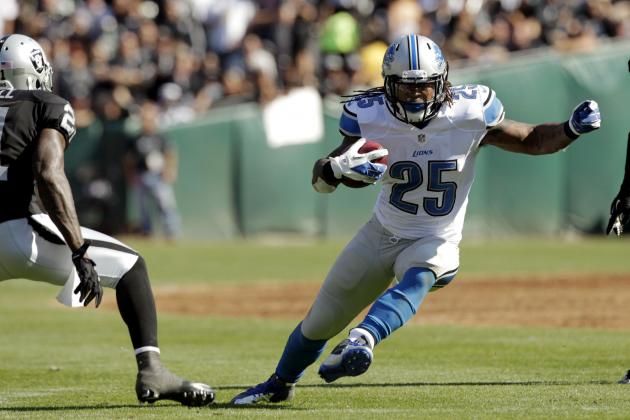 Cary Emondson-US PRESSWIRE

It has been nearly a year and a half since Mikel Leshoure was drafted by the Lions, and this is the first time he has carried a football in a game since he was in college.
That's a lot of anticipation leading up to one yard on five carries (and a reception for six yards).
Sure, you tend to give Leshoure the benefit of the doubt having been out of game action for so long, and this was a preseason game. But 0.2 yards per carry isn't good under any circumstances.
Of course, that was a snapshot for the day the Lions had running the ball in general, but if this was the game intended to show us the Lions needed better backs, not better blocking, to fix the run game...well, consider me unconvinced as of yet.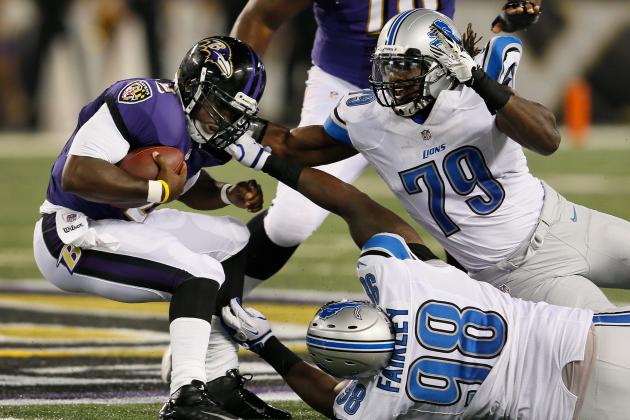 Rob Carr/Getty Images

The Great Willie Young continues to show up in the most unexpected of places this preseason.
We all thought he was just going to be a very good pass-rusher, but that hasn't been good enough for Young.
Against Cleveland, he forces and recovers a fumble on Colt McCoy. Against Baltimore, he shoots through the line to block a punt. And against Oakland, he peels off a block to tip and intercept a would-be screen pass from Carson Palmer.
That is, thus far, a major impact play per game from Young, who continues to play in limited minutes.
Explain it away with preseason if you want, but Young looks right now like nothing short of a budding superstar.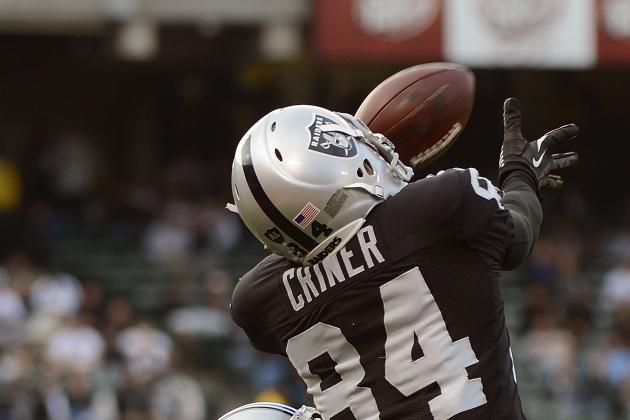 Thearon W. Henderson/Getty Images

I don't know what happened to Alphonso Smith, but I think it's safe to assume the Lions are no longer interested in him as a starter.
In fact, after the game he had today, he should feel fortunate that the Lions have had so many injuries in the secondary. Those injuries might be the only things keeping him around.
Of course, one particular sequence in this game took a play that could have given him some redemption, nullified it and then replaced it with his worst play of the game.
What could have, and should have been a drive-killing interception by Smith in the fourth quarter was nullified by a "hands to the face" penalty on rookie DE Ronnell Lewis.
So instead of nabbing an interception to make up for what was already a bad day at the office, Smith got a 39-yard touchdown pass thrown over him two plays later. Smith's coverage on the play wasn't terrible, but it was bad enough to get him beat for the touchdown and still flagged for pass interference.
Smith is probably still a lock for the roster this week, but that says a whole lot more about the Lions' overall talent level at CB than it does about Smith's ability as a player.