New York Mets: 5 Moments in 2012 That Derailed Promising Season
Elsa/Getty Images
The last month of the New York Mets 2012 season—on the heels of a first half that had them a mere half game out of a playoff spot—has chewed them up and spit them out at the bottom of the N.L. East.
At the All-Star break, the team was six games over .500 and 4.5 games behind Washington for the top spot in the East. Since the mid-summer classic, Terry Collins' club has plummeted out of the race. They're currently at a disappointing 59-69, 11.5 out of a postseason slot.
Let's go over the key turning points of the Mets' second half struggles that cancelled out the Amazin's first-half heroics.
Johan Santana's Injury Suffered vs. Chicago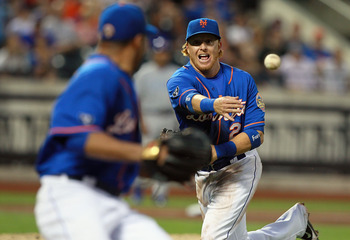 Mike Stobe/Getty Images
Contrary to what you may believe, Johan Santana's major drop-off was not a direct effect of his 134-pitch no-hitter on June 1. In fact, he looked sharper through much of June than he had all season long.
His first start following his historic performance was rather abysmal. He allowed seven runs on six hits in five innings at Yankee Stadium. In his next four starts that month, however, Santana pitched to an ERA of 2.16 with a BAA of .200. He struck out 20 and walked 11 in 25 innings.
Then, on July 6 vs. Chicago, Santana suffered a sprained ankle in the top of the fourth. He stayed in to pitch, but ineffectively. His line for the July 6 start looked like this: 4.2 IP, 7 ER, 13 H, 3 HR.
The team sent him to the DL two starts later after horrendous results. He returned on Aug. 11 and showed no improvement. Santana was clearly not the same pitcher he was before the ankle injury.
After two starts following his comeback—in which his ERA was a miserable 18.19—it was determined that Santana was then pitching with a back injury, which he likely suffered while compensating for the bum ankle. He was shut down for the season by the Mets on Aug. 22.
Santana's miraculous comeback from shoulder surgery—along with the overall dominance of the rotation—played a large role in the Mets first-half success. As the club watched him whither away to nothing, they also did the same to their postseason dreams.
Dillon Gee Sidelined for Remainder of 2012
Brian Kersey/Getty Images
Mets sophomore hurler Dillon Gee was quietly anchoring the back end of the team's rotation through the first half. His numbers weren't beautiful—6-7 with a 4.10 ERA—but he provided stability at a spot in the rotation that many teams lack. His first half of 2012 concluded with eight shutout innings vs. Chicago.
That performance would be his last of 2012, the Mets would soon find out.
The team's second-half mishaps commenced almost immediately. Over the All-Star break it was determined that Gee was suffering from a blood clot in his throwing shoulder. On July 13, the team announced that Gee underwent surgery and his timetable for return was uncertain.
Gee had his arm examined Friday in St. Louis, however it is still unlikely that he'll make a return this season, especially with the team's current standing.
Terry Collins has had fits trying to find a serviceable replacement for Gee. The recreation project of Miguel Batista proved to be a disaster, and Jeremy Hefner doesn't seem to have the stuff to consistently hold onto a starting spot in the bigs just yet.
Matt Harvey has provided a spark to the club in the absence of Johan Santana, but not enough to get the Mets back into contention.
The team has resorted to a six-man rotation comprised of R.A. Dickey, Jeremy Hefner, Chris Young, Matt Harvey, Jon Niese and most recently Collin McHugh.
Without two-fifths of the rotation that carried the team through the season's first three months, the Mets have simply been unable to compete.
Return of Jason Bay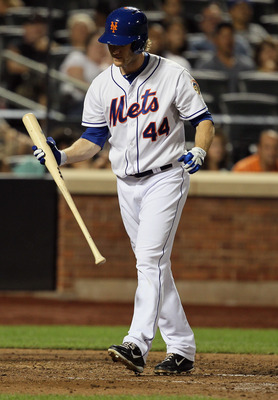 Mike Stobe/Getty Images
Jason Bay has been to the Mets in 2012 what Skylar is to the show Breaking Bad (extra points if you get the reference). Simply put, fans are irked by the mere sight of him, and no one would feel an ounce of remorse to see him go.
Through his first two seasons in New York, Bay was incredibly ineffective. From 2010-2011, he managed to crack 18 big flies and drive in 104 runs, while batting .251 and striking out 200 times. Numbers that are mind-blowingly mediocre for the team's $66 million man.
In 2012, though, Bay has taken mediocrity to a whole new level. He has somehow morphed from bad player to unplayable.
He's spent two stints on the disabled list, in which the team has flourished without him. The Mets are 13-26 since his July 17 return from a concussion. They were three games over .500 prior to his return, and three games out of a Wild Card slot.
He's currently batting .152 through 50 games with six homers and 14 RBI. His OBP is .236 and his OPS+ is 43. In other words, he's an automatic out just about every time up.
He has played his way out of the starting lineup, and the Mets have stated they're not interested in releasing him and eating the $19 million or so that would be owed to him.
"Certainly, there are times when it is appropriate to eat a contract," Mets G.M. Sandy Alderson told ESPNNewYork.com. "Jason Bay is not going anywhere, nor is his contract."
If Alderson means what he says, Bay appears to be stuck on the Mets bench for the foreseeable future, as there will likely be little to no trade suitors for the 33-year-old outfielder who appears to be at the end of his MLB road.
Let's hope—for Bay's sake—he can find a way out of New York, and soon.
July 17 Loss to Washington Nationals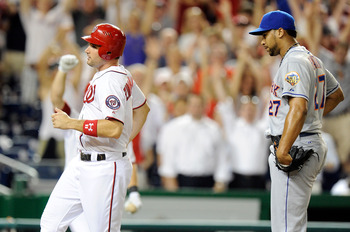 Greg Fiume/Getty Images
The Mets faced off with the Washington Nationals at Nationals Park on July 17, essentially with their season on the line. They were in the midst of a four-game losing skid and taking on their division leaders on road turf. A series loss would surely be a huge blow to the team's mojo.
The Mets continued their doldrums through the first eight innings in D.C. that night. In the top of the ninth they trailed 2-0, and were about to lose their fifth straight, dating back to July 8—before the All-Star break.
Nats closer Tyler Clippard opened up the frame by allowing two Mets singles. With Jason Bay due up, Terry Collins listened to every Mets fan as they screamed at their television set.
He sent up Jordany Valdespin in Bay's place. Valdespin drove a ball over the right-field fence for a three-run pinch-hit home run and the Mets—whose season was all but over 10 minutes before—were now leading 3-2.
Bobby Parnell—a member of the Mets abhorrent relief corps that has gift-wrapped countless wins to opponents this season—toed the rubber for the bottom of the ninth. Predictably, Parnell allowed a Nationals run on a single by Danny Espinosa to send the game into extras.
The Mets showed just how resilient they were, though, and tacked on another run in their half of the 10th when Josh Thole doubled to bring home a run off Mike Gonzalez. How many times would they have to claw back to counteract the bullpen's follies, though? At that point, losing another lead would have counted for more than just a loss against the team's psyche.
But the Mets did exactly that, and in typical Mets fashion.
After the newest Mets-killer, Bryce Harper tripled to drive home the tying run off Tim Byrdak in the home tenth, Pedro Beato allowed the winning run to cross the plate on a wild pitch with the bases loaded.
The Mets lost 5-4, but it did as much damage as a million-to-nothing blowout.
Since the failed comeback attempts on July 17, the Mets haven't sniffed the division lead—or the wild card for that matter. They're 13-26 since the disaster in D.C., 18.5 games behind Washington.
Decision to Start Miguel Batista Instead of Matt Harvey on July 21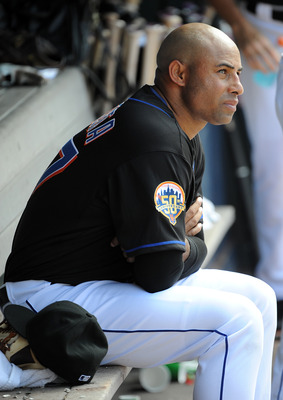 Christopher Pasatieri/Getty Images
The Mets' made a decision on July 17 that solidified their fate of mediocrity for 2012.
They opted not to call up prospect Matt Harvey to start on July 21, citing the fact that he just wasn't ready to be a major leaguer—specifically because of control issues.
Instead, they turned to veteran has-been Miguel Batista to start vs. the Dodgers at Citi Field that Saturday afternoon.
Batista lasted three innings against L.A., allowing four runs on five hits and walking three. The Mets wound up losing 8-5 and Batista was designated for assignment the next day.
The loss brought the Mets down to .500 for the first time in 2012, and 7.5 games off the division lead. They haven't seen that .500 since, and are currently 10 under at 59-69.
Harvey was called upon to make his debut in Arizona the next time around the rotation. He struck out 11 in a Mets win, but his stellar performance just seemed to make the July 21 decision sting that much more, as it turned out that Harvey was MLB-ready.
On the contrary, there's also the view that this year's Mets team exceeded expectations—expectations that reached as low as 60 wins—and this season was essentially all "house money."
It's true that this year was part of a rebuild, and the franchise doesn't expect to realistically contend until 2014. The way the Mets competed through the first three months proved many wrong, making it seem that they possessed the resiliency and grit to finish in a Wild Card spot.
All signs are pointing to the opposite, however, as the Mets once again are in a struggle to avoid the division's cellar.
On the brighter side, Harvey is currently sporting a tidy 2.75 ERA, and looks to be one of the franchise's cornerstones for years to come.
Follow me on Twitter for more Mets analysis. Follow @JSDorn6
Keep Reading

New York Mets: Like this team?