The TCU Horned Frogs face a new and challenging adventure as they enter the 2012 season. The Frogs are about to step into a wonderful new stadium and a challenging new world.
The old and historic Amon Carter Stadium that was replaced with the Carter of the future is a part of that adventure. The new Carter is a state of the art facility second to none in the FBS, yet it still preserves and celebrates TCU's long and impressive football history.
Stepping into their ideal stadium of the future is the easy part of the challenge TCU faces. All it took to complete the new Carter was raising $160 million in cash (with no debt or bonds), a feat no other FBS school can claim. The new Carter truly is the house that Frog Nation built and paid for, and TCU made it look easy.
It won't be as easy, however, stepping into the challenging world of the Big 12 and picking up where TCU left off as co-champions of the Southwest Conference in 1994. Ultimately it was inevitable that TCU would be back in a major conference.
The Big East and the Big 12 both understood this when they asked them to come home from the prom with them. In joining the Big 12, TCU truly is coming home and will continue an adventure that was interrupted with the demise of the old SWC.
What are the challenges that TCU faces this year as the family feud with Baylor, Texas Tech and Texas is renewed? There has been a lot of discussion around the college football world about the step up in competition that both TCU and West Virginia will face entering the Big 12.
Many are thinking that West Virginia will not have as much of an adjustment to make. In 2011 the Mountain West, by any reasonable measurement, was as strong or a stronger conference than the Big East was.
What will TCU's record be for their 1st Big 12 season?
The way TCU has dominated the Mountain West might suggest that TCU is more prepared for the weekly grind of the Big 12 than either West Virginia is or their critics think.
Coach Patterson has made it clear what he sees as the number one issue facing the Big 12 Frogs: depth and youth. This is the youngest team that Coach Patterson has ever fielded during his tenure in Fort Worth and it is fairly certain that true freshman will be starting on this team.
The offseason dismissal of Tanner Brock, D. J, Yendrey, Tyler Horn and Devin Johnson after their drug arrests also cost the Frogs some valuable on the field leadership and experience.
Coach Patterson has shown time and again that he can create depth out of youth. Patterson wisely understands that what creates depth is, first and foremost, maturity. He told the Fort Worth Star-Telegram that if "they don't grow up then we'll probably not have the season we need to. If you don't grow some guys up, then you don't have enough depth and you don't win as many games as we're used to here."
While some are arguing that depth might be a real problem for TCU in 2012, Patterson seems to thrive on the challenge of creating it and maturing his players. It is also important to note that this is probably one of the best freshman football classes TCU has produced since...well, since TCU started playing football in the 1890s.
While this is a young team, this team also has considerable experience and proven leadership returning. Casey Pachall is, in many ways, the personification of TCU and its football experience.
When Andy Dalton (remember him?) left in the NFL draft, elitist naysayers were heard from the SEC to the PAC-12 assuring everyone that TCU was toast, since no quarterback could possibly live up to Dalton's performance.
Yeah, right. In TCU's 11-2 "rebuilding" year in 2011, Pachall put up numbers and showed leadership that would have made anyone envious. He and his fellow returning juniors and seniors promise to provide the leadership and talent that the freshman and sophomores on this team need to mature and also excel.
This team's greatest challenge is also, in many ways, a great strength. They are an inordinately balanced team that, as always, plays as one well-oiled unit in everything they do. They are a team without showboats and egos. The balance between experience and youth will create a unique kind of depth that will be tough to play against.
The Frogs did lose a lot between graduation and scandals, but they also gained a lot through recruiting and transfers. While they are a young team, they also have considerable experience and leadership, and are a team with a history of being underrated in the polls while dominating teams on the field.
If TCU's journey from the Southwest Conference to the Big 12 teaches anything, it is that TCU is never down for long.
Last year was supposed to be a down year, right? The Big 12 had better watch out. TCU never were never the "Little Sisters of the Poor" that many uninformed "power conference" fans considered them to be. This year the "power conferences" will find that out.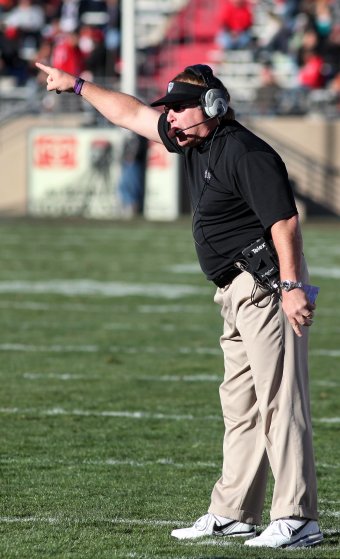 Eric Draper/Getty Images
TCU faces some challenges moving up to a new, higher level of competition in the Big 12. That level of competition also faces some challenges as they begin to play the Frogs in the Big 12. The 2012 Big 12 season will be one of the most dynamic and interesting seasons in a long, long time.
At the end of the season I can't help thinking that the teams of the Big 12 will have learned that the Frogs are, and always have been, for real under Coach Patterson.
In closing let me bless the new season with the immortal football words "Riff, Ram, Bah, Zoo." It is a new day for the Horned Frogs and the Big 12.
Look for the Horned Frogs to finish 11-1 (8-1 in Big 12) in 2012.