WWE Top 5 Worst of the Week: Lesnar, Santino and More!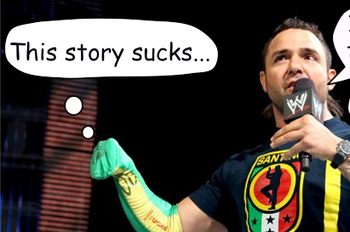 I would like to start things off by dedicating this installment of Worst of the Week to our good friend Triple H.
Where would we be as a society without Hunter and his classic storylines? How much richer are our lives for Katie Vick, DX vs. The Spirit Squad and his life-affirming matches against Scott Steiner?
I don't even want to think about it.
WWE is trying to get us to believe that Hunter is retired. Apparently he hasn't already been the past couple of years when he shows up once every six months...
Anyway, there were some things to get excited about this week, but some things that were slightly questionable. Although for those who like sock puppets coming to life, this may be their favorite WWE week ever.
In the spirit of Hunter Hearst Helmsley, where ever he may be (probably the gym?) this is WWE's Top 5 Worst of the Week for August 19th - 25th.
No. 5: Sheamus the Tattle Tale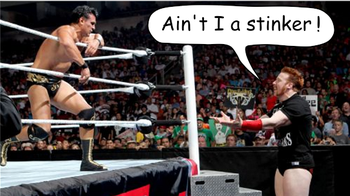 What Sheamus did on Monday just made him look like a smarmy jerk.
The thing is, Alberto Del Rio had a legitimate gripe. He was screwed over in his match the previous night at SummerSlam.
Who wouldn't be upset?
Not only did Smilin' Sheamus gloat about that he got away with the crime right in Del Rio's face, but he pointed out to the ref later that night that Orton's foot was on the rope.
What a hypocrite!
Sadly for the fans, this feud just keeps on going. Granted, it was pretty awesome seeing Del Rio beat Orton cleanly on Smackdown, but that just means we get to see another pay-per-view match between Del Rio and Sheamus.
Also annoying is how Sheamus keeps calling Del Rio, "Bertie." I'm sorry Sheamus, it's just not funny.
No. 4: Divas Battle Royal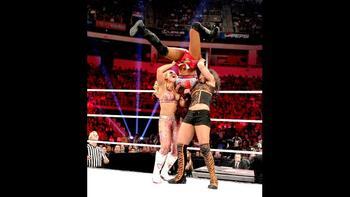 photo from wwe.com
Holy crap was this match bad!
Things were off to a suspicious start when two of the participants advertised for the match didn't actually show up.
Kelly Kelly and Beth Phoenix must have known better than to be in this stinkfest.
Battle Royals seem like they should be the easiest match to perform. Just exchange punches and eventually push someone out of the ring. Somehow they managed to make this look really difficult.
Not only did it start out bad, but it took Kaitlyn two attempts to knock Eve out for the finish.
It looks like Layla may be turning heel which would be good for her character, but that doesn't excuse the first day of wrestling training camp quality of this match.
At this point, it might be best if Sara Del Rey beats the entire division in a handicapped match, and then we can start all over from scratch.
No. 3: Hey, I Just Met You, but Don't Call Me Crazy!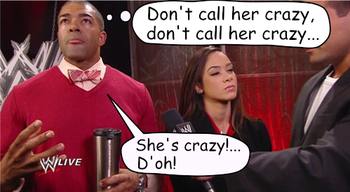 Oh man, what are the odds that someone accidentally would use the word "crazy" to describe AJ three weeks in a row?
That must be like a million to one, but amazingly it happened!
Hopefully WWE can come up with some more interesting things for AJ to do in her General Manager role than giving hand-picked opponents to wrestlers who insult her.
Unfortunately so far they haven't, but lucky for us, Big Show took his 1,242nd "surprise opponent match" (he's only 200 away from Kane's record now), and he beat up the heel David Otunga.
I'm a little confused. I mean, Ryback was in the building he could have done the squash match instead. That way it's at least babyface vs. heel.
Maybe it's best just not to think about, because WWE creative obviously didn't.
No. 2: Lesnar Meets Tout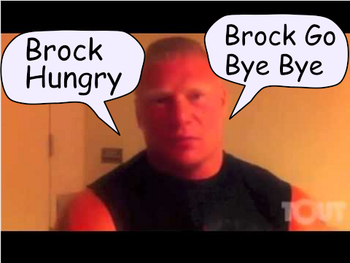 Brock Lesnar, one of the toughest men on the planet, would like to tell us he's quitting WWE...on a WWE funded social media application...in 15 seconds or less.
Triple H (who isn't actually leaving either) got a ridiculously over-dramatic video where Shawn Michaels "got real." The announcers played it up as a huge deal and fawned over The Game ad nauseam.
Lesnar gets 15 seconds.
The storyline should have been about how destructive Lesnar is, not how sorry we should feel for HHH. This doesn't set up Brock for his next big match, it just keeps the focus on a 43-year-old semi-retired wrestler who has yet to let go of the spotlight.
Besides the ridiculousness of Brock Lesnar bothering to use Tout to tell the company he's quitting, this feels like we've just been there before.
Brock has already quit once since rejoining WWE. How many more times do we have to do this?
No. 1: The Cobra Becomes Self Aware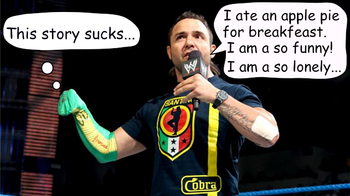 Ugh.
I could just leave it at that, since it perfectly encapsulates how stupid this was. But I'll try to go into a little more detail.
This is the type of story that may appeal to kids and get a chuckle out of them. But a chuckle from a child isn't worth the teenage and adult fans that will quit watching because of nonsense like this.
Try to explain to someone who doesn't watch wrestling about this story:
"Well, this guy Santino, he hits people in the throat, and for some reason it knocks them out...but anyway, before he does that, he puts a sock of a cartoon cobra over his hand, and apparently he thinks the sock is real. The cartoon sock has a mind of its own, and Santino can't control it. The cartoon sock also has a crush on a woman. The woman doesn't like the sock. So you want to split the cost of Night of Champions with me next month to see if the sock can beat up the five different languages guy? Hey, where are you going?"
Honestly, this is the most idiotic thing WWE has put on since...well, since Hornswoggle was revealed as the GM. Actually, that wasn't that long ago.
There's a lesson to be learned somewhere in there.
Agree? Disagree? Did I miss anything? Sound off below, and see you next week!
Keep Reading