10 Female Athletes and Their Comic Book Alter Egos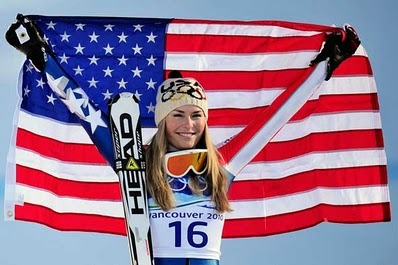 Lindsey Vonn
As a longtime fan and reader of comic books and graphic novels, my love of reading and writing stemmed from the four color gems of my youth. Legends such as Herge and Stan Lee were my first literary heroes. The great Belgian contributor to world popular culture, Herge proved that even the ordinary can be extraordinary.
In learning from Stan Lee's works, even the most powerful superheroes could still be sullen from real world problems such as financial, emotional or health. Although the superheroes could be defeated, humbled, and even killed in action, like a great athletic champion, they always find the will to come back.
Artists like Jack Kirby and Neal Adams are revered for giving readers an appreciation of the visual way of telling a story. In many ways, sports are a visual medium for telling a story.
With comic book characters becoming relevant in Hollywood and popular culture, everyone has an inner superhero. With the inception of Marvel Comics in 1961, their works were among the first to prove that the biggest hero could be you. Nowhere is this prevalent than in women's sports, where they may not be as well compensated as their male counterparts, but have become great role models and figures in popular culture.
Here's a look at some female athletes and the super heroes that they are comparable to.
Begin Slideshow

»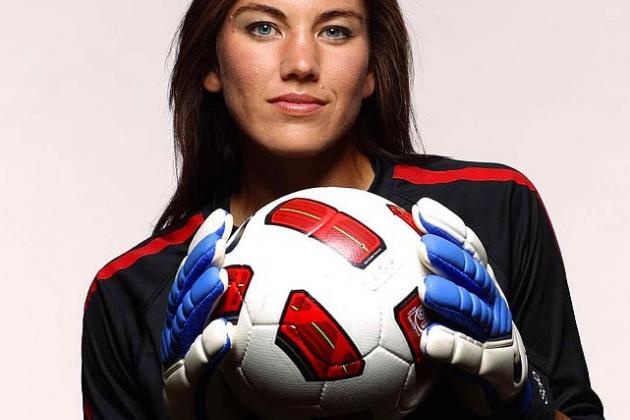 One of the most outspoken athletes in the world today, Hope Solo is adored, yet vilified simultaneously.
No one can dispute her track record as an elite athlete.
Gold medals at the 2008 and 2012 Summer Games, and a superlative performance at the 2011 FIFA World Cup captured the hearts and minds the world over.
Yet, there is the controversy of being booted off the 2007 World Cup, and the remarks about Brandi Chastain that have Solo blurring the lines of role model or malcontent.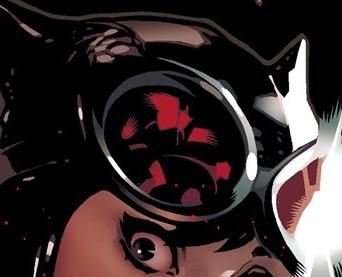 Drawn by Adam Hughes
In the Batman mythology, no character has ever walked the line between good and evil like the dreaded Catwoman.
Women's soccer has its own hero that walks that line: Hope Solo.
While Catwoman steals jewels and rare treasures, Solo steals goals from the opposition.
While both have a good girl/bad girl image that is a continuing balancing act, both have endured as fan favorites.
While the sex appeal of Catwoman has translated well on the big screen, Solo has radiated sex appeal while appearing in the pages of the 2012 ESPN Body Issue and the cover of Vogue and Fitness magazines.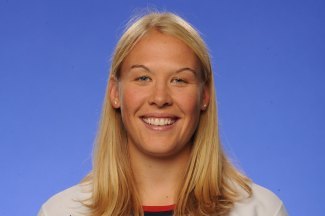 Photo courtesy of USA Hockey
A two-time member of the United States Olympic women's ice hockey team, Engstrom has quietly built a strong career.
Fundamentally sound, Engstrom learned her craft under Mark Johnson (a member of the USA Miracle on ice team) at the University of Wisconsin.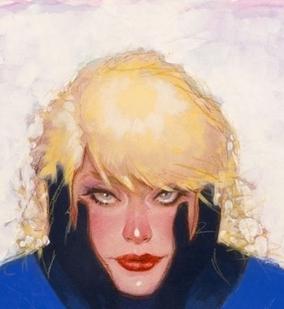 Drawn by Adam Hughes
The first female comic book character of the Marvel Comics era, the Invisible Woman (better known as Sue Storm) is the female mainstay of the Fantastic Four. While not the strongest or the fastest member of Marvel's signature super-team, the Invisible Woman is often ignored but has a staying power that makes her invaluable to her team.
Molly Engstrom of the Brampton Thunder in the CWHL (and a member of the United States National Women's hockey team) falls in the same category.
As the lone American-born player playing on a Canadian women's hockey team based in suburban Toronto, it would be easy for Engstrom to feel invisible.
Like the Invisible Woman, her stoic and quiet dignity makes her an asset to the team. An All-CWHL selection in the league's inaugural season, Engstrom has helped Brampton to two Clarkson Cup finals appearances, another person invaluable to her team.
Courtesy of Team USA.org
Having emerged as America's Sweetheart after the London 2012 Summer Games, the Colorado native is only entering her senior year in high school.
A four-time gold medalist, she set her first world record at the age of 16.
The FINA Swimmer of the Year in 2011, Franklin is poised to build on her record breaking body of work.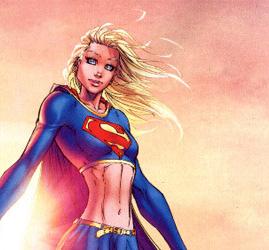 Drawn by Michael Turner
In her civilian disguise, she is simply the girl next door, but as Supergirl, she has the power to move mountains. The same can be said of Missy Franklin.
On the surface, the teenager from Colorado looks like just an ordinary high school student, but in the swimming pool, she is a world-class athlete that has the power to capture the hearts and minds of sports fans everywhere.
Her performance at London 2012 can be defined by one word: Super.
While this Supergirl will eventually become a Superwoman, it's Franklin's innocence and enthusiasm (like the Supergirl of the comic book mythos), that has made her so endearing.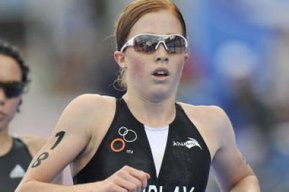 Photo by AP
Born in Edmonton, Alberta, Findlay won the 2007 PATCO Triathlon in her hometown.
In 2011, she won triathlon events in Sydney, Madrid and Kitzbühel.
Despite her record of success, she encountered unprecedented failure at London 2012.
Fighting back tears, she endured severe hip pain to finish last in the Summer Games triathlon. Having apologized to the media for her performance, her character is second to none.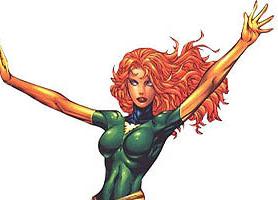 Art by Brandon Peterson
Like Findlay, Grey's long red hair is her signature trademark. In the world of the X-Men, Grey was the first female to join the super group.
Another creation by Stan Lee and Jack Kirby, Grey is a tragic figure, defined by death and love lost. Redesigned by Chris Claremont as the Phoenix, Grey comes back from the dead in the form of the all-powerful super being.
Findlay can relate to Grey's tragic events. A world champion in the triathlon, Findlay was a favorite to win the gold medal in the Triathlon at the 2012 London Summer Games.
Participating with a bad hip, Findlay would finish last in the event. Just like Jean Grey, Findlay experiences a painful, tragic loss. Once she recovers from her bad hip, Findlay should have the strength and tenacity to rise like the Phoenix and claim gold at Rio 2016.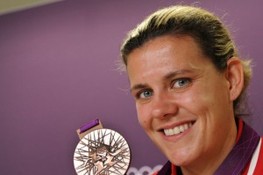 Photo courtesy of Toronto Star
Having played in the shadows of players such as Brazil's Marta and USA's Abby Wambach, the rest of the world has caught up to Christine Sinclair.
As the captain of the Canadian women's soccer team at the 2012 London Summer Games, she scored a Games' record six goals.
By leading Canada to a bronze medal in soccer, it was the first medal for Canada in a Summer Games team sport event since 1936.
Currently, she ranks second all-time in international goals with 143 (tied with active American player, Abby Wambach).
Image from Comicvine.com
In the original Alpha Flight mythos, Heather Hudson, widow of slain founder James MacDonald Hudson, dons her husband's costume and becomes the new leader of Alpha Flight, Canada's group of superheroes (created by Marvel Comics, and perfected by John Byrne).
Similar to the Canadian men's soccer team not being a world power, Sinclair assumes leadership of the women's soccer team and makes them a global force to be reckoned with.
Proudly wearing the Maple Leaf on her sweater (like Vindicator on her costume), Sinclair is the perfect Canadian super hero.
Considering that Canada did not live up to expectations at the 2011 FIFA World Cup, Sinclair's performance at the London 2012 Summer Games is of super-hero like status.
Her hat trick against Hope Solo in the visceral and controversial semi-final loss, and her contributions to Canada's bronze medal win in soccer has vindicated the Canadian soccer team.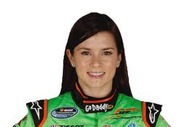 Photo from ESPN.com
One of the greatest women to get behind the steering wheel, Danica Patrick is more than a race car driver, she is a role model and a hero.
With multiple appearances at the Indianapolis 500 under her belt, Patrick has maintained a superlative level of consistency in a career that requires nerves of steel.
The first ever woman to hold a lead in the history of the Indianapolis 500, Patrick is looking for a NASCAR win to add to her impressive list of accolades.
Created in 1941, Wonder Woman is still an icon in the realm of superheroes, feminism and popular culture.
Racing for nearly a decade, Patrick also knows what it's like to be so good for so long. Both are symbols of consistency and quality, while still inspiring new generations.
While Wonder Woman uses her lasso of truth, Patrick's accessory of choice is a racing car.
A living legend herself, Patrick is a great symbol of the power of women in sport. When at the top of her game, Patrick seems to possess Wonder Woman's powers of super-speed, super-stamina and super-agility.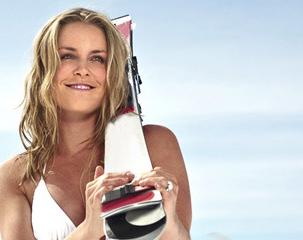 Photo courtesy of Sports Illustrated
The alpine ski racer and world-record holder made her World Cup debut at the age of 16. Making her Winter Games debut at Salt Lake 2002, Vonn finished an impressive sixth.
In 2012, she cemented her legacy as one of the finest ever by joining the All-Event Winners Club, in which a skier wins races in all five World Cup alpine skiing disciplines during their career.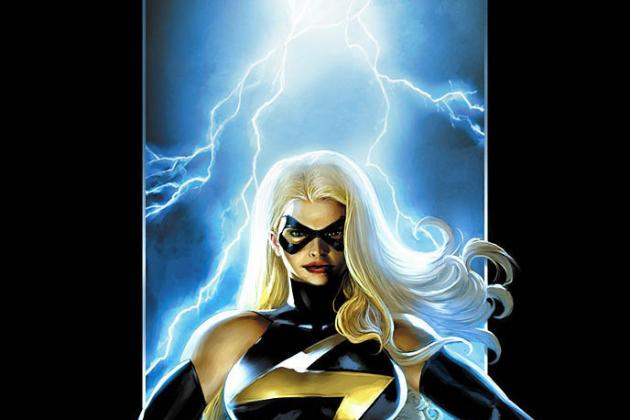 Artwork by JPRart
In the wake of the feminist movement of the late 1970s and early 1980s, Marvel Comics replied by featuring more female superheroes. Characters such as Ms. Marvel, Spider-Woman and She-Hulk graced the covers of comic books on the newsstands.
Of all these new creations, none endured more changes than Ms. Marvel. Also known as Ace, Binary, Captain Marvel and Warbird, the blonde-haired character has taken on many different roles.
The same could be true of Lindsey Vonn.
A world class athlete, Vonn has occupied many other roles: Winter Games gold medalist, model, sex symbol, actress, a commercial spokesperson, and more importantly, a role model.
Like Ms. Marvel, Vonn seems like she can do it all.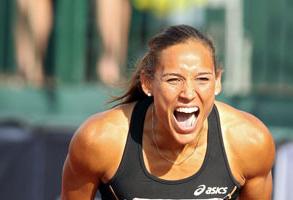 Specializing the 60-meter and 100-meter hurdles, Jones was one of the favorites to claim gold at the London 2012 Summer Games.
After a heartbreaking fourth-place finish, Jones became the subject of many criticisms. One newspaper article used harsh words like vixen and virgin.
Through it all, Jones has maintained a quiet dignity, the mark of a true hero.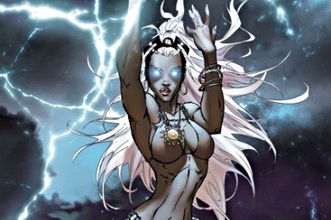 Image from Marvel.com
When the X-Men were recreated in 1975, Chris Claremont and Dave Cockrum provided the all-new, all-different X-Men with an African superhero Ororo Munroe, better known as Storm.
Tall, glamorous, and yet complicated, Storm would become one of the mainstays of the group in the 1980s and beyond.
Like Storm, Lolo Jones has her own complications.
Despite being a world class athlete, the breathtaking Jones suffered painful losses at the 2008 and 2012 Summer Games, while her personal life became near tabloid fodder.
In the X-Men mythos of the mid-1980s, Storm loses her powers and questions her worth to the group. With unfair criticism unleashed by the media after her fourth place finish in London, Jones is forced to contemplate her own value as an athlete and role model.
Since returning home from London, Jones is given a hero's welcome, a message that she will be a mainstay for the US Olympic Team for Rio 2016.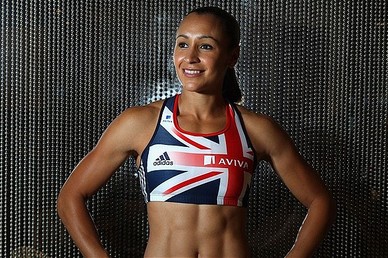 Courtesy of Getty Images
A gold medalist at the London 2012 Summer Games in heptathlon, Ennis became a national hero.
Hailing from Sheffield, England, Ennis has also won gold in European, indoor and world championship levels.
Featured on the August 2012 issue of Cosmopolitan UK, she received an honorary degree from the University of Sheffield for her contribution to sport.
Courtesy of Marvel UK
While the character of Captain Britain was originally meant to be the British male version of Captain America, there was a brief time when a female occupied the role.
Ennis was the true British superhero at London 2012. As a gold medalist in the Heptathlon, Ennis had superhero abilities.
The heptathlon consists of seven disciplines: 100 meter hurdles, high jump, shot put, 200 meter race, long jump, javelin throw, and 800 meter run.
The gold medal victory by Ennis was seen by over 16 million Britons, some of the highest ratings of the Games.
During her gold medal victory, she was celebrated by another British hero, Sir Paul McCartney. The crowd, led by Sir Paul sang the classic "All you need is Love".
To top it off, she has also had an audience with Princes Harry and William, along with other British heroes Jamie Oliver, and David Beckham.
Just as Captain Britain is a national treasure in the realm of British superheroes, Ennis has become one to millions of British sports fans.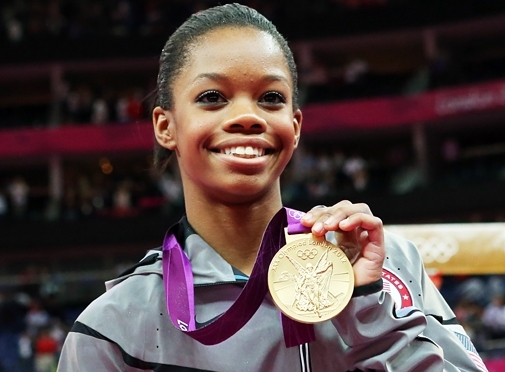 Courtesy of Rollingstone.com
As the first African-American athlete to claim the gold in all-around gymnastics, Douglas has already met the First Lady Michelle Obama and Princess Kate Middleton.
The true spirit of her championship heart stems from the fact that she excelled despite being bullied at a younger age.
In facing down the ultimate super-villian (the bully), Douglas persevered. Although there were times that Douglas wanted to move away because of the toll it had taken on her, she had the inner strength to continue. Her talent could not be hidden and her story is one that will capture the hearts and minds of millions of girls.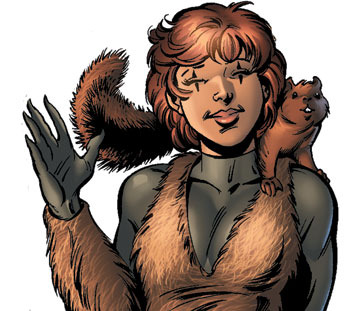 Art by Paul Pelletier
Created by comics legend Steve Ditko (the co-creator of Spider-Man) and Will Murray, Squirrel Girl is a Marvel Comics character that appeared in the Great Lakes Avengers.
Gabby Douglas is part of her own supergroup, the Fierce Five, which captured gold at London 2012.
Nicknamed the Flying Squirrel by USA Gymnastics co-ordinator Martha Karolyi, Gabby Douglas marveled fans at the London 2012 Summer Games.
This real life Squirrel Girl appeared on The Tonight Show with Jay Leno, while her image graced the cover of People Magazine, and Kellogg's Corn Flakes cereal boxes.