Redskins vs. Colts: Preseason Week 3 Live Score, Analysis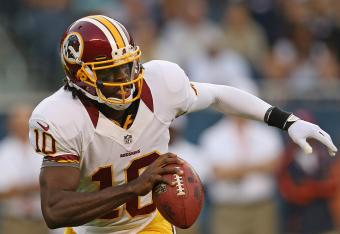 Jonathan Daniel/Getty Images
The most anticipated preseason game is upon us. Washington Redskins vs. Indianapolis Colts, Andrew Luck vs. Robert Griffin III, Mike Shanahan vs. the Peyton Manning-less Colts.
For the rest of their careers, Andrew Luck and RGIII will be forever linked. Luck being the first pick overall and Griffin shortly following him.
Luck was scouted as the best prospect to enter the NFL draft since John Elway. Griffin won the country over with his charismatic charm and outstanding play in his final season at Baylor.
We all know the story from here, Luck was the unanimous first pick of the draft and the Redskins essentially went "all-in" to acquire the second overall pick from the St. Louis Rams.
After Peyton Manning was the face of the franchise for over 15 years in Indianapolis, Colts fans said goodbye to No. 18 and welcomed a quarterback with equal or even higher potential.
The Colts are starting over with a new coach and defense, emphasizing youth while building the team around Andrew Luck.
The Redskins are in a similar process, as they will continue to change the culture around the franchise. However, they haven't had the same luck (no pun intended) the Colts had for over the past decade.
Griffin is a glimmer (a huge glimmer for that matter) of hope for the Redskins and their passionate fanbase. The team has fallen on hard times for over 20 years and RGIII now has the opportunity to reverse their fortune.
Of course, there are other aspects of this game that will draw significant interest to each respective fanbase. Can Chuck Pagano lead the Colts back to relevance? Can Mike Shanahan rekindle his winning ways?
But that's not what is getting national attention—RGIII vs. Luck.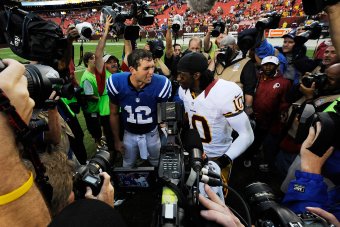 Patrick McDermott/Getty Images
No major injuries for either team. Redskins reserves Chris Baker and Kevin Barnes appeared to get injured, but nothing significant.
In a preseason game, that's a great scenario.
I also thought the replacement referees did a tremendous job. In comparison to their first couple weeks, they had better control of the game.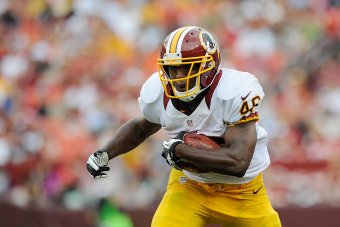 Patrick McDermott/Getty Images
A few Redskins that stood out:
Alfred Morris is an animal. He's no longer on the bubble. He's going to be making some contributions to this offense.
Trent Williams was dominant again, which will be needed all season.
Chris Wilson, Markus White and Rob Jackson all showed that they can get the job done with Brian Orakpo injured.
Barry Cofield was getting constant pressure on the quarterback.
A few concerns:
The Redskins defense last year had a problem with creating turnovers, they haven't been able to do it thus far in the preseason.
Madieu Williams and the safety play is a concern. Tanard Jackson was physical, but his pass defense remains a concern.
Anthony Armstrong didn't do anything bad, but didn't stick out. The veteran is going to need to do something more if he wants a job.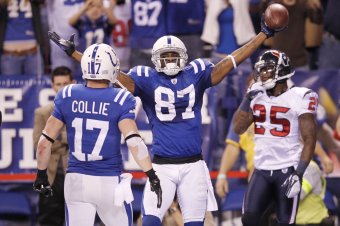 Joe Robbins/Getty Images
A few Colts that stood out:
Reggie Wayne has shown that he's still got "it". Griff Whalen plays the game how you were taught. Donnie Avery looked good in underneath routes.I liked Chandler Harnish too, thought he played given the circumstances.
A few concerns:
A rookie quarterback's best friend is a running game. The Colts offensive line was getting blown up by Washington's front seven. The secondary needs work in short to intermediate passes. They were able to go step for step with Pierre Garcon on the deep ball, but that was it.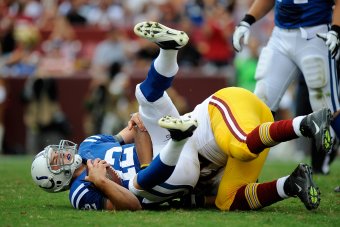 Patrick McDermott/Getty Images
Initial RGIII and Andrew Luck analysis:
Both looked really good. They didn't look amazing, but they managed their offenses effectively and both threw touchdown passes.
This year is going to be an adjustment for both of them, but I can see Andrew Luck struggling. That's not Luck's fault either. Right now, the Colts are not a good football team. They are in the initial phase of their rebuilding process.
That said, the Redskins aren't a good football team either, but they are entering their third year in Shanahan's scheme and their familiarity with the offense and defense is shown.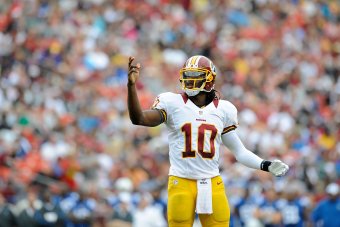 Patrick McDermott/Getty Images
That's it! Kirk Cousins will take a knee. Robert Griffin and Andrew Luck embracing at midfield. Redskins are victorious 30-17.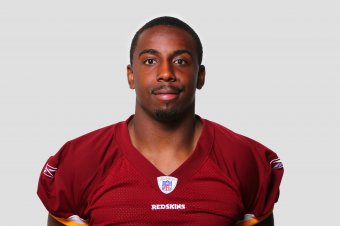 Handout/Getty Images
Colts turn the ball over on downs after a dropped pick six by Brandyn Thompson. 1:26 remaining.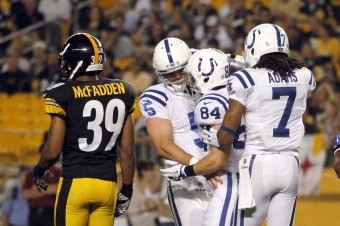 Justin K. Aller/Getty Images
And another hard hit, as Griff Whalen holds onto the catch after rookie Jordan Bernstine lays the wood. Very impressed with Whalen so far.
Two minute warning, Redskins winning 30-17.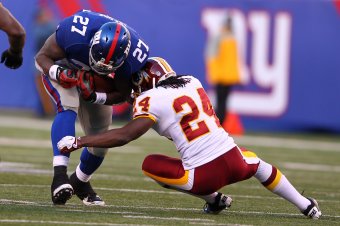 Al Bello/Getty Images
DeJon Gomes lights up Jabin Sambrano on the deep play. Gomes is flagged for a personal foul. Looks clean to me, but not surprised. When someone gets hit that hard, a flag is going to come out.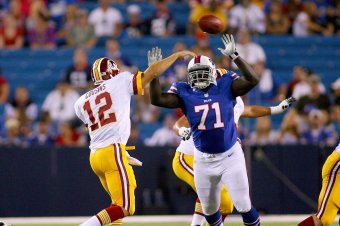 Rick Stewart/Getty Images
Three and out for Cousins. Rocca set to punt, 2:58 remaining in the game.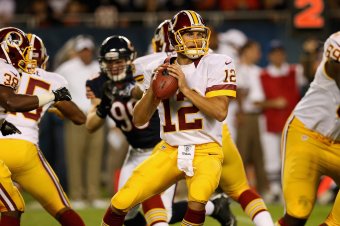 Jonathan Daniel/Getty Images
Kirk Cousins is now in the game for Rex Grossman. Cousins played the entire second half in last week's game against the Bears.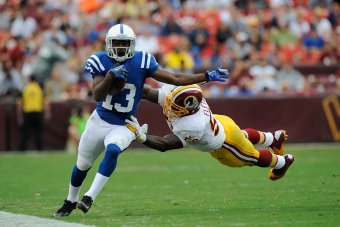 Patrick McDermott/Getty Images
Colts extra point is good, 30-17 Redskins leading.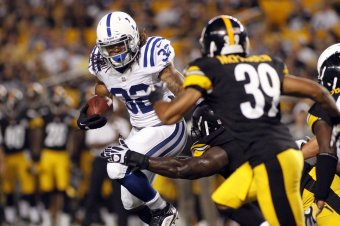 Justin K. Aller/Getty Images
Colts go for on it on 4th down and score. 2 yard touchdown run for Darren Evans. Redskins were playing the pass and were fooled by the Colts power run.
Play is being reviewed, but I don't see this is getting overturned.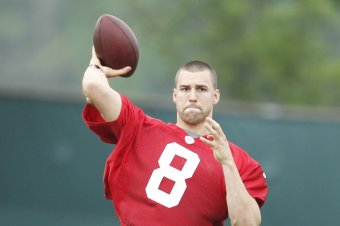 Joe Robbins/Getty Images
Chandler Harnish rolling to the right and breaks Richard Crawford's arm tackle for a first down. Again, Harnish continues to impress me.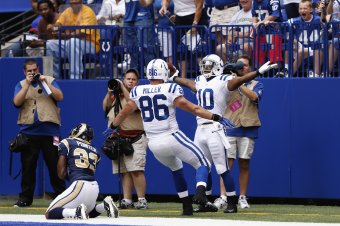 Joe Robbins/Getty Images
Chandler Harnish to Jeremy Ross for 59 yards, the longest play of the game so far. I've been impressed with Harnish so far.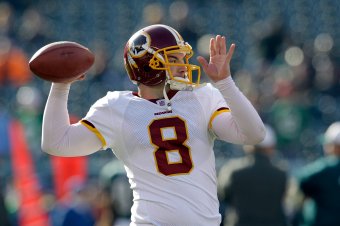 Rob Carr/Getty Images
Ladies and gentleman, this is "Good Rex". Don't worry, "Bad Rex" will be here shortly. 13 yard touchdown pass to Dezmon Briscoe. 30-10 Redskins leading over the Colts.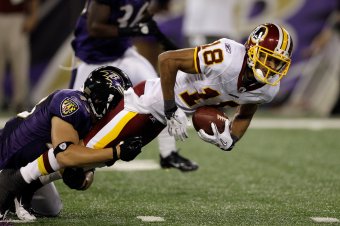 Rob Carr/Getty Images
Diving grab for Terrence Austin for a first down. Redskins driving at the Colts 13 yard line.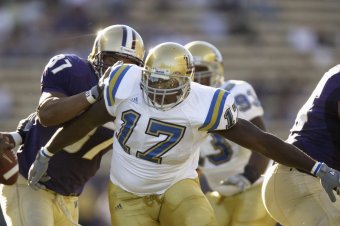 Otto Greule Jr/Getty Images
Colts OLB Justin Hickman gets a ridiculous personal foul call. He tapped Grossman's helmet, anyways, Redskins benefit.
On the next play, Grossman goes deep to Dezmon Briscoe. Gain of 38.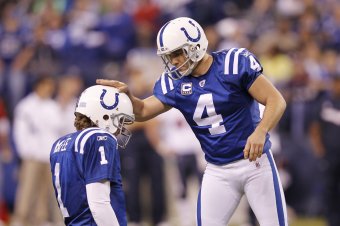 Joe Robbins/Getty Images
Redskins nose tackle Chris Baker has hobbled off the field, the Baker has been a highlight of training camp thus.
As I expected, Karim's fumble has been overturned, the Colts retain possession. Adam Vinatieri makes a field goal. Score is now 23-10 Redskins.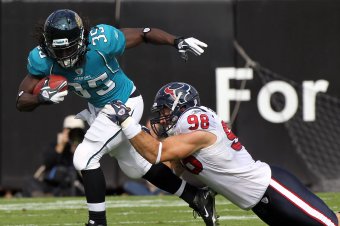 Sam Greenwood/Getty Images
Deji Karim fumbles at the 10 yard line. Redskins recover, the call appears questionable, however.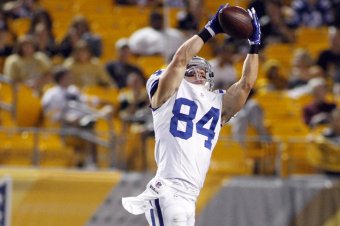 Justin K. Aller/Getty Images
Colts complete a pass to rookie free agent Griff Whalen, they are at the Redskins 20 yard line. Whalen has been targeted on numerous occasions thus far.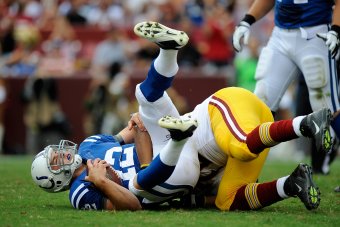 Patrick McDermott/Getty Images
End of the 3rd quarter: 23-7 Redskins, but Colts are driving near field goal position.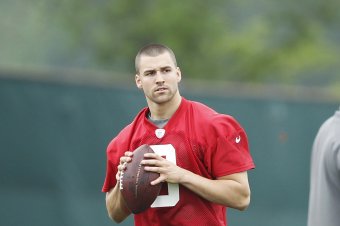 Joe Robbins/Getty Images
Chandler Harnish with his nicest throw of the day to Brazill for a first down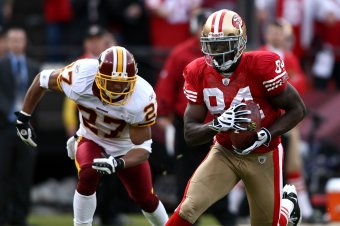 Jonathan Ferrey/Getty Images
Touchdown Washington Redskins. Josh Morgan with a 13-yard touchdown catch. 23-7 Redskins.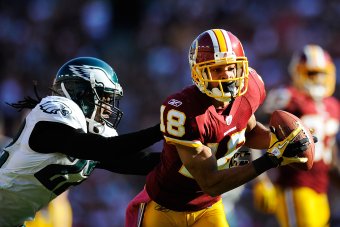 Patrick McDermott/Getty Images
Rex Grossman showing his experience against a young Colts defense. First down completions to Terrence Austin and Anthony Armstrong, all three very familiar with the offense.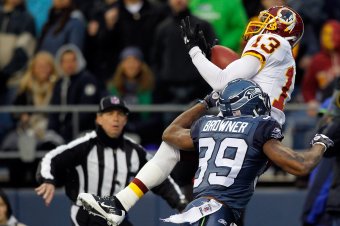 Jonathan Ferrey/Getty Images
Anthony Armstrong sighting. A reception after a playaction fake from Rex Grossman, a staple out of their offense.
This article is
What is the duplicate article?
Why is this article offensive?
Where is this article plagiarized from?
Why is this article poorly edited?

Washington Redskins: Like this team?