Boston Red Sox: Evaluating Players Coming in Mega Trade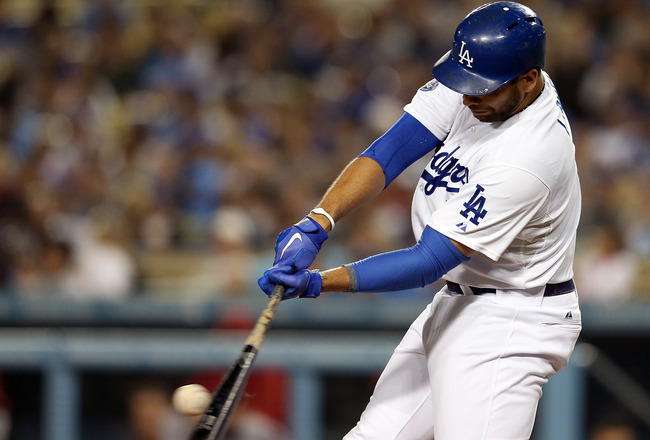 James Loney will now have an opportunity to make an impact at first base every day before becoming a free agent in the offseason.
Josh Hedges/Getty Images
Well, it's now official.
Now confirmed by USA Today and several other media outlets, the Boston Red Sox have completed a monster trade with the Los Angeles Dodgers that will send Adrian Gonzalez, Carl Crawford, Josh Beckett, and Nick Punto to LA in exchange for James Loney and four prospects.
In a deal first reported by Gordon Edes of ESPN Boston, Boston will be shipping off four of their top players to the very aggressive Dodgers' ownership in exchange for Loney, prospects and $260 million in salary relief.
For the Red Sox, this is an active pursuit for GM Ben Cherington to rid the Red Sox of some of the worst contracts in franchise history, as well as to build the farm system. As for the Dodgers, this is a crowd pleasing move that will potentially help the Dodgers make a serious championship run.
However, what I am here to evaluate is what exactly the Boston Red Sox received in return and what the potential value is to the organization. While Boston did not walk away with potential ace Zach Lee, the Red Sox did walk away with some potential value for the upcoming years.
Regardless, this is an exciting time for Boston as the rebuilding process has officially begun. Let's take a gander at the newest members of the Red Sox organization.
(All stats are accredited to Baseball-Reference)
James Loney
Victor Decolongon/Getty Images
It seems as though the once "untouchable" first baseman Loney has had a frustrating season for the Dodgers this season. Playing only 114 games, Loney has been sub par with several career lows, including a .254 batting average with an OPS of .646.
The 28-year-old first baseman is also going to be a free agent following this season, which validates that he is merely a short term option for the Red Sox, unless he really proves he is worth a contract beyond 2012.
While Loney is clearly not in the long term plans in Boston—unless he goes on a massive tear—he's formidable enough to hold the position for the last month of the season. He's simply being traded so Boston fans no longer have to endure the Mauro Gomez as a primary first baseman option for this team.
For Loney, this is a great deal, as he has a fresh start and is going to be given the opportunity to prove his worth to potential suitors in the offseason. Fenway Park may suit him far better than Dodgers Stadium, so a boost in offensive stats is almost inevitable.
Still, Loney is an average first baseman who is set to prove he can contribute to a team beyond this season. He's no Adrian Gonzalez by any stretch of the imagination, but he's simply good enough.
Potential Value: C
Ivan DeJesus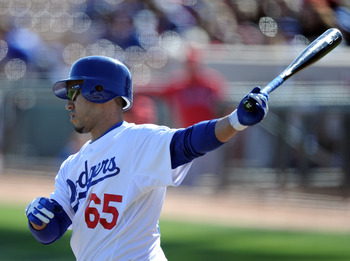 Harry How/Getty Images
Once considered the future of the Dodgers infield, this second-generation baseball player has seen a considerable drop since he suffered a broken leg almost three years ago.
Before this injury, DeJesus was projected to be a mainstay on the Dodgers roster as a starting shortstop, but the injury has taken a considerable toll on his career as a whole.
According to True Blue LA's scouting report on DeJesus, his range in the infield, as well as his character have been noticeable issues seen in his development. His offense is limited, despite putting up very solid numbers in his short stint with the Dodgers this season, hitting .273.
Where DeJesus does thrive is his versatility. Similar to Nick Punto's former role in Boston, DeJesus can play several infield positions and will get some playing time potentially in Boston because of his ability to play so many positions.
It seems as though the Dodgers gave up on DeJesus as the future of their organization, as he can not put all of his potential together. Undoubtedly, he's the least likable of the package in this nine player deal. DeJesus doesn't seem to be much of an impact player.
He continues to hit well in the friendly PCL league with a .295 batting average, yet he still has several flaws that prevent him from meeting his prior potential. A fresh start may be good for DeJesus, but do not expect him to be all that special upon his arrival.
Potential Value: C+
Jerry Sands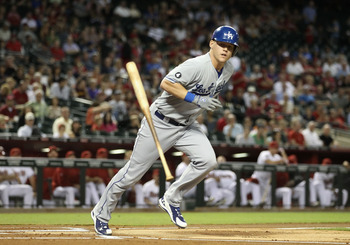 Christian Petersen/Getty Images
The 24-year-old outfielder Jerry Sands has always battled translating minor league success to the big leagues.
In 2011, there were many indications that Sands was going to be a primary outfielder for the Dodgers, yet he was never able to get things together at the plate. In 61 games in 2011, Sands hit only .254 with a .727 OPS.
Sands was once again sent down the minors to reevaluate himself and recreate his swing. All seemed to be very successful, as Sands had an incredibly impressive stint in the hitter friendly PCL league.
These numbers strongly suggest he can bring a formidable bat to the major leagues, despite the PCL being notoriously friendly to many hitters. They did not translate well once again in his minimal amount of games with the Dodgers this season, as he posted worse MLB numbers than 2011.
Yet once more, he is tearing the cover off the ball in AAA. He's also well-rounded with the glove, as he has yet to make an error for the big league ball club.
Sands simply just needs to re-adjust himself on the major league platform. Whether or not he can do that remains a big question, but he has the potential to fit very nicely in the Red Sox equation for the future. He has the upside to be a .260 hitter with a good power stroke.
Whether or not he can find himself is the question, but he is a nice addition to the farm system and is being bestowed a new opportunity in a hitter friendly ballpark.
Potential Value: B
Allen Webster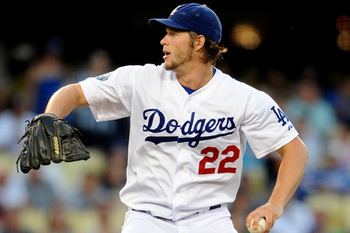 Regarded as the second best pitcher in the Dodgers' farm system, Allen Webster is a pitcher that Red Sox Nation can look forward to one day seeing take the mound at Fenway Park.
The 22-year-old pitcher is ranked #95 on Baseball America's top list of prospects, as well as #65 on MLB.com's list—and for good reason. Webster possesses the best changeup in the farm system and a very good curveball at his disposal.
This season in AA, Webster holds a 6-8 record with a 3.55 ERA in 121 innings pitched. While he doesn't have the ace value, Webster is undoubtedly of the Derek Lowe-like middle-of-the-rotation innings-eater mold. Webster also has a 1.45 WHIP and is a ground-ball pitcher.
Out of the bunch, Webster is someone who really seems destined to see some success at the major league level. While he does not carry the potential of Zach Lee, nor does he have the firepower of De La Rosa, Webster seems to be a very smart and tactical pitcher. He knows how to use what he has and use it effectively.
While he needs some tweaks in the minors, there is nothing that sticks out as needing necessary improvement. He is a middle-of-the-rotation guy who could easily be pitching at Fenway in a matter of years. His value is high and he is worth watching in the Red Sox farm system.
Potential Value: B+
Rubby De La Rosa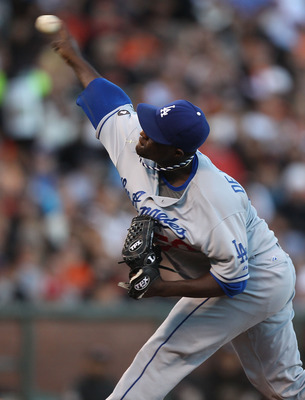 Jed Jacobsohn/Getty Images
Rubby De La Rosa was without a doubt the centerpiece of this trade equation for the Red Sox.
Despite coming off Tommy John surgery, De La Rosa has shown signs of sheer dominance in the minor leagues. Clocking in at triple digits at times, De La Rosa has a cannon for an arm and has all the potential to be a solid number-two or three starting pitcher in the rotation. He is arguably the third best pitching prospect in the Dodgers system.
He holds a minor league career ERA of 2.75 with a 1.23 career WHIP, including his time in the DSL. As a member of the Dodgers minor league system, De La Rosa had a great 2010 campaign, as he went 7-2 with a 2.37 ERA.
Even after his surgery, scouts have been very impressed with his stuff on the mound, which has once again proven to be legitimate in the minors. In four games since his return, he has a WHIP of .67 with 12 strikeouts in 12 innings pitched. There is a lot to look forward to in his development.
While he does still need to work out a few things, including some pitch mechanics, De La Rosa seems healthy and has all the potential in the world to be an asset for years to come. Some may question if he will ever see the success he would have if he didn't face this injury, but De La Rosa is a gem.
He's not the ace that Lee is in the Dodgers farm system, but he will easily find success sooner rather than later for the Red Sox in the coming years.
Potential Value: B+
Keep Reading

Boston Red Sox: Like this team?