Why the NFL Desperately Needs to Address Preseason Ticket Prices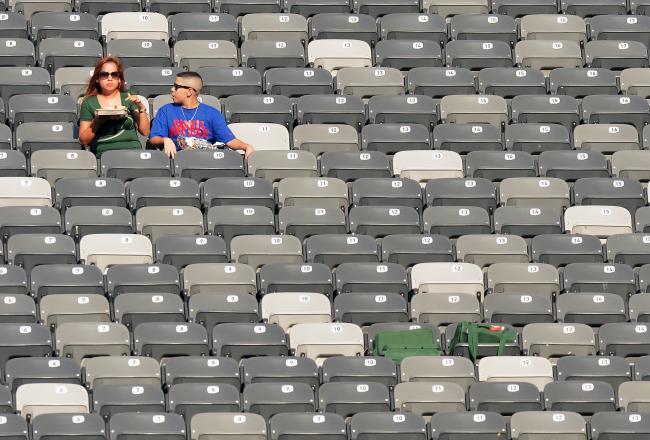 Drew Hallowell/Getty Images
One of the hottest issues in sports today is NFL teams continuing to charge full price for their preseason games. These games are widely viewed as a glorified scrimmage. Fans are lucky to see their team's best players for half the game usually. It's apparent that the main goal for teams is to evaluate their backups and not get their starters hurt.
NFL stadiums have no energy during a preseason game. Fans don't want to be there and they're there watching players that don't want to be there, either. The broadcasts are usually slightly better production value than a late-night Cinemax movie. This season, the officiating has been so bad, I've found myself craving the sight of Ed Hochuli and his massive pythons.
So how does the NFL fix this problem? Well, it starts there. The NFL doesn't see this as a problem. They are making money for an inferior product and season-ticket holders don't have an option whether they want to buy these tickets or not. If the NFL charged less for the preseason games, then teams would simply raise the price of the regular-season games. It's sad but true.
What the NFL should do is give fans an incentive to offset their investment. What would help season-ticket holders feel better about paying full price for preseason games? Here are some thoughts:
- Have an all-you-can-eat buffet for season-ticket holders in the stadium before kickoff.
- Meet/greet with former players of the team to sign autographs.
- A concert after the game.
- Team giveaways to fans during the game.
Honestly, it would be stupid for the NFL to change their preseason ticket prices. Think about it. They have the most desirable product in sports and even though fans complain, they will pay it. Season-ticket holders don't want to lose their tickets, so they begrudgingly attend the games or give them away to friends.
My only real solution to this problem would be to reduce the preseason from four games to two, which would obviously increase the regular season to 18 games. This, unfortunately, opens up an entirely different can of worms, but it's really the only way to eliminate the fact that NFL fans are paying full price for an inferior product.
If the NFL wants to stay on the top of the sports world, they need to focus more on the concerns of their fans and less about stuffing their pockets. Fixing the preseason is key, but don't be surprised if the league continues to ignore the problem and force fans to continue paying full price for these glorified scrimmages.
This article is
What is the duplicate article?
Why is this article offensive?
Where is this article plagiarized from?
Why is this article poorly edited?