Dallas Cowboys: 3 Keys to the Season Revealed in Cowboys-Rams Game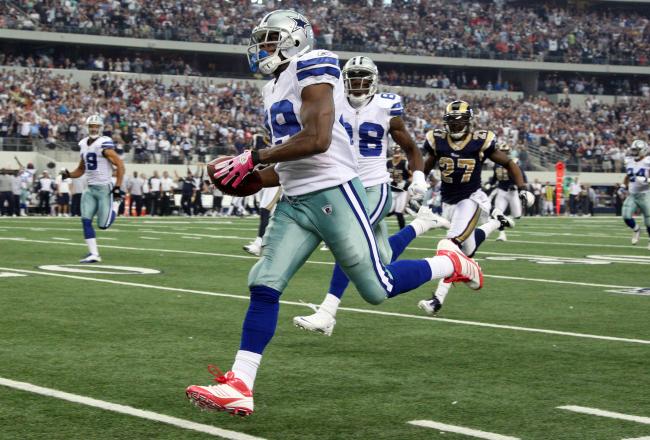 Layne Murdoch/Getty Images
The Dallas Cowboys destroyed the St. Louis Rams in 2011 due to the running of DeMarco Murray, who broke out for 253 yards. But in this preseason game we realized that there will be three keys to the 2012 season that have little to do with running the ball.
DeMarco Murray's running efficiency will, of course, be very important to Dallas this season, but that's a given.
There are three intangibles at the heart of what it takes to be a championship-level team in the NFL.
It's easy to put together a tidy little article full of stats simply by visiting any of the major stats web sites. But anyone who has witnessed the Cowboys play division games in the past few years knows that the stats have little predictive value in those contests.
Dallas nearly lost to the Redskins twice last year. The Redskins actually swept the Giants during their championship season. And the Eagles are as unpredictable as they are talented.
So yes, the Cowboys need to shore up the offensive line. As my son would say: Duh.
And yes, they need to improve their pass rush from guys not named DeMarcus Ware. Duh.
And of course, they must have a drastically improved secondary after all they invested. Duh.
But there are three qualities that the Cowboys need to have this year that have been missing in years past and that transcend statistics.
Intimidation/Toughness
Jason Garrett has spoken a fair amount about toughness this offseason, which is a good thing. For too long, the Cowboys have been thought of as a finesse team. No one is ever intimidated by a finesse team. They may worry about being beaten by their skill players, but they aren't physically intimidated.
Yet, when you look at the defenses of the Giants, 49ers and Eagles, you see that they have an edge from the moment they go out on the field. Opposing teams know what they are in for. It's going to be a brutal, hard hitting game.
Dallas needs to get that reputation back.
Killer Instinct
The Patriots and the Saints come to mind. They may be up by three touchdowns late in the third quarter, but they're still as hungry to get into the end zone as they were on the opening drive. And they have the sense of urgency to go with it.
These teams want to bury you. It isn't so much about humiliating their opponents as it is about executing the offense to perfection and executing the opposition like it was a paid hit.
If Dallas manages to shore up its offensive line, which is still a big if despite recent progress, it will have a chance to be a high scoring offense. But that in itself wont be enough. Garrett and Romo and company need to go for the throat when they have a lead in the second half.
The same goes for Rob Ryan. He needs to continue attacking throughout the game. 2012 may be the first season in over a decade when Dallas actually fields a ball-hawking secondary. As long as the defense stays aggressive for 60 minutes, it will have a chance to add to the ruthless mentality that Dallas desperately needs to adopt.
Swagger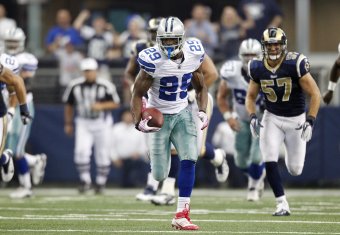 Layne Murdoch/Getty Images
I can still remember witnessing the transformation of Dallas' 1992 championship team. Most pundits were aware that the team was improving, but many felt that it was still a year away. The first clue about its championship mentality that I saw was the swagger.
It had been so long since the Cowboys were good that I didn't fully understand what I was looking at.
In today's NFL, individual players will celebrate making a first down even when their team is loosing by three touchdowns. I call that faux swagger. But back in the early 90s, things were different. You didn't see many sack dances or first-down signals. And when you did, it was usually only on teams that could back it up, so it meant something.
So when I started seeing Kenny Gant on special teams fly down and tackle the kick returner on the 12- yard line and then do his shark fin dance or when Michael Irvin started doing the first-down signal, it was like I was watching a different team.
As the season progressed, so did the swagger. It was clear that this team wasn't afraid of anyone.
That is what real swagger is all about—not being afraid of anyone and not just saying it to sideline reporters but showing it on the field—not just with dances and celebrations, but with an attitude that flows through everything they do.
True swagger is backed up by playmakers in every phase of the game. It's a powerful and contagious way of playing the game that leads to championships.
Statistics can tell you a lot about what a team has or has not accomplished in the past, but they don't tell the real story of championship football.
So as Dallas continues its preparations for the season opener, look for glimpses of intimidation, killer instinct and swagger. The team will need all of them on September 5 and throughout the season, if it is to return to the days of championship Cowboys football.
UPDATE: After watching the ones in this game, I think it's clear that they dominated a team they should dominate. I saw a team that was mostly business like. Didn't see the swagger so much, but had the game continued with just the ones playing the ones, that might have emerged. The other element: killer instinct, was in full effect on offense. I have little doubt that Dallas would have buried St. Louis.
This article is
What is the duplicate article?
Why is this article offensive?
Where is this article plagiarized from?
Why is this article poorly edited?

Dallas Cowboys: Like this team?