5 Strategic Changes the Boston Celtics Need to Make in 2012-13
Mike Zarrilli/Getty Images
When you don't win the NBA championship the previous year, chances are that there are some adjustments that need to be made to make sure you get to the promised land the next year.
Such is the case with the Boston Celtics, a team that was seven minutes away from reaching its third NBA Finals in five years in 2012, ultimately succumbing to the younger Miami Heat in that fateful Game 7.
Regardless, the fact that the Celtics were really that close to reaching the finals means that they are obviously not too far off, and it should only take a couple of minor kinks here and there for them to get where they want to be.
Let's break down five key things Boston needs to do in 2012-13 to get over that hump.
Doc Rivers Needs to Play His Rookies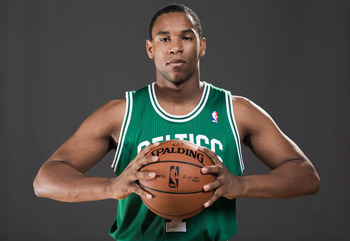 Nick Laham/Getty Images
Historically, Rivers has never been one to give his rookies much burn. However, it's been an awful long time since the Celtics have had a rookie as NBA-ready as Jared Sullinger, and it's also been quite a while since they have had a rookie with the sheer size of Fab Melo.
Both Sullinger and Melo can help remedy some of Boston's problems from last year, two of them being poor rebounding and a lack of size up front. Also, Sullinger will give the C's another low-post threat to put alongside of Kevin Garnett, and Melo will provide them with another defensive intimidator to help Garnett out on the other end.
The whole "Doc doesn't play rookies" thing might be a bit overblown, as it's not like the Celtics have been able to draft any NBA-ready players over the past several seasons as their record has simply been too good each year. However, this time around, Sullinger fell into their laps at No. 21, and they were then able to snag the seven-foot Melo with the next pick.
I'm sure Rivers will bend his "policy" a bit for the two young bigs.
Push the Tempo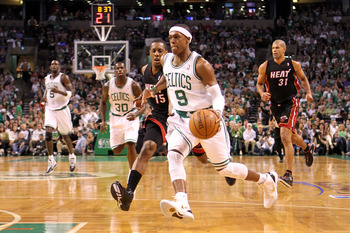 Jim Rogash/Getty Images
The Celtics have always been a team that has relied on their halfcourt offense to win games.
There is nothing wrong with that, as it is essentially a worldwide belief that consistently scoring out of the halfcourt set is how you win championships, but at the same time, you have to keep your opponent off-balance, and thanks to Danny Ainge's offseason moves, Boston now has the personnel to do that.
The C's brought Jason Terry and Courtney Lee aboard this summer, and they will also be getting Jeff Green and Chris Wilcox back from heart procedures. All four of those players can get out and run, and that should add a new dimension to what was at times a very stagnant Celtics offense in 2012.
Fortunately, Boston has one of the best point guards in the business in Rajon Rondo, and now that he has the right running mates, expect him to do plenty of damage in the open court.
Less Misdirections, More Post Play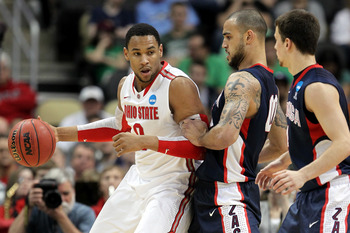 Gregory Shamus/Getty Images
Now that Ray Allen is gone, this might happen naturally (although they also run it quite a bit with Paul Pierce), but I really think the Celtics need to get away from their patented misdirection play.
To keep it short and simple, the misdirection is a way of getting your shooters open looks on the perimeter, generally involving a handoff, a screen, and then a pass to the player coming off the screen. Just watch this video if you want a visual. Given Allen's ability to hit the three, he was obviously a prime candidate for this little set.
Clearly, the misdirection is predicated on making outside shots, and you are not going to win titles by working off of jumpers. You need to be able to get the ball inside and run your offense primarily through the post, and with Sullinger now aboard, Garnett is not the only player Boston can do that with (and you'll read more about getting the ball to K.G. later on in this slideshow).
I'm not saying to abandon the misdirection entirely because it is a good way of getting guys good shots, but I would like to see the C's get the ball inside more this year, as they certainly have the players to make that successful.
Go Big Instead of Small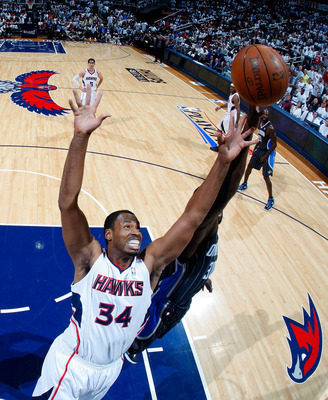 Kevin C. Cox/Getty Images
With Wilcox back in the fold, the draft selections of Sullinger and Melo, and the free agent signing of Jason Collins, the Celtics now have an opportunity to do something they didn't really get a chance to do this past postseason: go big.
Due to injuries, Boston was forced to play a lot of small ball in the playoffs, and that specifically hurt the C's on the glass. Sometimes, they would have a great defensive sequence and force their opponent into a bad shot only to see the opposition grab an offensive board and get a fresh shot clock.
Now, the Celtics have some more size to work with, and you can even include players like Green and second-round draft pick Kris Joseph in that conversation as well, as they both provide nice length at the small forward position behind Pierce. Instead of having the likes of Mickael Pietrus and Marquis Daniels to give Pierce a breather at the three, Boston now has two longer players.
Against teams with good big men, expect to see the C's employ a frontcourt featuring both Garnett and Collins simultaneously, as that is as good as you can get in terms of low post defense.
Run the Offense Through Kevin Garnett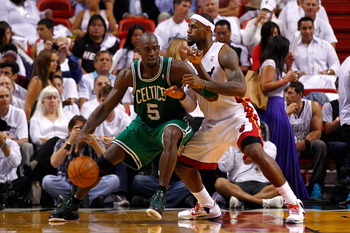 Mike Ehrmann/Getty Images
Ever since Garnett arrived in Boston in 2007, I have been saying that Rivers, as great of a coach as he is, has not utilized him enough. He has the advantage against nearly every player he matches up against, yet he still doesn't get touches consistently.
For the Celtics to win the championship this season, they have to make a concerted effort to get the ball to K.G., and I don't mean getting him the ball 17 feet away from the basket off of pick-and-rolls. I mean pounding the ball into him in the post so he can go to work.
Now I am not saying that the C's should do this constantly during the regular season, as the 36-year-old Garnett will wear down rather quickly if he keeps banging in the paint nearly every possession for 82 games. However, during big games throughout the regular season campaign (meaning games against the likes of divisional opponents and, of course, the Heat) and especially in the postseason, get the rock to the big man by any means necessary.
We all saw what K.G. did in the playoffs this past season when he was the recipient of passes into the post. He dominated, as teams simply do not have an answer for his brand of size, length and skill down low.
So, note to Doc: when in doubt, get the ball to Garnett. It has proven to work.
Keep Reading

Boston Celtics: Like this team?