Bears vs. Giants: 10 Things We Learned from New York's 20-17 Loss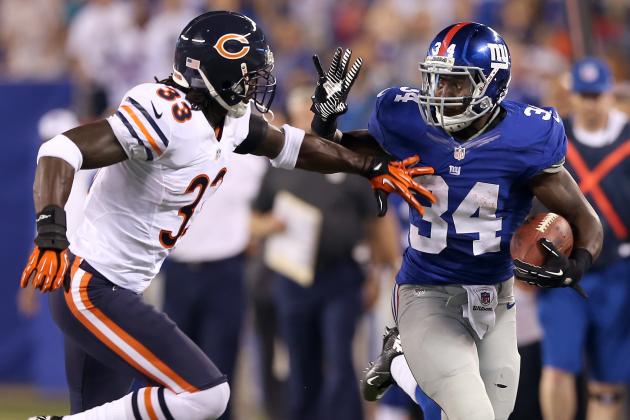 Elsa/Getty Images

The third preseason game always garners the most attention since the starters usually play deep into the second half, allowing the game to feel more like a regular season matchup. Out of the four preseason games each team plays, this is the game that fans, coaches and writers alike are able to draw the most conclusions from.
The Giants' Friday night tussle with the Chicago Bears was no exception. There were plenty of questions heading into the game, considering the amount of unproven players fighting for playing time or a spot on the roster. With Game 3 of the 2012 preseason now in the rearview, some of those uncertainties have grown a bit clearer.
So without further ado, let's dig in to what we saw Friday night. This article will list 10 things we learned from the Giants' preseason matchup with the Bears.
Begin Slideshow

»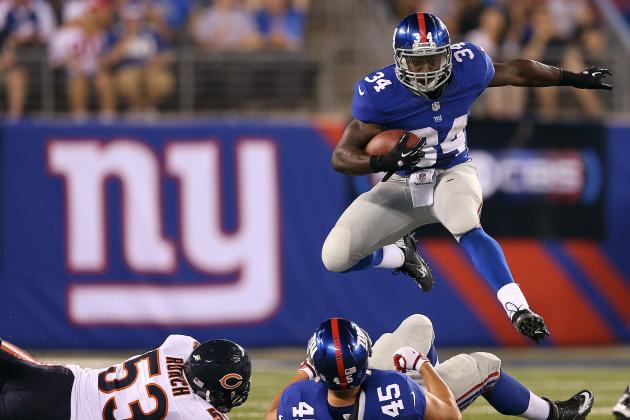 Elsa/Getty Images

With starting running back Ahmad Bradshaw nursing a hand contusion on the sideline, we knew that David Wilson was finally going to get his shot to run with the first team.
Wilson took advantage of the opportunity and was arguably the most exciting part of the Giants' preseason loss to the Bears. He provided the spark for the New York offense by displaying his quickness and bouncing off would-be tacklers early on.
He was only handed the ball five times, but he took those five carries for a total of 49 yards. That averages out to be a ridiculous 9.8 yards per carry. Wilson also caught two passes out of the backfield for a total of 26 yards.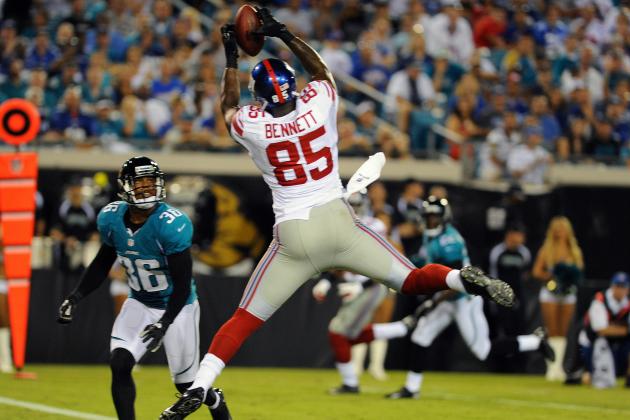 Al Messerschmidt/Getty Images

Tight end Martellus Bennett only caught three passes for 15 yards, but one of those catches was for a first down on a crucial third-and-seven.
With Travis Beckum still on the physically unable to perform list, the Giants need a pass-catching tight end to emerge from the pack. Both Bennett and Bear Pascoe are known to be solid run blockers, but neither have been prolific receivers in the past.
That all could change in 2012 if Eli Manning is able to develop some chemistry with Bennett. His massive frame will provide a large target for Manning, and his extensive reach will allow him to haul in any ball within his reach.
When opposing defenses shut down the Giants' top receivers, they will need a sure-handed threat to keep the chains moving. Bennett can become that third down option.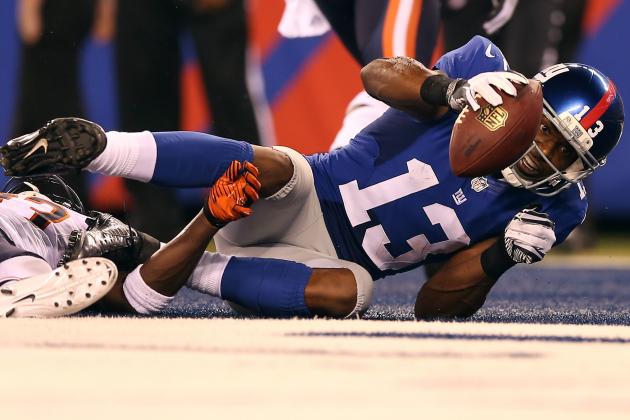 Elsa/Getty Images

Giants fans have been incredibly patient when it comes to former third-round pick Ramses Barden. From what we saw in the Bears game, Barden finally looks ready to live up to his draft day potential.
Barden led the team in receiving yards on Friday night with 46. He only caught three passes, but one of them went for Manning's only touchdown pass of the game.
What may have been the most impressive about Barden's performance was his play in the redzone. His inside slant faked out Pro Bowl cornerback Charles Tillman so badly that his touchdown grab was nearly uncontested.
On a later trip to the redzone, Barden beat Tillman on an outside fade route. That play did not go for a touchdown, but he did draw a pass interference call after beating Tillman cleanly once again. The penalty set up a one-yard touchdown run by Andre Brown.
Considering the fact that Barden is 6'6", I bet Manning could get used to having a target like that inside the 20-yard line.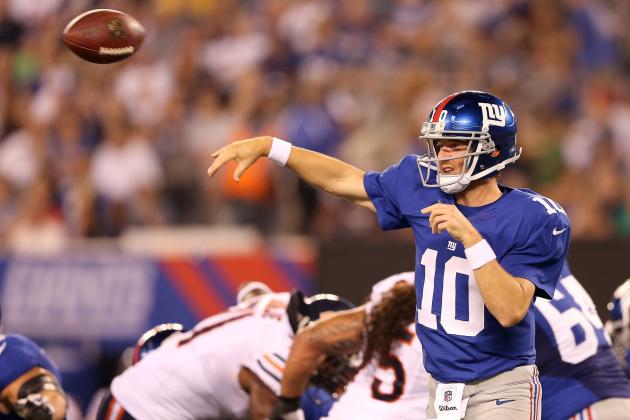 Elsa/Getty Images

Eli Manning isn't perfect, but he looked pretty close to it on Friday night against the Bears.
Manning only saw action for the first two quarters, but it was enough time for him to compile 148 yards on 21 attempts. Manning's 81 percent completion rate played a large part in his 111.9 passer rating. But most importantly, he connected with Barden for an 11-yard touchdown—Manning's first of the preseason.
Manning was able to do all of this without the team's top receiver, Hakeem Nicks. Right now, Nicks is working his way back from a broken foot, and he should be able to go by Week 1 against the Cowboys.
However, even if Nicks isn't 100 percent early on this season, the Giants seem to have an endless supply of receiving threats. Manning has no problem spreading the ball out to each of them.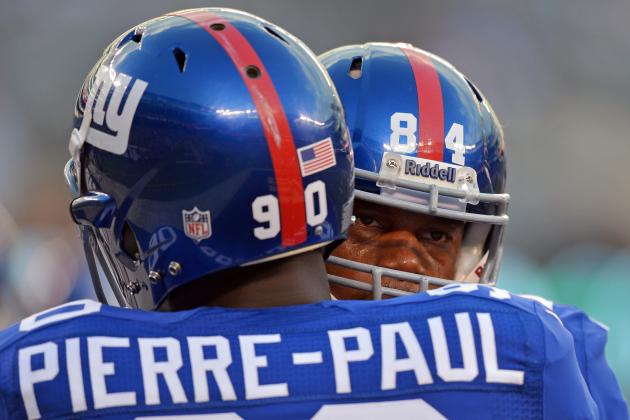 Drew Hallowell/Getty Images

Many fans are feeling uneasy about the back injury that forced Jason Pierre-Paul to sit out on Friday night, but the Giants showed that they could get the job done without him.
The Giants didn't bring down Cutler in the first half, but they did put a decent amount of pressure on him. In Pierre-Paul's absence, pass rushers like Osi Umenyiora and Justin Tuck got after Bears quarterback Jay Cutler just enough to force him into some hurried decisions.
Of course Pierre-Paul's presence would bolster the Giants' pass rush, but as of right now, his services would be like the icing on the cake.
The only player to bring down a Bears quarterback on Friday night was actually Adawale Ojomo, who also had two sacks against the Jets last week. Ojomo is quietly making a case for his insertion into the regular season defensive end rotation.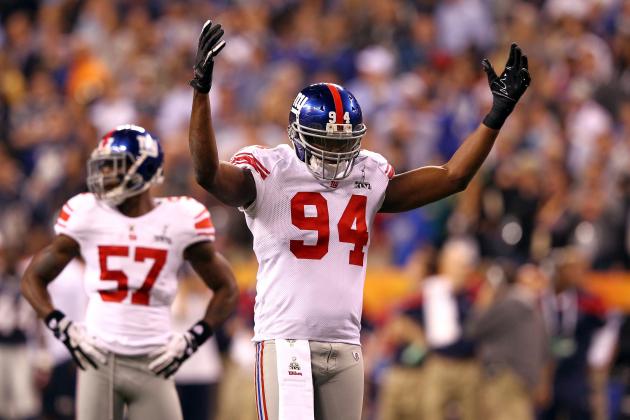 Al Bello/Getty Images

The Giants run defense ranked 19th in the league in 2011, but after their performance against the Bears, they appear to be much improved.
Bears running back Matt Forte was one of the top running backs in the league last year before a sprained MCL forced him to miss the last four games of the season. The Giants defense held Forte to four yards on eight carries—that's a stifling 0.5 yards per carry.
Granted, Forte is still working his way back from a pretty severe knee injury, but it shouldn't take away from the incredible job at completely bottling up a running back that was considered elite only a year ago.
Mathias Kiwanuka played a huge part in the stingy run defense. On two separate occasions, Kiwanuka sliced through the Bears offensive line and brought down the runner in the backfield.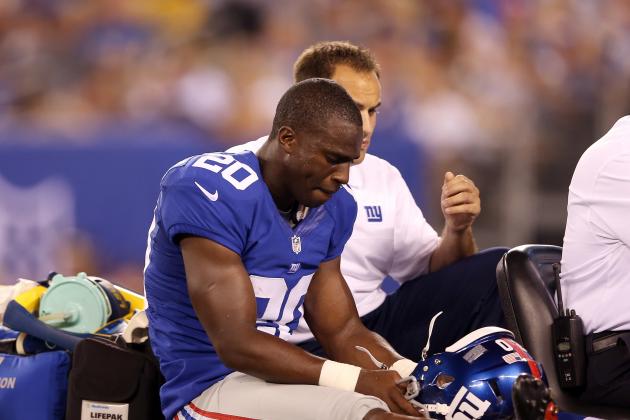 Elsa/Getty Images

The Giants suffered another injury at cornerback on Friday night. Last week versus the Jets, rookie Jayron Hosley suffered a turf toe injury after returning an interception 77 yards for a touchdown. This week it was second year corner Prince Amukamara, who sustained a high ankle sprain while bringing down Bears receiver Brandon Marshall.
Given the fact that Terrell Thomas is still sidelined with an ACL re-aggravation, the Giants have suddenly become dangerously thin at the cornerback position.
Cutler immediately exploited Bruce Johnson—who entered the game in relief of Amukamara—for a 21-yard touchdown strike to Marshall. If Amukamara's high ankle sprain lingers, the Giants defensive backfield might be in trouble.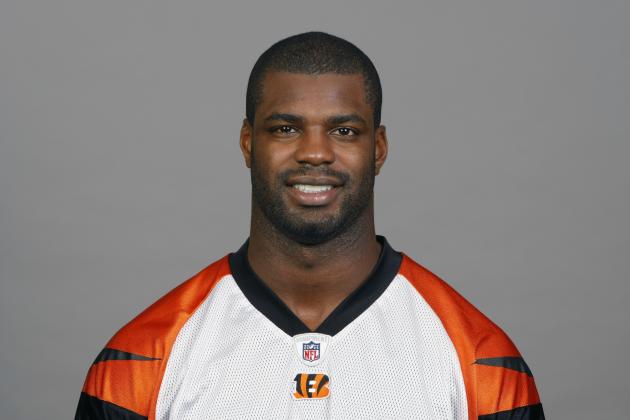 Handout/Getty Images

Michael Boley is the team's defensive leader; there's no doubt about that. He is an athletic linebacker that can do it all—rush the passer, drop into coverage and fill run gaps. But if Boley's hamstring injury holds him out of a couple games in 2011, Keith Rivers showed on Friday night that he could step in and contribute.
Rivers was acquired in a trade with the Bengals earlier this year. He was a top-10 draft choice in 2008, but he has never fully lived up to his potential coming out of college.
Perhaps his second chance with the Giants is enough motivation for him to make a difference on the field in 2012. Against the Bears, he led the team's starters in tackles with five. Rivers could end up playing a valuable part in the Giants defense this season.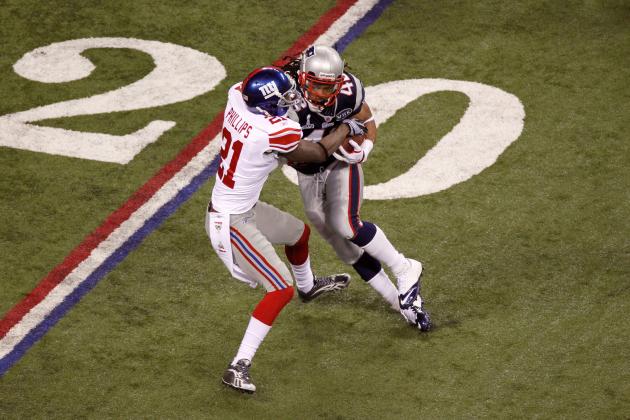 Gregory Shamus/Getty Images

We didn't hear Kenny Phillips' name called much versus the Bears, however, when it comes to defensive backs, that's usually a good thing.
Phillips, who is in his final year of his rookie contract, looks like he is playing for big money. He said a couple weeks ago that he would like to receive an expanded role that allows him to make more plays in the box like Ed Reed and Troy Polamalu.
Normally, Phillips plays centerfield, taking away the deep pass. He has proven that he can do that effectively, and after Friday night's game, it looks like he's ready to take on much, much more.
Phillips made four tackles in the first half of the game, most of them coming on running plays close to the line of scrimmage. The Giants need to lock the reliable safety up with a long-term contract. If they don't, someone else will.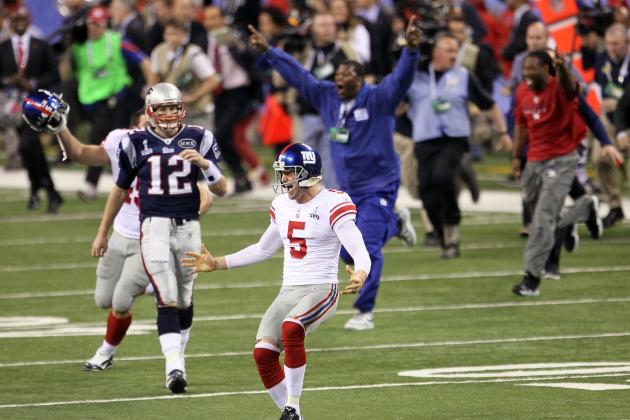 Jeff Gross/Getty Images

Punter Steve Weatherford was one of the Giants' most consistent players in 2011. His directional kicking and pinpoint accuracy helped him down plenty of punts inside the 20-yard line for the Giants last year.
But it looks like Weatherford has implemented an added dimension to his punting game—a dimension I like to call "The Boot."
That's right, Weatherford's leg looks stronger than ever. He maintained a 44.8-yard average on nine punts against the Bears. His longest punt was a booming 58-yarder, but he also hit a 43-yarder that was partially blocked.
It's nice to see that Weatherford is still finding ways to improve his game despite the fact that he's already one of the team's best players.