Duke Basketball: 10 Best 3-Point Shooters in Duke History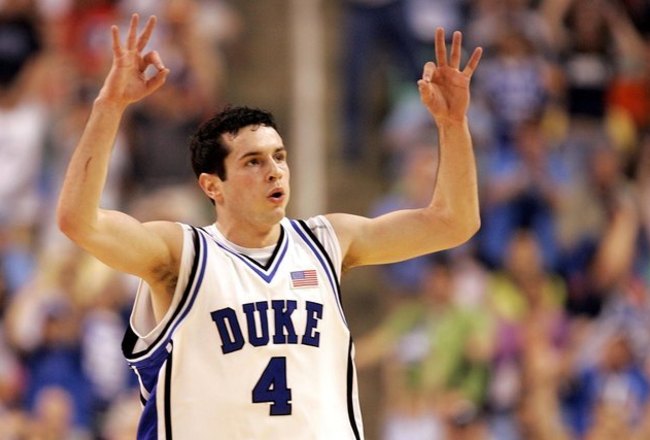 Streeter Lecka/Getty Images

Duke men's basketball coach Mike Krzyzewski wants his team to shoot three-pointers.
The Blue Devils have pulled the trigger on at least 700 shots from beyond the arc in four of the last five seasons.
In 2011-12, Duke led the ACC in three-point attempts (713), made three-pointers (268) and three-point percentage (37.6 percent).
With this being a priority in Coach K's offensive scheme, he annually recruits players who can stroke it from downtown.
Duke has had eight winners of the McDonald's All-American game three-point shooting contest:
Chris Collins (1992)
Trajan Langdon (1994)
Nate James (1996)
Shane Battier (1997)
Chris Duhon (2000)
J.J. Redick (2002)
Ryan Kelly (2009)
Rasheed Sulaimon (2012)
With talent like this, why wouldn't you want your teams to be ready to put it up from distance?
The following are the 10 all-time best three-point shooters in Duke's history.
Thank you to the Duke Athletic Department and their 2011-12 Duke Men's Basketball Media Guide for providing an endless supply of Blue Devil hoops' stats!
10. Jeff Capel (1994-97)

YouTube.com

Jeff Capel was a four-year starter for the Blue Devils.
He scored over 1,600 points, and he helped lead Duke to the 1994 NCAA Championship game as a freshman.
He launched 553 three-point shots (No. 9 all time), knocking down 220 (No. 8) for 39.8 percent (No. 9).
Capel hit one of the biggest shots in school history (see video) when he buried a running, buzzer-beater to send a classic game against arch-rival North Carolina into a second overtime.
9. Seth Curry (2010-Present)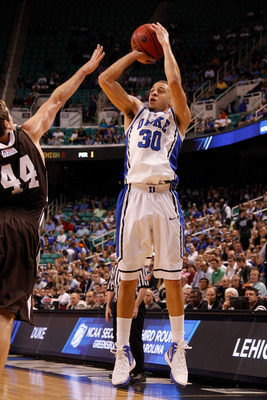 Mike Ehrmann/Getty Images
Seth Curry is a lethal shooter from distance with one year still to play in Durham.
He started his college career at Liberty, where he led all freshman in the country in scoring in 2008-09 at 20.2 points per game.
Even though he has had to play part-time PG in his two years as a Blue Devil, Curry has dropped in 128 three-pointers, making 40.8 percent of his shots from beyond the arc.
8. Christian Laettner (1989-92)

YouTube.com

Christian Laettner had one of the most storied collegiate basketball careers of all time.
He played in four consecutive Final Fours and helped lead the Blue Devils to two consecutive NCAA championships (1991, 1992).
He is Duke's No. 3 all-time scorer (2,460 pts), and he hit one of the biggest shots in NCAA tournament history (see video).
Though Laettner did most of his work inside the arc, he posted the school's top career three-point shooting percentage (at 48.5 percent), shooting 79-of-163.
As a senior, Laettner hit a ridiculous 55.7 percent from downtown.
Some may not have included Laettner on this list because of his limited number of attempts.
I, obviously, think differently.
7. Kyle Singler (2008-2011)

YouTube.com

Kyle Singler was an outstanding all-around player who finished his collegiate career as Duke's all-time leader in minutes played (4,887), No. 4 scorer (2,392 pts), No. 6 rebounder (1,015 rebs) and was a part of 125 Blue Devils' victories, second only behind Shane Battier.
Though he played both outside and inside at times, Singler had an awesome touch from beyond the arc.
The 6'8" forward dropped in 267 threes which is No. 5 on Duke's all-time made three-point list.
In his junior season, he helped the Blue Devils win the 2010 NCAA Championship, for which he was named the Final Four Most Outstanding Player.
Singler was not only a great long-distance shooter during normal games, he is also a master at basketball trick shots. If you have never seen the video, you will be amazed!
6. Bobby Hurley (1990-93)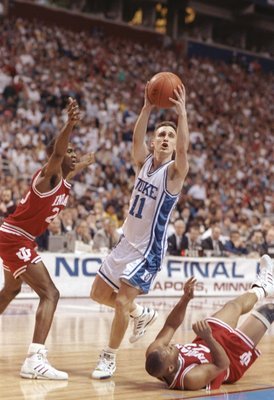 Jonathan Daniel/Getty Images
Bobby Hurley is the best point guard in Duke's history.
He is the NCAA all-time assists leader with 1,076.
He led the Blue Devils to back-to-back national championships in 1991 and 1992 and was named the Final Four Most Outstanding Player in 1992.
Known as the consummate playmaker, Hurley also had a sweet shooting touch that helped him connect on 264 threes in his collegiate career by shooting a feisty 40.5 percent.
5. Jon Scheyer (2007-10)

YouTube.com

Jon Scheyer was a player who could score points in bunches. Playing four years for the Blue Devils, he once scored 27 points coming off the bench for Coach K.
He finished up his collegiate career by scoring 2,077 points (No.10 in school history) and was Duke's leading scorer for the 2010 NCAA Championship team.
Always aggressive with the ball, the 6'5" SG is the Blue Devil's No. 3 all-time free-throw shooter (86.1 percent).
Scheyer knocked down 297 three-pointers, fourth-best Blue Devil ever.
Even before Scheyer arrived on campus in Durham, he was a prolific scorer. Watch the video that shows him scoring 21 points in 75 seconds of a game from his senior year in high school.
4. Shane Battier (1998-2001)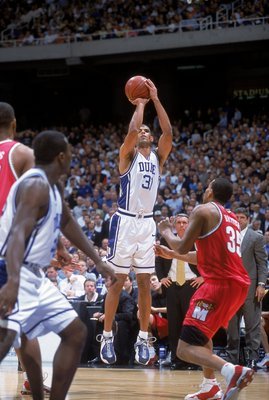 Craig Jones/Getty Images
Shane Battier is the NCAA's all-time winningest player,
He played a part in 131 victories (out of his 146 collegiate games)—that's an eye-popping 89.7 winning percentage.
Battier wasn't just on the court taking up space in those 131 wins.
Before we mention his offensive accomplishments, we need to start with the fact that Battier was National Defensive Player of the Year three times. Wow.
He was the king of taking charges (111; 48 charges more than Billy King who is No. 2). He has the second-most number of steals (266) in school history, and he grabbed 887 boards.
Oh, and by the way...Battier scored 1,984 points.
The 6'8" forward was a sharpshooter from distance. He hit 41.6 percent (246-of-592) of his shots from beyond the arc, good for No. 3 in school history.
Battier continues to light 'em up in the NBA, as you can see in this YouTube video.
Playing for the Miami Heat, he hit five threes in one game of this year's finals.
3. Jason Williams (2000-02)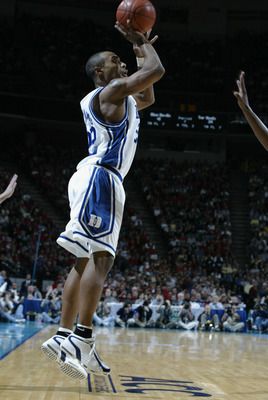 Craig Jones/Getty Images
Jason Williams packed a lot of collegiate hoops' accomplishments into three years at Duke.
As a freshman, he was named ACC Rookie of the Year and National Freshman of the Year by Sporting News.
As a sophomore, he was a consensus All-American selection. He broke the Blue Devils' single-season scoring record that had stood for 50 years (previously held by Dick Grote, since surpassed by J.J. Redick) on his way to leading Duke to the 2001 NCAA Championship.
In coming back for his junior season, Williams was named as the 2002 National Player of the Year.
Williams, a fierce penetrator who had no trouble getting to the rim, finished his fantastic three-year collegiate career as Duke's No. 3 three-point shooter (313 made shots), the No. 8 all-time scorer (2,079 points) and No. 10 in three-point percentage (39.3 percent).
2. Trajan Langdon (1995-99)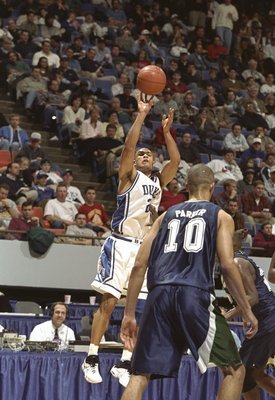 Todd Warshaw/Getty Images
Regardless of the type of shooting you are talking about, Trajan Langdon was one of the best pure shooters in Duke's history.
When Langdon (a.k.a. the Alaskan Assassin) finished his playing days at Duke, he had destroyed the previous three-point mark (at that time held by Bobby Hurley at 264), knocking down 342 shots from beyond the arc (since surpassed by J.J. Redick).
Still today, Langdon is the No. 2 three-point shooter in terms of percentage (342-of-802; 42.6 percent).
More than half (55 percent) of Langdon's 623 made FGs were buckets from downtown.
1. J.J. Redick (2003-2006)

YouTube.com

J.J. Redick is the best three-point shooter in Duke's history.
In fact, let's just say it...he's the Blue Devils' best shooter of all time—period.
He was named twice as ACC Player of the Year and twice as the National Player of the Year.
He is the school leader in FT percentage (91.2 percent; 662-of-726). He has the two longest made FT streaks (54 and 43).
Besides being the Blue Devils' all-time leading scorer (2,769 points), Redick is the leader in three-point attempts (1,126; 324 more than No. 2 Trajan Langdon) and made three-pointers (457; 115 more than No. 1 Langdon).
He is No. 5 in three-point percentage (40.6 percent).
In this era of short-terrm collegiate careers and one-and-done players, it's hard to imagine that Redick's shooting records will be broken any time soon.
Keep Reading

Duke Basketball: Like this team?