Which NFL Players Are Primed for Comeback Seasons in 2012?
Justin Edmonds/Getty Images
The 2012 NFL season is slowly inching toward opening kickoff, and it has quietly developed into having the best NFL Comeback Player of the Year race in league history.
According to NFL.com, for an NFL player to win the NFL Comeback Player of the Year Award, the candidates must show "perseverance in overcoming adversity, in the form of not being in the NFL the previous year, a severe injury, or simply poor performance."
Following these parameters, there are a plethora of big-name players that are eligible for the 2012 NFL Comeback Player of the Year award, and whoever comes out on top will have to have an elite year, and quite possibly one for the record books.
All of the players mentioned are primed for massively successful comeback seasons, but which one do you think will take home the award? Let's take a look at the candidates.
Jamaal Charles, Running Back, Kansas City Chiefs
Jeff Curry-US PRESSWIRE
Last season, Jamaal Charles was set to possibly compete for an MVP award and lead the Kansas City Chiefs into the postseason, which made sense after his 1,935-total-yard performance the year before.
Unfortunately for Charles, his 2011 campaign came to a screeching halt after tearing his ACL in the second game of the season.
After taking time to recover, Charles is ready to put up elite numbers once again. He told Tod Palmer of the Kansas City Star he feels like his old self:
My body hasn't taken any licks in 11 months, so I feel real good and ready to go...It was good just to be on the field again and running the ball again in a real live game.
This is good news for the Chiefs, and if Charles can stay healthy, he should make the Chiefs a contender in the AFC. While free-agent pickup Peyton Hills could steal some carries from Charles, a Comeback Player of the Year Award is not out of the question if he is back to form.
Eric Berry, Safety, Kansas City Chiefs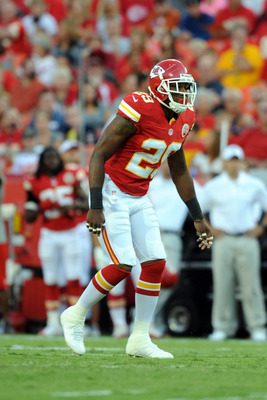 John Rieger-US PRESSWIRE
Not surprisingly, Eric Berry is another member of the Kansas City Chiefs fortunate (or is it unfortunate?) enough to grace this list, and he is not the last.
Berry emerged as arguably the best safety in football during his rookie season, as he recorded 92 tackles, two sacks and four interceptions. He quickly put the rest of the NFL on notice that a new elite player was residing in the AFC.
In Week 1 of last season Berry tore his ACL, which ended his season. The only good thing to come of the injury is that by the time the NFL kicks off in 2012 he will have had an entire year to recover.
Berry is healthy, and if he can return to his past form or better, he has a legitimate shot at not only a comeback award, but a Defensive Player of the Year one as well.
Chris Johnson, Running Back, Tennessee Titans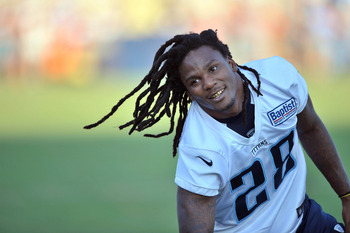 Jim Brown-US PRESSWIRE
Chris Johnson is one of the more controversial players in the NFL because of his antics last year. After sitting out to get a new contract, he was simply mediocre until the final stretch of the 2011 season.
Not only did Johnson fall off and irritate Tennessee Titans' fans, he made fantasy football owners everywhere collectively be disgusted at the sight of his name. His nickname CJ2K instantaneously changed to "CJ?K" in the eyes of all.
All hope is not lost for Johnson. The elite speed, ability and youth are still there, which could allow him to regain his 2,000-yard form—it seems as if the determining factor on which Johnson shows up is a mental factor more than anything.
Johnson putting up 2,000 yards again is not as ridiculous as it sounds, but he has to want to. If he does, he'll rejuvenate his career and a mediocre Titans franchise.
Jon Beason, Linebacker, Carolina Panthers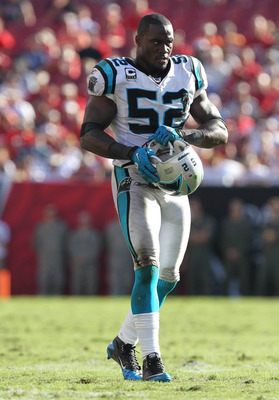 Kim Klement-US PRESSWIRE
Jon Beason was well on his way to being the best middle linebacker in all of football before suffering a season-ending injury early last year.
To put his level of play into perspective, in the four years before 2011 he had never missed a game and never totaled less than 120 tackles a year. He was one of the best, and the only credible player on the Panthers defense outside of Julius Peppers.
Now Beason has more motivation than ever, which is only a bad thing for anyone else in his way. He has a semi-elite offense, and his team just drafted the best middle linebacker in the 2012 NFL draft in Luke Kuechly.
It is not often a defensive player can make an amazing comeback, but it would be unwise to bet against Beason doing so in 2012.
Mario Williams, Defensive End, Buffalo Bills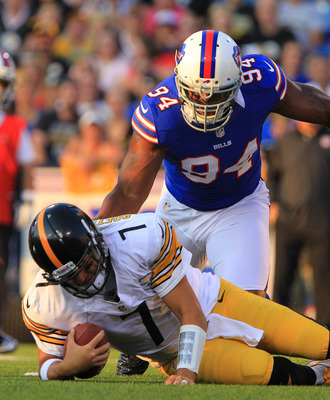 Kevin Hoffman-US PRESSWIRE
Mario Williams appeared in only five games last season before being shut down due to injury. Despite this, the Buffalo Bills elected to drop $50 million guaranteed on the elite pass-rusher.
Williams is worth the price if he can play in Buffalo anywhere near the way he did in Houston pre-injury. He is the best pass-rusher in the NFL and will get to rush from the defensive end position in Buffalo, which is where he did the majority of his damage in Houston.
Obviously the major factor in Williams' coming back is health, but he will have some help along the way. He is but one player on what is possibly the best defensive line in the NFL.
Super Mario is yet another defensive player that makes this the most intriguing comeback season in NFL history. Add in fact, he is in the perfect scenario for his skills. He could be running away with a few awards in 2012.
Matt Cassel, Quarterback, Kansas City Chiefs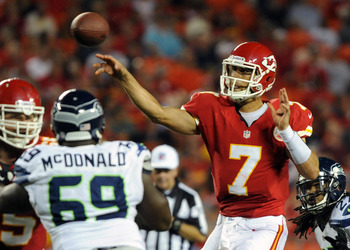 John Rieger-US PRESSWIRE
Matt Cassel has had quite the tumultuous career to this point. He was one of the most prized backup quarterbacks in the NFL in New England before coming to Kansas City and simply being mediocre.
Thanks to a hand injury, Cassel only appeared in nine games last season, and he was not very good in the process.
Being the third player on this list from the Kansas City Chiefs means Cassel should be in a good position to turn things around if they can all stay healthy.
Jamaal Charles will give Cassel a great ground game behind him, and Jon Baldwin is an emerging star at wide receiver. Another player who could have made this list, tight end Tony Moeaki, has the potential to be one of the best tight ends in the league.
Cassel won't put up MVP-type numbers, but the weapons around him could allow him to be one of the better stories next season.
Randy Moss, Wide Receiver, San Francisco 49ers
Troy Taormina-US PRESSWIRE
The Randy Moss project in San Francisco is officially underway, and how things will pan out is anyone's guess. The best-case scenario is Moss has a semi-productive year, and the worst-case scenario is he is cut similar to his last time in the NFL.
The 49ers have already made it clear that they will utilize a receiver by committee this year, which means Moss will not receive many opportunities to fill up his stat sheet.
Despite this, Moss still has a big-play ability that could allow him to change games, even with limited playing time. If he can do that much with limited snaps, Moss will find himself back in the good graces of everyone involved in his career revitalization project.
Peyton Manning, Quarterback, Denver Broncos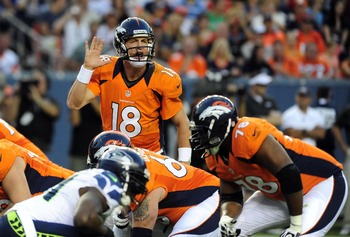 Byron Hetzler-US PRESSWIRE
While a lot of NFL fans have still not become accustomed to seeing Peyton Manning in anything but an Indianapolis Colts jersey, the change of scenery could allow Manning to run away with a comeback award.
If Manning can come anywhere close to his old self, the Denver Broncos will be serious Super Bowl contenders.
Manning also happens to have an above-average team around him. Eric Decker is a star in the making at receiver, as is Demaryius Thomas. There is a legitimate running game behind Manning as well, which means defenses will not be able to rush Manning as much.
The Comeback Player of the Year Award recently has been dominated by quarterbacks, so an above-average season from Manning will likely make him the favorite.
Carson Palmer, Quarterback, Oakland Raiders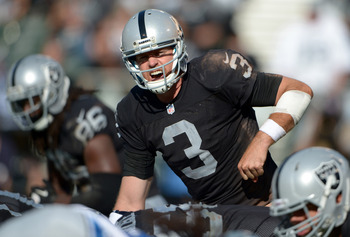 Kirby Lee-US PRESSWIRE
Love him or hate him, at one point Carson Palmer was a top three quarterback in the NFL, only to a prime Peyton Manning and Tom Brady.
Those days are long gone, but that does not mean Palmer cannot make a comeback of epic proportions by simply being a solid game manager for an above-average roster in Oakland.
Palmer looked horrendous last season in limited action after simply refusing to play for the Cincinnati Bengals before he was traded. He has a chance to rebound with a full offseason and a growing sense of familiarity with the offense and players around him.
Palmer is not the sexiest name on this list, but he is one that has a legit shot at turning things around in a big way.
DeSean Jackson, Wide Receiver, Philadelphia Eagles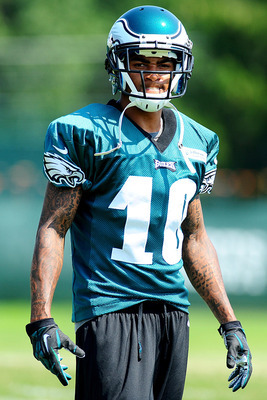 Evan Habeeb-US PRESSWIRE
At one point, DeSean Jackson was considered one of the most dangerous weapons in the NFL, but maturity issues and a contract dispute have lowered his value in the eyes of fans and around the league.
Jackson did not have horrible numbers last year with 58 receptions for 961 yards and four touchdowns, but it was a noticeable drop-off from the numbers he had put up in the past few years.
The Philadelphia Eagles and DeSean Jackson have one of the most talented rosters in the league, which means Jackson is in a good position to not only improve his numbers, but to get on the good side of Eagles' fans and NFL fans in general.
Now that Jackson has his money, he could fall flat on his face or be more motivated than ever to be one of the best players in the league. Only time will tell.
Nnamdi Asomugha, Cornerback, Philadelphia Eagles
Evan Habeeb-US PRESSWIRE
Nnamdi Asomugha used to be the most feared name in football for wide receivers, that is, until he joined the Philadelphia Eagles.
Asomugha had little time to adjust to his new home after moving to Philly from Oakland, and the shortened offseason thanks to a lockout certainly did not help things. He was also moved everywhere on the field, something he was not accustomed to doing.
Now that Asomugha has had a full offseason to adapt to the Eagles' schemes, he could be in line for a serious comeback season. The Eagles also happen to have one of the most talented rosters in the league and went defense-happy in the most recent draft to make Asomugha's job even easier.
Adrian Peterson, Running Back, Minnesota Vikings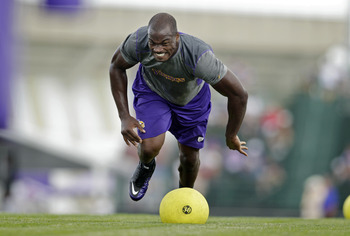 Bruce Kluckhohn-US PRESSWIRE
Adrian Peterson did not have a horrible season last year by any means, but it was cut short by four games thanks to a devastating knee injury.
Peterson has made a miraculous recovery and will be set to go when the season kicks off. How he plays and reacts to hits to his restructured leg will play the biggest factor in his ability to turn things around.
It would be a safe bet to assume that if Peterson plays a full 16 games, he will be one of, if not the best running backs in the league once again. That is nothing but good news for an abysmal Minnesota Vikings team.
Keep Reading