Chargers vs Vikings: San Diego's Biggest Winners & Losers from Preseason Week 3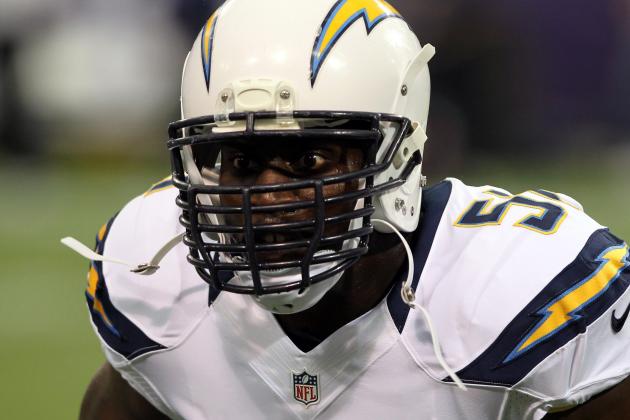 Brace Hemmelgarn-US PRESSWIRE

The San Diego Chargers eked out a win against the Minnesota Vikings thanks to a game-winning 45-yard field goal by Nick Novak as time expired.
Unfortunately, the win means absolutely nothing to the team.
What does matter is how well players on the roster bubble performed. And a number of players seemingly played themselves onto the roster or into the unemployment line.
Nothing is certain until next week's preseason game against the San Francisco 49ers, but Friday's game helped provide some insight into whether or not some players could be contributors this season.
Let's take a look at the winners and losers of Friday's preseason game.
Begin Slideshow

»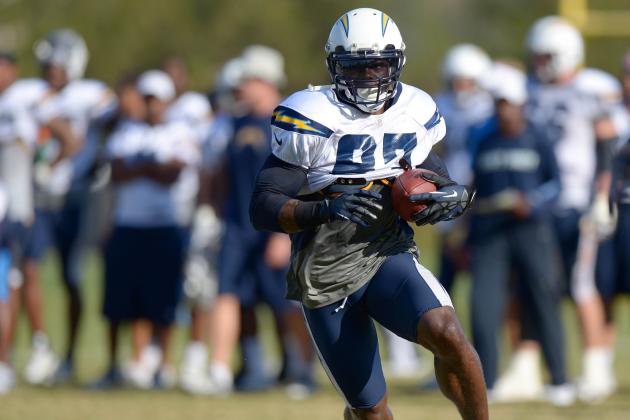 Jake Roth-US PRESSWIRE

Coming into the game, Micheal Spurlock was on the roster bubble. He helped himself out with an impressive performance.
Spurlock was able to get wide open downfield on numerous occasions.
While playing with the starting unit, Spurlock was targeted by Charlie Whitehurst twice, and he hauled in both balls for 33 yards.
In the third quarter, he recorded another reception—this time from Jarret Lee for 13 yards.
Spurlock finished the game with three receptions for 46 yards, which led the team in both categories.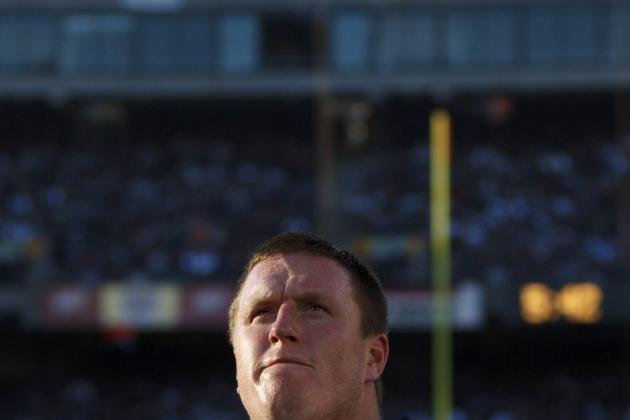 Jason O. Watson-US PRESSWIRE

It's hard to criticize the offensive line considering that only two starters played in Friday's game. However, it couldn't seem to slow any defenders from hitting Charlie Whitehurst.
Mike Harris was so terrified by Jared Allen following Allen's two sacks that Harris lined up too far behind the line of scrimmage on one play and was flagged for illegal formation.
Furthermore, Jeromey Clary was beat a number of times on the right side of the line.
Wherever Whitehurst turned, there was a Viking or two in his face.
The Chargers' starters on the offensive line must return from injury in time for the season opener; otherwise, Philip Rivers will take an absolute beating.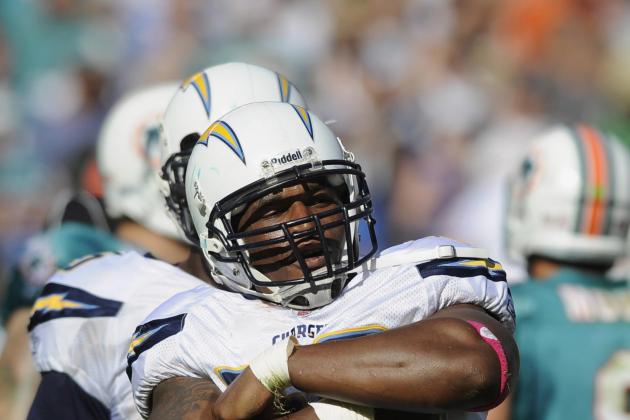 Christopher Hanewinckel-US PRESSWIRE

Larry English has been one of the more disappointing draft picks in the Chargers' recent history.
However, English played a very good game on Friday. He repeatedly got in the Vikings' backfield and even recorded two sacks.
After Friday night, English has three sacks in preseason play.
If English can somehow stay healthy this season, he could be a pass-rushing threat for the Chargers defense.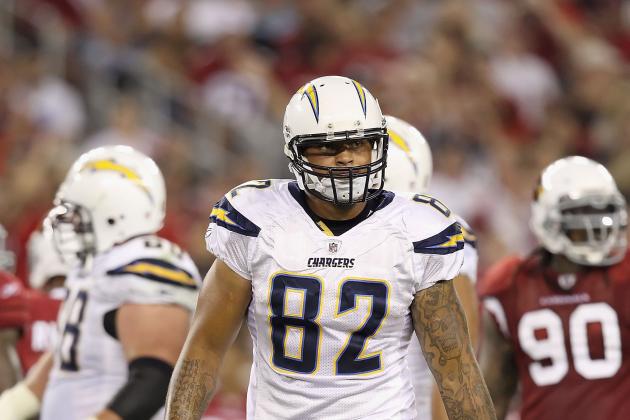 Christian Petersen/Getty Images

On a team that is stacked with talented tight ends, Kory Sperry's poor play on Friday extinguished his chance to make the 53-man roster.
Sperry was not a weapon in the passing, and he was called for two penalties—one for illegal motion and one for a false start.
Besides those two penalties, Sperry helped out the offensive linemen by providing solid blocking.
Unfortunately, the two penalties might be enough to make Sperry an afterthought on a roster that features four other good tight ends.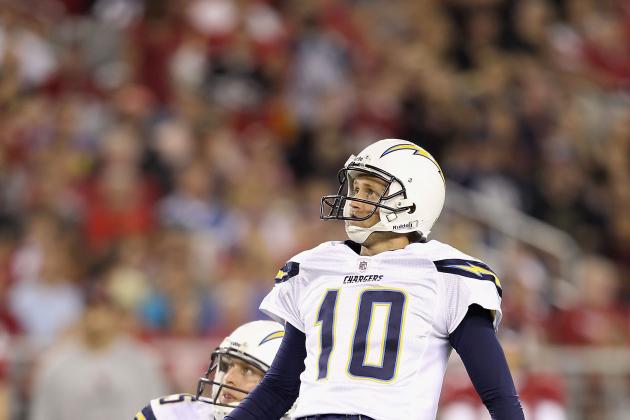 Christian Petersen/Getty Images

Nate Kaeding put the Chargers on the board first with a 50-yard field goal. He then followed up that kick by nailing a 54-yard field goal in the third quarter.
Kaeding's long field goals should help calm fans' nerves. He is coming off of a torn ACL, which is a dangerous injury for a kicker.
Nick Novak made two field goals—including the game-winner as time expired—but Kaeding was extremely impressive and likely locked up the kicker job.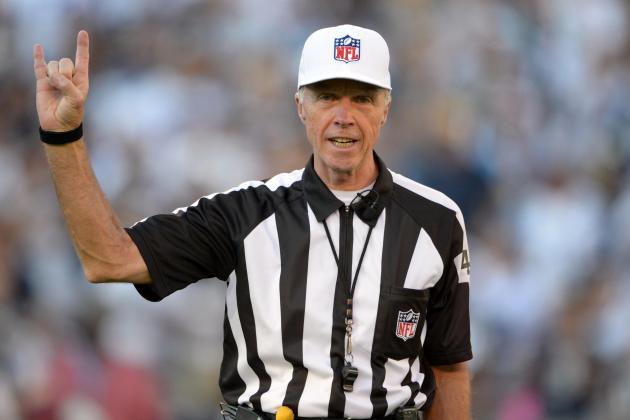 Kirby Lee-US PRESSWIRE

The replacement referees made two terrible calls on the field that could have potentially hurt the Chargers.
In the second quarter, Eric Weddle popped Lex Hilliard at the line of scrimmage and forced an obvious fumble right at the point of contact. Somehow, the referees did not call it a fumble on the field and gave the ball back to the Vikings.
Later in the second quarter, DeAndre Presley clearly intercepted a Christian Ponder pass, but the side judge ruled that the ball hit the ground.
Luckily, Norv Turner challenged both calls, and both were overturned.
Nonetheless, it's shocking that the replacement referees botched both calls on the field. Their decisions Friday night do not bode well for the regular season.
If the referees continue to make calls like they did Friday, regular season games will be slowed down to a snail's pace, as coaches will be forced to challenge a ridiculous number of poor calls on the field.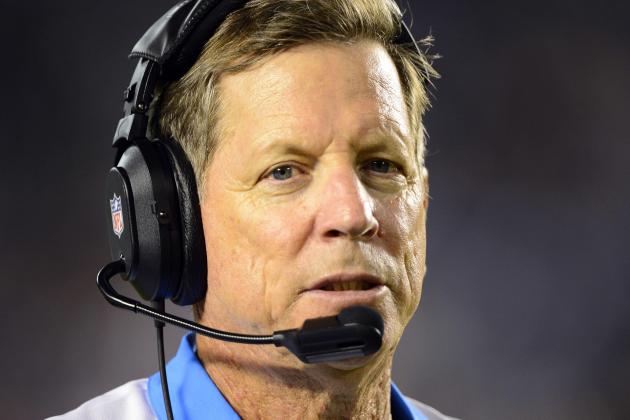 Christopher Hanewinckel-US PRESSWIRE

Norv Turner's decision to bench Philip Rivers for the game was a brilliant one.
Charlie Whitehurst got absolutely destroyed by the Vikings defense. The Vikings sacked Whitehurst five times and hit him after he released the ball on two other plays.
Chargers fans might not commend Turner on many things, but they have to give him kudos for his decision to sit Rivers.