The Chicago Bears came from behind to defeat the New York Giants in preseason play on Friday, 20-17, scoring 13 unanswered points in the second half.
Of course, the win has to come with a grain of salt. When Eli Manning and some of the Giants' key players were in the game, the Giants outscored the Bears, 17-7, in the first half.
Here's a look at the exhibition clash between the Bears and the Giants at MetLife Stadium in East Rutherford, NJ.
Grades for Key Bears Players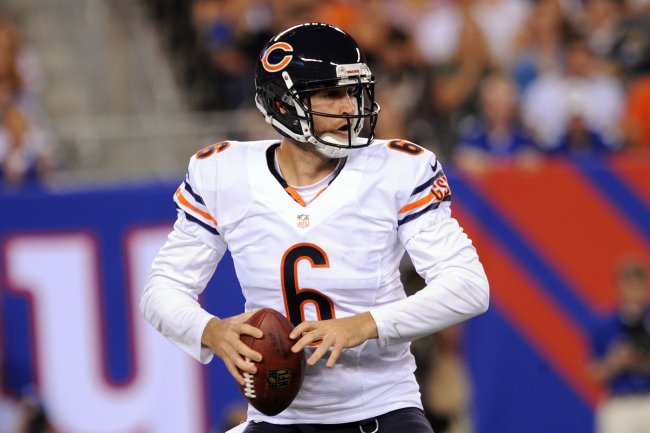 Joe Camporeale-US PRESSWIRE
Jay Cutler: C-
Jay Cutler did connect on a 21-yard touchdown with Brandon Marshall toward the end of the first quarter, but he finished the game 9-of-21 for 96 yards. The Bears managed just one first down in the second quarter. Cutler could have had a touchdown in the third quarter, but receiver Earl Bennett dropped the ball in the end zone.
Brandon Marshall: B-
Brandon Marshall finished the first half on Friday with four catches for 46 yards, including a 21-yard touchdown, but he also was targeted nine times. The Bears struggled offensively as a unit and it showed in Marshall's total numbers. He finished with five catches for 51 yards.
Matt Forte: C-
Matt Forte finished Friday's game with just 39 rushing yards on 13 carries, but part of it was because of an offensive line that didn't do much to create running lanes. Two passes were thrown Forte's way, but he ended up with no catches (Cutler threw low to him on one occasion).
Grades for Key Giants Players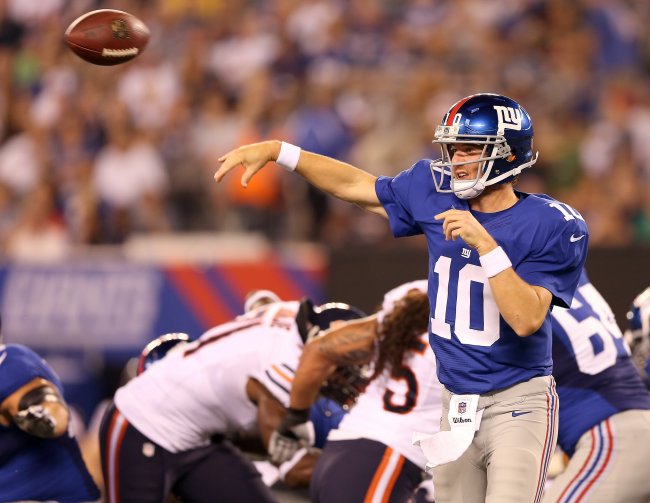 Elsa/Getty Images
Eli Manning, QB: A
You couldn't play much better than Eli Manning in the first half on Friday. He was accurate, evidenced by his 17-of-21 passing, and he made it all count with an 11-yard strike to Ramses Barden with 5:41 remaining in the first half. He finished with 148 yards passing.
Victor Cruz, WR: C
Victor Cruz caught five of the six passes thrown his way in the first half, but he didn't make much of an imprint on the game, finishing with 28 yards and no touchdowns.
David Wilson, RB: A
If rookie David Wilson can fill Brandon Jacobs' shoes this season like he did on Friday, the Giants should have a dangerous one-two punch with him and Ahmad Bradshaw. He not only racked up 49 yards on just five carries, he also caught both passes thrown his way out of the backfield for 26 yards. The Giants have to be happy with what they're seeing from their first-round pick.
Deciding Factor: Second Half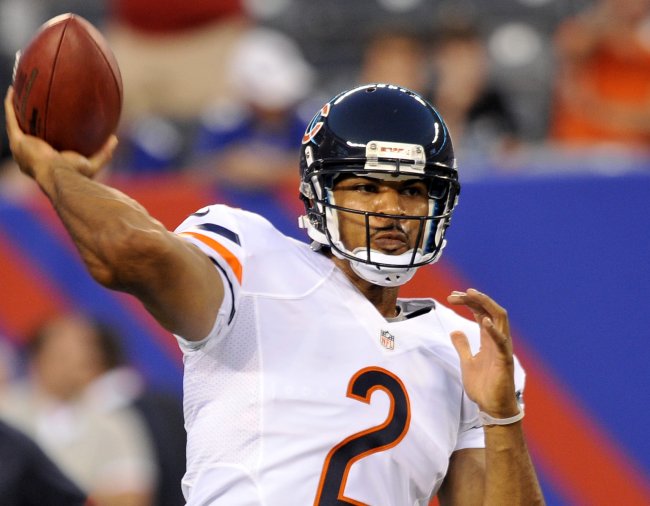 Joe Camporeale-US PRESSWIRE
The Bears may have won this game, but it all came in the second half, when most of the Giants' key starters on offense were out.
After trailing the Giants in the first half, 17-7, the Bears scored 13 unanswered points to win the game, led by backup quarterback Jason Campbell, who went 12-of-19 for 101 yards and a touchdown.
Game MVP: Eli Manning, QB, New York Giants
OK, I know the Bears won this game, but there's no way I'm giving the MVP to Jason Campbell over Eli Manning (plus, it's the preseason; I can do what I want).
Eli Manning looked like he was in midseason form, or postseason form, against the Bears on Friday, showing the impressive pocket poise and accuracy that he's known for. You got the feeling that if he started the whole game he would have had a huge showing.
Manning's a two-time Pro Bowler, two-time NFL champion and two-time Super Bowl MVP. He looked like it against the Bears.
What's Next?
The Bears will visit the Cleveland Browns in their final preseason game next Thursday, while the Giants will host the New England Patriots next Wednesday.
Let's talk about this on Twitter.