Chargers vs Vikings: Live Preseason Week 3 Report Card for San Diego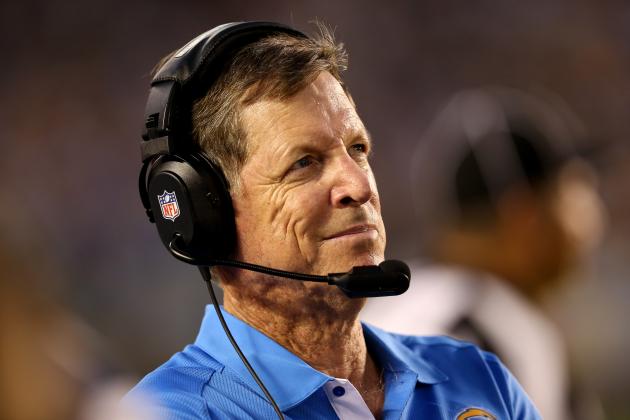 Stephen Dunn/Getty Images

Despite the injuries and star players resting the San Diego Chargers came out on top of the Minnesota Vikings in dramatic fashion as Nick Novak sent a 45 yard field goal through the uprights. The Chargers improve to 3-0 in preseason and will travel to San Francisco for a tilt against the 49ers for their preseason finale.
Let's take a look at the Chargers' final post game grades and evaluations.
Begin Slideshow

»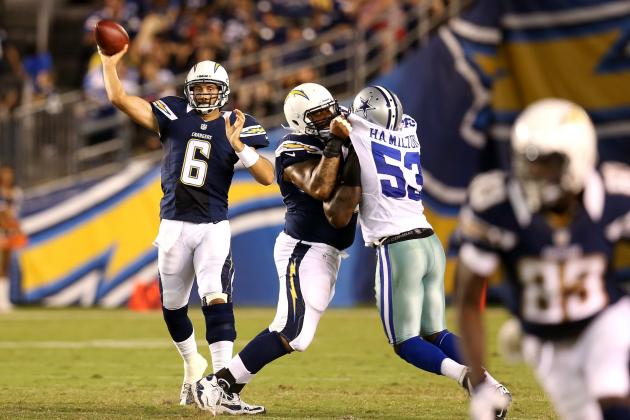 Stephen Dunn/Getty Images

Overall Grade- C
The two quarterbacks struggled all game behind an offensive line, which is decimated with injuries. However, they made plays when they needed too and eventually set the team with an opportunity to win , which is exactly what the coaching staff wanted to see. Jarret Lee looked incredibly uncomfortable but came in clutch when his teammates needed him. The quarterbacks will need their offensive line to get healthy in order for the team to have success.
Jarret Lee
4Q- C-
Jarret Lee took command of the Chargers offense in the fourth quarter and played terrible for most of the quarter. Then with under two minutes, Lee marched the Chargers down the field which set them up for the game winning field goal. Lee looked impressive in the two-minute offense but really needs to work on his pocket patience as training camp progresses.
Charlie Whitehurst
3Q- INC.
Whitehurst did not finish the third quarter and was replaced by rookie Jarret Lee. Whitehurst had a decent game but considering how little time he was given to make decisions it was an overall solid performance.
2Q- C+
I feel extremely bad for Charlie Whitehurst. Every play he is scrambling around inside a makeshift pocket and is basically getting hit every time he drops back for a pass. Has made some very nice throws, but it is extremely hard to work the ball down field under the pressure that he is under.
1Q- C+
Charlie Whitehurst had a decent first quarter. Led the Chargers on a nice drive that eventually turned into a field goal. Made some nice throws and checked the ball down well when he needed too. Was sacked twice—on the first sack, he did not have a chance and on the second sack, he just fell down. Scrambled for a nice first down run. Overall, not bad but nothing too spectacular.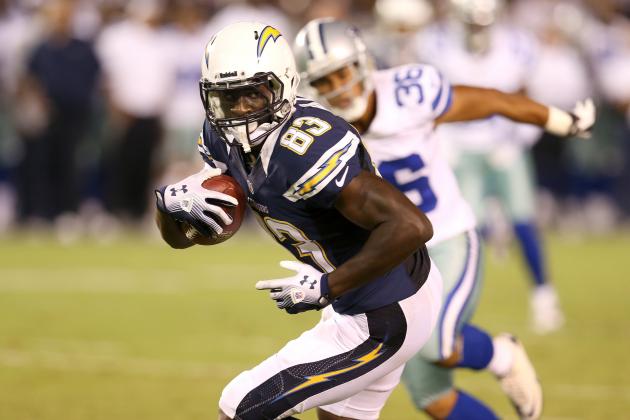 Stephen Dunn/Getty Images

Overall Grade- C+
This is not even close to the personnel that the Chargers will have when they open their regular season campaign. This unit tonight was incredibly raw and filled with players who were playing way out of their league. The offensive line was missing three starters and it showed as they had trouble protecting the quarterbacks all night. Overall it wasn't awful and the Chargers were able to pull out the victory.
4Q- B-
The Chargers struggled all game and it continued in the fourth quarter. The offensive line had trouble all game which made it incredibly tough to get either the running game or the passing attack dialed in. They came up clutch and delivered the win as the Bolts stayed undefeated in preseason.
3Q- C-
Struggled moving the ball throughout the third quarter. Jarret Lee looked unready and nervous as his offensive line left him hanging out to dry. Pretty dismal performance in the third quarter.
2Q- C
About the same performance as the first quarter. The offensive line is still struggling, which is really putting a damper on the Chargers' chances of finding the end zone. Disappointed that they only managed a field goal on a short field following the interception.
1Q- C
Got off to slow start but managed to get a field goal on their last drive of the first quarter. The offensive line struggled, but that was expected due to all of the injuries. Seemed to get into a rhythm that they hope to carry over into the second quarter.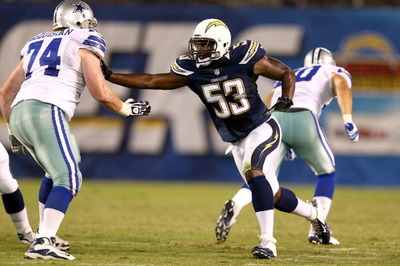 Stephen Dunn/Getty Images

Overall Grade- A-
The Chargers defense was impressive all night. The starters showed that they are going to be a top defense this year. The injury to Melvin Ingram is being reported as a thigh injury meaning that he should not miss significant time. The rush that they created was impressive, one area where they can improve is the deep pass defense. The Bolts struggled covering Percy Harvin all night which could of been a result of Quentin Jammer's absence.
Norv calls Ingram's injury a deep thigh bruise. Taking precautionary x-rays.

— UTKevinAcee (@UTKevinAcee) August 25, 2012
4Q- B+
The Chargers defense was impressive all night. They eventually gave up the only touchdown of the game but it wasn't all their fault. They were dealt with rough field position all night but did a good job at not giving up more points then they did.
3Q- B
They bent but did not break. After being driven down the field early in the quarter they responding by forcing their third turnover of the game. Melvin Ingram was injured with what seems like a knee injury. If serious, it would be a huge blow for the Bolts.
2Q- A
The defense forced two turnovers in the second quarter, which is good enough for an "A" grade itself. They have looked dominant all game long and have continued to slam the door shut on the Vikings' offense.
1Q- C
Fantastic start, as they forced two straight three and outs but were sliced up on the Vikings' third possession. A Percy Harvin drop saved what should of been a touchdown. Stopped the Vikings when they needed too, which lead to a missed field goal attempt.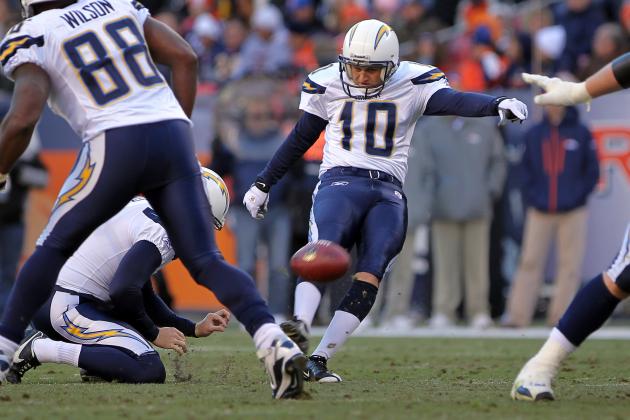 Doug Pensinger/Getty Images

Overall Grade- B+
Both kickers combined for perfection on their four field goal attempts. The kickers won the game for the Chargers who did not manage to score a touchdown all game. The Chargers were decent in the rest of their special teams. They did not give up any big plays, but did not show any sign of creating any big plays. This is most likely due Eddie Royal not being available for tonights game. Once Royal returns, I expect more explosiveness from the punt return game.
4Q- Nate Kaeding looked to have sealed his job as he crushed his 54 yard field goal through the uprights but then Nick Novak answer back with the game winning field goal as time expired. Both showed that they are able to get the job done, but I would give the advantage to Kaeding who looked more comfortable as he hit much longer field goals.
3Q- C
No field goal attempts but showed signs of improved kick and punt coverage, which is where the Chargers need to improve on. I still would like to see more explosiveness in the return game.
2Q- B-
Basically the exact quarter as they had in the first quarter. This time Nick Novak got his chance at the filed goal and delivered on the short field goal. Melvin Ingram looked out of control in punt coverage, but something tells me Norv Turner won't tell him to dial it back. Weak punt coverage late in the quarter led to a Viking field goal.
1Q- B+
Nate Kaeding delivered with a 50-yard attempt that sailed through the uprights. Kaeding is in a tight battle with Nick Novak, so it was important for both the Chargers and Kaeding to make the field goal. Kick coverage was decent, which is still a major concern for the Bolts.
Kent Horner/Getty Images

Overall- B+
Melvin Ingram's injury does not seem as serious as it looked, which will make Norv Turner and the rest of the coaching staff very happy. John Pagano is showing that he has made great strides with the defense and they are continuing to gel and get better. The kicker decision did not get any easier tonight but it's never a bad thing when you have two kickers who are making kicks. This team needs to be healthy or the Chargers and Norv are in for a very long and rocky season. The team is undefeated in preseason but that won't mean anything once the regular season begins.
4Q- B
Norv Turner did a great job at executing the two minute deal, which set himself and his team with the victory. Gave Jarret Lee easy plays which boosted his confidence, which was really hobbling Lee all night.
3Q- C
Could be an "F" if Ingram's knee injury is more serious. Leaving a player in a preseason game too long can be deadly. Turner needs to help get Jarret Lee into a rhythm early in the fourth quarter. I would like to see some easy check down passes to get him going.
2Q- A
2-2 on challenges has Norv Turner gleaming with excitement. Probably two of the easiest challenges of his coaching career but both resulted in Viking turnovers. Turner is still struggling getting the offense going, but Chargers' fans should not worry with all of the injuries of the offensive side of the ball.
1Q- C
Very vanilla play calling, which was expected with more than half of the team's starters on offense not playing tonight. So far there has not been any head scratching decisions, which is exactly what the Chargers' fans want to see.