Seahawks vs. Chiefs: Final Report Card, Player Grades for Seattle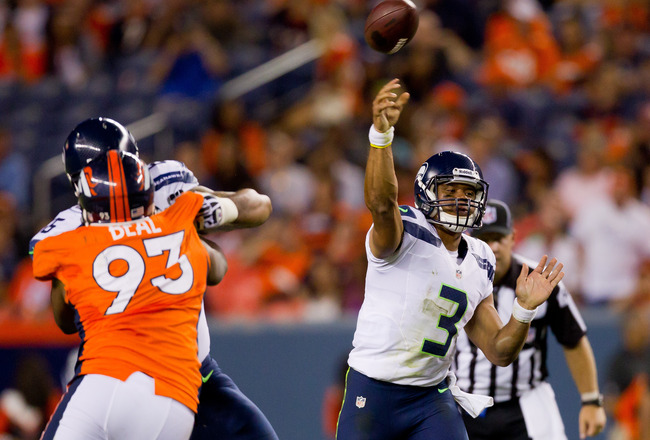 Wilson's high release point has enabled him to overcome some of the height issues expected of a 5'11" quarterback.
Justin Edmonds/Getty Images
The Seattle Seahawks dominated every aspect of their preseason game against the Kansas City Chiefs, posting a 44-14 win. While the final score is meaningless, the performances behind the impressive margin of victory weren't.
Seattle has posted a 3-0 record in the preseason while the Chiefs fall to 1-2.
The Seahawks final player grades and unit evaluations are on the following pages.
Offense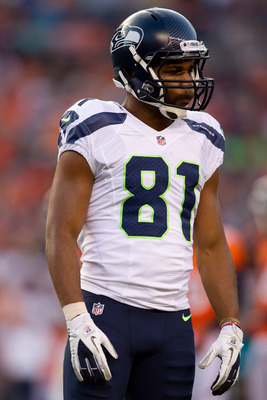 Justin Edmonds/Getty Images
Offense: A-
Seattle's starting offense hadn't been in sync during much of the preseason. This can be partially blamed on missing most of their starters at the skilled positions.
Sidney Rice and Doug Baldwin haven't played and Marshawn Lynch and Zach Miller have seen very little playing time.
The Seahawks starters did everything they needed to in this game. They moved the ball almost at will, at least until reaching the red zone. Seattle wasn't in a punting situation until after the reserves took the field.
The Seahawks had an excellent balance of running and passing, something that figures to be a cornerstone of this team.
Q4: B
Tarvaris Jackson made a few nice throws but had little to show for it in the stats line. They were decent on the ground but there was no effort to really move the ball.
Q3: B+
The grade would be higher if the team had a few more plays, but a defensive score and a punt return for a touchdown kep them off the field.
Q2: A
The only problem with Seattle's offense is they are limiting the ability to see if there is any improved play with the punting game. The Seahawk receivers found empty space and Russell Wilson made several nice throws to pick up yards in bunches.
Wilson hit a wide-open Kellen Winslow Jr. for a touchdown after the offense opened the third quarter with another field goal. They also manufactured a touchdown from the 2:00 offense.
Q1: B
The team scored field goals on both their opportunities, but haven't been able to break the goal line. At some point, the first-team offense needs to score touchdowns.
Quarterbacks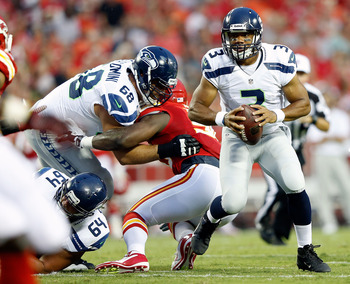 Jamie Squire/Getty Images
Russell Wilson: A
Wilson doesn't have much to be unhappy about following another great preseason performance. The closest he could find to a negative was he might have lost a possession due to a pair of return touchdowns from the Seahawks defense and special teams.
He finished the day 13-19 for 185 yards and a pair of touchdowns. His QB rating of 134.8 is off-the-charts good. Wilson also ran for 58 yards on two carries.
The coaching staff will have their hands full deciding what direction to go in the final preseason game and the regular season. Wilson continues to excel while Matt Flynn has been merely good to very good so far this summer.
Q4: Did not play
Q3: A
Wilson continued to play impressive ball. He even managed to connect on a deep pass to Terrell Owens.
Q2: A
Wilson used all of his weapons in the second quarter, including his arm, legs and his head. He is making his first NFL start in what would normally be a hostile environment, but the mass of empty seats likely means the normal Arrowhead crowd noise isn't present.
Wilson helped orchestrate two touchdown drives, taking advantage of open receivers, running lanes and a pair of roughing the passer penalties.
Q1: B
Wilson has been consistent and hit most of his targets. He couldn't avoid pressure on third down near the goal line, though. He had an open Terrell Owens in front of him and was hoping to get him the ball.
Overview
After an impressive run over summer OTAs and training camp, Pete Carroll gave Wilson the start in the team's third preseason game. He said during this week's press conference, according to Eric Williams ofThe News Tribune, that the original plan was to have Wilson start the second game, but wanted to keep Matt Flynn in that role for two consecutive weeks prior to making the adjustment.
Carroll is rewarding Russell Wilson's solid summer by giving him the ball, but also warns that doesn't mean he is in the lead to be the opening-day starter. He will have some tough decisions following a very impressive showing.
Matt Flynn: Incomplete
The Seahawks announced that Flynn won't play in this game. He was limited in action earlier in the week with a tired arm.
The team has stated his arm is fine, but he does have a sore elbow.
Runningbacks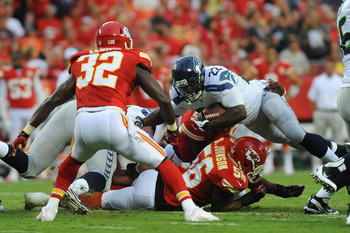 Denny Medley-US PRESSWIRE
Robert Turbin: A
I felt Turbin got off to a bit of a slow start. He looked quick, but didn't exploit available holes on the teams' opening possession.
He certainly made up for lost time.
Turbin became more effective as the game continued and began to compile yards in bunches, helping the Seahawks control the ball and move the chains.
He ended the day with 93 yards on 14 carries, a 6.6 yard average. He also added a touchdown.
Kregg Lumpkin: B
Seattle gave the second-team carries to Lumpkin, who added 24 yards on five carries.
Wide Receivers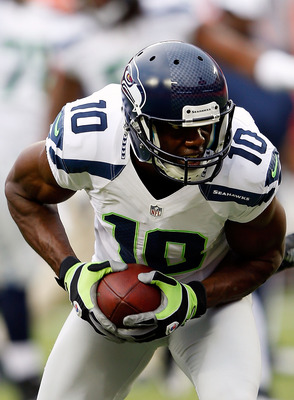 Jamie Squire/Getty Images
Sidney Rice: B+
Rice caught a pass on the initial play from scrimmage. Those eight yards were the only ones he'd gain on the day, but he tilted the field by drawing coverage and a pass interference call.
I'm grading him on a curve, as he didn't spend much time on the field in his first appearance of the 2012 season.
Terrell Owens, Braylon Edwards, Charly Martin, Golden Tate: B
Quick...who was the leading wide receiver for the Seahawks on Friday night? Surprisingly, that would be Terrell Owens.
The wide receivers were solid in this game overall, while there were a pair of impressive catches.
Owens started the game with a nice move to get open over the middle but the Chiefs pass rush got to Wilson on a third-down effort near the goal line.
He dropped the first ball thrown his way, although tight coverage helped in knocking the ball from his grasp. He made up for it latter with an impressive over-the-shoulder grab. He ended the day with 41 yards on two catches and likely ensured he'll have at least one more week as a Seattle Seahawk.
Edwards had an impressive 32-yard reception and Golden Tate had a catch and added yards by drawing a pass interference penalty. More on Tate later...
Tight Ends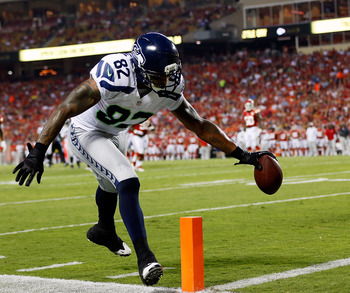 Jamie Squire/Getty Images
Kellen Winslow Jr. and Anthony McCoy: A
Another surprise in the game was that the Seahawks actually have, and use, tight ends in the passing game. Winslow didn't have a lot of opportunities but made sure he was impossible to miss after the Seahawks settled for field goals in their first three possessions.
Winslow made a decent move but some of the credit should go to a great play call. Wilson hit a wide-open target for a 21-yard touchdown.
McCoy has received criticism for issues dropping balls, but has looked like a new man in the last two games. He is creating a gap between himself and Cameron Morrah for the third tight end slot.
Sean McGrath and Cooper Helfet: B
While they didn't do much in reserve play, bot McGrath and Helfet were solid in blocking and somewhat present in the passing game. They both are making a push for inclusion on the Seahawks practice squad.
Offensive Line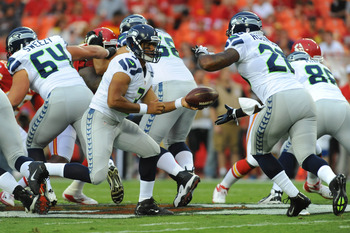 Denny Medley-US PRESSWIRE
Russell Okung, Max Unger, J.R. Sweezy and Breno Giacomini: A-
The offensive line opened holes in the ground game and provided solid pass blocking for Russell Wilson. He was forced from the pocket several times and sacked twice, but the only other contact with Wilson drew flags for roughing the quarterback.
One of the sacks was attributed to Anthony McCoy.
The offensive line lacked cohesion last season but the 2012 squad is taking advantage of a full offseason. It will be interesting to see how they respond and what adjustment the coaches make when John Moffitt is able to return to action.
Paul McQuistan: B+
While I still need to review the game film, it appeared that McQuistan missed a pair of blocks. At this point one has to wonder if J.R. Sweezy will get consideration for starting reps at left guard.
Defense
Otto Greule Jr/Getty Images
Defense: A
Prior to the game, I pointed to the Seahawks needing to apply pressure from their front four while forcing a pair of turnovers. Fans should be pleased with Seattle's ability to do both of those.
The starters surrendered just seven points on a very good second-quarter drive by the Chiefs. The second unit managed to shut down the Chief starters for two possessions.
Q4: B-
The reserves yielded too many yards on the ground in a game that had long been decided. However, players battling for roster spots can't lean on the "game being over" argument.
The front four should have been more effective with Jaye Howard and Pierre Allen. Both of these players hurt themselves in their push to make the team.
Q3: A
Seattle hadn't forced a turnover yet, coming up short on the two I had projected prior to the game. They caught up quickly in the second half.
Corderro Law forced a fumble on a sack of Matt Cassel on the Chiefs opening possession, recovered by Jeron Johnson.
Earl Thomas intercepted a Cassel pass on their next possession and returned it for a touchdown.
If that wasn't enough, their second-team took the field and kept the Chief starters from moving the ball.
Q2: B
The Seahawks opened up a lead with their first touchdown in the game but the defense couldn't keep the Chiefs from answering. Cassel engineered a solid drive, utilizing a hurried offense and short passing game.
The biggest concern with the Seahawks defense is a hurry up offense, as it doesn't allow them to get their specialists on the field.
The defensive front has been dominant for the Seahawks. They continue to shut out one of the best runners in the NFL in Jamaal Charles.
Richard Sherman in particular has been stellar in the secondary.
Q1: A-
While they allowed a few gains in the first quarter, the defense has been stout. The linemen in particular have been menacing, shutting down the ground game and applying ample pressure on Matt Cassel.
The secondary has knocked a pair of receptions out of the hands of Chiefs receivers, but Brandon Browner is back to making costly mistakes with penalties.
Defensive Line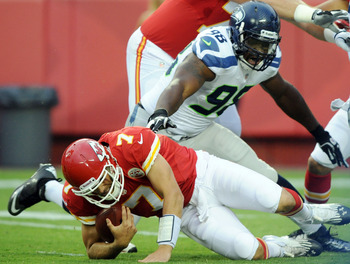 John Rieger-US PRESSWIRE
Greg Scruggs: A
Scruggs took the spot in the nickel defense that had been held down by Clinton McDonald. It took him just one snap to make his presence known, busting through the line to record a low-contact sack on Matt Cassel.
It looks like Scruggs is solidifying a place on the roster, possibly at the expense of McDonald.
Red Bryant, Alan Branch, Chris Clemons, Bruce Irvin, Cordarro Law: B+
Seattle's front four were simply dominant in this game. They shut down the run and applied consistent pressure on Cassel. They set the stage for a dominant overall performance and were factors in both turnovers.
Jaye Howard, Pierre Allen: C-
The reserve line had difficulty containing the Chiefs ground game. Howard and Allen are fighting for roster spots but didn't help their causes.
Linebackers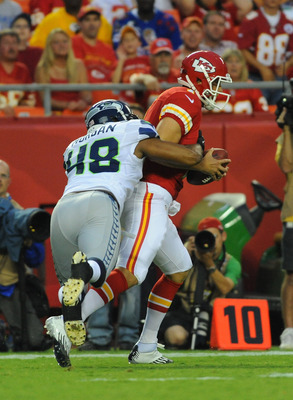 Denny Medley-US PRESSWIRE
K.J. Wright, Mike Morgan: B+
The defensive line made the linebackers irrelevant for much of the rushing defense. That didn't stop Wright from making a pair of tackles and Morgan accounted for one of the Seahawks sacks.
The middle of Seattle's defense is still looking like the weak link of the unit, but there is time for the young players to come on and perform. Cordarro Law could act as a tweener and take more reps from Hill's linebacker slot.
Bobby Wagner, Leroy Hill, Korey Toomer: B-
Wagner appeared to miss a pair of assignments in pass protection, surrendering one reception. Hill lost contain at one point and gave way in the nickel defense.
Toomer is making a solid push to make the final roster.
Defensive Backs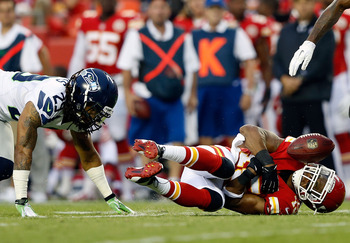 Jamie Squire/Getty Images
Earl Thomas, Richard Sherman: A
Seattle's secondary was very good against the Chiefs. Sherman and Thomas had several very nice passes defensed, jarring the ball from the receivers' hands. Thomas also threw in a pick-six to extend the Seahawk lead in the second half.
Jeron Johnson: B
Johnson came up with another turnover in this game and was solid in pass protection in the nickel defense. It will be hard to keep him off this roster.
Brandon Browner: C+
Browner was tight in coverage but was a bit too eager, drawing a pass interference penalty. He needs to cut down on penalties this season.
Kam Chancellor: MIA
I'll need to revisit the tape to confirm if Chancellor played against the Chiefs.
Special Teams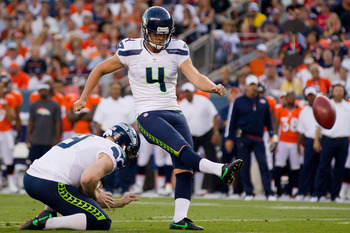 Justin Edmonds/Getty Images
Special Teams: A
Seattle had left a bit to be desired in special teams play, but they've been moving parts around to see where they best fit. As expected, they had a better showing in Kansas City, particularly from the punting unit.
Seattle did just about everything they could on special teams. They forced touchbacks on kickoffs and stuck the Chiefs inside their own 20-yard-line when they did try for a return.
They added a punt return for a touchdown and Jon Ryan was impressive when he finally took the field.
The highlight for the unit was Tate's 92-yard punt return for a touchdown.
Q4: A
Jon Ryan is one of the most underrated punters in the NFL. He punts for a solid average and rarely kicks the ball into the end zone.
His best effort was for not, as Phillip Adams gets about the only black-mark on the day. Ryan had an amazing punt that dropped inside the five-yard-line and stuck. Adams covered the ball but had gone out of bounds, forcing a re-kick.
Q3: A+
Granted, Steven Hauschka barely missed a 51-yard field goal attempt. But a 91-yard punt return excuses about the only miscue of the team on the day.
If that wasn't enough, they had solid coverage on the ensuing kickoff, laying a brutal hit at the 15-yard-line.
Q2: A
Ho, hum...another field goal, nice kick coverage and no issues in the punting game. Granted, it is easier to keep punts from getting blocked when your offense scores on every possession.
Q1: A
Things went well in the first quarter. Steven Hauschka converted both field-goal opportunities and had touchbacks on all three kickoffs.
Leon Washington was solid in punt-return opportunities.
Coaching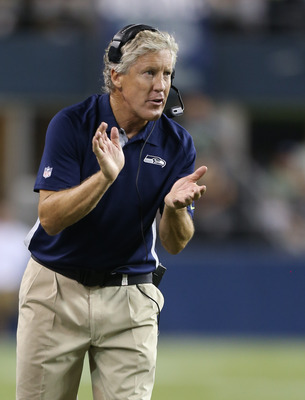 Otto Greule Jr/Getty Images
Coaching: B+
Seattle's 2012 season will come down to coaching as much as anything. They are taking a bit of a gamble in allowing their quarterback competition to drag out.
Should Russell Wilson emerge as the starter, then the process will have proven valuable. But if Matt Flynn is the starter when the team travels to Arizona in Week 1, there will be skeptics ready to pounce if the offense gets off to a slow start.
The coaches added some validity to their stance in this game, as Wilson was incredibly sharp with the one's against the Chief starters.
Q4: N/A
There wasn't much left for the Seahawks to do in the fourth quarter. About the only issue one could take is they didn't allow the reserve offensive players to open up their game.
Q3: A
About all the coaches needed to do in this quarter was send the players on the field. They do get credit for giving Golden Tate a chance to return punts.
Q2: C+
Seattle had some concerning calls in the second quarter. There was a rushed challenge of a reception that looked out of bounds but the call was upheld.
Seattle also was a bit generous using their timeouts and interior plays in their 2:00 drill. It ended up not hurting them, but time could have become an issue.
Q1: B
Seattle has been solid, thus far, but nothing splashy. They haven't managed to convert near the goal line, though.
Keep Reading

Seattle Seahawks: Like this team?