Ranking UFC Champs from Least Hated to Most Hated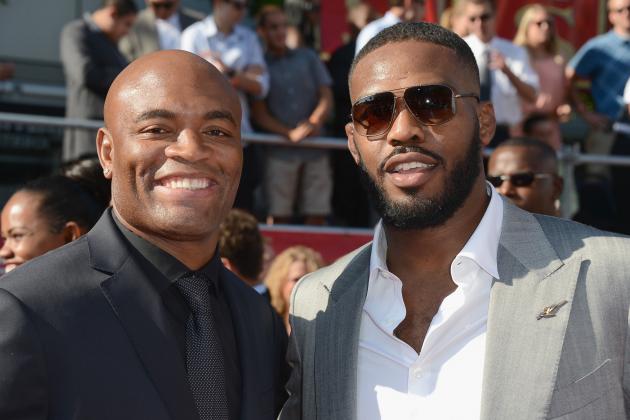 Frazer Harrison/Getty Images

There's so much hate in MMA.
In recent days, yet another volley of hate was flung at Jon Jones, this time for his refusal to fight Chael Sonnen. It got me thinking: How well-liked are today's UFC champs, really?
Being a well-liked champion isn't easy. They live under surveillance—no mistake goes unnoticed. When a champ makes a public action, it's bound to be scrutinized by hordes of UFC message boarders. And by God, their fights better not disappoint.
In fact, message boards are a nifty place to feel the pulse of the fan community. Any Sherdogger has a true sense of which fighters are favored and which are hated. It's especially easy to tell which fighters are hated, since Sherdog is barbed with spiteful words. I guess there's no thrill in praise.
Herein is a ranking of UFC champs from least hated to most hated. It's subjective and you may disagree. The rankings are based on my experiences digging through message boards, along with my time in drunken crowds during pay-per-views. If you've been to a bar on fight night, you know that uninhibited hate flows as freely as the booze.
Some of the more hated champs also enjoy many fans, but this list doesn't consider that; haters only.
Check it out and post your rankings below:
Begin Slideshow

»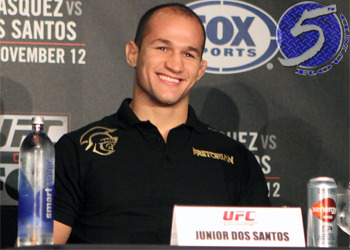 Inside the Octagon, Junior dos Santos is a grizzly bear. Outside the Octagon, he's a teddy bear. I wouldn't be shocked if he was indeed stuffed with cotton and sewn together.
Perhaps Junior's "nice guy" angle is contrived. So what? He's managed to purvey a zen persona without cracking. His soundbites are peaceful, a contrast to the molten words that spill from other MMA celebrities.
Controversy be damned, Junior would rather "say the right things" and avoid drama than stir a story. He's embraced the role of gentle giant, never hoarding the headlines unless his fists are talking.
Junior isn't the most popular champion, but he's too sugary too be hated. His Ultimate Fighter stint showcased his sweetness and earned him a bevy of fans stateside.
Just look at that disarming smile!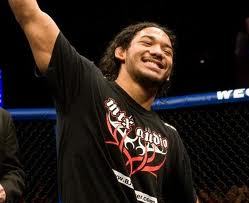 Ben Henderson isn't especially popular, nor is he especially adored. He avoids the scrutiny that plagues higher-profile champs because he's mild and his words aren't incendiary.
Any venom directed at Henderson is ill-cast, all things considered.
Henderson is a proud Christian. I mean his post-fight interviews resemble sermons, man. I understand why some are repelled by Reverend Bendo's Jesus talk, but as a soldier of Christ he's merely fulfilling his holy mission. I find his enthusiasm commendable, even as a non-believer.
More to the point, Henderson's Korean heritage gives him an inherent following. Also, Bendo's style meets the quota for "fan-friendly," even if he hasn't finished an opponent in his UFC career. His swarming grappling attack disproves the notion that wrestlers are "boring."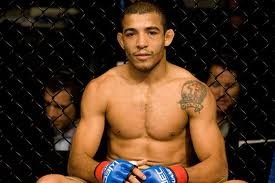 themmadigest.com
Aldo's personality is cloaked by his meager English skills. As such, it's difficult to fish for reasons to hate the dude—aside from jealous hate.
The featherweight champ seems chill. He doesn't use his lack of English as an excuse to avoid the media. His swagger is measured—his confidence radiates but it doesn't flare up.
Though he seems respectful, I reckon Aldo's fights have won him more fans than his persona. Casual fans in particular drool at high-volume striking, Aldo's strong suit.
When Aldo winds up a leg kick, it's as if he's fixing to kill a donkey with it. His bloodthirst is obvious, and it's very appreciable.
Unlike other long-tenured champions, like Jones and Silva, Aldo isn't polarizing. He's keeps a low profile, but doesn't scurry away from the spotlight. "Scarface" doesn't enjoy the popularity of enigmatic champs like Jones and Silva, but he dodges the hate that surrounds them.
Aldo's stock, thanks to the UFC's coveted spotlight, is trending up.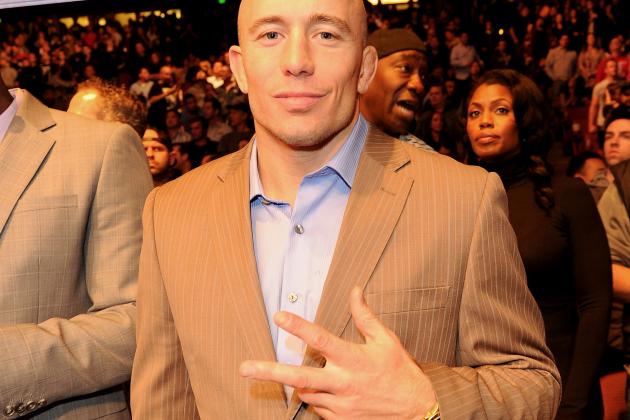 Jason Merritt/Getty Images

Georges St. Pierre is a cool dude and I think most fans get that. His fighting style, however, has induced more yawns than cheers in recent memory.
Alas, St. Pierre adopted a "safe" approach that defies his former glory. His new approach relies on jabs and ineffectual top control. Still, the Canadian playboy's stardom won't be dimmed by a few lackluster fights.
In fact, even if his fights became more dull than oatmeal, St. Pierre would sell. GSP's appeal is larger than MMA: He's a sex symbol, he's a Canadian hero and he's the most recognized fighter in the sport.
St. Pierre embraces the superhero role—a role he performs with charm and tact. He's dashing, righteous, hard-working and respectful; all reasons why fans like to live vicariously through him.
The only obstacle between St. Pierre and heroism is his bland style, and that could be spiced up. Regardless, he's liked by many, and he's the UFC's biggest pay-per-view draw, as per MMApayout.com.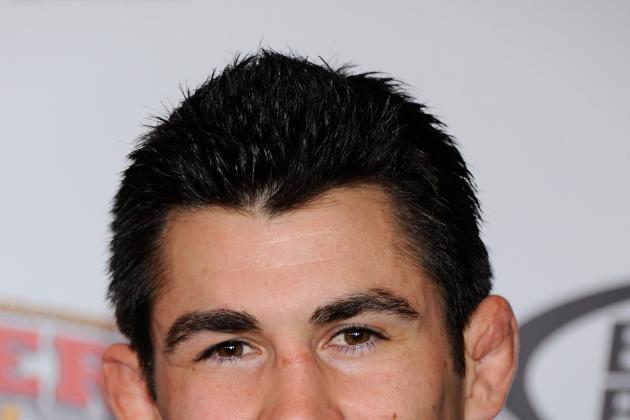 Ethan Miller/Getty Images

Dominick Cruz doesn't receive oodles of hate, really. He's just shrugged at.
Many fans think Dominick Cruz is a brat. I don't know. I do know, however, that his personality isn't the only thing choking his likability.
As reported by mmamania.com, Cruz thinks his reputation suffers because of Urijah Faber. Why? Well, Faber is known to cast insults upon Cruz. Faber is well-liked and charismatic, so his word is next to gospel. Thanks to Faber's mouth, we've come to associate bad things with Cruz, supposedly.
I thought Cruz's The Ultimate Fighter run proved him a decent, albeit somewhat bratty man. His persona isn't his biggest roadblock, though; "The Dominator" employs a style that isn't too confrontational. Instead, he relies on perpetual movement. Some fans dig his maneuvers, while many are dazed by them.
Also, Cruz's weight class is scoffed at, a notion that strips the luster of his title reign. As king of the bantams—an unpopular and shallow division—Cruz isn't paid due respect. Until his weight class is respected, he'll continue to be a fun-sized novelty, either treated with hate or passive attention.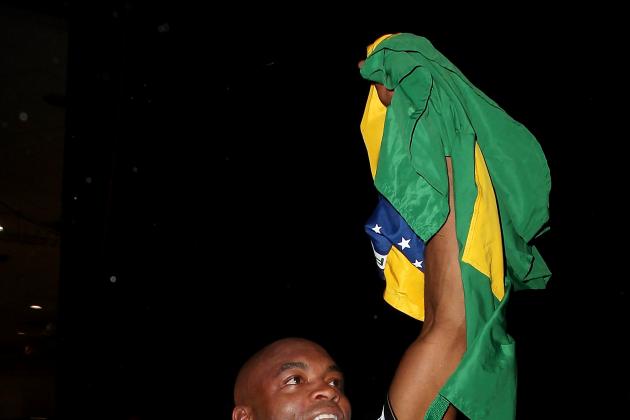 Jeff Bottari/Getty Images

Sane fans should appreciate Anderson Silva for his titanic feats. "Appreciate" isn't a synonym for "like", though.
One reason Silva gets dished hate: He's the best. "The Spider" has reached the pinnacle of success, the most enviable peak in MMA.
Jealousy spawns hatred. Silva is making plenty of fools jealous, and therefore he's collected droves of haters.
Silva is a decent guy, but let's not mistake him for a saint. Among other lapses, he deserves scorn for his treatment of Demian Maia. You remember: Silva danced like a spastic monkey around the cage instead of fighting Maia. He made a mockery of the event, betraying the UFC and its customers.
Furthermore, Silva breached his own code of "respect" by howling back at Chael Sonnen, even whacking the American at the UFC 148 weigh-in.
Of course, any enemy of Chael Sonnen will be targeted by his army of zealous fans, who comprise a fair chunk of Silva's hate parade.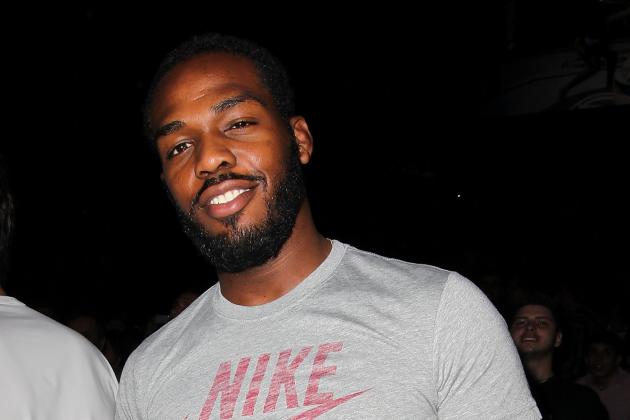 Jeff Bottari/Getty Images

Why does it seem so easy to hate Jones?
Sure, he's flawed. Jones is cocky, arrogant even. He's "holier than thou." He turns down fights. He's driven drunk. He's sold as an angelic poster boy—an injustice that fans resent.
Perhaps Jones was expected to be immaculate, a savior to lead MMA to the top. He's not that. Any lapse of judgment, any disagreeable tweet by Jones, is met by a sea of whines and moans.
Jones' greatness subjects him to hate. Shining stars—and Jones may be the shiniest—provide prime fuel for haters. So I expected Jones would be hated, but I couldn't have predicted the strength and unanimity of that hatred.
There may be a concise explanation for Jones' villainy: Lyoto Machida, Shogun Rua and Rampage Jackson have millions of loyal fans. Those men were building fan bases back when Jonny still watched The Smurfs and ate Captain Crunch.
Then Jones became a big boy. He wiped that legendary trio onto the canvas (in short order) while concurrently painting himself as an infant through the media. It's no surprise that "Bones" invited disdain from several time-honored fan bases!
At least fans of the old guard can put aside old grudges and unite against "Bones". That's cute.
If Jones ever loses, his tide of hate may give way to more peaceful currents. His ego must be checked before his haters sip on his Kool-Aid, and there's no sweeter way to pop a swollen ego than with an "L".