Power Ranking the Top 10 GMs in the NBA Today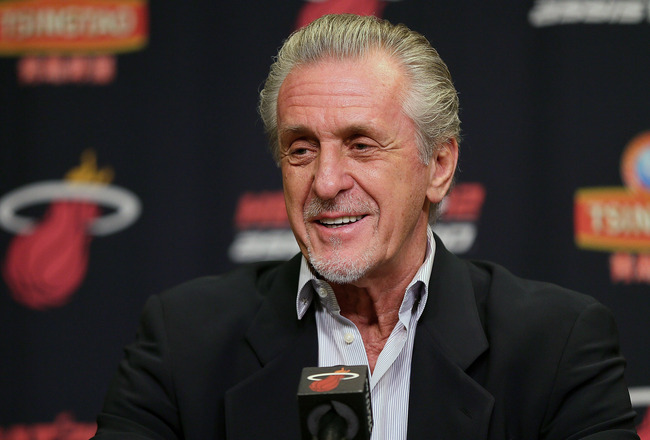 Mike Ehrmann/Getty Images
These are the best of the bunch when it comes to NBA general managers, the men who mysteriously pull the strings behind the scene and build up basketball rosters.
Without a solid GM, it's nearly impossible to contend for a coveted NBA title. After all, talent is necessary to win championships, and talent is awfully hard to come by when the front office struggles to unearth it.
These 10 men have used their basketball brain power to push their teams into playoff or championship contention.
Let's find out who comes in at the top of the rankings.
10. John Hammond, Milwaukee Bucks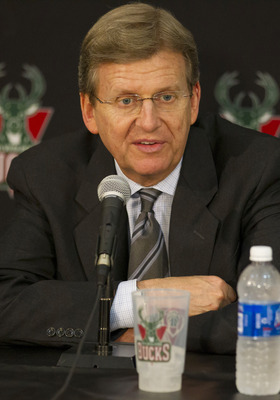 Jeff Hanisch-US PRESSWIRE
John Hammond has been calling the shots for the Milwaukee Bucks since he took over for Larry Harris in 2008, and he now undoubtedly has the team on the rise.
The 58-year-old became the first member of the Bucks organization to win the Executive of the Year award in 2010, and he has continued to make solid moves.
Hammond paired Monta Ellis and Brandon Jennings in the same backcourt this past season to create one of the most explosive guard duos in the league.
After dealing away oft-injured Andrew Bogut for Ellis and receiving underrated power forward Ekpe Udoh—a per-minute stud waiting for an opportunity—the Bucks are on the rise.
So too is Hammond's stock.
9. Kevin O'Connor, Utah Jazz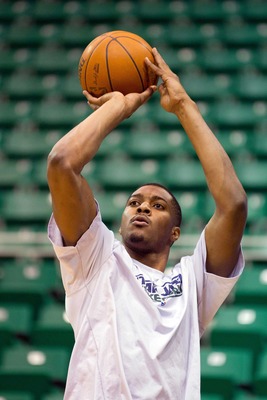 Just one of the many promising players who Kevin O'Connor has brought to Utah.
Russ Isabella-US PRESSWIRE
The current roster that Kevin O'Connor has put together for the Utah Jazz is a true testament to his skills as a general manager.
While Utah isn't in a position to win a title right now, the roster has enough depth and promising young players to be in contention in the future.
O'Connor traded Devin Harris away to the Atlanta Hawks for Marvin Williams, giving the team some depth in the frontcourt. With Paul Millsap, Al Jefferson, Enes Kanter and Derrick Favors on the squad, he already has plenty of big men.
The team also brought back Mo Williams to score points and help mentor Alec Burks. Between the listed players and Gordon Hayward, the roster has an intriguing blend of veterans and promising young talent.
*Note (thanks to reader Drew K. Bingham): Dennis Lindsey is the current general manager for the Utah Jazz, introduced in early August. However, O'Connor is still serving as the Executive Vice President of Basketball Operations and will continue to have a large say in roster movement.
8. Donnie Nelson, Dallas Mavericks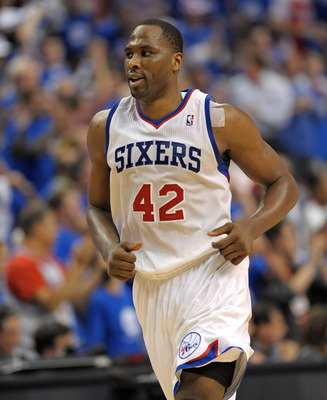 Elton Brand helps Donnie Nelson keep the Mavericks in contention.
Eric Hartline-US PRESSWIRE
Donnie Nelson has been in charge of the Dallas Mavericks' personnel moves since he took the general manager job in 2008 and helped the franchise win its first title in 2011 after bringing in Tyson Chandler, Shawn Marion and Caron Butler.
The Mavs were poised to take a nosedive in the Western Conference standings this upcoming season after failing to land a point guard in free agency, missing out on Jason Kidd, Deron Williams and Steve Nash.
Then Dallas traded for Darren Collison, the new starting point guard, and signed Elton Brand and Chris Kaman to provide some much-needed help in the frontcourt.
It's easy for Nelson to do his job when he has an owner like Mark Cuban behind him, but Nelson consistently makes good moves and keeps the team in contention for a high seed.
7. Gar Forman, Chicago Bulls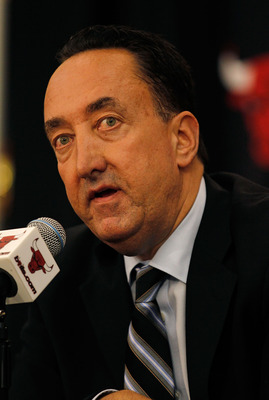 Jonathan Daniel/Getty Images
This offseason drops Gar Forman down in the rankings as he failed to land enough significant contributors to keep his team near the top of the Eastern Conference while Derrick Rose rehabs.
However, Forman still made a number of solid moves. He re-acquired Kirk Hinrich and intelligently decided not to match the three-year, $25 million offer sheet for Omer Asik.
Forman has consistently proven that he has one of the best basketball minds in the business during his tenure with the Chicago Bulls.
The architect of the much-vaunted "Bench Mob" was named Co-Executive of the Year in 2011, and not too much has changed since then.
6. Masai Ujiri, Denver Nuggets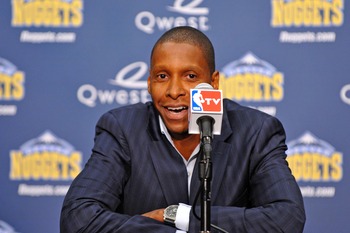 Ron Chenoy-US PRESSWIRE
The job that Masai Ujiri has done with the Denver Nuggets is nothing short of exceptional. If it wasn't for his lack of track record, this team executive would have moved past some of the bigger names on this list.
Behind Ujiri's patience and good judgment, the Nuggets now have one of the deepest and most talented teams that the Association has to offer.
Inserting the Nuggets into the Dwight Howard trade and landing Andre Iguodala was just the latest example of Ujiri's genius.
If JaVale McGee blossoms into an elite NBA center and outshines Nene Hilario in the future, he's only going to look even better.
5. Danny Ainge, Boston Celtics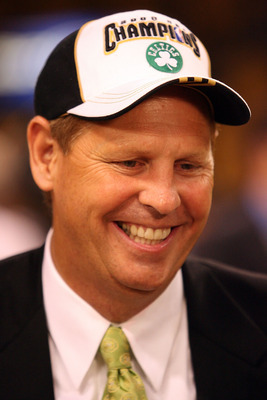 Elsa/Getty Images
Even though Ray Allen has departed for the Miami Heat, Danny Ainge is still reaping the benefits of the "Big Three" that he put together in 2008. You know, the one that he was able to win a title with.
And of course, Ainge simply reloaded after Allen departed. Signing Courtney Lee and Jason Terry to man the shooting guard position while Avery Bradley recovers from offseason surgery is going to make the Boston Celtics rotation even stronger.
Ainge has put the C's in prime position to contend for a title year after year, replacing older veterans with promising young talents on the roster.
4. Mitch Kupchak, Los Angeles Lakers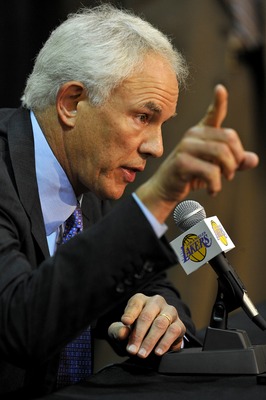 Jayne Kamin-Oncea-US PRESSWIRE
Although the Pau Gasol trade is starting to lose some of its two-title luster as Marc Gasol continues to blossom into one of the NBA's best centers, Mitch Kupchak has allowed the Los Angeles Lakers to remain a powerhouse for the foreseeable future.
Trading draft picks for Steve Nash apparently wasn't enough, even though that move alone put the Purple and Gold back into the title picture.
Kupchak didn't stop dealing until he'd traded for Dwight Howard without losing Gasol and signed Antawn Jamison and Jodie Meeks onto a suddenly strong L.A. bench.
The Staples Center is going to be rocking again during the 2012-2013 season, this time cheering for Kobe Bryant, Gasol and two new All-Stars.
3. Pat Riley, Miami Heat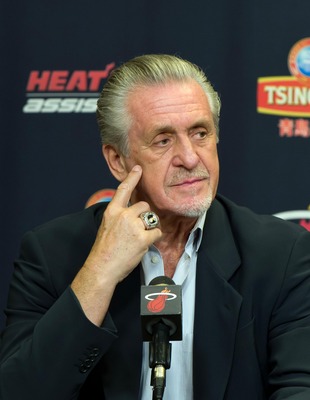 Steve Mitchell-US PRESSWIRE
How do you know when a general manager is pretty good at what he does?
You know it when LeBron James, Dwyane Wade, Chris Bosh and Ray Allen are all on the same team.
2. Sam Presti, Oklahoma City Thunder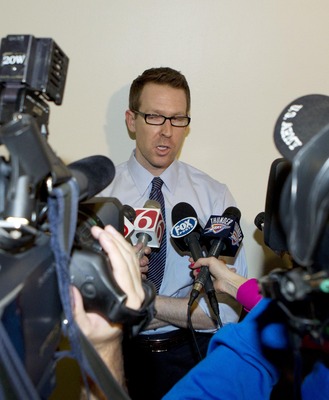 Richard Rowe-US PRESSWIRE
The decision to sign Serge Ibaka to a multi-year extension while opting to deal with James Harden later sealed the deal—Sam Presti is simply a sensational general manager.
In just four years, Presti has managed to put together a roster that prominently features Kevin Durant, Russell Westbrook, Ibaka and Harden.
Additionally, there's plenty of potential on the bench between Eric Maynor and recent draft pick Perry Jones III.
Presti has yet to make a bad move during his time in the GM's seat for the Thunder.
1. R.C. Buford, San Antonio Spurs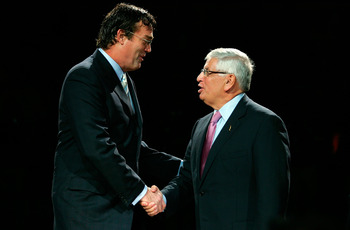 Ronald Martinez/Getty Images
From an executive standpoint, the San Antonio Spurs have been the gold standard in the NBA for quite some time.
Since becoming GM, R.C. Buford has won three titles with a roster that prominently features Tony Parker, Tim Duncan and Manu Ginobili.
After re-signing Tim Duncan to a three-year deal in July, that trio is still in place for the future. However, Buford has continued to add pieces.
He's unearthed gems in Danny Green and Kawhi Leonard, players who fit in perfectly with Gregg Popovich's system.
As long as Buford is in charge, the Spurs are going to be in contention. And as long as he's present in the front office, the Spurs management is going to find its way to or near the top of any managerial power rankings.
Keep Reading