Ravens vs Jaguars: Breaking Down Baltimore's 48-17 Win over Jacksonville
Use your ← → (arrow) keys to browse more stories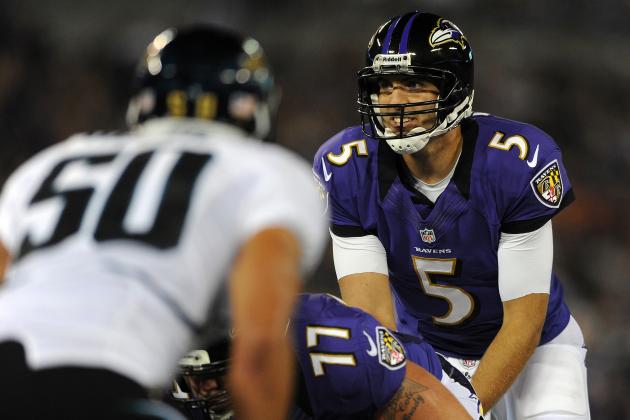 Patrick Smith/Getty Images
Joe Flacco could have easily thrown for over 300 yards on Thursday if he played all four quarters. Impressive.
There's a lot to apparently be happy about if you're a Baltimore Ravens fan who watched the team trounce the Jacksonville Jaguars on Thursday night, a 48-17 win in the team's most important preseason contest.
More specifically, their offense—and especially their passing game—looked far better than we've seen thus far in the Joe Flacco-Cam Cameron era and if this is a hint of what's to come in the regular season, then this is clearly a different team. One, as I said as the game wrapped, that seems to truly belong to Flacco.
Passing was the order of the day for the Ravens, with 48 of their 76 plays coming via the air—and 36 thrown by Flacco. Of Baltimore's 32 first downs, 23 were thrown and 433 of their 571 yards came from their quarterbacks' arms.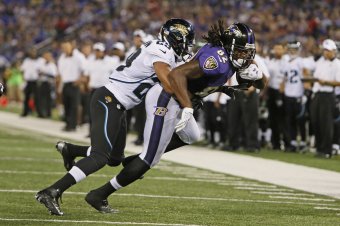 Mitch Stringer-US PRESSWIRE
During the two-plus quarters with Flacco under center, the Ravens ran the ball just 10 times, resulting in only 44 yards, with 30 of those coming on one Ray Rice run.
Flacco's 36 throws aren't likely something we'll see on an every-week basis in the regular season, but he manages to prove that finally being asked to pass that much won't result in a lackluster performance. He had two touchdown passes in the game, and a meaningless Hail Mary interception to close the first half.
The Ravens' attempt to speed up their offense has also helped somewhat mitigate Flacco's biggest flaw—his tendency to hold onto the ball too long. They also successfully mixed things up in the passing game, with a greater variety of routes and Flacco was given the freedom to audible at the line. As a result, Flacco was able to target nine different receivers, with Torrey Smith getting the most attention.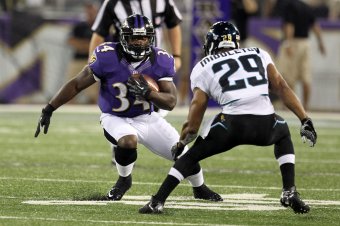 Mitch Stringer-US PRESSWIRE
Smith, who is clearly going to be Flacco's biggest and best receiver this year, had 11 passes thrown his way. He caught eight of them for 103 yards.
Rookie running back Bobby Rainey also had a standout performance—though his two rushes netted only seven yards, he also caught three passes for 73 yards and a touchdown, making a good argument for why he should remain on the active roster.
It wasn't a perfect outing to be sure. The Ravens' dominant storyline of the past three seasons seemed almost to be flipped on its ear, with offense leading the way and the defense trying to play a bit of catch-up.
For the third week in a row, the cornerbacks—mainly Cary Williams and Jimmy Smith—were harassed by the pass, with rookie receiver Justin Blackmon giving the team the most trouble, pulling down four passes for 72 yards. They didn't allow a touchdown via the pass, however, and Baltimore's defense gave up just one score on the night, so clearly this wasn't a completely disappointing outing.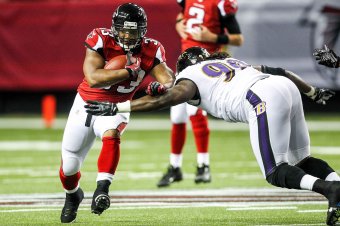 Daniel Shirey-US PRESSWIRE
However, the Ravens' front seven needs to tighten up their run defense—especially their linebackers. Even without Maurice Jones-Drew on the field, the Jaguars were quite successful on the ground, with 24 total carries for 105 yards and a touchdown. The three backs averaged over four yards per carry, with Rashad Jennings having the best showing (13 carries for 57 yards).
Without Jarret Johnson, who moved on in free agency, and Terrell Suggs, who is out with a torn Achilles' tendon, the Ravens need to find other players who can step up and effectively stop the run. Right now, that job is falling to Paul Kruger, who is still struggling setting the edge and stopping running backs.
The Ravens defense has had mixed results against the run in the preseason—the Lions got 166 yards on the ground against them, the Falcons just 71 (and on 21 carries). For a run-stopper like Kruger, the tackling numbers aren't very high. He had two on Thursday, one against Atlanta and four against the Lions.
It's quite the transition for Kruger, who was a situational pass-rusher last season and is now being asked to stop the run. But he, along with the No. 2 cornerbacks, were the only slight disappointments of an overall strong Ravens performance.