MLB Prospects: 10 Prospects Who Could Be the Next Chris Sale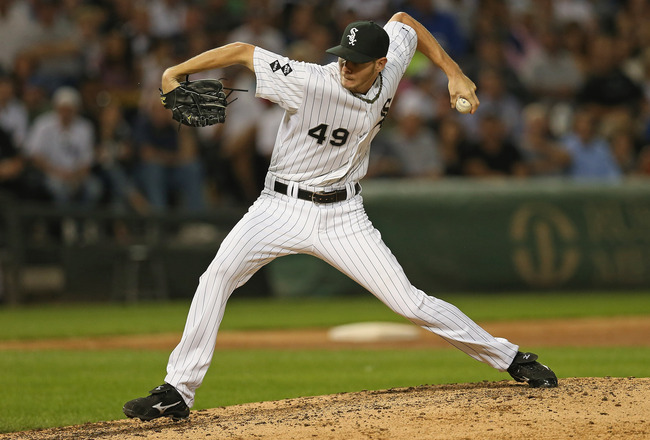 Jonathan Daniel/Getty Images
Selected by the White Sox with the 13th overall pick in the 2010 MLB First-Year Player Draft out of Florida Gulf Coast University, it took Chris Sale all of 11 games at two minor league levels before reaching the major leagues as an integral part of the team's bullpen.
Appearing in 21 games and logging 23.1 innings just three months after his selection in the draft, the wiry southpaw posted a 1.93 ERA, 12.3 K/9 and 1.1 WAR. The following season, Sale appeared in 58 games for the White Sox, recording eight saves with a 2.79 ERA and 10.0 K/9 in 71 innings.
Transitioned to the team's rotation prior to the 2012 season, the 23-year-old has emerged as one of the game's premier starting pitchers. Having already made 22 starts this season, Sale currently owns a 15-4 record, 2.65 ERA, 1.033 WHIP, 8.8 K/9 and 2.1 BB/9 and is in contention for the American League Cy Young with 5.4 WAR.
But as we look towards the minor leagues, are there are pitchers who have the pure stuff and overall potential to be the next Chris Sale?
Here are 10 pitching prospects worth considering.
10. Martin Perez, LHP, Texas Rangers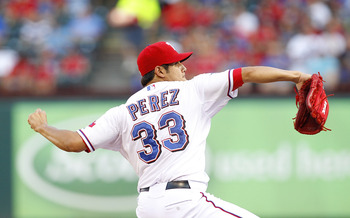 Rick Yeatts/Getty Images
2012 Stats (AAA): 7-6, 114 IP, 4.11 ERA, .249 BAA, 62 K/52 BB (20 G; 19 GS)
MLB: 1-1, 20 IP, 4.05 ERA, .275 BAA, 10 K/8 BB (6 G; 3 GS)
Still only 21 years old, a strong argument can be made that the Rangers may have rushed their young left-hander. Despite pitching at Triple-A and the major leagues over the last two seasons, his command issues are yet to improve.
Once considered a potential front-line starter, Martin Perez's future role with the organization ultimately depends on his ability to throw strikes.
9. Yordano Ventura, RHP, Kansas City Royals
Denny Medley-US PRESSWIRE
2012 Stats (A+, AA): 3-7, 99 IP, 3.73 ERA, .231 BAA, 122 K/39 BB (21 GS)
At 5'11", 140 pounds soaking wet, Yordano Ventura—much like Carlos Martinez—has a rocket for an arm that routinely generates fastballs in the upper 90s and scrapes triple digits.
However, the 21-year-old is more than just a strong arm, as he also possesses a plus breaking ball and developing changeup. The right-hander has a feel for his three-pitch mix too, which makes him far more appealing as a starter than reliever.
8. Kevin Chapman, LHP, Houston Astros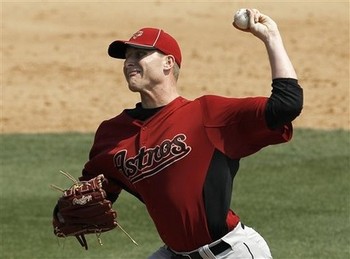 Courtesy of daylife.com
2012 Stats (AA): 6-3, 2 SV, 54.1 IP, 2.48 ERA, .219 BAA, 58 K/31 BB (45 G)
After missing the 2008 season following Tommy John surgery, the left-hander was one of college baseball's elite relievers when the Royals made him their fourth-round draft pick in 2010 (he was traded to the Astros this past March).
With a plus-fastball/slider combination and fringy changeup, Chapman's stuff is good enough to start. However, his command is inconsistent, so for the time being, his immediate future is in the Astros bullpen.
7. Andrew Chafin, LHP, Arizona Diamondbacks
Brendan Maloney-US PRESSWIRE
2012 Stats (A+): 4-6, 103.1 IP, 5.49 ERA, .257 BAA, 129 K/61 BB (27 G; 19 GS)
The Diamondbacks have remained steadfast in their development of Chafin, a left-hander, as a starting pitcher. With a mid-90s fastball with late life as well as a curveball, slider and changeup, Chafin's lack of command continues to impede his overall development.
At this rate, he will likely be ready to assume a full-time role as a reliever in 2013, and once he does, the 22-year-old could skyrocket through the system.
6. Adam Conley, LHP, Miami Marlins
Courtesy of MiLB.com
2012 Stats (A-, A+): 11-5, 122.1 IP, 3.38 ERA, .237 BAA, 134 K/42 BB (25 GS)
After working as both a starter and reliever at Washington State, Adam Conley has worked exclusively as a starter since the Marlins made him a second-round pick in 2011. With a plus heater with considerable arm-side sink, the left-hander is also armed with a changeup and above-average slider.
His command has been impressive and should confirm his development as a starter, but I wouldn't be surprised if he makes his big league debut over the next two years out of the Marlins bullpen.
5. Carlos Martinez, RHP, St. Louis Cardinals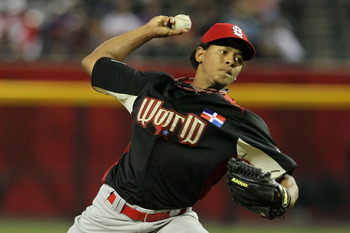 Jeff Gross/Getty Images
2012 Stats (A+, AA): 5-5, 97.1 IP, 2.96 ERA, .240 BAA, 86 K/30 BB (20 GS)
An undersized right-hander with one of the fastest—and strongest, obviously—arms in the minor leagues, the 20-year-old has often drawn comparisons to Pedro Martinez.
Beyond his plus fastball, Martinez (Carlos, not Pedro) throws a changeup with plus potential as well as a breaking ball that's a hammer when thrown correctly. Despite possessing the potential to be a lights-out, late-inning reliever, he'll remain a starter unless he struggles to command all three pitches at higher levels.
4. Chris Archer, RHP, Tampa Bay Rays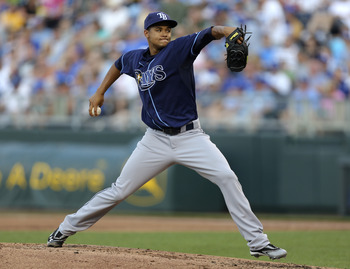 Ed Zurga/Getty Images
2012 Stats (AAA): 7-9, 121 IP, 3.79 ERA, .222 BAA, 132 K/59 BB (23 GS)
MLB: 0-2, 11.2 IP, 3.86 ERA, .186 BAA, 14 K/2 BB (2 GS)
Much to everyone's surprise, Chris Archer had a cup of coffee with the Rays earlier this season despite posting less-than-impressive stats at Triple-A—at least they were at the time of his promotion.
The right-hander has an absolutely electric arm and arsenal but has struggled to repeat his mechanics and pitch effectively since he was acquired from the Cubs in the deal that sent Matt Garza to the Windy City.
With a mid- to upper-90s fastball and plus slider, Archer's success will be determined by the development of his changeup as well as his ability to consistently reduce his walk rate.
3. Trevor Rosenthal, RHP, St. Louis Cardinals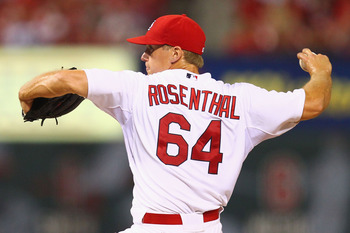 Dilip Vishwanat/Getty Images
2012 Stats (AA, AAA): 8-6, 109 IP, 2.97 ERA, .203 BAA, 104 K/42 BB (20 GS)
MLB: 0-1, 4.2 IP, 3.86 ERA, .222 BAA, 4 K/2 BB (5 G)
With a sinking fastball that flirts with triple digits, Trevor Rosenthal has quickly progressed through the Cardinals system. A starter at Double-A for most of the season, the right-hander was promoted to the team's big-league bullpen in July but has since been demoted to Triple-A to resume his development as a starter.
In a system that features talented right-handers Shelby Miller and Carlos Martinez, Rosethal may be the most talented pitcher in the organization.
2. Tony Cingrani, LHP, Cincinnati Reds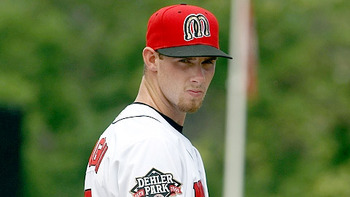 Courtesy of MiLB.com
2012 Stats (A+, AA): 10-4, 138.1 IP, 1.56 ERA, .193 BAA, 160 K/42 BB (24 GS)
With two plus pitches in his fastball and changeup, Tony Cingrani has dominated as a starter in his first full professional season after working as a closer while at Rice. His breaking ball is still lacking, but he's become more comfortable throwing it as something more than a "show-me" offering.
Like Chris Sale, Cingrani has the ability to be effective both as a starter and reliever.
1. Alex Meyer, RHP, Washington Nationals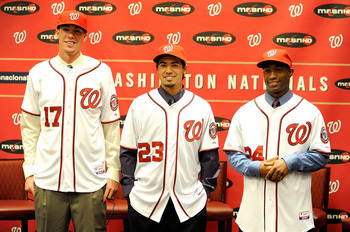 Greg Fiume/Getty Images
2012 Stats (A-, A+): 10-6, 129 IP, 2.86 ERA, .211 BAA, 139 K/45 BB (25 GS)
A highly coveted pitcher out of high school, Alex Meyer opted to attend Kentucky, where he blossomed into a first-round draft pick in 2011.
At 6'9", the right-hander has a plus fastball in the mid-90s as well as a wipeout power slider. He'll also work in a changeup, although it lags behind his two other offerings. His command has vastly improved over the last year, therefore giving him a very high ceiling as a starter.
Keep Reading