Fantasy Football: Who Should Be Your No. 1 Pick?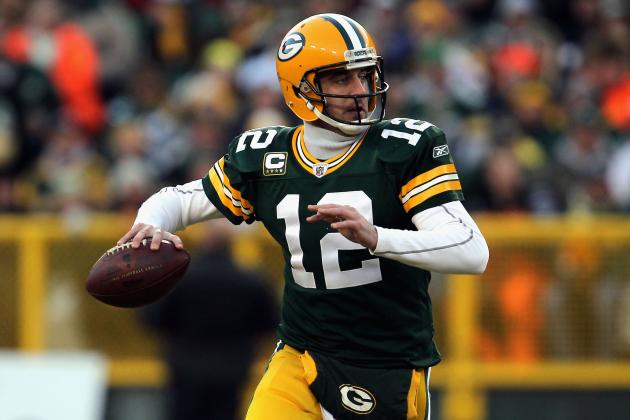 Jonathan Daniel/Getty Images

There is no more exhilarating and simultaneously terrifying way to start your fantasy football season than to learn you have the top overall pick.
On one hand, you have dibs on any player in the league you want. You can guarantee you'll get your guy. On the other hand, if you botch the pick there's a good chance you've dug yourself a deep hole for the entire season.
No pressure or anything.
So if you do land the first pick this year, who are you best served selecting?
That's where this list comes in. I've ranked 10 players I've decided are worth consideration for the selection based on Yahoo!'s point system. From those who are long shots to the safe, usual suspects who should produce. All players here can be justified as the top selection, but some are easier to justify than others.
It's just a league title at stake. Let me help you decide the best starting point to win it.
Begin Slideshow

»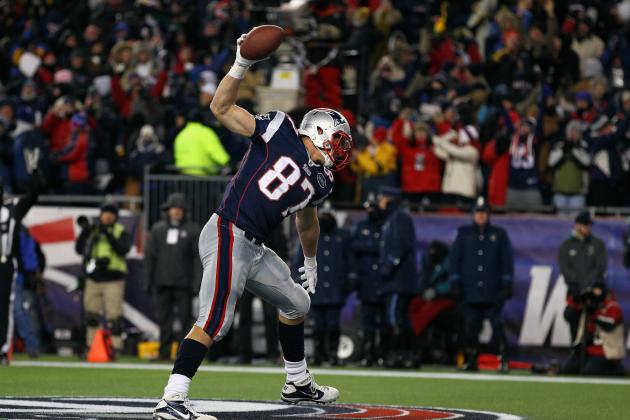 Al Bello/Getty Images

Should you really be taking a tight end with the top overall pick?
No.
Can I help you justify the selection if you decide you absolutely have to have Gronkowski?
Absolutely.
If you want a comprehensive look at Gronkowski's fantasy prospects, check this out. But there is one main reason Gronk is worthy of at least consideration for the top overall spot: value over other players at his position. Take a look at how Gronk fared against the second- and third-best fantasy producers at his position in Yahoo's standard scoring system.
Rob Gronkowski: 46 more fantasy points than Jimmy Graham and 106 more points than Aaron Hernandez.
Aaron Rodgers: Five more points than Drew Brees and 33 more points than Tom Brady and Cam Newton.
Ray Rice: 13 more points than LeSean McCoy and 34 more points than Maurice Jones-Drew.
Calvin Johnson: 44 more points than Jordy Nelson and 48 more than Wes Welker.
It would certainly be unorthodox to draft a tight end with the top overall pick. But if you think Gronk can replicate his epic 2011 numbers (90 receptions, 1,327 yards, 18 touchdowns) or at least stay just as far ahead of the field, the latter of which is likely, there won't be a more dominant player at his position than Gronkowski.
Especially in a league that rewards receptions and/or touchdown receptions even more than Yahoo!'s standard scoring, Gronk is a reasonable choice with any pick.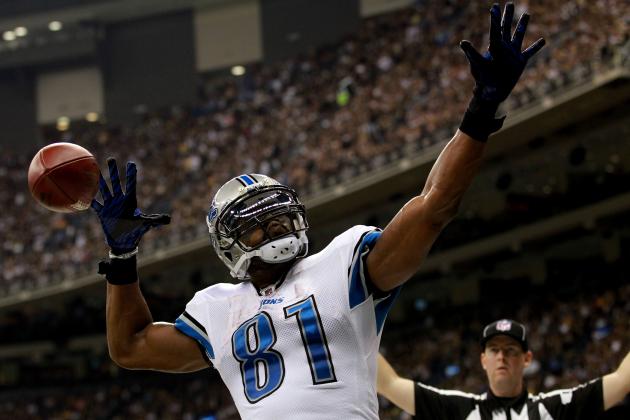 Ronald Martinez/Getty Images

The argument for drafting Johnson with the top overall pick is similar to the one I made for Gronk: Johnson is simply head and shoulders above anyone else at his position.
And when you consider he finished with the 11th-most fantasy points overall last season despite being a wide receiver, it's not as though you're losing a ton of overall points by selecting him.
The argument for Johnson is simple: He's the only truly elite (including health) fantasy option at wide receiver, and when you draft again with back-to-back picks at the end of the second and start of the third round, you can still find very nice performers at running back and quarterback.
What you won't find at that slot? A wide receiver who finishes with 96 receptions for 1,681 yards and 16 touchdowns like Johnson finished with last season.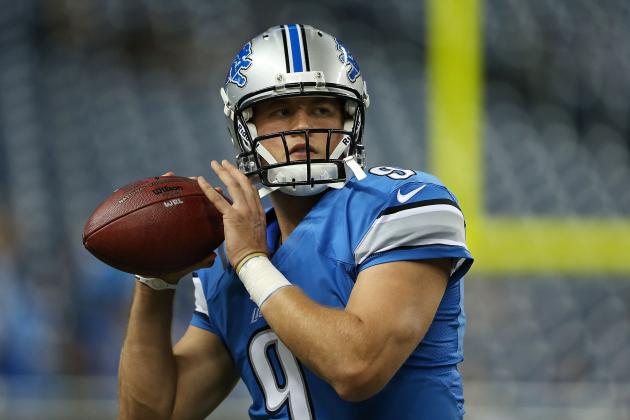 Leon Halip/Getty Images

Like the two players before him, you're taking a huge risk selecting Stafford with the top overall pick. But he also has the potential to finish with more fantasy points than any other player this season, so I won't begrudge anyone who has to have him.
We finally saw what a healthy Stafford was capable of last season, as he finished with 5,038 passing yards and 41 passing touchdowns. Remember, he's only 24—he just gave us a taste of what he's capable of doing.
On a Lions team that is going to throw the ball around, and with a ton of weapons to play with, there is nothing suggesting Stafford won't dominate once again in 2012. If he stays healthy, you could be looking at a sleeper pick to be fantasy football's MVP in 2012.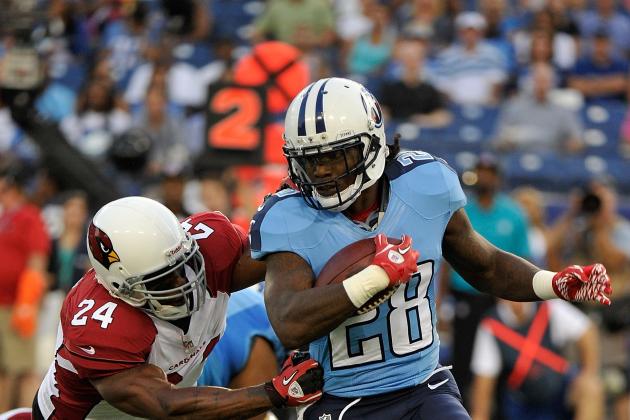 Frederick Breedon/Getty Images

If you want a more comprehensive look at Chris Johnson's fantasy prospects, I've got you covered. But the main point that needs to be made is this: Johnson is in line for a bounce-back year and has looked solid in the preseason so far.
Last year he came into camp out of shape after a holdout, and the offensive line dealt with a lot of struggles. There's no holdout this season, and the team added Steve Hutchinson at guard, so Johnson should head into the season as the running back who dominated from 2008 to 2010.
Remember, Johnson's upside is the 2,509 yards from scrimmage and 16 total touchdowns he scored in 2009. When you consider his potential, you have to at least think about him for the top overall pick.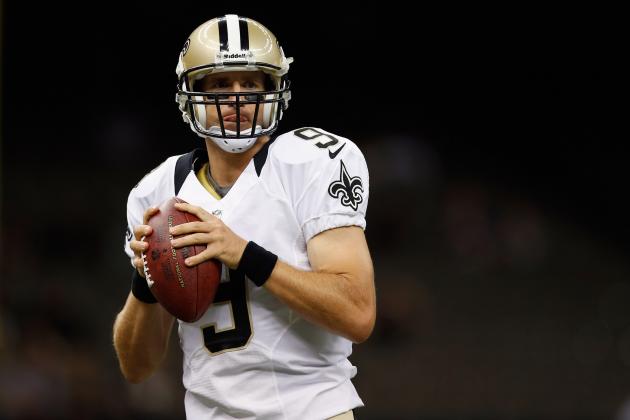 Chris Graythen/Getty Images

Drew Brees has thrown for at least 4,200 yards and 26 touchdowns in six straight seasons. Twice in the past four years he's eclipsed 5,000 passing yards. His lowest touchdown output in the past four years is 33 throwing scores.
So if you want to draft Drew Brees with the top overall pick, you go right ahead. Other players may have more upside, but nobody has been more consistent from a fantasy perspective in recent years.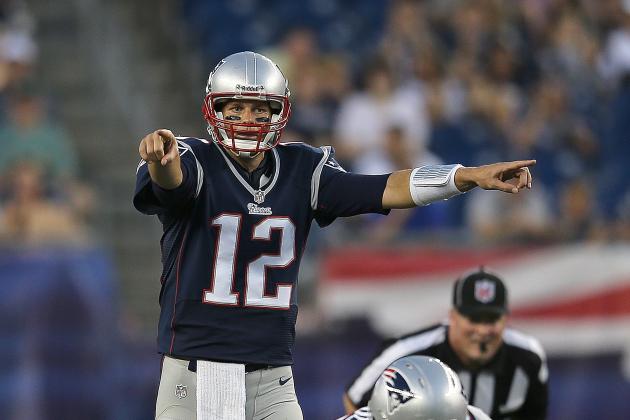 Jim Rogash/Getty Images

What do you get for the man who threw for 5,235 yards and 39 touchdowns last season? Oh, just the field-stretching deep threat the team lacked, Brandon Lloyd, and his old offensive coordinator, Josh McDaniels.
Be afraid, NFL defenses. And be very excited, fantasy owners—Brady is in line for another huge season. With Wes Welker, Lloyd, Gronkowski and Hernandez, Brady has a ton of weapons, and the Pats have a ton of reasons to keep throwing the rock.
Brady might actually put up even better numbers this season. He's absolutely worth the top overall pick if you decide to go in that direction.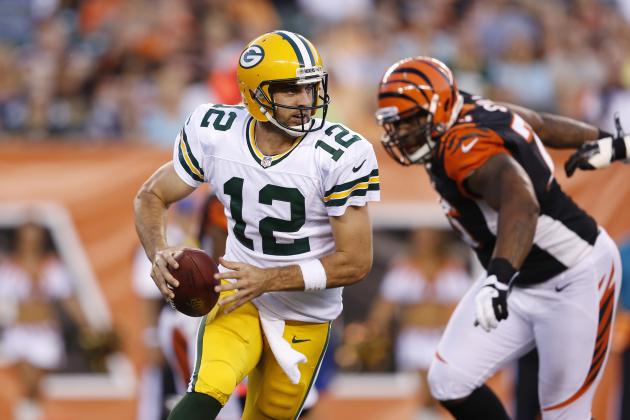 Joe Robbins/Getty Images

You could make the argument that Rodgers is the safest player to select with the top overall pick. He's only failed to throw for 4,000 yards once in the past four seasons (3,922 yards in 2010) and has tossed at least 28 touchdowns every season during that time span.
Plus he's rushed for 16 touchdowns in the past four seasons, which is a nice little boost to his fantasy value.
He was fantasy's best player last season, finishing with career highs in passing yards (4,643) and passing touchdowns (45), all while throwing just six interceptions. And at 28 years old, he's only getting better.
There's a reason he's only No. 4 on my list, which I'll explain in a moment. But Rodgers is a lock to be a fantasy stud—and an excellent top selection if you make that decision.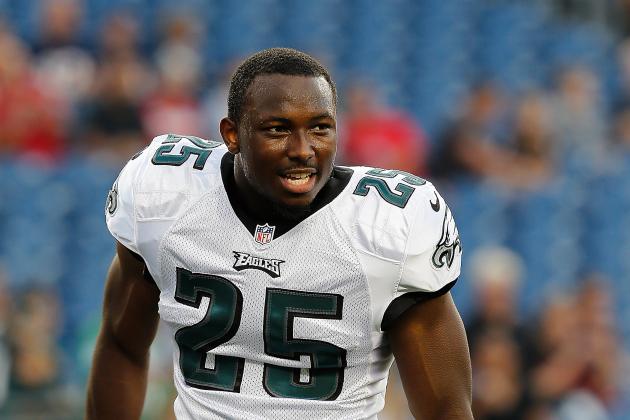 Jim Rogash/Getty Images

The running back position is a mess this year.
There are elite options who are coming off injuries or simply injury prone (Adrian Peterson, Jamaal Charles, Darren McFadden, Fred Jackson), traditional studs who are getting up there in years (Frank Gore, Michael Turner, Steven Jackson), unproven talents (DeMarco Murray, Trent Richardson) and various other question marks (Can Marshawn Lynch replicate his 2011 campaign? Will Maurice Jones-Drew play anytime soon?).
In other words, if you can nab a safe, elite running back at the top of your draft, I think you have to do so this season. And LeSean McCoy is just that.
He has 29 total touchdowns in the past two years—including his remarkable 20 from a year ago—and 3,296 yards from scrimmage. He's on a high-flying, exciting Philadelphia offense that utilizes him as both a runner and receiver. And he's stayed healthy in his first three seasons.
McCoy is fantasy elite at the running back position. Consider him very carefully when making a decision on the top overall pick.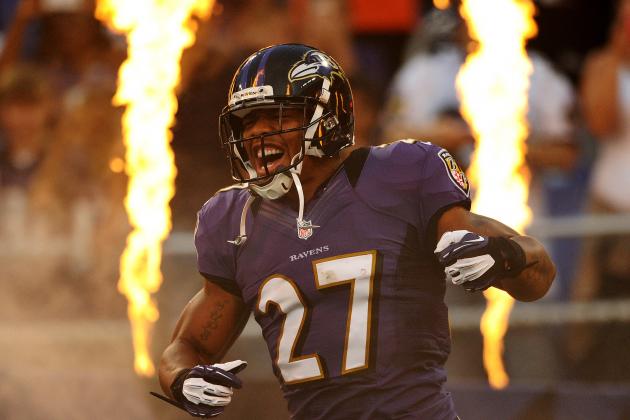 Patrick Smith/Getty Images

I broke down Ray Rice's fantasy projections in more depth here, which you should check out. What did I find?
That Ray Rice is the safest of the elite options at running back you can draft.
He hasn't missed a game in three seasons. In two of the last three campaigns, he's eclipsed 2,000 yards from scrimmage (and still had an impressive 1,776 yards in 2010). He's had at least 63 catches in the past three years.
Rice is the focal point of Baltimore's offense, plain and simple. There aren't any situations where he'll lose touches or scoring opportunities. From staying on the field on third downs to getting the goal-line carries for the Ravens, Rice is a guarantee to produce.
Why is he No. 2, then? Because there is one other running back who has just a bit more upside.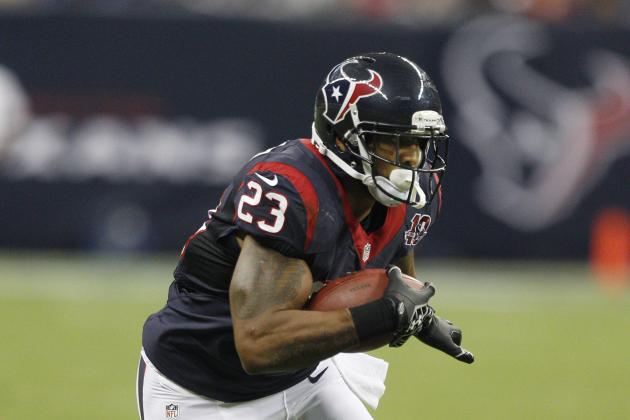 Bob Levey/Getty Images

The only reason Rice is the slightly safer pick than Arian Foster is because the Texans' top running back lost three games to injury last season. But when he's on the field, there simply isn't a better fantasy back.
In the past two seasons, Foster has notched 30 total touchdowns and 4,061 yards from scrimmage. In fantasy terms, that translates to 19.87 fantasy points per game played over the past two seasons.
That's 19.87! From your running back! In a year when the running back position is so sketchy, that level of production is invaluable.
Thus, Foster is my choice as the top overall fantasy selection this season. If I get the top pick, I'm going with Foster. But if you want to go in another direction, I totally understand. Hopefully, this list helped you make a solid decision for your team either way.
Good luck!
Click Here to sign up for Yahoo! Sports Fantasy Football 2012.
Hit me up on Twitter—my tweets have an ADP of one.