Bears vs. Giants: Final Report Card, Player Grades for New York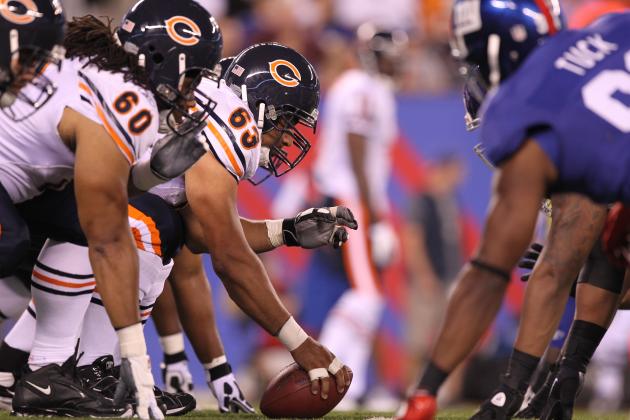 Al Bello/Getty Images

The New York Giants (1-2) fell to the Chicago Bears (2-1) at MetLife Stadium tonight in their third preseason game, 20-17.
Rookie running back David Wilson shined in the first quarter, getting his first snaps from Eli Manning, who was super accurate.
But the Giants' backups could not hang with Chicago, giving up 13 unanswered points in the second half, and failing to finish a last-ditch drive to secure a win.
Big Blue got its biggest special teams play of the preseason thus far, blocking a Ryan Quigley punt that lead to a quick TD, putting the G-Men up 17-7.
But it was all downhill from there.
Let's take a look at the Giants' final postgame grades and evaluations.
Begin Slideshow

»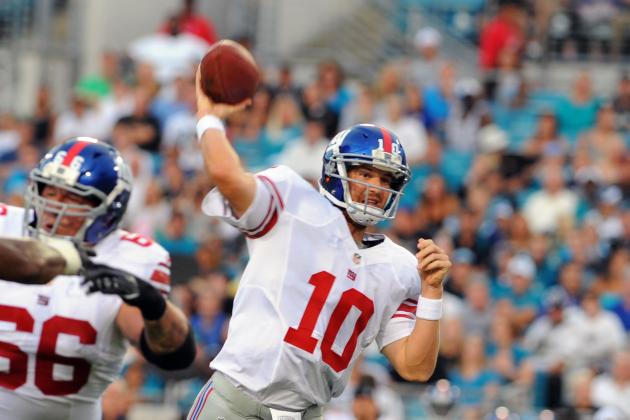 Al Messerschmidt/Getty Images

Eli Manning: B+
Manning was deadly accurate against the Bears' starters, completing 17-of-21 for 148 yards and a touchdown, good for a 111.9 quarterback rating.
But, more importantly, Manning spread the ball around to a bevy of Big Blue's rookies and players on the bubble, giving the Giants' coaching brass a good look at LSU standout Rueben Randle, newly acquired tight end Martellus Bennett and Ramses (Last Chance) Barden.
Manning was as patient, deliberate and poised as we've become accustomed to and his demeanor clearly put his younger talent at ease.
In addition to his passing success, Manning looked comfortable handing off to rookie running back David Wilson, who shined in the first half.
Overall, a great game for Manning who looks regular-season ready.
David Carr: D
David Carr continued to show why he should be demoted to third-string and the Giants should give former LSU standout Ryan Perrilloux the backup job.
Perrilloux can't do any worse than Carr, who finished the game 7-of-16 for 76 yards passing against benchwarmers.
But Carr was even worse than those numbers suggest, unable to move the team downfield until the last series and constantly throwing behind receivers and rolling out when there was plenty of room in the pocket.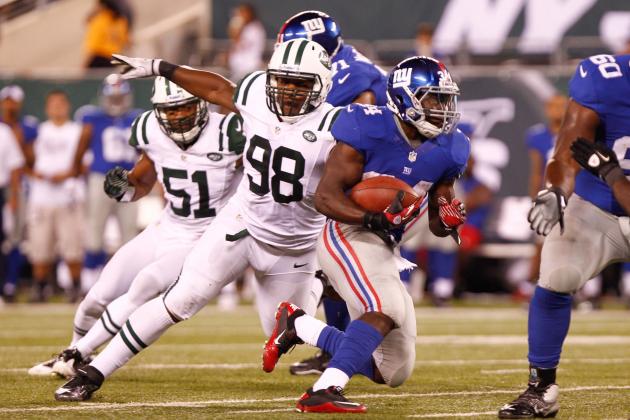 Debby Wong-US PRESSWIRE

David Wilson: A
Wilson, the Va. Tech standout, had five carries for 49 yards—averaging nearly 10 yards per carry—and accounting for 75 percent of the Giants' first-quarter offense. He also tacked on two catches for 26 yards and looked comfortable taking snaps from quarterback Eli Manning.
Wilson continued to do his best work on the outside but found a few gaps up the middle, driving for hard-earned yards and looks ready to complement starter Ahmad Bradshaw on opening day.
Da'Rel Scott: C+
Scott was the only other Giant back to gain double-digits, garnering 16 yards on five carries. He also hauled in one catch for 12 yards, making a case for a spot on the roster. Scott continues to improve and has impressed the coaching staff with his work ethic. And that blocked punt on special teams did not hurt either.
Best of the Rest: D+
D.J. Ware and Andre Brown did little to distinguish themselves Friday. But Ware at least had an excuse—he only got his hands on the ball once. Brown took six snaps for a whopping three yards. Not the kind of performance that gets you noticed, except in a bad way.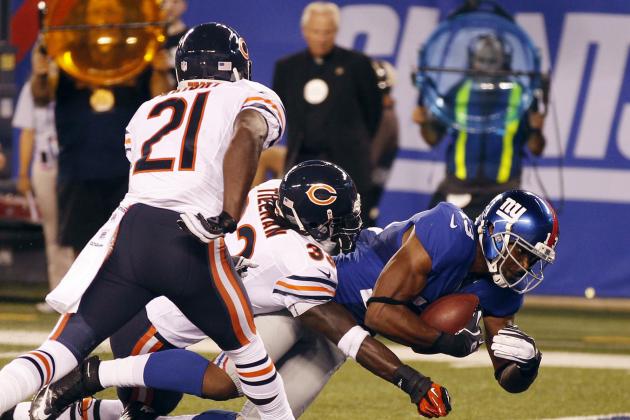 The Star-Ledger-US PRESSWIRE

Victor Cruz: C+
Cruz led the Giants with five passes for 28 yards after being invisible in the first quarter. He would grade out better but for a lack of YAC—or yards after the catch, a bonus we've become accustomed to when Cruz touches the ball.
Ramses Barden: A-
If there's a wide receiver who has "last chance" written all over him, it is the athletic Barden, who is in year No. 4 with the Giants. Barden led Big Blue with 46 receiving yards and hauled in quarterback Eli Manning's only touchdown. Maybe, just maybe, this is finally the year Barden breaks through.
Rueben Randle: B
Randle continues to impress, offering a big target over the middle for Manning and fighting for yards after the catch. He caught just two passes for 21 yards but continues to look comfortable on the field. His numbers probably would have been even more impressive Friday if the Giants did not have half a dozen receivers whom they remain undecided about.
Domenik Hixon: D
Hixon is running out of opportunities to crack the starting lineup, or at least to get a fair share of passes from Manning. His performance Friday did nothing to help his situation. He caught just one pass for nine yards and was tagged for a 13-yard loss on a play that fell apart from the start.
David Douglas: B
Now, you're probably asking yourself, how does a guy who caught zero passes get a B? Well, Douglas had one great catch called back on penalties and also lost a 37-yard punt return. And, no fumbles. Solid game for Douglas, whom the coaches just love to death.
Best of the Rest: C
As a whole, Giants receivers put together an average game against the Bears and were bailed out by great special teams play. Of course, those noted above stood out, good and bad.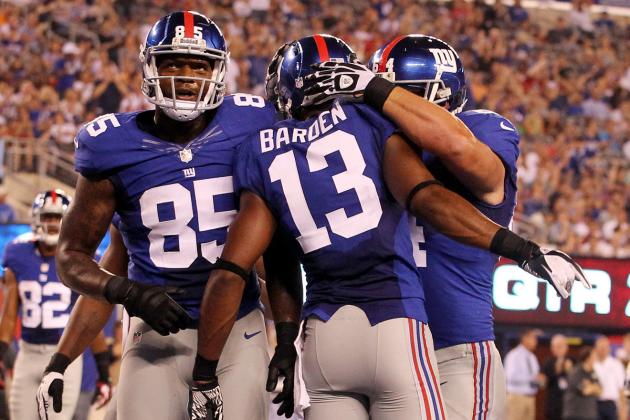 Brad Penner-US PRESSWIRE

Martellus Bennett: B
Bennett, who came to New York from their hated rival, the Dallas Cowboys, continued to show he has the complete game to ascend to the top of the Giants' tight end depth chart. Bennett caught three passes for 15 yards against Chicago. But his blocking, especially early in the game, helped spring rookie running back David Wilson on several plays. Bennett is all but assured the role of starting tight end.
Adrien Robinson: C+
Robinson has had a tough time in the preseason, with an early case of the drops, but he caught two passes for 14 yards Friday and is coming into form. It does not hurt that the Giants lack depth at tight end.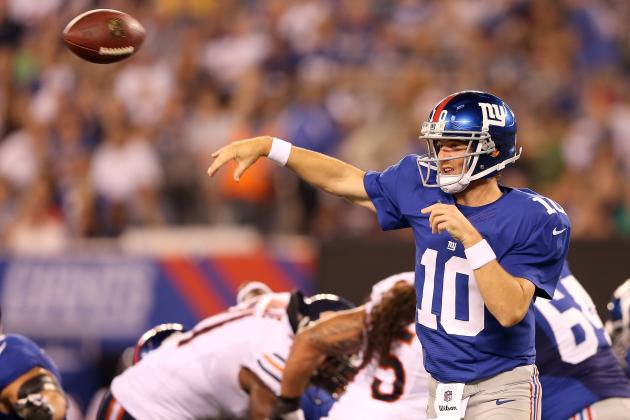 Elsa/Getty Images

Offensive Line: B
Grading the offensive line is the toughest challenge from Friday's game. If you judge the line solely by looking at Eli Manning's stats, you give them an A. If you judge them by their ability to wear down the defense deep into the game and spur on the running game, they get a D in my book.
Overall, I have to give them a B, given that Manning stayed upright all day and rookie running back David Wilson found daylight (hold onto your G-Men coolies now) up-the-middle. The team still needs a solid left tackle, David Diehl is not the answer.
They earned a B, but barely.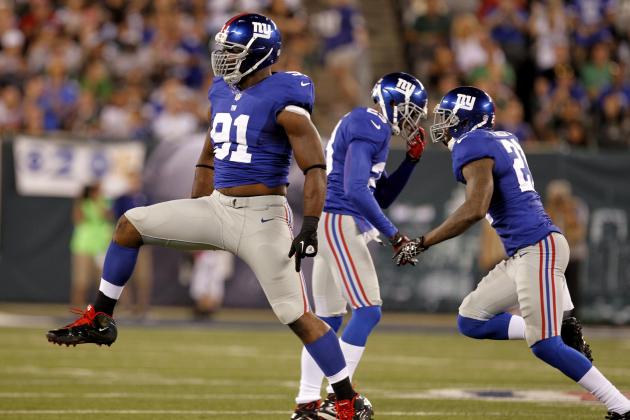 The Star-Ledger-US PRESSWIRE

Adewale Ojomo: A-
Ojomo, the defensive end from Miami, was impressive Friday, securing three tackles and Big Blue's only sack of quarterback Jay Cutler.
Osi Umenyiora: C-
Umenyiora had two tackles and was modestly successful at containing quarterback Jay Cutler. With JPP out, I expected more from Umenyiora, who had no quarterback pressures. He should have been a bigger factor.
Justin Tuck: D
Tuck was a non-factor against a Bears offensive line that doesn't scare anyone. It's just one game, but definitely not one of Tuck's better ones.
Linval Joseph: B-
Joseph was impressive with limited time, collecting two tackles and helping shut down the run when the Bears ran right. A good game from a guy who many say is an up-and-comer.
Best of the Rest: B
The Giants' defensive line stuffed the Bears running game Friday, holding Chicago to 94 yards, most of that coming against the Giants' backups. Matt Forte was the only Bear who ran with much success against Big Blue, gaining 39 yards over 10 carries. But the Bears were held to just 29 yards on the ground in the first half against Giant starters.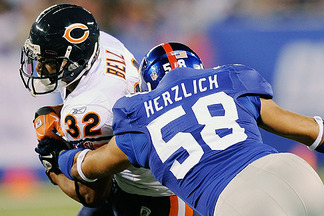 Mark Herzlich: A-
Herzlich led the Giants with six tackles against the Bears and was all over the place, pressuring quarterback Jay Cutler and helping out on the run. He is making Chase Blackburn look over his shoulder, no doubt.
Chase Blackburn: B
Blackburn was solid, too, gathering three tackles and roaming the middle effectively on play options and short-yardage situations. He's benefiting from the presence of Herzlich.
Spencer Paysinger: A
I've been called out for not recognizing Paysinger in previous rankings and reports. No more. Paysinger is the real deal. He will make this team and he will be a force when he gets on the field. He did it again Friday, collecting five tackles and wreaking havoc wherever he went. He still has a lot to learn, but he will be a solid contributor to this Giants linebacking corps.
Keith Rivers: B+
Rivers has been a hot topic in camp and continued to impress Friday in New York, with five tackles and solid work over the middle.
Best of the Rest: B+
The linebacking corps Friday played Giants football at its finest—at least in the first half—gang tackling, hitting hard, making the Bears hear footsteps. The only Bears wide receiver who seemed undaunted was standout and newly acquired Brandon Marshall.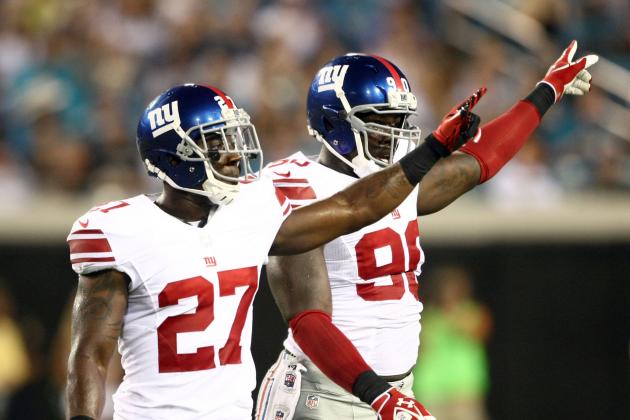 Douglas Jones-US PRESSWIRE

Antrele Rolle: C+
Rolle wasn't spectacular, nor did he get burned badly. An average day for an average Rolle, who should be anything but. Rolle had one tackle against the Bears.
Bruce Johnson: B-
Johnson had two tackles and looked good up against the Bears' No. 2 and No. 3 receivers. He's making headway, even if that means simply staying upright.
Prince Amukamara: I (Incomplete)
Amukamara looked good early but was carted off the field in the second quarter after a routine tackle of Brandon Marshall. Later, team doctors confirmed he had a "high ankle sprain." Amukamara is expected to fill in for Terrell Thomas, who is now doubtful heading into the regular season.
Justin Tryon: C
Tryon, like Rolle, did not blow anyone away, did not haul in any picks, but he did not look bad either. Tryon was solid, if not spectacular. He's a good No. 3.
Best of the Rest: C+
Once again, the Giants' secondary is getting hit with injuries. Fortunately for the G-Men, it's still preseason and it was still the Bears, a team struggling to find its offensive identity.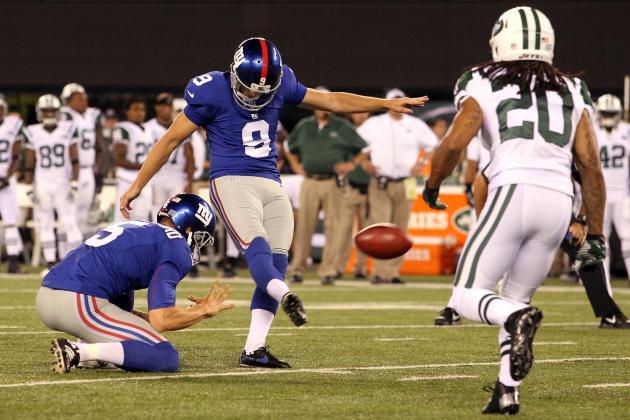 Brad Penner-US PRESSWIRE

Steve Weatherford: A
Weatherford continued his booming punts Friday, punting nine times for a 44.8 average and keeping the Bears pinned against their end zone much of the night.
Lawrence Tynes: A
Tynes was called upon once and nailed his 32-yard attempt. We can't penalize the guy because his offense did not move the ball in the second half.
Defensive Unit: A
Special teams sparked the Giants Friday night, blocking a Ryan Quigley punt that led to a New York touchdown. Then, on the the very next kickoff, Big Blue stripped Bears returner Eric Weems of the ball, but Chicago held on after the ball bounced back about 20 yards.
One blocked punt and one forced fumble is all you need to know. New York's special teams held Devin Hester to a two-yard return in the first quarter, but gave up a 42-yard runback by Booker. Great game for the defensive unit on special teams.
Offensive Unit: C+
David Douglas and Da'Rel Scott each had 28-yard kickoff returns, but the Giants' punt-return team was flat.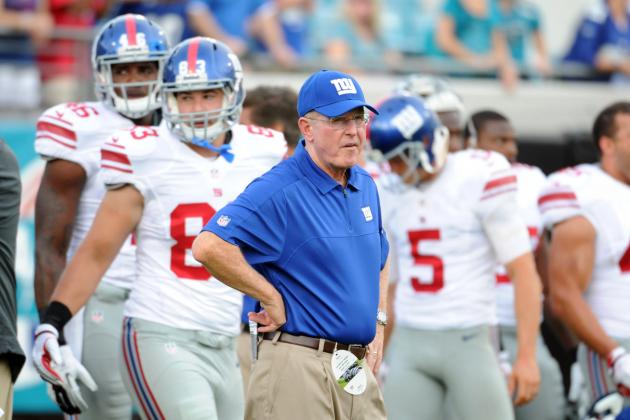 Melina Vastola-US PRESSWIRE

Tom Coughlin: C-
Tom Coughlin was his usual self, playing close to the vest and allowing his key skill players the opportunity to make a big play. He did, as he promised, give rookies David Wilson and Rueben Randle plenty of opportunities and Wilson made the best of it.
However, if there's a weakness in Coughlin's game, it is his inability to bring his team out of a mid-game funk. He's great at motivating after a devastating loss, but not so great at motivating in the fourth quarter to avoid that loss. Coughlin did not measure up on Friday.