New England Patriots vs. Tampa Bay Bucs: Preseason Week 3 Live Score, Analysis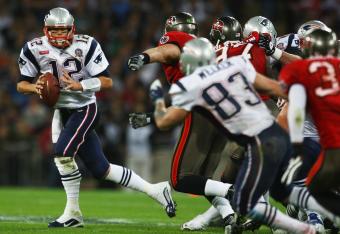 Julian Finney/Getty Images
Tampa Bay 30, New England 28
The Tampa Bay Buccaneers steam rolled the Patriots in what was an embarrassing affair for New England. Despite a late-game rally, the Pats can't feel good about their performance, particularly the offensive line's lack of protection for Tom Brady.
That will wrap things up for tonight.
Thanks to everyone for tuning in!
And if the game didn't turn out the way you wanted it to, don't worry! It's only preseason!
Some general thoughts on both teams after the Buccaneers' 30 - 28 victory over the Patriots:
Patriots
- New England's offensive line needs to improve. Is right guard Brian Waters ever going to report to camp? Is Sebastian Vollmer fully recovered from back injury and ready to reclaim his starting spot at right tackle? If "yes" is the answer to both those questions, then they should be fine.
- The defense was up and down. They started off shaky but started to get some good push up front later on. I thought Chandler Jones and Dont'a Hightower again showed promise tonight.
- Too many injuries tonight for the Pats. Shane Vereen, Steve Gregory, Kyle Arrington and Spencer Larsen all left the field at some point due to injury.
- Stevan Ridley had a great night overall. I was impressed by the second-year running back.
Buccaneers
- Tough break for the Bucs as it appears their Pro Bowl right guard Davin Joseph will miss the season due to a knee injury he suffered tonight (h/t Stephen Holder of TampaBay.com).
- Thought the defense played well, especially early in the game.
- The offense started off hot then cooled down, then got hot again and then cooled down again. It was up and down but they scored 30 points, so I can't critique them too hard.
The Buccaneers win 30 - 28.
The Bucs take a knee and let the clock run out.
Former Patriots wide receiver, Tiquan Underwood recovers the onside kick.
Underwood is most known for being cut by the Pats the night before Super Bowl XLVI.
With 33 seconds left in regulation and down two points, the Patriots will attempt an onside kick.
Extra point is GOOD.
30 - 28, Bucs.
30 - 27, Bucs.
A lot of points given up in this contest. Neither team's defensive coordinator can feel good about that.
Woah!
Ryan Mallett scrambles all over the place, avoids a sack and then somehow sneaks a low pass in to Jesse Holley in the endzone for a TOUCHDOWN!
What a play by the second-year quarterback.
This is the best we've seen from Mallett this preseason.
The Pats can't connect on 3rd and 5 with just under a minute left to play.
Defensive holding has been called. Nice break for the Pats.
1st and goal.
Interesting that we haven't seen Brian Hoyer at all tonight.
Does this mean that Mallett has passed Hoyer on the depth chart?
One minute left in the game, the Patriots are in the red zone.
30 - 21, Bucs
Mallett overthrows a pass intended for Demps on second down.
Mallett follows it up for a deep pass to Stallworth.
1:43 remaining.
Well what do you know? Mallett connects with Stallworth for a fourth-down conversion.
Maybe I was wrong about Stallworth!
With the competition at wide receiver as fierce as it is, that dropped pass may come back to bite Stallworth.
Stallworth hasn't done much in the preseason. He really struggled to get separation against the Eagles earlier this week.
2:13 remaining in the game.
Stallworth drops a wide-open pass on first down.
New England's defense holds!
The Bucs punt to Jeff Demps who brings the ball all the way to the 50-yard line.
However, there was a hold on the play, which will bring the Pats back 10 yards.
After two running plays, the Bucs find themselves in a third-down situation.
3rd and 2.
The Bucs will start this drive at the 20-yard line after a touchback.
4:13 remaining in the game.
The Patriots orchestrated a nice touchdown drive there, highlighted by rookie running back Jeff Demps' 29-yard gain.
30 - 21, Bucs
Mallett to rookie WR Jeremy Ebert for a TOUCHDOWN!
Jeff Demps finally flashes his elite speed and gets a nice 29-yard run.
1st and goal for the Patriots.
Ryan Mallett has taken over at quarterback for the Patriots.
Brandon Bolden just had a nice run that brought the offense to the Bucs' 40-yard line.
Stephen Holder of TampaBay.com is reporting that Buccaneer's Pro Bowl right guard Davin Joseph's injury may be season-ending.
You never want to see players get hurt, but you especially don't like to see it happen before the season even begins.
This article is
What is the duplicate article?
Why is this article offensive?
Where is this article plagiarized from?
Why is this article poorly edited?

New England Patriots: Like this team?