Tiger Woods at Barclays 2012 Tracker: Day 2 Highlights, Updates and More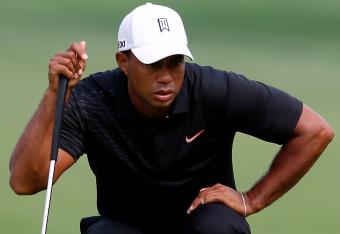 Kevin C. Cox/Getty Images
After an opening round of three-under 68, Tiger Woods continues his quest for his second FedEx Cup today at the second round of The Barclays at Bethpage Black on Long Island.
All the updates all afternoon can be found here.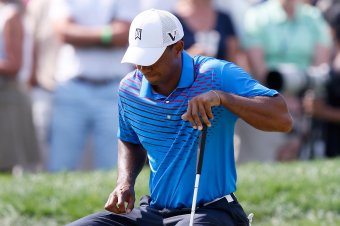 Kevin C. Cox/Getty Images
The word legendary is used much too often by writers and the same goes to describe Tiger Woods in general, but he had a round for the ages today after getting hurt early on.
It was a bumpy start for Woods. He started bogey-bogey and looked really close to just losing his confidence, but somewhere between the second green and third hole he tweaked his back.
For whatever reason, he seemed to focus more on controlling the pain and less on the swing and played the last 16 holes at four-under par.
He only missed a couple of fairways badly and found his spots on the green. His putting judgment was also pretty sharp and is only three shots behind going into the weekend.
His injury will be forgotten if he fails to win, but will grow in stature if he does as his round changed for the better as a result.
TIGERBOARD

| | | | |
| --- | --- | --- | --- |
| POSITION | SCORE | HOLE | TODAY |
| T8 | -5 | 69 | -2 |
Zach Johnson makes a par from out of the bunker. A 75 today, he makes the cut on the number.
Rory pars 18 for a 73. He is even halfway home.
Tiger taps in.
Tiger has 15 feet left to finish the round.
Downhill and goes right-to-left.
It burns the left edge and lips out.
He grimaces as he marks his ball disappointed he missed.
Tiger hits a seven-iron that goes to the back of the green then rolls back to pin high about 20 feet left for a birdie.
Zach Johnson and Rory McIlroy are on the good side of the cut line and will play the weekend.
Tiger has 173 left to the hole.
His iron approaches have not been bad today. His wedges, however, are still giving him trouble dialing it in.
His putting today has been solid.
Since opening with two bogeys, he has made four birdies and 11 pars.
We have not seen him wince in a couple holes.
The last hole is a deceptively tricky 418-yard par-four. With an elevated tee and a fairway that is intently guarded by all sorts of bunkers, the approach is to a pin cut center-right and is also guarded by a deep bunker front.
An iron for Tiger and he places it dead center between the bunkers.
Tiger is taking his time trying to get this putt just right.
Shadows now creep on the green.
The speed was good but the ball did not move left at the hole like he thought.
A couple feet left for par to remain at five-under.
He makes his three-footer.
TIGERBOARD

| | | | |
| --- | --- | --- | --- |
| POSITION | SCORE | HOLE | TODAY |
| T8 | -5 | 17 | -2 |
Tiger has about 40 feet left above the hole left for birdie.
Tiger hits his tee shot a bit long but he is safely on the green above the hole.
17 is playing 190 today and Tiger used a seven-iron.
The tricky par-three 17th is next up.
With a figure-eight green that lays sideways off the tee, the pin is front-left and is protected by sand.
Tiger judges the line perfectly here and just misses by a couple inches for par.
He taps in and is having an incredible round all things considered.
TIGERBOARD

| | | | |
| --- | --- | --- | --- |
| POSITION | SCORE | HOLE | TODAY |
| T8 | -5 | 16 | -2 |
Sergio saves par at his last hole.
He will be in the last group tomorrow with Nick Watney at eight-under.
Tiger has 27 feet left for birdie.
An eight-iron for Tiger bounces in the front rough and onto the green left of the pin.
He has a lengthy putt next, but it is for birdie.
Tiger's drive goes 315 and has an iron left with 174 to go.
Pin is center-right but is protected by sand front and left.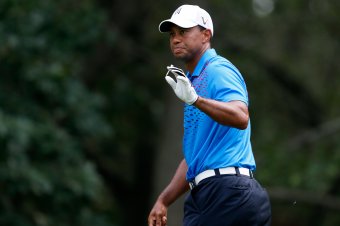 Kevin C. Cox/Getty Images
The 16th is a long par-four.
At 490-yards, it is pretty straight off the tee and is a driver hole.
Tiger winces with his drive and lands it dead-center again and long.
Zach ges one back at 15 to get on the good side of the cut line at one-over and a tie for 66th.
Roberto Castro, who is right at 100th in points and was below the cut line, aces the 14th and moves back to even and in.
Woods played a sharp break right for his putt.
It caught the slope and moved left towards the hole and just moving about four feet past the hole for par.
He makes it for a solid par.
TIGERBOARD

| | | | |
| --- | --- | --- | --- |
| POSITION | SCORE | HOLE | TODAY |
| T8 | -5 | 15 | -2 |
Tiger has almost 44 feet left for birdie.
He literally hit his wedge shot about a yard or two too hard.
Watney bogeys 18. A two-under 69 and tied with Garcia for the lead at eight-under.
Tiger nailed his three-wood 313.
With just 129, his wedge lands a bout a yard further than he wanted and it did not catch the ridge to get closer to the hole.
He is on the green with a downhill putt of about 25-30 feet for birdie.
Tiger stings a three-wood through the dogleg and is in great shape for his second.
He did not wince after the shot.
The 15th hole is a 478-yard par-four that swings gently left off the tee.
We will see how Tiger feels here with what he uses off the tee.
Pin is cut front-left protected by rough short and sand left.
A downhill chance, Woods started it left and it curls right into the cup.
At five-under now and two-under on the day.
Remarkably, he has not dropped a shot since he tweaked his back.
TIGERBOARD

| | | | |
| --- | --- | --- | --- |
| POSITION | SCORE | HOLE | TODAY |
| T8 | -5 | 14 | -2 |
My judgment on the distance left was a bit off. Still a great shot but 17 feet above the hole for birdie.
Tiger takes a nine-iron on the 154-yard par-three 14th and hits it about eight feet above the hole for birdie.
He is back to noticeably limping again after this particular tee shot.
This article is
What is the duplicate article?
Why is this article offensive?
Where is this article plagiarized from?
Why is this article poorly edited?