Year-by-Year Comparison Between Cavaliers and Thunder Rebuilding Projects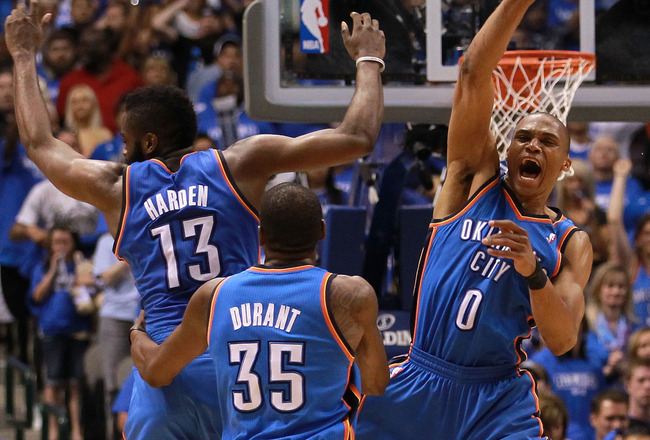 Ronald Martinez/Getty Images
As the Cleveland Cavaliers continue their rebuilding process, one team stands as the shining example to follow.
The Oklahoma City Thunder have set the bar for small market teams trying to rebuild through the draft. Going from one of the NBA's worst teams to the NBA Finals in just a few seasons, the Thunder are a perfect example for the Cavs to follow.
So how are the Cavs doing in their rebuilding project compared to OKC? What year in their rebuilding project did the Thunder make the jump from pretender to contender and how close are the Cavs to doing the same?
Let's take a look at the Cavs and Thunder, year-by-year.
Thunder (Sonics) Year 1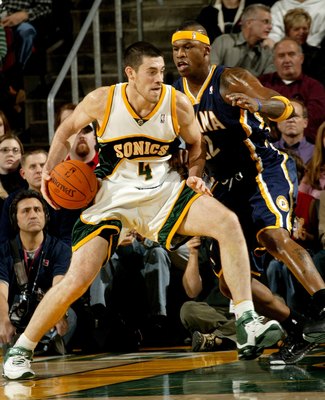 Otto Greule Jr/Getty Images
Year: 2006-2007

Record: 31-51

Key Moves: -Drafted Kevin Durant, Texas, No. 2 Overall
-Traded Ray Allen to Boston Celtics for No. 5 Overall Pick, Drafted Jeff Green, Georgetown
The rebuilding project for OKC (Seattle) began in 2007, as they traded fan-favorite Ray Allen after a disappointing 51-loss season.
Landing the second-overall pick in the 2007 draft, it was presumed Seattle would draft whoever the Portland Trail Blazers passed on with the first-overall pick.
Greg Oden and Durant were neck-and-neck, and of course Portland make the unfortunate choice of Oden, which landed Durant with the Sonics.
Also netting the fifth-overall pick in the Allen trade, Seattle chose Georgetown-forward Jeff Green to give them two building blocks for the future.
The pick of Durant would end up being a franchise-changer, but not right away as we would later see.
Cavaliers Year 1
Mike Ehrmann/Getty Images
Year: 2010-2011

Record: 19-63

Key Moves: -Traded Mo Williams and Jamario Moon to Los Angeles Clippers for Baron Davis, Unprotected 1st Round Pick
-Drafted Kyrie Irving, Duke, No. 1 Overall
-Drafted Tristan Thompson, Texas, No. 4 Overall
The Cavaliers first season of rebuilding was one of the ugliest in pro basketball history.
Starting the season a respectable 7-9, injuries and inconsistent play doomed the Cavs season, one in which they lost 26 straight games from December to February.
The key move was GM Chris Grant trading for the Clippers first-round pick that turned out to be the first overall.
Like the Thunder, the Cavaliers chose their star to build around in Kyrie Irving.
Also like OKC, the Cavs used a second high draft pick on a complimentary star in Tristan Thompson.
Year one for both teams have seemingly been the biggest piece of their rebuilding puzzle.
Thunder (Sonics) Year 2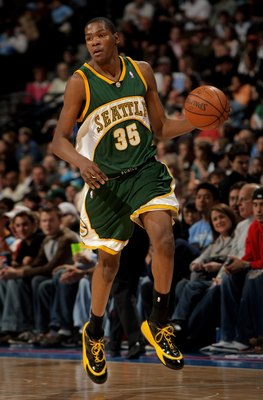 Doug Pensinger/Getty Images
Year: 2007-2008

Record: 20-62

Key Moves: -Drafted Russell Westbrook, UCLA, No. 4 Overall
-Traded second-round pick to Phoenix Suns for Kurt Thomas, two first-round picks
-Drafted Serge Ibaka, CB L'Hospitalet, No. 24 Overall
In their first season with Kevin Durant, the Sonics actually took a step back record-wise.
They were without veterans Ray Allen and Rashard Lewis but still had promising young talent with Durant, Green and Nick Collison.
Another bad season was necessary, however, as Seattle made the controversial decision to take Westbrook fourth overall. Westbrook was expected to go anywhere from 10-15, leading many to believe the Sonics reached.
Sound familiar Cavs fans?
Taking on salary with Kurt Thomas was necessary to grab an additional first rounder, which landed Seattle Serge Ibaka.
Now with four impact players in two drafts, Seattle had laid a foundation of success.
Cavaliers Year 2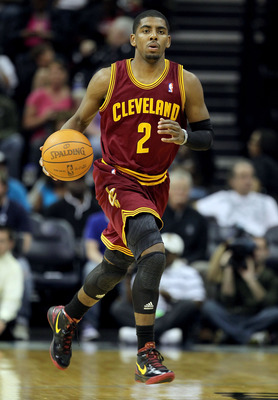 Andy Lyons/Getty Images
Year: 2011-2012

Record: 21-45 (Lockout Shortened)

Key Moves: -Drafted Dion Waiters, Syracuse, No. 4 Overall
-Traded Ramon Sessions for first rounder, used pick and second rounders to trade up to No. 17
-Drafted Tyler Zeller, North Carolina, No. 17 Overall
Like the Sonics, the Cavs struggled in the first year with their new star.
Irving, like Durant, won the NBA's Rookie of the Year and provided the franchise with hope.
Jeff Green and Tristan Thompson would both have nice rookie seasons, but neither proved to be a reliable second option on a winning team.
The Sonics needed a dynamic scorer to pair with their star in Durant, and that's exactly what they got in Westbrook.
While it's way too early to tell how Waiters will turn out, he too possess the ability to be a elite scorer in the NBA and was also the fourth-overall pick who most "experts" felt his team had to reach for.
After two years of rebuilding, both the Thunder and Cavs had four first-round impact players on which to build around.
Thunder Year 3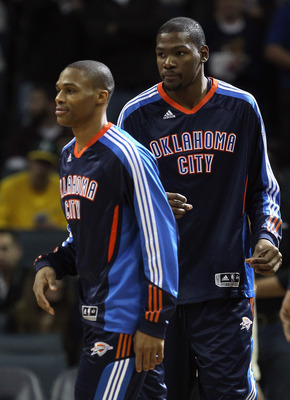 Streeter Lecka/Getty Images
Year: 2008-2009

Record: 23-59

Key Moves: -Drafted James Harden, Arizona State, No. 3 Overall
-Traded for Thabo Sefolosha from Chicago Bulls for late first-round pick.
Even with Durant, Westbrook and Green, the Thunder struggled in their first season in Oklahoma City.
The team started the season 3-29, and fired head coach P.J. Carlesimo after going 1-12 in their first 13 games.
Enter Scott Brooks, who finished slightly better at 22-47.
After three years of solid losing, the Thunder had put together their core of Kevin Durant, Russell Westbrook, James Harden, Serge Ibaka, Thabo Sefolosha and Jeff Green through the draft and trades.
With Brooks, they had their coach of the future to lead and develop this young group, as they quickly would.
Cavaliers Year 3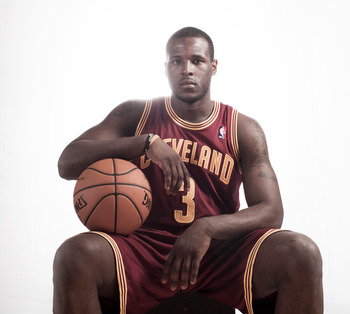 Nick Laham/Getty Images
Year: 2012-2013

Record: ???

Key Moves: -Hold as many as six picks in 2013 NBA draft
The Cavaliers will be entering year three in their rebuilding project.
The Thunder struggled with only 23 wins in year three, and the Cavs could easily wind up around that number as well due to their youth and inexperience.
As the Thunder have shown, this isn't necessarily a bad thing, however.
One advantage the Cavs have over the Thunder is that they presumably have their coach of the future already in Byron Scott, who's been with the rebuilding project since year one.
With Kyrie Irving, Dion Waiters, Tyler Zeller and Tristan Thompson, the Cavs enter year three with their foundation of young talent, with more presumably on the way via the 2013 draft.
Thunder Year 4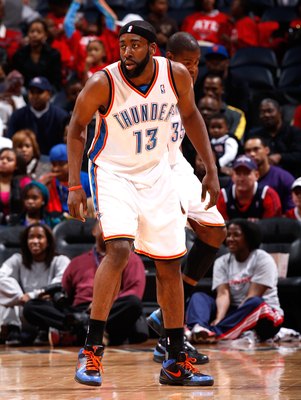 Kevin C. Cox/Getty Images
Year: 2009-2010

Record: 50-32

Key Moves: -Putting it all together
In year four, the Thunder made the jump from pretender to Western Conference contender.
It was Kevin Durant's third season, Russell Westbrook's second and James Hardens first in OKC.
Durant led the league in scoring at 30.1 points per game and Westbrook took over as the full-time starter at point guard, upping his scoring and assists to 16.1 points and 8.0 assists per game.
Scott Brooks' team made the playoffs just one season after starting 3-29 and quickly became one of the most athletic and talented teams in the league.
Two years later, they would be in the NBA Finals, with a core that consists of players all 23-years-old or younger.
It's safe to say that patience, and smart draft choices, have paid off for the small market Thunder in a big way.
Recap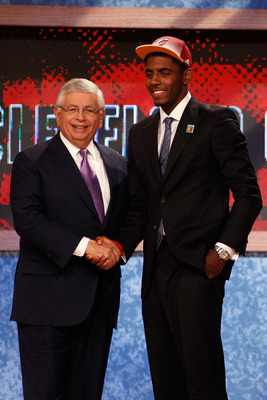 Mike Stobe/Getty Images
The Cavaliers are actually following the Thunder's blueprint very closely. Here are the major similarities between the two teams:
-Gathered multiple first-round choices in beginning rebuilding years.
-Drafted a superstar to build around in year one.
-Supposedly "reached" on players to get the guy they wanted.
-Didn't panic or compromise cap room with big free agent spending or cap-killing trades.
While some have grown impatient with the Cavs lack of moves this offseason, it's worth noting that the Thunder did exactly the same thing in their first years of rebuilding.
The Thunder have also done a great job of locking their stars up, already dishing out extensions to Durant, Westbrook and Ibaka.
The Cavs so far have compared very favorably to the Thunder with their rebuilding project.
Let's hope the results are the same.
Keep Reading

Cleveland Cavaliers: Like this team?