6 Biggest Storylines from the Spanish Super Cup First Leg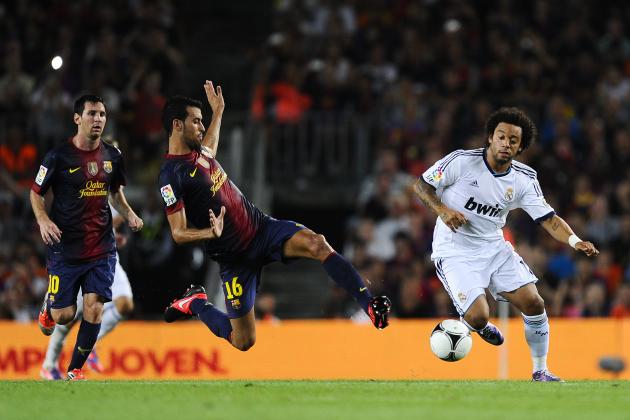 David Ramos/Getty Images

Firstly, what a wonderful display of football last night.
Often El Classico's are marred by controversy, negative tactics, chronic diving—there still was some theatrics, but nothing like recent years—and general ugliness, but the first leg of this year's Spanish Super Cup was a rather tame, and therefore enjoyable, affair.
Real Madrid was always going to have a lot less of the ball, and Barcelona was always going to weave intricate passes and gobble up possession; but fans and neutrals could hardly accuse either team of their most unfavorable tendencies.
Barcelona, for instance, was never overly cautious in its normal tiki taka passing, at least to the extent of being "boring" and "unadventurous." The team's two midfield maestros, Xavi Hernandez and Andres Iniesta, were frequently quite bold in their movement and dribbling, with the most telling example being the fact that Xavi finished a trademark maze-like dribble by Iniesta in the six-yard box to put the Catalan side up 3-1.
Madrid, too, was laudable in its approach. Real had a lot less of the ball—probably more than they liked at 27 percent (via Catradio)—but Mourinho never ordered his players to "park the bus," something they very well could have at 1-0 away at the Nou Camp.
And so there's much to talk about the actual game itself, and that's refreshing to say the least. Here are the six biggest storylines from the game:
Begin Slideshow

»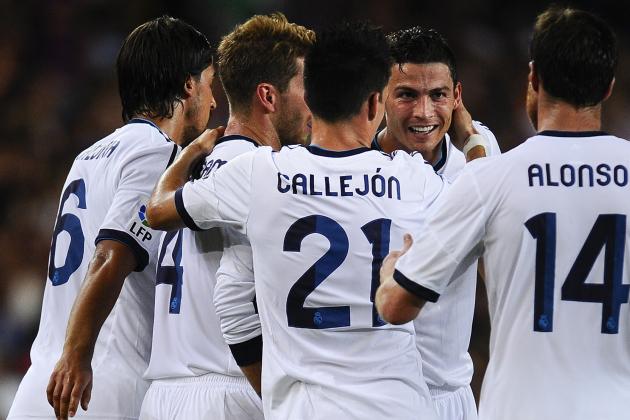 David Ramos/Getty Images

Barcelona (4-3-3): Valdes, Pique, Mascherano, Alves, Adriano, Busquets, Xavi, Iniesta, Messi, Sanchez, Pedro
Barcelona can hardly be said to have made many changes under new manager Tito Vilanova, and so there were few surprises with the opening line-up.
Sanchez returned to the starting line-up after sitting against Real Sociedad over the weekend, and he and a rejuvenated Pedro flanked either side of Lionel Messi up front.
The only slight surprise was the inclusion of Adriano instead of new signing Jordi Alba. It's arguable that Alba is still recovering from the tiredness of a long summer (he played in both the Euros and the U-23 Olympic squad for Spain), but the likelier reason is that Vilanova went with Adriano's reliability at the back.
Alba presents a dilemma for Barcelona going forward. Namely, that he's so good at that, going forward. It will be interesting to see if Vilanova can trust having two attacking fullbacks against a team as talented as Madrid.
Real Madrid (4-2-3-1): Casillas, Ramos, Albiol, Arbeloa, Coentrao, Alonso, Khedira, Ozil, Ronaldo, Benzema, Callejon
Madrid, on the other hand, had a rather big surprise: Jose Callejon starting in the attack. A fan favorite, Callejon is talented enough to play in an El Classico despite his young age, but his impact was minimal compared to substitute Angel di Maria, who not only scored in the game but fits that inverted attacking role superbly. Expect di Maria, if healthy, to start in the return leg.
The other big name absent was that of centre-back Pepe. This wasn't exactly surprising given that the Portuguese international picked up a concussion in Sunday's tie to Valencia. Still, Pepe's physical presence was missed, even if Albiol had a particularly good game.
Whether this affected Mourinho's tactics is hard to say. Would Pepe have played in the midfield? Probably not. Real Madrid won at the Nou Camp in April playing Mesut Ozil in his normal free attacking role, and it was Ozil's brilliance and pace that constantly frustrated Barcelona throughout much of the match.
Real Madrid scored their second set-piece goal in as many games against Barcelona.
It's no secret that Barcelona is small:
Barcelona, widely tipped to win both the Spanish and Champions Leagues this season, is on average the shortest team in Europe with an average height of 1.77 metres (5ft 9ins), while the tallest sides are SV Mattersburg of Austria and Volyn Lutsk of Ukraine at 1.86m (6ft 1ins). (Reuters UK)
And Madrid is right to take advantage of this fact. While much blame can be placed on Sergio Busquets for the play, one has to wonder why Barcelona didn't play anybody on the front post.
Madrid will look to continue to take advantage of the fact that Barcelona is not only small, but that near-post runs, like Ronaldo's, are particularly deadly in these matches.
Perhaps just as questionable is Madrid's strategy immediately after the set-piece goal.
There's basically two ways to play against Barcelona, it seems. One is to sit deep, soak up pressure and force Barcelona to beat you with long shots—usually, not a problem—or clever, intricate passing. The other is the method that the likes of Arsenal and Madrid, occasionally, have tried, which is to play very compact in the midfield and have a high line.
The problem with the first plan is that your team has to score. Chelsea didn't win the Champions League semifinal because they played great defense, but because they scored in both contests—twice in the second leg. Sociedad sat rather deep in Sunday's match against Barcelona and were thrashed 5-1.
However, the second plan can be just as difficult. For one, keeping space "between the lines" is probably one of the hardest defensive plans to execute and requires hours upon hours of training. More concernedly, is that playing a very high line/offside trap means that you are susceptible to the speed of Pedro, Sanchez, Tello and Villa, not to mention Messi.
Yes, the goal may have been offside—in Barcelona's defense, the camera angle is unfavorable—but that's besides the point. At 1-0 up on the road against one of the best teams in the world, does it really make sense to play that high up?
If anything was unquestionable, it was the talent of Andres Iniesta.
With Messi being singled out as the main threat for Madrid, it was upon Iniesta to cause havoc and the Spanish international did exactly that. It was Iniesta's delicate turn that caused Sergio Ramos to dive in for the penalty that put Barcelona in the lead. Ramos certainly shouldn't have been diving in so recklessly, but Iniesta's imagination and composure, particularly in the penalty area, is world-class.
However, the highlight of the night was the third goal. Starting near midfield, Iniesta drove relentlessly at the defense, forcing a half-hearted stab by Arbeloa before slipping—on a dime—a menacing through-ball for his partner Xavi to finish with aplomb.
Over and over, Madrid had no answer for Iniesta, and much credit goes to Tito for moving the talisman back in the middle of the park where he plays best.
At 3-1 up, Barcelona looked to be very comfortably in control of this leg and, thus, on their way towards winning the Spanish Super Cup for the second consecutive year.
And then something happened.
First, Messi took a heavy touch six yards from the Real Madrid goal and fired a shot straight at Iker Casillas. It was a disappointing effort from the Argentine, who had a very good game despite being wasteful in front of the net.
After a clearance, Cristiano Ronaldo sprinted the ball up the pitch on a counterattack before trying to lay the ball off to di Maria. What appeared to be an unfortunate pass intercepted by Adriano turned into a very fortunate mishap.
Adriano passed the ball back to Valdes, who instead of clearing it or passing wide tried to switch it over to his favored right foot. He, of course, fumbled it. And credit is due to di Maria for not giving up and punishing the Barcelona goalkeeper harshly.
For a keeper as technically gifted as Victor Valdes, it should come as a surprise to see him make such a horrific mistake. However, this is the second time in four games that Valdes has made such an error: In the December Clasico, Valdes mishit a pass that went straight to—guess who?—Angel di Maria that led to a series of Madrid shots, eventually finished off by Karim Benzema.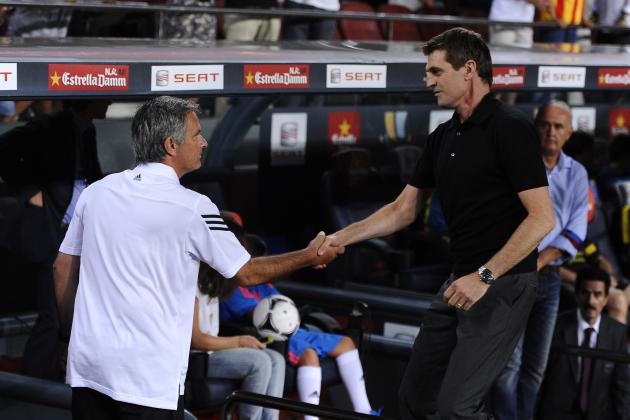 David Ramos/Getty Images

With most of the early game hoopla surrounding the two coaches and the infamous "eye-poke" a year ago, the storylines quickly became all about the result and the next game.
3-2 is a favorable scoreline for Barcelona, but they now must take themselves into the Santiago Bernabeu. The Madrid stadium isn't exactly an imposing place for the Catalans—they haven't lost there in four seasons—but it's still a difficult place to play.
As for Madrid, the chance is to win in front of the home crowd and erase the mistakes of the first leg. With Pepe and di Maria likely back in the starting line-up, Real Madrid will feel confident about their chances.