15 Best TV Announcing Teams in the NHL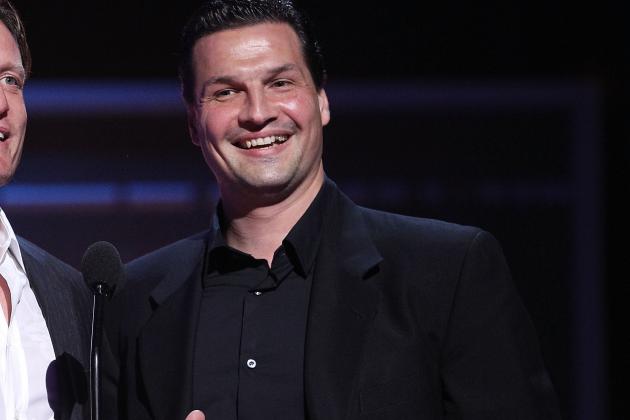 Bruce Bennett/Getty Images
Ed Olczyk provides credible analysis on all his broadcasts.
Hockey announcers do more than convey information to television viewers.
They are a part of the team that they are broadcasting for and since they are in our living rooms so much, it is almost like they are a part of the family.
They share our joy when an overtime goal is scored and they feel our pain when an overwhelming defeat hits us in the heart.
Great broadcasters have to walk a fine line. You want the information and you may want to know that they share your passion for your team, but overwhelming homerism is difficult to stomach.
Here's a look at the 15 best hockey announcing teams throughout the NHL.
Begin Slideshow

»
Nestled away in the non-hockey hotbed of San Jose is one of the finest announcing teams in all of sports.
Randy Hahn and Drew Remenda broadcast Sharks games with expertise, excitement, passion and fairness. If you are a Sharks' fan, you get the full picture and more. However, if you are a fan of the visiting team, you also get to understand what is happening and seemingly without prejudice.
Hahn has great diction in his speech without overdoing it and he may be the most underrated broadcaster in the sport. Listening to Hahn do a hockey game is like listening to Vin Scully do a baseball game.
There is a joy in Mike Emrick's voice that comes across as he broadcasts a hockey game.
It seems as if there is no place on earth Emrick would rather be than doing play-by-play at an NHL hockey game when he is doing the national broadcast on NBC.
His partner Ed Olczyk is a stellar complement in the role of color analysis. His spot-on descriptions of how a key play developed provides the viewer with insight. Like Emrick, there is joy in Olczyk's voice as he does his job.
Pat Foley and Ed Olczyk form one of the top broadcast teams in hockey.
While there is a strong Hawks informational bend to their broadcast, Foley provides a very quick and honest call of the game. He does an excellent job of staying on top of the play.
Olczyk grew up in Chicago and played with the Hawks. He is well known for his national broadcasts, but he never comes across as being "above it all" on the Hawks games. He is a comfortable and warm listen on the local games and loves to have fun.
Los Angeles has never been recognized as a great hockey town until the team won a championship this year.
However, the Kings were an expansion team in 1967-68 and have been a key part of the sports landscape in Los Angeles since then.
Bob Miller has been their voice since 1973. He was behind the mic for the Miracle on Manchester playoff victory vs. the Edmonton Oilers and he delivers a thrilling and emotional broadcast along with partner Jim Fox.
Ralph Strangis is a solid play-by-play man who will provide viewers with the basics of the game as well as the bits and pieces of knowledge about the Dallas Stars and their opponents that tells you he has done his homework on a regular basis.
Reaugh is known for his colorful language and descriptions. The former goaltender has a vocabulary worthy of a spot in the National Forensic League's Hall of Fame.
The Washington Capitals broadcasts feature the crisp play-by-play of Joe Beninati and the solid color work of Craig Laughlin.
Beninati works perfectly well with the visuals and does not try to over describe the action. He provides emphasis during the dramatic moments without trying to do too much.
Laughlin's color work is sharp and to the point, showing who deserves credit and letting you know where the blame may belong.
Steve Goldstein provides a sense of wonder and amazement to the Florida Panthers broadcasts. Viewers don't want to listen to broadcasters who seem the same every time they do a game. You get the feeling that Goldstein is never bored with what he does and that comes across to the viewer.
Lindsay was a solid winger and a tough guy in his career and he explains key plays well without overanalyzing. A solid combination.
While the Predators play in a non-traditional hockey market, they have built a strong and loyal following thanks in large part to the chemistry of broadcast partners Pete Weber and Terry Crisp.
Weber calls a sharp broadcast and does not go out of his way to favor the home team. Crisp is a former player and coach who never overlooks errors and mistakes to favor Predator players.
The Preds' broadcasts work for both long-time hockey fans and newer fans who may not know all the rules and traditions of the game.
Jeff Rimer and Bill Davidge are with the most under-the-radar team in the NHL and perhaps pro sports, but they do a fine job of describing the action and creating interest.
That's what an announcing team should do in an area that does not have a lot of hockey tradition. Rimer had worked on Montreal Canadiens broadcasts, so he is able to provide the depth that is needed to make a game seem larger than life.
John Kelly brings one of the great hockey broadcasting names to St. Louis Blues broadcasts. His father, the late Dan Kelly, was perhaps the game's finest voice. John Kelly brings some of the same excitement that his father brought when a big goal is scored.
While Pang is hard to take in long doses, when he is giving a quick analysis, he is somewhat palatable.
If you are not a fan of the Buffalo Sabres, you are not going to appreciate Rick Jeanneret very much. He is the very excitable play-by-play man who absolutely adores his team and that comes across in every wobbly syllable that comes out of his mouth.
Jeanneret has been with the team since 1971 and it's clear that he lives and dies with the team. His passionate May Day call is one of hockey's best-known play-by-play snippets. Rob Ray is a former NHL tough guy who comes forth in an aggressive manner.
Dean Brown has a rich and powerful voice when he does play-by-play for the Ottawa Senators. He describes the action crisply and cleanly and he adds drama to the action.
Over the years, he has worked with partners like Gary Galley and Denis Potvin. He works seamlessly no matter who is in the chair next to him.
While his broadcasts are seen and heard primarily in Canada, Jim Hughson's voice is very well-known in the United States.
That's because his melodious and powerful tones are heard on EA Sports hockey video games and the play-by-play he provides is quite realistic.
Hughson knows the game like a coach and has a voice like a classically trained tenor. His bias in favor of the Vancouver Canucks can get under your skin, but he is brilliant at his job.
Craig Simpson is a stellar color analyst who has a former player's knowledge of the game.
There's none of the New York City sophistication and smugness that you might expect from the Rangers' broadcasters.
Instead, they are excited to be broadcasting Rangers games and it shows in the tone and enthusiasm that Sam Rosen brings every game. Rosen makes all games seem exciting.
Joe Micheletti is not stellar, but he is solid and gives viewers the background information and technical knowledge that is needed.
Jim Jackson is a strong Flyers' homer in the booth, but that doesn't mean he's not going to give you a decent broadcast. Jackson has an excellent voice, is quick behind the mic and catches a lot of things that other broadcasters would miss.
The quirky Philadelphia broadcast includes the unique announcement that a player has scored "for a case of Tastykake," a local Philadelphia taste treat.
Keith Jones is a former Flyer who lets you know that he bleeds orange and black. He will tell it like it is when he sees a poor play by the home team, but he clearly favors the Flyers.