10 Rookie-Level Prospects Already Readying Themselves for a Promotion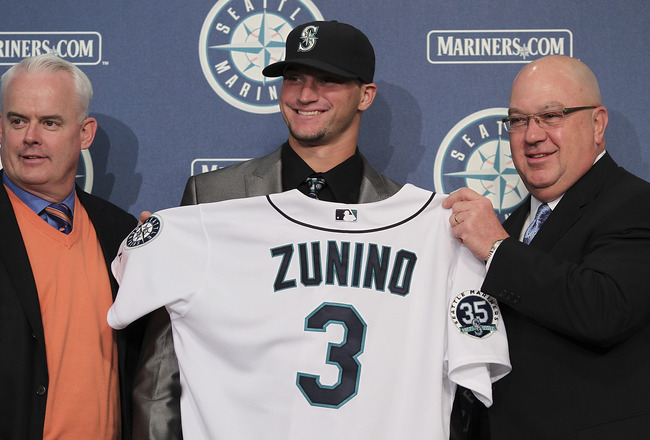 Otto Greule Jr/Getty Images
As part of Major League Baseball's new collective bargaining agreement, the signing deadline was moved from August 15 to July 13, forcing teams to sign their draft picks at least a month earlier than previous years.
Therefore, this is the first year I can recall nearly every first-round (and supplemental first-round) draft pick gaining significant experience before his full-season debut in 2013. Now, instead of assigning a prospect to Class-A Short Season to open the 2013 season, his experience may garner a more aggressive and favorable promotion to Low-A instead.
Basically, every draft pick's estimated time of arrival in the major leagues could improve by as much as a full season.
There have even been several first-rounders who've reached Double-A: Mike Zunino (Mariners), Michael Wacha (Cardinals) and Marcus Stroman (Blue Jays).
Here is a look at a host of top picks from the 2012 draft class and how they've capitalized on the chance to make their professional debut nearly a year ahead of schedule.
Seth Mejias-Brean, 3B, Cincinnati Reds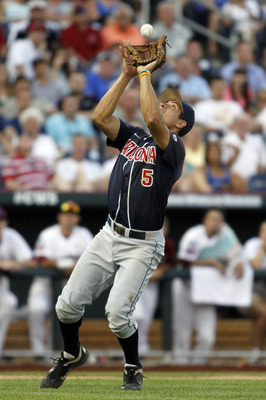 Matt Ryerson-US PRESSWIRE
2012 Stats (Rk): .342/.409/.582, 19 XBH (7 HR), 35 RBI, 24 K/16 BB (27 G)
After bringing home the College World Series title as Arizona's third baseman, Mejias-Brean has been mashing rookie-level pitching to begin his professional career. An eighth-round draft pick, the right-handed hitter already could possibly see a promotion to High-A before the end of the season.
David Dahl, OF, Colorado Rockies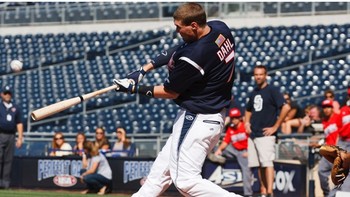 Courtesy of ESPN.com
2012 Stats (Rk): .366/.406/.603, 33 XBH (10 3B), 11 SB, 33 K/16 BB (55 G)
With 85 hits in 55 games, Dahl has been absolutely on fire and has drawn rave reviews from players and coaches around the Pioneer League. Since making his professional debut in June, the left-handed hitter has flashed more power than expected as well as impressive plate discipline.
Preston Tucker, OF, Houston Astros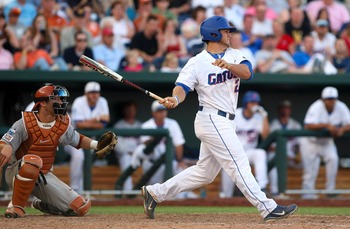 Brace Hemmelgarn-US PRESSWIRE
2012 Stats (SS): .347/.406/.568, 12 XBH (7 HR), 32 RBI, 7 K/11 BB (29 G)
A left-handed hitter, Tucker feasts on mediocre pitching, making lots of hard contact and always proving to be a tough out. Despite his lack of power, Tucker has a genuine understanding of his strengths and weaknesses relative to the strike zone. Even if his power is only an average tool, his bat could make him a decent organizational player or fourth outfielder.
Jesse Winker, OF, Cincinnati Reds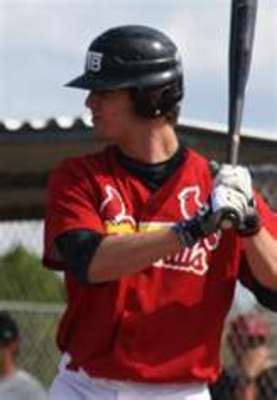 Courtesy of scout.com
2012 Stats (Rk): .323/.441/.441, 16 XBH (12 2B), 28 RBI, 43 K/37 BB (51 G)
Winker doesn't hit for much power, but his advanced plate discipline and ability to use the whole field make him a solid overall hitter. He'll have to leave the yard more often to remain a corner outfielder at higher levels, and probably will as he grows into his 6'3", 195-pound frame.
Jake Thompson, RHP, Detroit Tigers
Courtesy of http://detroit.tigers.mlb.com/
2012 Stats (Rk): 1-2, 28.1 IP, 1.91 ERA, 0.85 WHIP, 9.85 K/9, 3.18 BB/9 (7 GS)
Although he was drafted in the second round (No. 91 overall), Thompson was the Tigers' No. 1 pick this season. The 6'4" right-hander is missing bats, keeping the ball on the ground (2.67 GB/FB), and turning in an impressive professional debut.
Aaron West, RHP, Houston Astros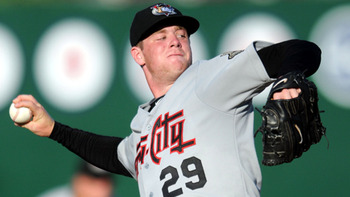 Courtesy of MiLB.com
2012 Stats (SS): 6-1, 55.2 IP, 1.62 ERA, 0.83 WHIP, 8.73 K/9, 0.97 BB/9 (10 GS)
With command of a three-pitch mix of average offerings, West, 22, is excelling in a younger league. Still, the 17th-rounder is enjoying a strong professional debut and should continue moving through the Astros' system.
Matt Brazis, RHP, Seattle Mariners
Courtesy of collegebaseball360.com
2012 Stats (Rk, A-): 2-0, 4 SV, 22.1 IP, 0.81 ERA, 0.45 WHIP, 18.54 K/9, 2.57 BB/9 (14 G)
Believe it or not, I actually did not make up Brazis' stats. The 6'3" right-hander has actually been that dominant, allowing only six hits since signing. Don't be surprised if he's at Double-A before the end of the season. Not bad for a 28th-round draft pick.
Sam Selman, LHP, Kansas City Royals
Courtesy of collegebaseball360.com
2012 Stats (Rk): 5-2, 52.1 IP, 2.06 ERA, 1.07 WHIP, 13.76 K/9, 2.92 BB/9
A second-round selection, the 6'3" left-hander has come into his own since signing. With 80 strikeouts in 52.1 innings, Selman still induces a ridiculous amount of ground balls (4.33 GB/FB) as well as swing-and-misses. For a college pitcher, he's fairly raw and inexperienced—but that can often be a good thing. And in Selman's case, it clearly is.
Jonathan Walsh, OF, Los Angeles Angels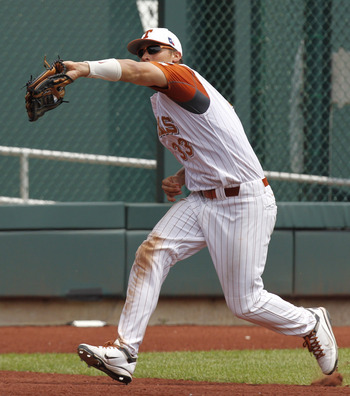 Bruce Thorson-US PRESSWIRE
2012 Stats (Rk): .322/.440/.561, 25 XBH (8 HR), 39 RBI, 35 K/40 BB (51 G)
A 21-year-old drafted out of Texas, Walsh is a switch-hitting outfielder with advanced plate discipline and emerging power. He doesn't have the speed for center field, but his bat and on-base skills will play well at either corner spot.
Eddie Butler, RHP, Colorado Rockies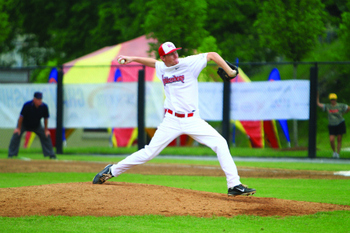 Courtesy of bigsouthsports.com
Rookie: 6-1, 55 IP, 2.45 ERA, .244 BAA, 2.08 GB/FB, 45 K/8 BB (11 G; 10 GS)
The Rockies' second pick overall after Dahl, Butler was a quick sign who made an immediate impact in the Appalachian League. Over his last two starts, the right-hander has allowed one earned run in 12 innings while registering 11 strikeouts and zero walks.
Keep Reading