Why Giving Dodger Stadium a New-Age Facelift Would Be Great for MLB, LA Fans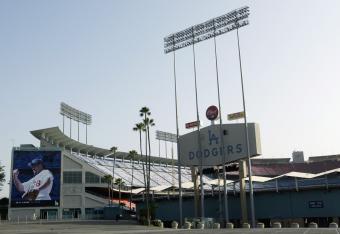 Dodger Stadium seats 55,000, most in the major leagues.
Stephen Dunn/Getty Images
Sometimes, you can have too much of a good thing.
That seems to apply these days to Dodger Stadium, which currently seats 55,000 people. As Biz of Baseball's Maury Brown illustrated, that's the highest seating capacity among the 30 major league ballparks with nearly 6,000 more seats than the next closest stadium.
The Dodgers have the fifth-highest average attendance in the majors, according to ESPN.com. Excitement over new ownership, a stronger product on the field and a race for the NL West championship have given Dodgers fans plenty of reason to go out to Chavez Ravine and enjoy an evening at the ballpark.
But as the Los Angeles Times' Bill Plaschke explained in a recent column, Dodger Stadium's huge seating capacity allows too many fans to come to the ballpark. Freeway exits leading to the stadium and surrounding parking lots are overwhelmed by the surge of people. Is it time for the Dodgers to strongly consider shrinking the number of available seats?
The current stadium setup clearly isn't designed to properly accommodate 55,000 fans, leaving thousands of fans stuck in traffic jams well past the start time of a particular evening's ballgame. According to Plaschke's column, cars are still trying to find a place to park during the fourth inning. By the time those fans get to their seats, the ballgame will be more than halfway over.
Plaschke quoted one fan who perfectly articulated the problem that the Dodgers are facing because of this logjam.
"If it's going to take you two hours to get in and out of the stadium," Dodgers fan Michael Roberts told Plaschke, "sure, it might just be easier to stay home."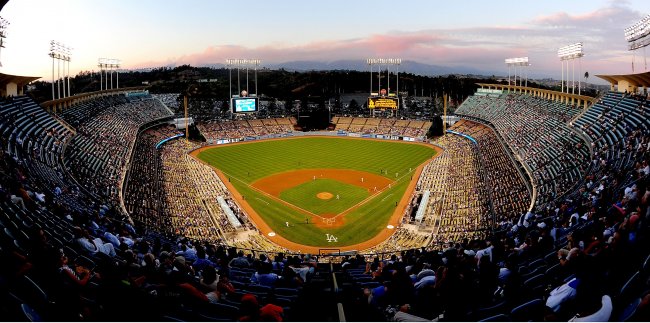 Jacob de Golish/Getty Images
That quote should make Dodgers president Stan Kasten shiver in horror. People saying it's preferable to stay home rather than go out to the ballpark is the absolute last thing a team wants to hear from their fanbase. Those who put money down and come out to support the team with their presence at the stadium are the people a professional sports team needs to please the most.
As Plaschke explains, there's only so much that can be done to the infrastructure surrounding Dodger Stadium.
If access and capacity in the nearby parking lots could be changed, wouldn't the Dodgers have done something to fix the problem already? Adding more roads leading to the ballpark would disrupt the neighborhoods around Dodger Stadium, something that would obviously be unpopular to the area's current residents.
That leaves only one realistic solution. Reduce seating capacity at Dodger Stadium. Give fewer fans the opportunity to come out to the ballpark and get stuck in traffic jams. That would relieve the gridlock surrounding the game-day experience. It would also reduce the burden on police and security to monitor overcrowded parking lots.
Shrinking the number of seats would also lend an aesthetic benefit to Dodger Stadium.
Fans don't spend the entire ballgame in their seats anymore. They like to walk around and see the ballpark from different vantage points. People want to stretch out on patios and wide concourses rather than be crammed into rows of seats. They like to take in the total scenery of the ballpark from a variety of angles. They prefer to eat better food than the typical ballpark offerings of hot dogs, peanuts, soda pop and beer.
Most modern ballparks provide these amenities for fans nowadays. The stadium experience entails so much more than the game on the field. Taking out unnecessary seats to accommodate such features is a long overdue move for the Dodgers. They need to join the rest of the major leagues in providing as pleasant a ballpark experience as possible.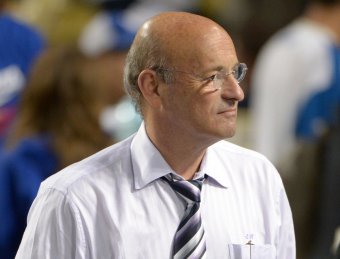 Kirby Lee-US PRESSWIRE
Updating and renovating Dodger Stadium would also benefit baseball, of course. Ballparks are destinations for fans throughout the country. Even teams not playing well on the field can draw people who want to see a park with features distinct to that particular city.
While Dodger Stadium might have a retro charm, it also has a bit of an outdated look rather than a classic one. There's not necessarily a nod to the past—as you might see at Fenway Park—so much as various indications that the architecture and fixtures within view need to be updated.
The Dodgers are hardly oblivious to such concerns. In early August, as explained by the L.A. Times' Steve Dilbeck, the team hired Janet Marie Smith as their new vice president of planning and development. Smith oversaw the development of Atlanta's Turner Field and Baltimore's Camden Yards.
More importantly to the Dodgers, Smith played a key role in the renovation of Fenway Park, updating a classic ballpark with modern amenities. The idea is to incorporate changes into the ballpark while maintaining the "retro, '50s feel," good sightlines and scenic backdrops that distinguish Dodger Stadium from its major league counterparts.
Dodger Stadium should absolutely be one of baseball's gems, appreciated on the same level as classic ballparks like Fenway Park or modern structures such as AT&T Park in San Francisco or PNC Park in Pittsburgh. It should be a destination, not a frustration.
With new ownership and management in place, excitement over the future of Dodgers baseball needs to be reflected in the team's home ballpark. It's long overdue.
Follow @iancass on Twitter
This article is
What is the duplicate article?
Why is this article offensive?
Where is this article plagiarized from?
Why is this article poorly edited?

Los Angeles Dodgers: Like this team?